1. Houston – QB CJ Stroud, Ohio State
Not much needs to be said here. Houston gets their QB of the future and a darn good one. Stroud has the arm talent to make any throw on the field, and his accuracy, especially deep (56% accuracy on throws 20+ yards), makes him one of two franchise QBs in this class. 
2. Detroit – QB Bryce Young, Alabama
Bryce Young is the other franchise QB. Detroit has been building a team around the QB with the selections of Penei Sewell and Jameson Williams, and now it's time to select him. Young is on the smaller side, but he's a top-two QB given his pedigree and film.
3. Atlanta – EDGE Will Anderson Jr., Alabama
Atlanta misses out on the QB sweepstakes but gets arguably the best player in the class. Anderson is a special talent that would go number one in most classes. He should build on his monster 2021 season, in which he put up 17.5 sacks and 32.5 tackles for loss. The top three selections in the draft are locked in. 
4. Jacksonville – WR Jaxon Smith-Njigba, Ohio State
My favorite team fit is CJ Stroud's primary option, Smith-Njigba. Leading the Ohio State team in yards with two other top 12 picks (Olave and Wilson), Njigba is a rare WR talent who can play any position and immediately become a WR1 for Trevor Lawrence. His 32% receiving yardage market share with at minimum two other NFL quality wide receivers makes him the WR1 in this class.
5. Carolina – QB Tyler Van Dyke, Miami
Carolina finally finds their QB of the future. Van Dyke is my QB3, and he put up massive games in limited starts. In 2021 he posted a 9.8 adjusted yards per attempt (83rd percentile) and an 80.1 QBR. His decision-making needs to improve, but the skillset is there for a top 10 pick.
6. New York Jets – DT Jalen Carter, Georgia
Carolina certainly wants a QB, so the potential BPA falls to the Jets in Jalen Carter. The Georgia defender is a top 5 talent who should take another step forward and help. Carter would have been a top-15 pick in the 2021 class and assuredly goes top 10 in this one. The Jets smartly go the best player available and continue to build off their success in the 2021 draft.
7. New York Giants – DT Bryan Breese, Clemson
Breese is another defensive stud who should lead the country's best front-7 in Clemson. Breese was the top player in the 2020 class and, historically, the 18th best recruit ever, according to 247. Elite pedigree; despite being limited to only four games last season, he's an exceptional talent and, if healthy, a top pick. A position the Giant likely needs to address within the next few years, Breese goes a long way.
8. Chicago – WR Kayshon Boutte, LSU
Chicago finally adds a weapon for QB Justin Fields. Boutte, who likely would've been WR1 had he played the whole season, is a special receiver and the next great one from LSU. With his 22% market share as a true freshman and operating as the leading receiver, look for a massive rebound in 2022. Assuming he's healthy, he shouldn't fall outside the top 10. 
9. Seattle – QB Anthony Richardson, Florida
Seattle gets aggressive and selects the most athletic QB we've seen in over a decade. Richardson is a project currently, but his upside is QB1. Elite size at 6'4" 225lbs, Richardson is a rushing threat with a cannon of an arm. He's the type of project worth taking a shot on. This is admittedly a risky pick but evidenced by his spring game performance, and he seems to be making strides in the passing game.
10. Washington – OT Paris Johnson, Ohio State
Washington nabs the best lineman in the class. Johnson can profile inside or outside on the line, but his skill set is too good to pass up here. Historically, this is currently an underwhelming offensive line class compared to recent ones. Johnson is a quality player who fills a need for them, but I don't believe he's BPA.
11. Pittsburgh – OT Peter Skoronski, Northwestern
Unlike Johnson, Skoronski is currently a tackle and the top one in the class. He's a solid player who will help protect Kenny Pickett and add some strength to the running game. He can still develop some, but he's a safer pick than some of the other tackles in this class.
12. Philadelphia – CB Kelee Ringo, Georgia
Ringo can go anywhere in this draft because he isn't quite a finished product. I think he can vault himself into a CB1 role, so Philadelphia addresses a need and gets a true cover corner. Georgia has an excellent defense again this year, and Ringo should be a key piece.
13. Minnesota – EDGE Myles Murphy, Clemson
Murphy is another excellent edge rusher anchoring the Clemson defense. An extremely, athletic player with versatility, he can go even higher than this in the draft if he can hone in the technical nature of this position. Honestly, his athleticism probably gets him in the top 15 anyway. Minnesota is a good fit for the talented defender.
14. New England – CB Eli Ricks, Alabama
A talented transfer heading to Alabama, he's an excellent corner. Ricks is also likely a day one starter, despite playing in only 14 games through two years. It won't matter if the talent and production are there, but his arrest this week doesn't help and could cause a slide. Ricks is someone I believe could be the best corner in the country and go top five in this draft. Would it shock anyone to see Bill take another Alabama player?
15. Philadelphia – LB Noah Sewell, Oregon
Sewell (yes, Penei Sewell's brother) adds another key piece to the Philadelphia defense. This might be high for a linebacker, but his athleticism is off the charts. An intelligent player who can captain the defense, Sewell makes sense here.
16. Miami – EDGE BJ Ojulari, LSU
Jaelen Phillips is on an excellent trajectory for the Dolphins but pairing him with Ojuilari would be a nightmare for opposing offenses. Another athletic freak, Ojulari, needs to take a step this year or risk falling out of the first. He is inconsistent at times and needs to refine his technique to win at the next level. However, the potential is there.
17. Las Vegas – WR Jordan Addison, Pittsburgh
Raiders finally commit to Derek Carr, and to go along with his new deal, they give him another weapon in Jordan Addison. The 2021 Biletnikoff winner, Addison is a smooth receiver who can operate in all phases of the game. He'll test well and already runs nuanced routes, making him a threat intermediate and deep. Some think Addison is the best receiver in the class, and while I think he's behind the previously selected Smith-Njigba and Boutte, he's clearly a first-round talent. A perfect running mate for Davante Adams.
18. Tennessee – S Antonio Johnson, Texas A&M
The top safety in the class helps boost the Titan's secondary. He can cover the slot, his football IQ is elite, and with a 6'3" frame, he can affect the play in many different ways. He might go higher than this in the real draft as he's simply that dynamic. Tennessee can still use help in the secondary, and Antonio Johnson is one of the best players to do it.
19. Arizona – LB Nolan Smith, Georgia
Another Georgia defender goes off the board, and it's Nolan Smith. Smith should see a larger role this year with the departures of fellow studs in the 2021 draft, and if he can take that next step as a pass rusher, I'm probably too low on him. He can play a myriad of positions, but he probably is most impactful at OLB; with his athleticism, a team can move him around.
20. Indianapolis – S Malachi Moore, Alabama
Moore is an outstanding player who is talented enough to play corner in spurts but profiles long-term as a menace at safety. His 2021 wasn't as impressive as his 2020 true freshman season, but as the defense improves around him, he should take a step forward and become a bonafide first-round talent.
21. Baltimore – WR Josh Downs, UNC
Baltimore traded Marquise Brown to Arizona but get a great deep threat to replace him. Downs was the WR1 for UNC this year and will be asked to play the same role. Despite being double-teamed and bracketed late in the season, Downs is a stud and will be a compliment alongside Rashod Bateman.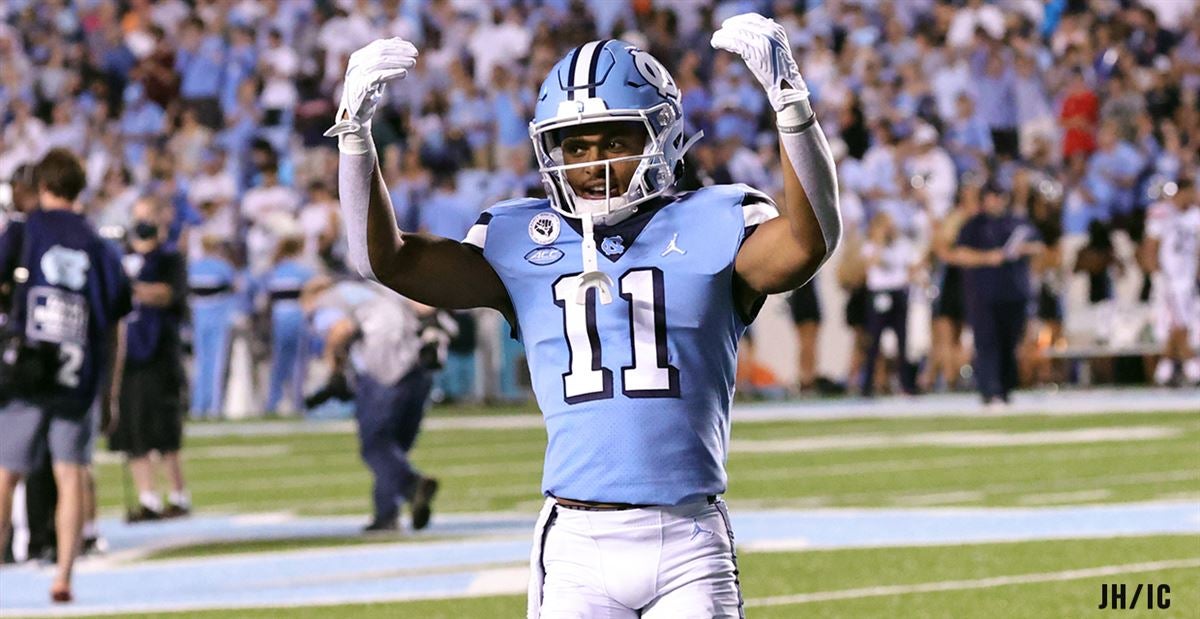 22. Cincinnati – EDGE Isaiah Foskey, Notre Dame
A very good edge, Foskey can be a day one impact player with ample experience. Foskey elected to return for his senior season, but given his experience and physical tools, he makes a lot of sense for Cincinnati, a team that likes this style of player. Smart, experienced, and with quality production.
23. Houston – RB Bijan Robinson, Texas
Someone is taking Bijan in the first. He's the most talented RB since Saquon Barkley and is a threat in both phases of the game. Houston is a great fit and will allow him to excel in a shallow RB room.
24. Dallas – S Brandon Joseph, Notre Dame
Dallas could use a player like Joseph, who transferred from Northwestern to Notre Dame this offseason. He could have declared this season and been a borderline first-rounder, but another year of development at Notre Dame certainly won't hurt. He might have the country's best ball skills as a safety with three interceptions. An instinctual athlete, he adds versatility to the Cowboys' secondary. 
25. Seattle – OT Zion Nelson, Miami
Seattle grabbed a project at QB earlier but surrounding him with a franchise tackle is a smart move. Opting to return in 2022, Nelson is talented enough to provide Seattle with needed consistency on the line. Nelson probably needs another year to develop, but he has the skills to be a first-round player.
26. Los Angeles Chargers – TE Michael Mayer, Notre Dame
Chargers draft the top TE in the class, giving Herbert another weapon. Although he won't wow with athleticism, Mayer is great technically with plus size, an excellent receiver, and the perfect complement to Keenan Allen and Mike Williams. Mayer is a personal favorite of mine, and while it's lofty, he's earned praise as being labeled 'Baby Gronk.' He's a reliable player at the position and will be the next great Notre Dame tight end.
27. Miami – LB Trenton Simpson, Clemson
Miami can go in many different directions here, but Simpson makes sense. He has the versatility to be a good coverage LB and the instincts to direct the defense. I think he takes another step forward and gets first-round buzz consistently. Simpson seems to be universally loved by the coaching staff, and they expect him to play a larger role in 2022.
28. Detroit – CB Clark Phillips III, Utah
Phillips is an underrated corner in this class. Playing at Utah, he's been a monster in coverage and helps Detroit lock down their secondary. He's an outstanding defender and can even play down if needed. I wouldn't be surprised if he's a riser come this time next year. The one-two potential in Okudah-Phillips might be too much to pass up. If Simpson falls to this pick, he is another great fit.
29. Kansas City – S Jalen Catalon, Arkansas
The depth of this class shines through at safety. Getting Catalon at the end of the first is almost too good to pass up. He looks like the next Razorback first-rounder. He missed half of last season but ended 2020 as 1st Team All-SEC Safety. A healthy year following shoulder surgery should propel him into the first. Kansas City understands team building, and they need secondary depth to compete in the AFC West. Catalon, an Arkansas standout, helps address this need. To win the AFC, Catalon could be a major piece. 
30. Green Bay – OT Blake Freeland, BYU
This is somewhat off the board, but it fits with Green Bay. Freeland is a project. He is an excellent athlete; he profiles at tackle and could develop into a very good one in the league. The Packers have shown a willingness to develop players, and at 6'8" 305lbs, Freeland has the potential. Some technical development, and he's a locked-in first-rounder. My favorite off-the-board guy.
31. Tampa Bay – WR Quentin Johnston, TCU
Tampa keeps adding weapons. Johnston, a long strider who is one of the most prolific deep threats, would excel in this offense as they prepare for Mike Evans (30 in 2023) to decline slowly. Assuming Brady plays two more years, Johnston is the type of player who can be an impact guy in year one. His athleticism and size make him one of the higher upside players at receiver.
32. Buffalo – WR Jermaine Burton, Alabama
What's a 1st round mock without an Alabama WR? Burton should operate as the Tide's WR1 this season, and with Bryce Young throwing the ball, it will make him a top 40 selection. An excellent athlete, he would excel alongside Stefon Diggs in a WR2 role. He may not have the same upside as other receivers in this range, but he's a quality player who will help the Bill offense.