You were more than just somebody I was destined to meet…
– Sleep Token, music group
---
*This article was written before last Saturday's performance vs. Kent State.
In the second-ever article on Volume Pigs, I highlighted a few FCS transfers that had immense upside this season. One of them — a player I just happened to stumble upon by chance via Twitter — was Arkansas' WR Andrew Armstrong. Here's what I wrote in February:
WR Andrew Armstrong (6'4″, 190 pounds) transfers to Arkansas by way of FCS Texas A&M-Commerce. In 2022, his fourth year of CFB, Armstrong caught 62 passes for 1,020 yards and 13 TDs. Like Sarratt, Armstrong is an FCS superstar moving up to a higher level of competition. Though not exactly the same, in Armstrong's case he's moving up to probably the highest level of CFB there is. He was productive at the FCS level, can he be CFF relevant in the SEC? Let's examine some arguments.

Armstrong has a history of strong production at his last stop. He redshirted his first year in 2019, and then COVID canceled Texas A&M Commerce's season in 2020. In 2021, he caught 15 passes for 297 yards and 3 TDs, a humble stat line before going apeshit in 2022, becoming Commerce's first 1,000+ yard receiver since 2014 and catching 13 TD passes.

The last highly productive WR at Arkansas was Treylon Burks in 2021 (66-1104-11 receiving and 14-112-1 rushing). Unfortunately, the OC at the time- Kendall Briles, has moved on to TCU. Lucky for us his replacement Dan Enos produced some strong CFF pass offences at Maryland during the last two seasons. In 2021, Dontay Demus, another taller receiver (6-4, 213), was on his way to a productive season for Maryland, catching 28 passes for 507 yards and 3 TDs in five games before going down with a broken leg to end his season. His teammate, Rakim Jarrett, finished that season catching 62 passes for 829 yards and four TDs. In the two seasons where Enos was the OC, Maryland's starting QB Taulia Tagovailoa attempted 474 and 391 passes. Safe to say the Arkansas O is going to be throwing the ball around in 2023.

The starting QB for Arkansas, KJ Jefferson, returns for another season. As mentioned earlier, Burks was the last high-end CFF WR to come through Arkansas, and you can guess who the QB was. Yes, KJ's been around for a little while. That's a good thing for us, we can check off the QB box from our list of concerns.

The top two WRs from last year's squad are leaving. Matt Landers, whom I'm quite familiar with from his days at UGA, had a very productive season last year, catching 47 passes for 901 yards and eight TDs. Coincidently he is of the same mold of receiver as Armstrong, listed at 6'5″, 213 pounds. Another encouraging sign knowing the same QB will be throwing Armstrong passes this upcoming season. Their next most productive receiver in 2022, Jadon Hasselwood, caught 59 passes for 702 yards in 2022. So there is a lot of production vacating the roster and someone is going to have to step up and catch some of these deep shot TD passes, why not Armstrong?
Since coming across his profile in January, I marked him down as a player I wanted to track. 
That seems to have been a good plan—Armstrong looked the part on Saturday, leading the Hogs in receiving with five catches on seven targets for 78 yards and a score. The next leading receiver—Jaedon Wilson, caught three passes for 83 yards and a score. This game was a blowout, so we should keep that in mind, but the early signs for Armstrong are positive.
---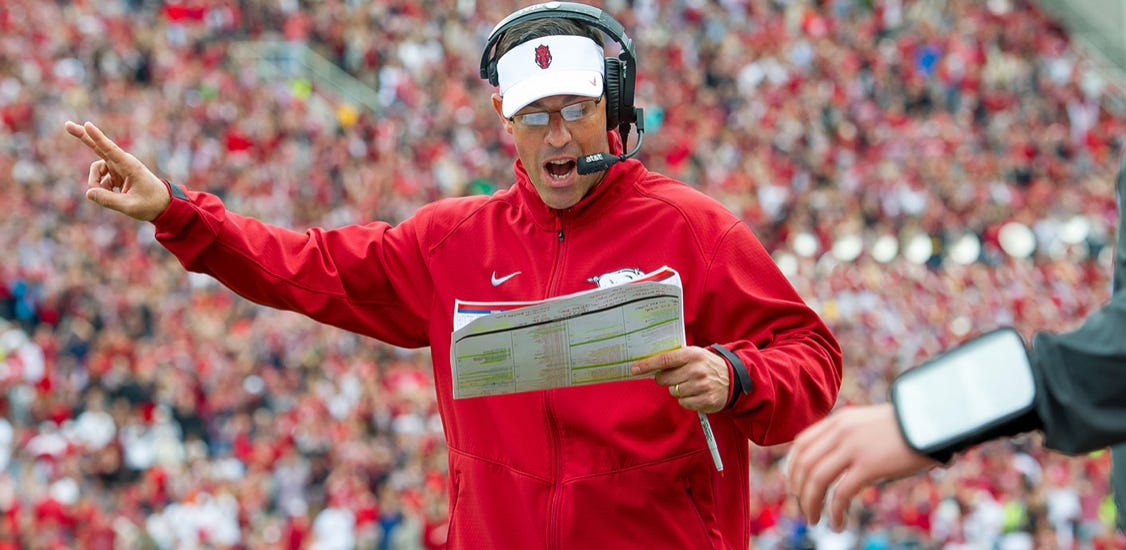 Enos' track record is not overwhelmingly impressive, but talent might win out in the end.
New OC Dan Enos joined the program by way of Maryland. He called plays for the Terrapins between 2021-22, and before that, he served as associate head coach and RBs coach for Cincinnati in 2020. He also spent a season at Miami (2019) and Alabama (2018) as an assistant coach and analyst. Notably, this will be the second time he calls plays for the Hogs, as he OC'd Arkansas from 2015-17.
When he OC'd Arkansas during his first stint, his offenses produced zero 1000-yard WRs in three seasons. As mentioned above, in 2021, Maryland WR Dontay Demus was well on his way to 1,000 yards, but Enos would fail to produce any 1,000-yard receivers in his two seasons there.
So, this system's track record is not ideal, but I should also note that Arkansas, under head coach Sam Pittman, has been pretty kind to the boundary WR position. I mentioned Treylon Burks in the blurb above, and that's the archetype I'm looking at here as the best case for Armstrong. It's also possible that the talent usurps the system's tendencies. He's got a good QB throwing passes to him, and yes — while they'll be running the football heavily, too — there should be opportunities for a player who makes his money downfield off of play action.
---
Other WRs in the room
Jaedon Wilson (6'3 ", 180) caught three passes for 83 yards and a score vs. WCU. The yardage and score are impressive, but he was actually only targeted three times. On the bright side for Wilson, he already topped his yardage from last season in this one game. This is his third season with the Hogs.
Isaac TeSlaa (6'4 ", 216) was targeted four times, catching three of those for 66 yards and a score. As you can tell, this WR core is big, with each player standing 6'3" or higher. Like Armstrong, TeSlaa transferred to Arkansas this offseason, and he is rising up from Division II.
While the above two names, plus TE Luke Hasz, are also involved in the passing game, no player out-targeted Armstrong last Saturday vs. WCU. Should he end up being the WR1 of this team, I would expect more-so a stat line of Matt Landers last season vs. Treylon Burks in 2021. Even still, Landers was quite productive, catching 47 passes for 901 yards and eight TDs in 13 games (14.3 FPG in 1PPR).
---
Like this type of content? I've got good news for you; there's an ungodly amount of it over here: VolumePigs.
You can also find me occasionally tweeting about CFF and CFB over here.