The transfer portal has officially opened, and as expected, we are entering the full-on chaos mode that many predicted to ensue. One of the most notable dominoes at the quarterback position has officially fallen. Former Clemson quarterback DJ Uiagalelei has entered the transfer portal after a frustrating season, capped off by getting pulled for a true freshman and former five-star prospect Cade Klubnik in the ACC Championship Game against North Carolina.
The Clemson Path
Though the writing was on the wall, this still sucks for a player with such high character like Uiagalelei. His valiant effort in the loss to Notre Dame as a true freshman seems like a decade ago, and the St. John Bosco High School product has failed to live up to the expectations placed upon him entering the college football landscape. While some may be unwilling to admit this, we actually saw considerable improvement from the 6'4" 235-pounder when comparing his junior production to last season, yet that is not much seeing as how much he struggled as a sophomore.
Dabo Swinney has dealt with similar situations in the past, as Kelly Bryant, who led the Tigers to a College Football Playoff appearance, was replaced by a five-star prospect named Trevor Lawrence. Perhaps, you've heard of him. However, this is slightly different, as Bryant left the team in the middle of the season and faced harsh public criticism. Uiagalelei stuck it out the entire season, and even when delegated to the sideline, he handled it with as much grace and professionalism as you could ask of him. Also, as good as Klubnik is, he's not in the same stratosphere as Lawrence as a prospect despite both possessing five-star billing.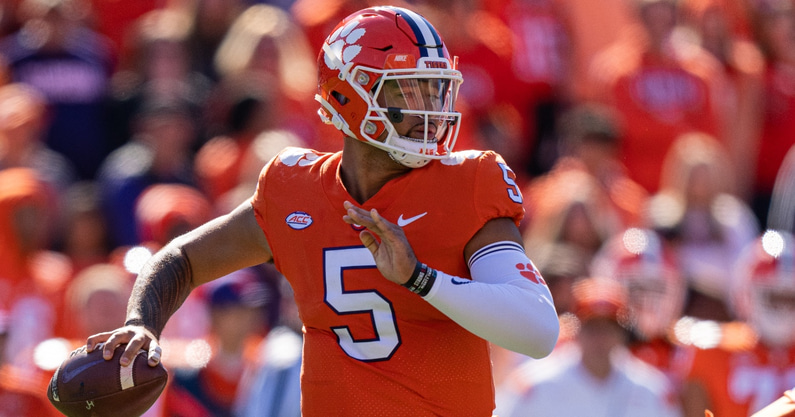 I'm not in the position to say whether his struggles revolved around something schematically or a diminished sense of confidence. However, he did appear flummoxed in moments when the lights were brightest. With that said, I am rooting for Uiagalelei as a prospect. I am confident he will find a landing spot that allows him to maximize his potential as a quarterback and a student-athlete in the modern era.
Potential Landing Spots
Two things should be considered when identifying potential landing spots.
His younger brother, Matayo, is one of the most highly touted prospects in the 2023 class. Ranked as the number-two edge prospect in the country, the 6'5" 265-pounder possesses a laundry list of offers from the top programs in America. Many believe there is mutual interest in a package deal, which muddles the situation since not every team is in the market for a quarterback. However, we must remind ourselves that Matayo is the prize recruit, not DJ. How far are teams willing to go to secure his commitment? Do you promise that his brother will get the starting job? Is this even a combo deal for sure? I guess we'll find out.
And then there's the whole NIL aspect. This is a tweet from back in March from Dave Uiagalelei, the father of DJ and Matayo. 
This is the new reality in college football; players are starting to put their best interests, whether that be on or off the field, to the forefront of their decision-making process. While this does not necessarily mean either DJ or Matayo will make their commitment based solely on NIL, a father tweeting this to over 20,000 followers at least means it needs to be factored in.
Here are three landing spots I see as potential fits for former Clemson quarterback DJ Uiagalelei.
UCLA Bruins
With Dorian Thompson-Robinson announcing his decision to play in the East-West Shrine Bowl in February, the DTR era in Westwood has finally come to an end. Looking forward to next season, Ethan Garbers is the most experienced quarterback on the Bruins' roster. From what I've seen and through interactions with people who follow UCLA much closer than I do, Bruins fans aren't necessarily excited about his ceiling as a prospect. True freshman Justyn Martin has intrigue, as the four-star prospect's blend of arm strength and athleticism creates a quarterback with almost limitless potential. While he may be the long-term answer, bringing in a bridge quarterback to allow another year of development with little pressure to contribute would be beneficial.
Say what you want about Chip Kelly, but he's one of the most innovative offensive minds in the sport and does a great job tailoring offenses to maximize his quarterback's skill set. I think he would do just that with Uiagalelei if he decided to return to the Golden State. Reuniting with one of his top receivers from high school, Logan Loya, would be cool to see, too. I think this makes the most sense from an opportunity standpoint. UCLA provides Uiagalelei with the best opportunity to rebuild his draft stock, and playing close to home has been widely considered a huge factor in the decision. Plus, Matayo would be an immediate plug-and-play starter. How much does the conflicting fandom factor in, as he has been on record saying he grew up as a big-time USC fan? I think the opportunity might be too good to pass up.
Oregon Ducks
If Nix leaves, Uiagalelei can provide the Ducks with a competent bridge quarterback, giving incoming five-star freshman Dante Moore a year to get his feet wet before handing over the reins entering the 2024 season. There are rumblings that the former Auburn transfer will stick around Eugene for another season, which certainly would complicate matters. Uiagalelei would not challenge Nix for the starting job entering next season, so the only aspect of this that remains sensible if Nix stays is to get Matayo in Eugene. At the same time, Oregon would have three former five-star quarterbacks at their disposal, an embarrassment of riches for new offensive coordinator Will Stein to work with. I personally think Nix declares for the NFL because his season with Kenny Dillingham has completely revitalized his draft stock. With Dillingham gone to Arizona State, does he take the risk of that crashing down in his final year of eligibility? This is mostly gut feeling, so only time will tell.
According to On3's Chad Simmons, Matayo has developed a spectacular relationship with Dan Lanning and Tosh Lupoi and has worn Oregon gloves on multiple occasions throughout this high school season. DJ would have plenty of weapons on offense, including receiver Kris Hutson, his high school teammate, who accounted for over 30 percent of his passing yards during his senior year.
USC Trojans
Okay, hear me out on this one.
As I mentioned before, the Uiagaleleis were raised as major USC fans. DJ has said he wears the #5 jersey in honor of his favorite all-time college player, Reggie Bush. His grandmother used to attend every home Trojan game. From all reports, Uiagalelei is a model citizen and the type of person that every locker room in America would be fortunate to have. Do you think Riley spins the wheel on bringing in Uiagalelei to mentor Williams and incoming freshman Malachi Nelson if that means he lands Matayo? This would be an extremely sensible move from a culture-building perspective. Couple that with the NIL implications of being in Los Angeles; I think it's a genuine possibility.
A great point was made in our team slack chat when I posed this as a possibility. Would you risk scaring Nelson off by bringing in Uiagalelei? I don't necessarily think this is the case. Nelson seems tied to Riley; he initially committed to Oklahoma and flipped to the Trojans when Riley announced the move to southern California.
This would mean that Uiagalelei is content with acting primarily in a reserve quarterback/mentor role, as there doesn't seem to be a chance of winning the job outright over Williams. Is he willing to make that sacrifice? We know Riley has rolled the dice on high-character passers who lost their starting job before, a la Jalen Hurts.