Friday's slate only includes two games, but there are still a handful of notable players and storylines to monitor. The Golden Knights will look to avenge a loss from a year ago, where UCF fell to Louisville 42-35. The Golden Knights suffered several crucial injuries in that game, most notably former quarterback Dillon Gabriel. One thing is for sure; the Bounce House will surely be bouncing.
On the other side of the country, Boise State heads to Albuquerque for a Mountain West matchup with New Mexico. The Aggies are coming off a 41-0 dismantling of Maine (FCS), while the Broncos look to get back on track after a 34-17 setback to Oregon State.
Here are five key storylines to watch for in Friday's slate.
Jeanty in a Bottle
One of the biggest storylines out of preseason camp in Boise was the emergence of first-year running back Ashton Jeanty. The Broncos lost a handful of depth running backs from last season and considering he was the only true freshman on the opening two-deep, Jeanty seemed to be in line for touches behind incumbent starter George Holani.
In the Broncos' season opener, Jeanty played 32 of 71 snaps, slightly less than Holani (39). The 5'8" 205-pounder was the highest graded offensive player on the Boise State offense, carrying the ball four times for 16 yards and reeling in all six of his targets for 52 yards. The freshman seemed incredibly versatile, lining up in the backfield, in the slot, and out wide. There was a play where he lined up as an outside receiver and ran a go-route, adjusting well to reel in an underthrown ball despite a pass interference call.
The Jacksonville, Florida native did have a costly fumble inside the five-yard line early on but did continue to play a crucial part in the offense as the game went on. While Holani is a talented runner, he has missed time over the last two seasons dealing with various knee and soft tissue injuries. While head coach Andy Avalos has been adamant about Holani being the primary guy, he also has mentioned that keeping him fresh throughout the season through load management is a key to the Broncos' success. Keep an eye out for how the snap counts are managed and how Jeanty performs as a runner.
Dez 2.0?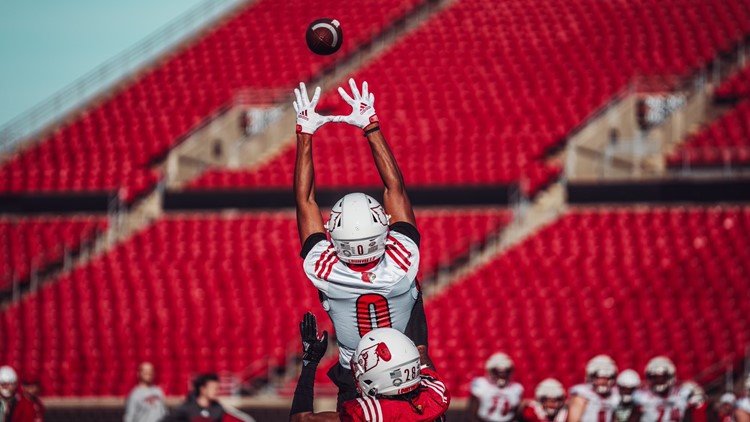 When Malik Cunningham called Tyler Hudson "Dez 2.0" in late July, many scoffed at the quarterback's remarks, writing them off as typical teammate flattery. One week into the season, it appears the Central Arkansas transfer will be a mainstay in the Cardinals' offense.
The 6'2" 197-pounder was one of the only bright spots in Louisville's opener, cashing in on eight of his nine targets for 102 yards. The next closest pass-catchers in target share were Dee Wiggins and Ahmari Huggins-Bruce, receiving only three apiece. Hudson caught both of his contested catch attempts and seemed comfortable running routes at all three levels.
There are still some questions about how the Louisville receiving production breaks down going forward. Huggins-Bruce is a dangerous weapon out of the slot, but he seems to project as a deep threat/gadget-type player more than a receiver who can handle a high volume. Cunningham's go-to guy from a year ago, tight end Marshon Ford, only saw two targets, so he should see an uptick in volume. How does Wiggins, the Miami transfer, factor in going forward?
Either way, should we be talking about Hudson as a legitimate devy asset? Probably.
Eye of the Tiyon
When I was writing my ACC Atlantic preview article before the season, I tabbed Tiyon Evans as easily the most talented back in Louisville's room. However, I made it clear I believed that Jalen Mitchell, the Cardinals' leading rusher from a year ago, will likely contribute and probably limit a potential breakout from occurring.
Mitchell only played eight snaps in the opener, compared to Evans' 36, and it didn't seem to be a health-related issue. Takeaway? Evans might simply be that good.
In his first action as a Cardinal, the former Tennessee back shined in an otherwise gloomy offensive debut from Louisville, running for 89 yards and a touchdown with close to a seven-yard per carry average. The 5'11" 220-pounder bruised his way through Syracuse's defense with over half of his yards coming after contact while forcing five missed tackles. He doesn't have great long speed but showed enough juice to break off two carries of at least 15 yards.
We know Evans can produce, but it will be interesting for me to see if Mitchell's limited usage was by design or flukish. If Evans' only competition for snaps in the backfield is former Syracuse transfer Jawhar Jordan and the ghost of Trevion Cooley, he should be in for a major breakout from a production standpoint.
JRP = MVP
UCF quarterback John Rhys Plumlee was masterful in his Golden Knight debut, completing almost 65 percent of his passes for 308 yards and four touchdowns. PFF graded three of his throws as 'Big Time Throws', and his stats through the air might have been even more notable if it wasn't for five drops by his receiving core. The 6'0" 200-pounder was equally impressive on the ground, forcing eight missed tackles en route to 122 yards and a touchdown.
What impressed me most about the former Ole Miss Rebel was just how comfortable he looked operating in the pocket. I understand this was South Carolina State and should be taken with a grain of salt, but this performance was still impressive for a quarterback who was lining up as a wide receiver less than a year ago. If this is where he's at in the opener, I'm excited for how he will look at year's end
This week, he gets a Louisville defense who was just gashed on the ground by Syracuse quarterback Garrett Schrader to the tune of 104 yards and a touchdown. He should go absolutely bananas. While I may be bullish on Plumlee as a fantasy-relevant quarterback at the next level, I love everything about his character, and he has my vote for being one of the most exciting signal-callers in the country.
*Side note: Shoutout to UCF freshman quarterback (and an honorary member of the Campus2Canton family) Thomas Castellanos for making his collegiate debut.
Javon Baker trending up
We wondered who was going to fill the void alongside Ryan O'Keefe on the outside for the Golden Knights, and it looks like we got our answer.
Jumping from the SEC to the AAC, former Alabama pass-catcher Javon Baker flashed in his Bounce House debut, capitalizing on five of his eight targets for 84 yards and the first touchdown of the season for the Golden Knights. He also managed to force three missed tackles.
I'm sure he'll be kicking himself about his two drops in the middle of the field, and this may be a concern if the trend continues. The positive thing is that the 6'1" 208-pounder looked sound as a route-runner and utilized on all three levels, from screen passes to shallow posts to go routes. If Baker can put together another productive day with similar volume, he may force the C2C/devy community to adjust their receiver rankings.
*Side note: Can you imagine if Baker kept his January commitment to Kentucky, and the Wildcats were trotting out Baker, Tayvion Robinson, Barion Brown, and Dane Key in four-wide sets? Sheesh.