Week two of the college football season is in the books, and there have already been a fair amount of true freshmen playmakers proving to be legitimate contributors to their programs. Many were highly-touted prospects and regarded to have immediate roles in their offense, while others have even shocked the staff at Campus2Canton with their ability to perform at a young age when the lights were brightest.
Without further ado, here are week two's Campus2Canton Freshmen of the Week.
Nicholas Singleton – RB – Penn State
After a disappointing statistical debut in the opener against Purdue, Singleton flashed monumentally, displaying the type of performance that validates being the number one running back in the class of 2022. The 6'0" 219-pounder ran for 179 yards on ten carries, breaking the Nittany Lion record for rushing yards in a home debut. Yes, this was against Ohio, but forcing nine missed tackles and accumulating almost 95 percent of his rushing yards after contact is a feat worth recognizing regardless of opponent. Singleton had carries of 40, 48, and 70 yards, the last being the longest run for Penn State since Journey Brown (ugh) against Pitt in 2019. It's been 20 years since the Nittany Lions had a running back with three 40-plus yard runs in a single game, as Larry Johnson was the last to accomplish this feat in 2002.
Singleton is an elite asset in C2C and devy leagues, but James Franklin's comments in the postgame presser cast some concern for fantasy managers looking for consistent weekly production. When asked about the run game, Franklin responded, "our rotation was similar to how we said it was going to be, 1-1-1, and then if somebody got hot, we would go with it." The 'play the hot hand" approach shouldn't be surprising, and given the fact that Singleton's play on Saturday was reminiscent of his days at Governor Mifflin High School (PA), we should see the freshman's hand be scorched by season's end.
Omarion Hampton – RB – North Carolina
Going into the season, questions surrounding how the running back room in Chapel Hill would play out were bubbling beneath the surface. Will Mack Brown look to utilize a primary lead-back approach as he did last season with Ty Chandler? Or will he revert to the days where JaVonte Williams and Michael Carter equally wreaked havoc on ACC defenses? Through three games, it appears that Omarion Hampton has shown enough to seize the reins of the primary back role for the Carolina blue and white.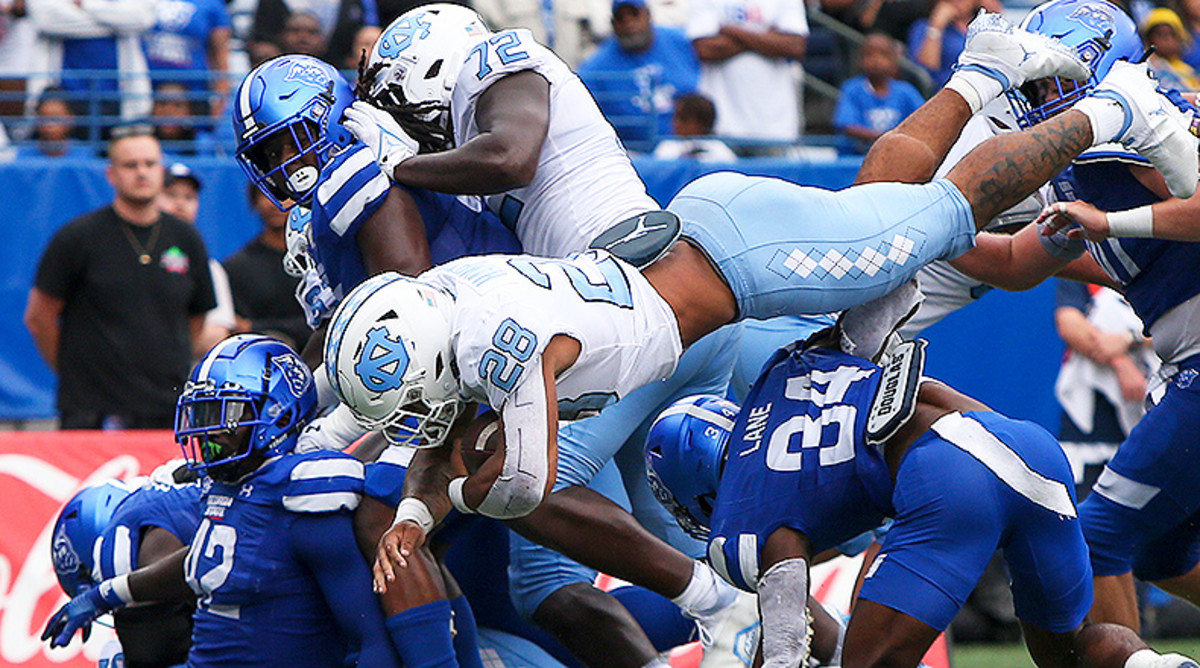 The 6'0" 220-pounder followed up on a lackluster performance against Appalachian State with a statement, providing the Tar Heels with enough juice to outlast Georgia State in a surprisingly contested game. Hampton ran for 110 yards, averaging almost seven yards per carry and scoring the team's final two touchdowns, including a 58-yarder to tie the game up late in the third quarter. 44 percent of his touches resulted in a first down.
In last week's matchup,, touches were balanced relatively even between the running backs, as three backs received at least six carries. Fast forward to this week, where Hampton had as many snaps and carries as George Pettaway and D.J. Jones combined. Notably, Pettaway, Hampton's freshman classmate who many thought would force a 1A/1B approach going forward, was only on the field for six snaps. If this is any indication of how things will play out, we might need to adjust the rankings between the two. Hampton's RB78 ranking is a much more enticing option at cost than Pettaway's RB34 status.
Ajay Allen – RB – Nebraska
The Cornhusker State is undergoing a rollercoaster of emotions this week. Spirits are high in Lincoln, Nebraska, after news broke that Scott Frost would be relieved of his duties after losing to Georgia Southern at Memorial Stadium. Their prayers were finally answered. On the flip side, losing your head coach this early in the season certainly gives way to potential turbulence within the locker room. Mickey Joseph was named the interim head coach, and while his background comes as a receiver, he will have to lean on the run game to keep this ship afloat. Anthony Grant has provided Nebraska with a consistent run game, but freshman running back Ajay Allen has been a pleasant surprise given his limited usage.
The 5'11" 185-pounder made the most of his eight carries, going for 76 yards and scoring the game-tying touchdown last week. Allen recorded 4.88 yards after contact per attempt and forced four missed tackles. With Rahmir Johnson's questionable usage to start the season and Gabe Ervin Jr. only touching the field once on Saturday, it is fair to assume that the freshman running back from Monroe, Louisiana, is the unquestioned second option behind Grant.
While there is uncertainty regarding how the Cornhuskers' offense will operate going forward under new leadership, Allen's continuous improvement over the last three games has likely earned him the opportunity to be a significant factor in year one.
Jordan Hudson – WR – TCU
Quentin Johnston is the unquestioned leader in the TCU receiver room and one of the best pass-catchers in America. Luckily for Sonny Dykes and the Horned Frogs, they won't have to look too far for his replacement as the next great receiver in Fort Worth.
Freshman Jordan Hudson caught all five of his targets and led the way with 76 receiving yards in a 59-17 thrashing of FCS Tarleton State. The 6'1" 190-pounder's average depth of target (aDOT) was a respectable 13.4, and he caught his only contested target. Through two weeks, he is third in targets but surprisingly leads the team in receiving yards with 84.
Johnston will receive the lion's share of targets, and Taye Barber is an experienced veteran that will see looks out of the slot. TCU has not had two outside receivers with this much upside in quite a long time. Now that the freshman has proven to be a reliable option in the passing game and gained some trust from quarterback Max Duggan, expect his target count to continue to rise.
Dane Key – WR – Kentucky
Last week, I selected Kentucky wide receiver Barion Brown as a 'Freshmen of the Week' but made sure to note that his classmate, Dane Key, deserved acknowledgment and would be a weekly consideration. Well, it seems he checks in on Campus2Canton's content because he made sure to put together a performance impossible to ignore this week.
In Kentucky's win over Florida, the 6'3" 194-pounder caught all three of his targets, including an incredible 53-yard contested catch that warranted multiple replays. Key has found the endzone in his first two games with the Wildcats, which may not appear too impressive until you dive into the Wildcats' historical production with first-year receivers. The last time a Kentucky receiver caught two touchdown passes in his first two games was in 2000 by Derek Abney. His quarterback? The late great Jared Lorenzen.
Abney went on to end his first season with 40 receptions for 413 yards and three touchdowns. His role as a pass-catcher/returner is more comparable to Brown, but Key seems to be a much more consistent option for Will Levis in the passing game and provides a much-higher floor. Regardless, any time you are on a list with a former All-American/All-SEC-level player is a reason for optimism regarding his long-term value. You should be sending out offers for Key in your C2C leagues before his volume shoots up astronomically.