1. Trade for Seth Henigan
True freshman Seth Henigan had a monster freshman year assuming the starting role and is on the upswing long-term. Since stepping in to start, Henigan averaged 332.2 yards per game and 2.5 touchdowns per game. Henigan finished with the highest total EPA among true freshmen in 2021, ranking just outside the top 10 in the number in the nation. Henigan has prototypical size (6'3″ 200lbs), good arm strength with accuracy and pocket presence set him up for an elite collegiate producer with potential NFL upside for the next few years. His knock is a lack of rushing upside, but he's mobile enough to make up for it.
Henigan is a specific target for me because I don't believe the market has caught up to his value. In 2021, Henigan finished as QB28 in scoring the highest among all freshmen this year. A likely top-24 QB producer with top-12 upside moving forward for the next three years. I think where my evaluation differs from the market is that he has NFL upside. Despite dealing with an arm injury at stretches this year, he still posted an 8.45 yards per pass attempt, with an 8.8 adjusted yards per attempt. Given his EPA and adjusted yards per attempt, there is a lot to like about Henigan, and there's a case to be made that he had the best season of all true freshmen in 2021.
2. Fade Braelon Allen at Cost
The key to this is – it's too late to trade for Allen, given the risk involved. If you got him early, congrats, otherwise wait and see with the talented first year back. Spending a top-12 C2C startup pick on Allen is filled with unnecessary risk and a lack of upside. Being taken around that spot makes it hard for him to go further up with the landscape. Assuming he's reached close to peak value, the issue with his profile is that he's more athlete than running back currently. Yes, he's 17 years old and doing this as a converted athlete, but there are also questions about his game at the position.
I don't want to take away from what Allen has done because it's incredibly impressive. However, I'd be remiss if we didn't touch on some of the concerns. First, as mentioned above, he's relying on raw athleticism to run for hundreds of yards against Northwestern, Rutgers, Nebraska, etc. We haven't seen an actual test outside of Iowa. Much of his valuation relies on him making the jump to true running back and not just athlete. The second and bigger concern is that he doesn't catch passes. This shouldn't be primarily surprising because he's a converted linebacker, but he only had three games this year with a reception for six on the year. He doesn't currently have a skill, and the market is again, assuming he makes that jump as a player. The final concern, and to be fair – it's more anecdotal, is he's not the prototypical size for the NFL right now. AJ Dillon and Derrick Henry break the mold, but it's still rare to see a player at the position upwards of 240lbs. Ultimately, a lot of his cost is projected massive improvement, which isn't impossible but makes me warry given his current valuation.
3. Add G5 Players Early (Especially RBs and WRs)
This isn't a secret, but once again, a heavy G5 heavy roster helped win championships this year. After playing out of conference schedules, conferences like the MAC settle in and play high-scoring games weekly, delivering value to win championships. In the playoffs, the top quarterback was WKU's Bailey Zappe, and Miami, OH's Brett Gabbert finished top 8 as well. The top two running backs were studs from the MAC, Toledo's Bryant Koback and Central Michigan's Lew Nichols III. It wasn't a small difference either; Nichols outscored the RB3 by 23.4 points over the last three weeks, and Koback outscored the RB3 by 16.4 points. For receivers, three G5 players finished in the top 7 (WMU's Skyy Moore, WKU's Mitchell Tinsley, and ODU's Ali Jennings).
The real kicker with adding G5 players is the relative cost of acquisition. For example, Toledo RB Bryant Koback went 347.6 in ADP in C2C leagues this summer and was a key player down the stretch run, featuring heavily on championship teams. Lew Nichols led the country in rushing and consistently was drafted outside the top-15 rounds. In established leagues, adding G5 producers ahead of the in-season kick is critical. With hype and excitement coming in for freshmen, high-end G5 producers are likely to fall by the wayside early in the offseason.
4. Stop Sleeping on Rasheen Ali
Rasheen Ali lit the country on fire as a redshirt freshman, totaling 1,570 scrimmage yards and 21 touchdowns. Ali is a true dual-threat running back with 230 carries and 44 receptions this season while leading the country in rushing touchdowns. From a pure college production perspective, Ali finished the season as the RB4, averaging over 27.82 points per game. With two years of likely production ahead, Ali deserves to be in the conversation for CFF RB1.
From an NFL perspective, Ali hits a lot of boxes the league is looking for. A legitimate dual-threat, Ali has the vision and burst to consistently pull away from defenders once getting into the second level. He did score a touchdown on a kick return this year which was a trick play, but it's more likely Marshall didn't want him out there consistently as he is by far their most important player. With advanced stats, there's an argument that Ali is already a top-5 back in the 2023 class. With a 95th percentile backfield dominator rating (defined as the share of backfield's rushing and receiving production), 92nd percentile reception share, and 83rd percentile RYOE/ATT (rushing yards over expected per attempt – based on level of competition and game situation), Ali has been dynamic with every opportunity presented.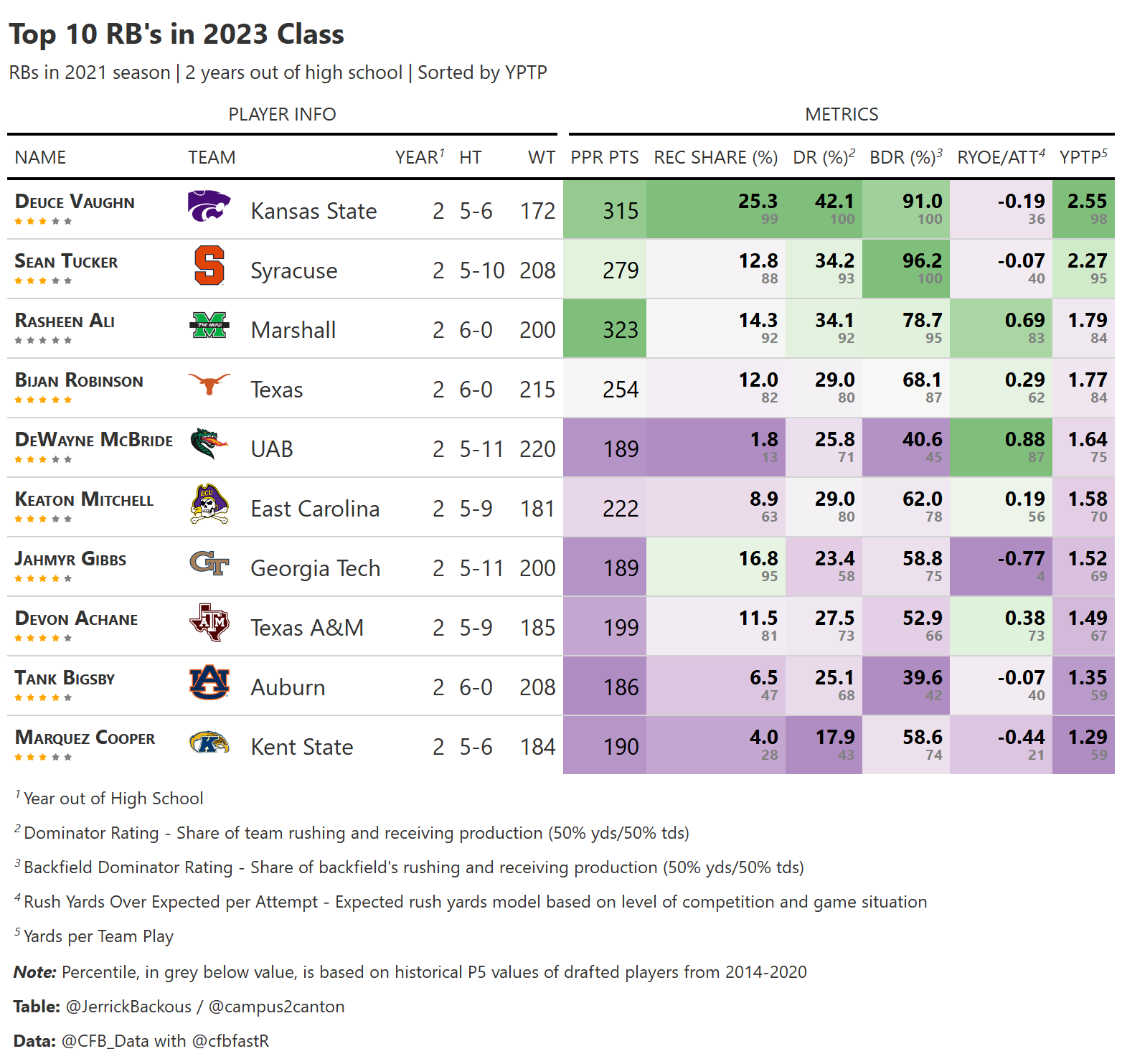 Ali is 2023 eligible, and another monster season could get him drafted, but I suspect he will enter the 2024 class instead. With multiple years of high-end production on his resume, the only question surrounding Ali as a day two instead of day three pick is his size limitations. Despite being 6'0″, Ali is only 200lbs, and to see requisite draft capital, teams are likely looking to see him add 5-10 more. For now, I expect Ali to be drafted, but given his locked-in CFF production and potential Day 2 upside, he's a must-target this offseason before the hype builds up.
5. Trade Away Jaxson Dart
For my final move – it's a hot one. Dart has become a darling in the C2C community, but it's time to at least consider moving him in your leagues. Lincoln Riley taking over at USC is a massive boost to Dart's value in the short term, but a lot of questions remain in the long term. There's speculation that Caleb Williams could join Riley in USC and Malachi Nelson will join him next year. With Dart, the idea is you're getting ahead of a move that could crater his value OR that he's already peaked and the risk isn't worth it. Is the talent there? Maybe (something we don't have a good idea of yet), but getting out on a high-valued, unproven quarterback is the smart move in this format. Recent mock drafts for the site have seen Dart go as high as the 2.02 (14th overall in startups), at that price-point, I believe the risk around his role and simply being unproven make moving him a good move.
The caveat I will make with this suggestion is that someone in your league must buy the hype. If you're not getting premium assets back for Dart, hold and bank on the player and situations upside.