Conference Championship Saturday is a few days away. The Big 12 matchup between the TCU Horned Frogs and the Kansas State Wildcats is one of two matchups on the slate with legitimate playoff implications. Sonny Dykes is in the midst of a magical first year in Fort Worth, one of historic proportions. TCU has been battle-tested throughout the season and has come through unblemished, as their 12-0 start is the first since Andy Dalton's final season in the purple and white over ten years ago. Meanwhile, Bill Snyder's squad looks to avenge a week eight loss to the Horned Frogs, where they were blanked in the second half after being up 28-17 at halftime. All three losses that the Wildcats have been dealt came at the hands of teams that are currently ranked in the AP Poll.
Here are five questions I have relating to prospects in the Big 12 Conference Championship Game.
Is Will Howard A Prospect We Should Be Monitoring?
Adrian Martinez, the once-Nebraska quarterback, transferred into Manhattan and was the immediate replacement for former signal-caller Skylar Thompson. Starting the first eight games of the Wildcats' season, the 6'3″ 225-pounder was injured on the first possession of the game against TCU, giving way to junior quarterback Will Howard. The 6'5″ 235-pounder led Kansas State on four consecutive touchdown drives before getting injured on a third down zone-read carry in the third quarter. In the roughly eight minutes of game time between when Howard departed the game to when he reentered the game early in the fourth quarter, the Wildcats' drives consisted of a missed field goal attempt, an interception, and a stuffed fourth down quarterback sneak attempt. Meanwhile, the Horned Frogs scored two touchdowns and a field goal to go up 38-28, a deficit that ended up being the game's final score.
This would have been a different game in the alternate world where the Pennsylvania native did not have to leave the game. Momentum shifted completely in favor of the Horned Frogs, and the Wildcats could not make enough plays in the second half to fight back. How would we view Howard as a prospect if he was the one quarterback to take down TCU? When he was allowed to start the following week, the Downingtown East High School product lit up Oklahoma State for 296 yards and four touchdowns en route to a 48-0 victory. In five games played this year, two of which he did not play the whole game, Howard has amassed over 1,200 yards and 13 touchdowns, all while only turning the ball over twice. Coincidentally, the Wildcats have also scored 45 points in three of their last five games, with their lowest-scoring outing being a 27-point day against the Longhorns. According to PFF, he has totaled seven turnover-worthy plays, but he is at least taking chances down the field to allow his receivers to make a play. There's no doubt that Howard makes this offense immensely more terrifying to defend against. Plus, if you extrapolate some of his raw numbers to a 12-game season, which I understand never tells the full story, he's in some great company. 
Are We Underestimating Deuce Vaughn As A Draft Prospect?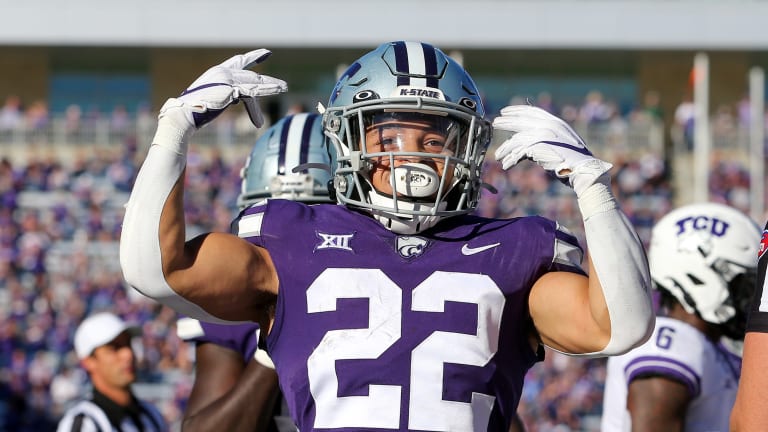 Vaughn's stature may not be intimidating at first glance, but ask the Big 12 defenses he has faced over the past two seasons if his impact wasn't felt when he ran roughshod over them. In 19 of his 35 career games in Manhattan, the 5'6″ 176-pounder has recorded over 100 rushing yards. That's over 50 percent of his games donning the Royal Purple, where he hit the century mark. The Round Rock, Texas native, was recently named as a Doak Walker Award semifinalist, the first time a Kansas State running back has been named to the abbreviated ten-player list in consecutive years.
Among Power Five running backs with at least 30 targets, The Cedar Ridge High School product is top five in receiving yards (343). Still, a more interesting stat to me is that he leads the nation in slot snaps (56) and is second in average depth of target (aDOT) with 3.2 yards within the 30-target threshold. My translation? He is much more capable of being a versatile chess piece that can be moved around an offense than some other running backs with pass-catching chops. In last week's Sunflower Showdown with Kansas, Vaughn combined for 229 all-purpose yards, marking his fifth career game with at least 70 rushing yards and 70 receiving yards. Darren Sproles, the prospect often seen as the 'best case scenario' for Vaughn, amassed only three. 
Now, I'm not saying Vaughn will have a career comparable to Sproles; it would be difficult to do so without receiving harsh criticism. But how is he currently being viewed as an NFL draft prospect? According to Campus2Canton's most recent rankings, Vaughn is the 25th-best running back in the country, ranked 12th in the 2023 class. Size limitations considered, I think that's a fair spot for him as a draft prospect, where he is surrounded by niche players like Texas A&M's Devon Achane and Georgia's Kenny McIntosh. Looking at the last five or so draft classes, the 12th-ranked running back has come off the board somewhere in the early-to-mid day three range. That's about right, in my opinion. So, I guess the answer to this question is "no."
Did Max Duggan Hear All Of The Criticism?
If you've been following TCU or college football in general, you have heard the stories of Duggan's career being pumped out by the media to date. The quarterback who, as a true freshman, was somehow solely responsible for Jalen Reagor's inability to crack into national prominence. The three-year starter began his final season in Fort Worth as a backup quarterback to former Sooner Chandler Morris. Well, no matter how much it rains, it eventually becomes Sonny, and Dykes has Duggan playing at a level comparable to his days at Lewis Central High School when he was named Iowa's Gatorade Player of the Year. 
If you just looked at this season's raw production numbers, you'd drive yourself crazy trying to figure out why he's not getting any draft hype. A four-year starting quarterback with over 3,000 passing yards, a 29-3 touchdown-to-interception ratio, almost 500 rushing yards, and five touchdowns on the ground, an undefeated record with an opportunity to make the College Football Playoff… in a vacuum that looks like a first-round resumé to me. I understand he has some limitations, and the three years of inconsistent play cannot be forgotten. Yet, I feel the national media is terrified to prop him up as a legitimate draft prospect while other toolsy players with far inferior resumés get the bump. I digress.
Last time out against the Wildcats, the 6'2″ 210-pounder went for 280 yards and three touchdowns, adding over 40 yards on the ground. I'm interested to see how he fares this time out, as Kansas State's defense has improved as the weeks go on. Their 3-3-5 defense seems to be giving offenses major issues, as the Wildcats are tied for fifth in the country with 23 forced turnovers. If Duggan can take care of the ball, it's hard to envision the Horned Frogs losing this game.
Is Kendre Miller Being Undervalued In The 2023 Running Back Class?
Miller was part of the heralded 2020 recruiting class that brought running back Zach Evans and wide receiver Quentin Johnston to Fort Worth. However, as a lowly three-star prospect slotted as the 125th-best athlete recruit in the country, expectations were understandably low. In his first two seasons, Miller held his own, averaging over 7.3 yards per carry on 137 carries while sharing the backfield with Evans. After Evans transferred to Ole Miss, many wondered how the uber-efficient back from Mount Enterprise High School would respond when tasked to carry the full workload. But Miller has been slept on his entire football career and has exceeded expectations, so why would anything change?
Since being given the keys to the Horned Frogs' rushing attack, the junior has seen a tremendous rise in production and his draft stock in the eyes of the national media. People are finally starting to recognize just how talented Miller is. I guess it only takes over 1,200 yards on the ground and 16 touchdowns to do so. What's crazy to me is, most of the time, when you envision a 220-pound running back, your mind immediately goes to an up-the-middle bruiser who is safe but cannot break off chunk runs. Miller? He can embrace contact but has had at least one carry of 15 or more yards in nine of his last ten games, totaling 18 over that stretch. In a four-week stretch from week eight to week 11, the 220-pound Mount Enterprise, Texas native recorded at least one carry of 45 or more yards, marking a 50-plus yard carry in three of the four. Don't let anyone tell you he's not an explosive runner.
Now to the question of him being undervalued compared to the rest of the class, I believe the answer is definitely "yes." He's the 11th-ranked back in the class in Campus2Canton's most recent devy rankings, one spot ahead of Deuce Vaughn. That's far too low for me. I've seen people I respect tremendously in the devy industry rank him as a top-five back. While I like a few running backs more than him, I believe he's much closer to five than ten.