After dismantling Ohio State 45-23 in 'The Game,' Jim Harbaugh and the Wolverines are heading to their second consecutive Big Ten Championship Game appearance. The last time they went 12-0 was 25 years ago when Charles Woodson led the team to a national championship win over Washington State. Michigan is in the College Football Playoff regardless of the outcome, but they will need to get past the Boilermakers to keep their undefeated streak alive. A veteran Purdue squad, led by Jeff Brohm, has won three straight contests to bring the Big Ten West divisional title back to West Lafayette for the first time in school history. Having taken down two top-three-ranked teams last season, the Wolverines will have their work cut out for them.
Here are four questions I have relating to prospects in the Big Ten Conference Championship Game.
Can J.J. McCarthy Replicate His Performance?
I will be honest; I was not a huge fan of J.J. McCarthy for much of the season. Despite his five-star billing and the flashiness displayed on his highlights from IMG Academy, something just seemed off. I just didn't see the makings of a stud quarterback at the next level. Two things changed my opinion dramatically and made me realize that I completely misunderstood what exactly makes the La Grange Park, Illinois native such a great quarterback. McCarthy reached out to Purdue quarterback Aidan O'Connell earlier this week about the sudden passing of O'Connell's brother that happenned last week. That level is rarely seen from opponents at any age, never mind a 19-year-old kid. The other thing that opened my eyes occurred during his post-game press conference:
If you simply look at his production in a vacuum, the numbers will not exactly wow you. A smidge over 2,200 yards and 16 touchdowns does not necessarily scream 'all-world quarterback.' He only completed 12 passes against the Buckeyes, and when you look at his three passing touchdowns, they either came from lapses in coverage or his receiver making a play on a screen pass. At the end of the day, none of it matters if you walk into The Shoe as a first-year starter and win by three scores in a win-or-go-home game. Given the identity of the Wolverines's offense, winning in the trenches and pounding the ball on the ground, the 6'3" 196-pounder does not need to put up Caleb Williams-level numbers through the air for his team to be successful. All he needs to do is take care of the football, which he has done all season. Among Power Five quarterbacks with a minimum of 250 dropbacks, McCarthy is one of three quarterbacks who have thrown less than three interceptions on the year. The other two? LSU's Jayden Daniels and Tennessee's Hendon Hooker.
Now can he keep this going into Lucas Oil Stadium? With the moxie displayed last week in the face of public criticism, it's very difficult to bet against him at this point. Frankly, it's actually much easier to root for him, no matter what team your fandom lies with. Purdue will likely look to replicate the defensive gameplan many opponents have attempted to limit the Wolverines this year; double down on stopping the run and force them to beat you through the air. As we saw last week, that doesn't always work.
Will Blake Corum and Donovan Edwards Dominate?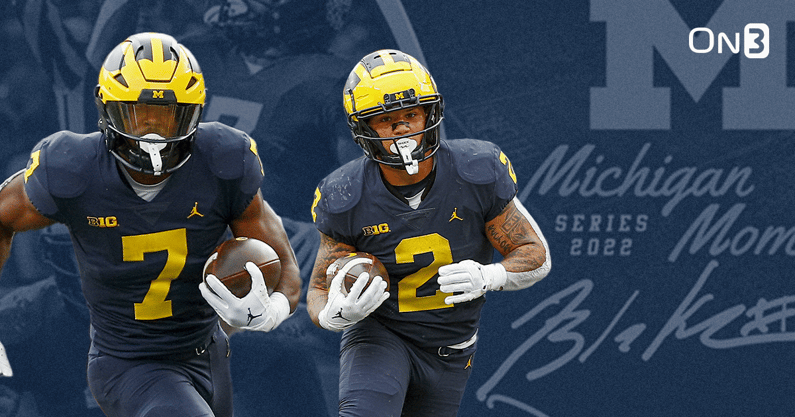 The Boilermakers haven't faced an offensive line as talented from tackle to tackle as the Wolverines, and the duo of Blake Corum and Donovan Edwards is likely the best in the country. You could argue how much they benefit from the line play, and that's all fine and dandy. The reality is, in an alternate world where USC quarterback Caleb Williams does not exist, Corum wins the Heisman Trophy and becomes the first Big Ten running back to receive the honor since Ron Dayne in 1999. The 5'8" 210-pounder from St. Frances Academy (MD) has over 1,400 yards and 18 touchdowns on the year. Edwards, a 6'1" 204-pounder who grew up less than an hour from The Big House in West Bloomfield, Michigan, has also been incredible when given the opportunity to handle the bulk of the workload. In the three games where the sophomore back received at least 15 carries, he averaged almost 9.5 yards per carry and found the endzone four times. Last week with Corum banged up, Edwards earned Big Ten Offensive Player of the Week honors after rushing for 216 yards and two touchdowns against the Buckeyes, both of which were at least 75 yards. Together, the two have the Wolverines' rushing game sitting at fifth in the country with almost 245 yards per game, rushing for more than 250 yards in five of their last six outings.
With all that said, I am really interested in how the Wolverines' running backs perform this week. Not only because they both are banged up and likely going into Saturday not fully health, but I think Purdue's rushing defense is a little underrated at this point. Their numbers don't jump off the board, giving up 128.8 yards on the ground per game, which lands them in the middle of the pack compared to their conference foes. However, the Boilermakers have faced three of the five top rushing offenses in the Big Ten: Minnesota (2nd), Penn State (4th), and Illinois (5th). The Gophers' running backs totaled 45 yards on 2.25 yards per carry. Nicholas Singleton and Kaytron Allen combined for 62 yards on 18 carries. And Chase Brown recorded his second-lowest yardage total of the season against Purdue. Don't sleep on them; this won't be a walk in the park for Corum and Edwards. However, if the Boilermakers cannot slow down Michigan'srushing attack, this will be a LONG game.
How Underrated Is Devin Mockobee?
Mockobee wasn't heavily acclaimed coming out of Boonville High School, as 247 Sports ranked him as a three-star prospect, the 163rd athlete in the 2021 class. He actually was initially committed to Navy but decided to continue to wear the black and gold for his college career, joining Purdue as a preferred walk-on. He redshirted his first season in West Lafayette and heading into this season, there wasn't much of an expectation for him to contribute with returnees King Doerue and Dylan Downing in the mix. However, an injury-riddled season from Doerue opened up an opportunity, and Mockobee took full advantage.
Barring injury, the 6'0" 195-pounder will pass Markel Jones' program record for freshman rushing yards, as he is just 26 yards away from breaking the six-year record. All in all, his 2022 numbers aren't necessarily eye-popping; Mockobee has 844 yards and eight touchdowns on the year, averaging 5.1 yards per carry with 20-plus receptions to his resume. However, Only a handful of Power Five teams have passed more than Purdue this year; Mississippi State, Texas Tech, Washington… and that's it. Mockobee seems like a back who takes some time to get in the zone, as his average yards per carry jumps to 5.5 in games that he received more than ten carries.
But Marc, how good is he REALLY? Well, PFF's Elusive Rating is designed to "measure success and impact of a runner with the ball independently of the blocking." The only Big Ten running back that has been on the field for 150 or more snaps with a higher Elusive Rating than Mockobee is Iowa's Kaleb Johnson, an impressive young back who should be talked about more in his own right. He has a higher rating than Blake Corum, Wisconsin's Braelon Allen, and both of the spectacular freshman Penn State running backs. Here's another one: What if I told you the Boonville, Indiana native has more carries of ten or more yards than Nicholas Singleton? Would you believe me? Yes, he's received 15 more carries, and the numbers jump to Singleton's favor when you move the threshold to 15-plus yard carries, but it's still super impressive. Frankly, I think Mockobee will be the new Evan Hull: he'll have three to four years of quality production as a runner and receiver but will not catch much buzz because a. he's not on a flashy team and b. he'll be overshadowed by the vast array of talented backs in the Big Ten.
How High Will Charlie Jones Get Drafted?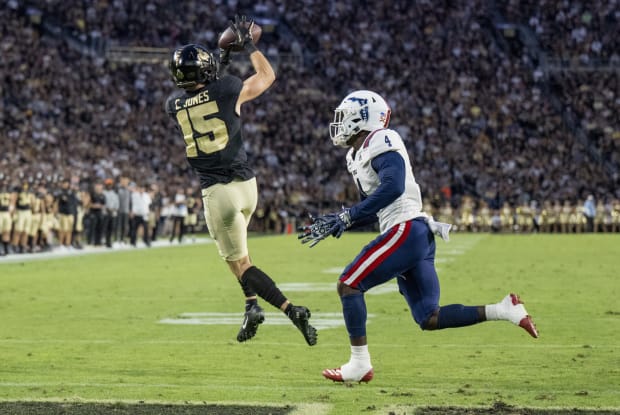 Those in the know of college football already knew that Jones was a member of the Iowa Hawkeyes last season, but did you know he began his career at Buffalo back in 2017? We're talking about Tyree Jackson's final season with the Bulls and two years before Jaret Patterson had his 19-touchdown year. I didn't know that, but let's move on. In his final season in Iowa City, Jones posted modest numbers, recording 21 receptions for 323 yards and three touchdowns. Fast forward to now, and Kirk and Brian Ferentz are probably still headbutting each other over the fact that players like Nico Ragaini and Arland Bruce IV were receiving more looks in the passing game.
I don't even think Jones himself knew he was going to light the college football world on fire this much when he decided to team up with his childhood friend, quarterback Aidan O'Connell, in West Lafayette. It took the Deerfield, Illinois native three games to pass his production numbers from the year prior, but he wasn't satisfied with just that. The 6'0" 188-pounder has five games with at least ten catches and 100 yards on the year, the only Big Ten receiver to do so since 2000. There are only 16 Power Five receivers who have seen 100 targets this year, with Jones' 138 targets trailing only Iowa State's Xavier Hutchinson. Among that group of receivers, he sits first in receiving yards (1,199) and touchdowns (12), and his percentage of targets caught (70.3) only trails North Carolina's Josh Downs, who is afforded the luxury of catching passes from Drake Maye.
In my opinion, it's a foregone conclusion that Jones gets drafted. Between his production, his translatable traits, notably his route-running savviness and speed, and his ability to contribute in the return game, it's a matter of when not if. Is he a first-round guy? Hell no. Sorry, Boilermaker fans; even given his production, I don't think he'll be drafted until day three. Early-to-mid round five seems like a solid spot, falling in the range of prospects like Khalil Shakir and Ihmir Smith-Marsette of recent years. However, if he can continue his streak of seven consecutive games with either 100-plus yards or a touchdown against the Wolverines and flash at the Senior Bowl, "Chuck Sizzle'' will continue to rise up draft boards.