College Fantasy Football is a different monster than other fantasy football games, and part of the challenge comes from the sheer number of players. Because of this, there is often value that can be found deep in player pools. Even in the bottom half of the CFF Consensus Rankings here at Campus2Canton, there are players that I believe necessitate a closer look and should be on the radar of CFF, C2C, and College Dynasty heading into the 2023 season.
This series is designed to take a closer look at those options and provide a profile of why they're in the bottom half of rankings but also provide an argument for why they should be higher. Today's article will focus on RB; however, make sure you check out the previous Back-Half Bangers article, where we explored the quarterback position. Be on the lookout later in the week, as we'll also repeat the process by checking on WRs and TEs.
There are currently 186 RBs ranked by the CFF Team here at Campus2Canton. For the purpose of this article, I only looked for RBs ranked 93rd and below.
Kairee Robinson, San Jose State – RB94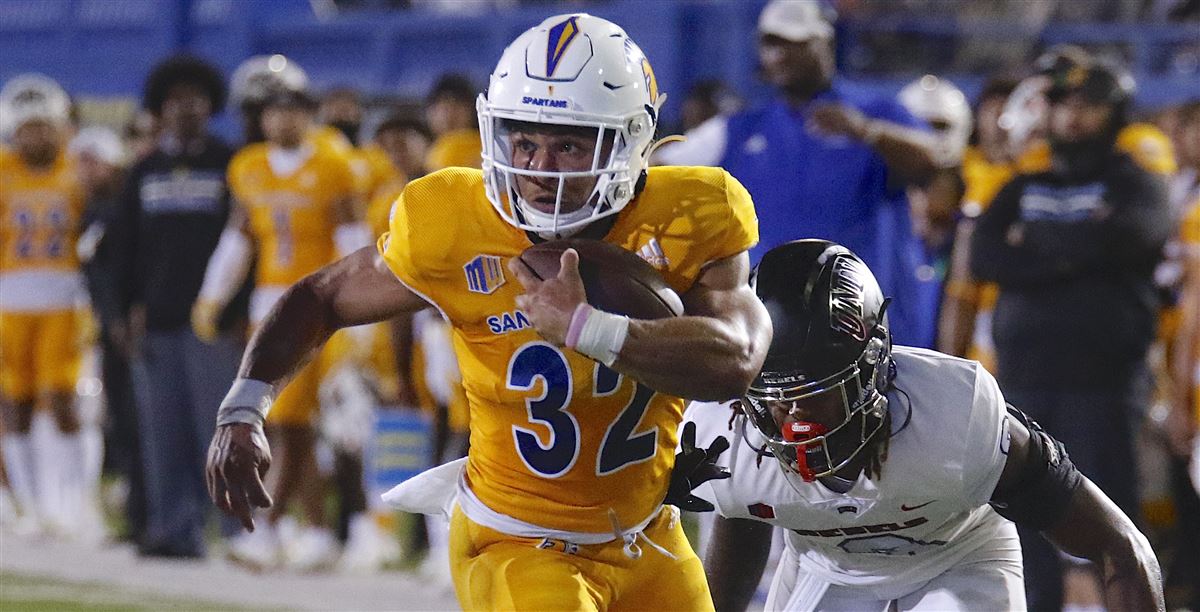 Why He Isn't Higher
Occasionally, players get overshadowed when they're in offenses with other high-powered options. I tend to believe that's the case with Robinson. His stat line from last year is solid but buoyed by touchdowns. He was overshadowed by Chevan Cordeiro's presence and talent in the passing game. Robinson's production didn't jump off the page or steal any headlines, but it was a quiet 14.6 Fantasy Points/Game from him last year that was frankly under-appreciated. In addition, Robinson only averaged 13 carries per game. At that volume, touchdown equity becomes a necessity, and, unfortunately, that's hard to rely upon in fantasy football. San Jose State also adds transfer RB Quali Conley. Conley ran for over 1,000 yards last season at Utah Tech and will likely eat into Robinson's share of the backfield in some shape or form.
Why He Should Be
As mentioned above, Robinson produced 14.6 Fantasy Points/Game last season, and that was good for RB39 overall. When given the opportunity, Robinson took over games. In the two high-volume games where he received at least 20 carries, Robinson had 100+ yards in each. Another point in Robinson's favor is that he's a factor in the passing game as well. Last season, he caught 26 passes, which is a very nice boost to his floor (especially in PPR leagues). This offense returns nine starters and should continue to produce with strong efficiency and put up points. The addition of Quali Conley is most concerning when it comes to touchdown vulturing (as Conley is a bigger power-runner). However, if you must lean on touchdown equity, doing so when in an offense as talented as San Jose State's is the best-case scenario.
Justice Ellison, Wake Forest- RB124
Why He Isn't Higher
In a continued theme with the three RBs featured in this article, Ellison is situated in a pass-heavy offensive system. The Demon Deacons threw the ball 55% of the time when in neutral game-script situations (good for the 25th-highest rate in the nation) last year. In addition to that, Wake Forest has also traditionally utilized at least two, if not three RBs in recent years, attacking the position with a full committee approach. This has many believing that Demond Claiborne is the RB to target in the backfield, as he's the more explosive runner in the group (thus less reliant upon volume). It doesn't help, either, that this offense will be breaking in a new QB and could lack some of the efficiency they saw with Hartman under center.
Why He Should Be
Regardless of the committee, Ellison was the lead back last season. He had 34.55% of the team's carries in 2022 while accounting for 40.36% of the team's rushing production. His committee partners, Christian Turner and Quinton Cooley have both transferred out and are expected to lead the backfield at other programs. This means Demond Claiborne only had 14 carries last season and is the next closest to Ellison's 170. He is by far the most experienced back on this team and, at minimum, should be expected to continue as the 1A in this backfield. Despite rave reviews of Claiborne's explosive ability, it is yet to be seen if his speedy burst and smaller frame can handle the traditional 1B volume. In general, this offense is in transition, and while Mitch Griffis is learning to lead this offense, there is a strong likelihood that Dave Clawson will rely a bit more on the ground game, particularly early in the season.
Deion Hankins, UTEP – RB171
Why He Isn't Higher
All three of the backs that have been profiled in this article are living in the shadow of a potent passing attack. UTEP also is at a bit of a disadvantage living in the shadow of another University of Texas satellite campus, UTSA. In general, the UTEP offensive doesn't get as much hype or buzz as the Roadrunners at UTSA are just an all-around stronger team and make for sexier sleeper selections. Adding to the noise that has distracted us from Hankins is recency bias. After a strong freshman season, many expected Hankins to emerge and take another step forward in 2021. Instead, Ronald Awatt seized the opportunity when Hankins missed two of the first three games that season. Awatt never looked back, and he held onto that lead role through 2021 and 2022 before graduating this Spring. Despite having 23 fewer carries than Awatt last year, Hankins was only 33 yards behind his lead. Hankins only scored three of the Miners' 14 rushing touchdowns in '22, but that accounts for 75% of the team's returning rushing touchdown production.
Why He Shouldn't Be
First and foremost, Awatt is no longer standing in Hankins' way. The team does add JUCO RB Mike Franklin, though he's expected to take a backseat to Hankins' lead role. The offense also returns four starters on the offensive line and is expected to see improvements up front in 2023. As a whole, this offense should be taking a step forward in its efficiency as they return eight starters (and retain star WR Tyrin Smith). It's easy to assume Hankins' touchdown share will increase as well. If those reasons weren't enough, you're in luck — there's more! Hankins (as of the time of this article being published) is listed with both RB and WR eligibility in Fantrax. While this shouldn't be relied upon (as the platform could change this status at any time), it should be seen as a perk to get additional lineup flexibility from Hankins.
In case you missed it, the Bottom-Half Bangers at the QB position can be found here. Make sure to check back in later this week as we explore the bottom-half bangers at WR and TE.