If you've played Fantasy Football for any amount of time, you've heard the advice to zig when others zag – it's an adage as old as time. In C2Cs, recently, there has been a trend of top CFF producers rising in ADP and being taken earlier and earlier. This can easily be tied back to zigging when others zag. Many C2C players view their leagues as deeper Devy leagues – inflating the value of Devy prospects and minimizing that of CFF stars. The realization that the college side of leagues offers opportunity and a potentially easier shot at a championship has helped shift some value for those zigging towards those college fantasy options earlier in drafts.
On the flip side of this, it creates a need for what I like to call Cathedral Stashes: later-round players that have higher upside (be it pro potential or the ability to be a lucrative CFF asset that can be flipped) if their situation breaks in the right direction. If you're loading up on CFF guys earlier, it's imperative that the players you take later in drafts and on waivers have some potential to boom. Today we'll dig into RBs that fit this bill and where we can take big swings at a discounted price.
Sedrick Alexander – Vanderbilt – Fr.
All four of the backs I'm outlining today are freshmen backs. But none of them carry the hefty price tag that the likes of Cedric Baxter, Justice Haynes, or Roderick Robinson all have. Alexander is an SEC back that should see immediate playing time and has sparked a ton of intrigue this Spring. He capped off Spring Camp with a solid performance in the Spring Game, rushing for 56 yards and one touchdown on seven carries. He's clearly made the most of his time as an early enrollee and looks to make an immediate impression on the field this Fall. 
While he's still on the outside looking in when it comes to the starting job, the momentum he's accumulated this offseason has been impressive. If the incumbent, Patrick Smith, doesn't show that he is far and away better than his 2.7 yards per carry from 2022, then Alexander and redshirt freshman Chase Gillespie will both be waiting in the wings for their chance to take over. Despite not having quite the pedigree of the top backs in the 2023 freshman class, Alexander was ultra-productive at a 4A Texas High School. If he is able to be productive back in the SEC, he should easily find himself gaining NFL draft buzz. 
KZ Adams – Georgia State – rFr.
Adams is another freshman back that has been turning heads this Spring. His Spring Game performance showcased his skill as he out-rushed the starting RB, Marcus Carroll, with 152 yards on 20 carries and two touchdowns (with another 13 yards on two catches). As it stands now, Adams is set to be the 1B to Carroll in a Shawn Elliott offense that has found its bread and butter on the ground over the past few years. Last season, the Panthers had a Neutral Game Script Pass Rate of 30.5%. The buzz from camp is that they'll once again make the ground game a focal point this Fall.
This play isn't as much of a Devy/NFL potential as it is the opportunity to lock in a great CFF value for relatively cheap. Adams' stature (5'8" and 175 lbs.) does bring into question if he would be able to handle much of a workload against better competition. However, as long as he stays in the Sun Belt and receives decent volume, he's a good bet for solid production. Currently, he is a tail-end-of-draft player who is likely on waivers in a ton of leagues. If you're able to stash him this year, there's a chance you're locking in an RB2 or RB3 for the next few years. It remains to be seen what the exact share of that backfield will look like between him and Carroll. Adams projects as the lightning to Carroll's thunder and has the opportunity to make big plays for years to come.
Vaughn Blue – Liberty – Fr.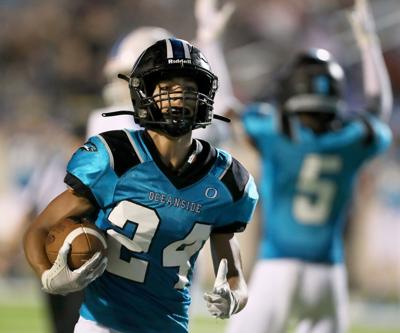 Jamey Chadwell's offenses have earned a reputation for being a bit unorthodox and gimmicky. In many circles, "gimmicky" has gained a negative connotation. In CFF and C2C, though, we need to understand that gimmicky is just another way to say the offense is schemed to optimize the success of its players. Now at Liberty, Chadwell brings his spread-option tendencies and efficient ground game into the C-USA. As he will be without a QB of Grayson McCall's caliber, at least for the time being, I'm fully expecting him to lean into the ground game that his career has been built from. That is very exciting news for his hand-picked RB recruit, Blue.
Blue starts his college career as a three-star recruit from Oceanside Collegiate Academy (as featured on Netflix's "QB1″ during Sam Hartman's season). He had originally received an offer from Chadwell's staff while they were in place at Coastal. Once the staff moved over to Liberty, Chadwell worked to bring him on board and flip his commitment from Charlotte. Blue projects to play in the A-Back role of the new-look Liberty offense. The A-Back plays a hybrid slot-back role that can motion wide or move into the backfield, offset from the QB. At 5'10", 180 lbs., Blue is an ultra-explosive weapon to build around and should be seen as a foundational playmaker in the Flames' offense moving forward.
For perspective on the historical role of the A-Back in Chadwell's offense, we can look at C.J. Marable's season in 2020 as a high-water mark. In that season, he gained 887 yards on 169 carries and put up a receiving stat line of 31 receptions for 228 yards with 19 total touchdowns. There's a ton of potential built into Blue's role on this offense, and he's available well into supplemental drafts. He's even found his way onto waivers in many leagues.
Arnold Barnes – Tulane – Fr.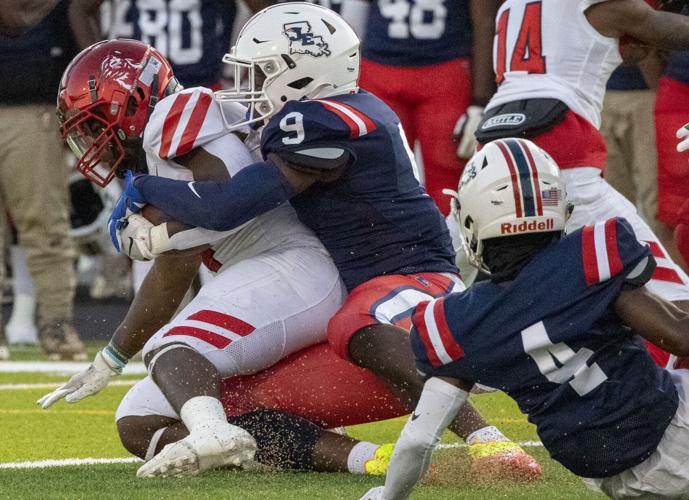 Once again, this is a call to shake free of the idea that a gimmicky offense is a bad thing. Willie Fritz's offense has recently run quite a bit of inside zone read and employed a gap scheme running game which catapulted Tyjae Spears into a Day Two NFL draft pick. In Spears' absence, looking for who can fill those shoes in the next few years could be a lucrative endeavor. The immediate replacement appears to be in place, with Shaadie Clayton-Johnson stepping into the role. However, there has been a good bit of buzz surrounding true freshman and early enrollee Arnold Barnes.
Barnes comes to Tulane after putting up 1,700 yards and 22 touchdowns at Booker T. Washington High School in New Orleans. The local product has turned some heads in Spring Camp for the Green Wave, as Fritz has mentioned he's competing for immediate carries in this offense. Barnes is 5'10", 225 lbs. with an 11.2 second 100-meter dash time. His explosive ability combined with great size is something that inspires confidence in his durability to be a workhorse in Tulane's backfield for years to come. If that pays off, there's potential for him to follow in Spears' footsteps with nice NFL Draft capital.