If you've played Fantasy Football for any time, you've heard the advice to zig when others zag – it's an old adage. In C2Cs, recently, there has been a trend of top CFF producers rising in ADP and being taken earlier and earlier. This can easily be tied back to zigging when others zag. Many C2C players view their leagues as deeper Devy leagues. That inflates the value of Devy prospects and minimizes that of CFF stars. Realizing that the college side of leagues offers opportunity and a potentially easier shot at a championship has helped shift some value for those zigging towards those college fantasy options earlier in drafts.
On the flip side of this, it creates a need for what I like to call Cathedral Stashes: later-round players with higher upside (be it pro potential or the ability to be a lucrative CFF asset that can be flipped) if their situation breaks in the right direction. If you're loading up on CFF guys earlier, it's imperative that the players you take later in drafts and on waivers have some potential to boom. Today we'll dig into TEs that fit this bill and where to take big swings at a discounted price.
Juice Vereen – North Carolina State – Fr.
In the last installment of this series, I laid out the argument for fellow Wolfpack pass-catcher Kevin Concepcion. Despite Robert Anae's history of finding tons of production with big-bodied TEs and WRs, I have faith he'll utilize the best players at his disposal (regardless of size). While all of that is still true, there is a louder and more prominent drumbeat for Vereen. He has the talent, prototypical size, and athleticism to pop in this scheme.
On top of Vereen's size and talent, the fact that he projects to replace Trent Pennix as the starting TE next year is also promising. TEs in Anae's system have put up an average stat line of 659 yards on 48 receptions for seven touchdowns over the past three seasons. Each year it's been a different player (Tony Poljan in 2020, Jelani Woods in 2021, and Oronde Gadsden II in 2022). This is the perfect storm of talent and circumstance coalescing into a smash spot for fantasy production. His value has risen over the past month or two. But it's still relatively cheap as he's available in the teens of most supplemental drafts this Summer.
Donovan Green – Texas A&M – rFr.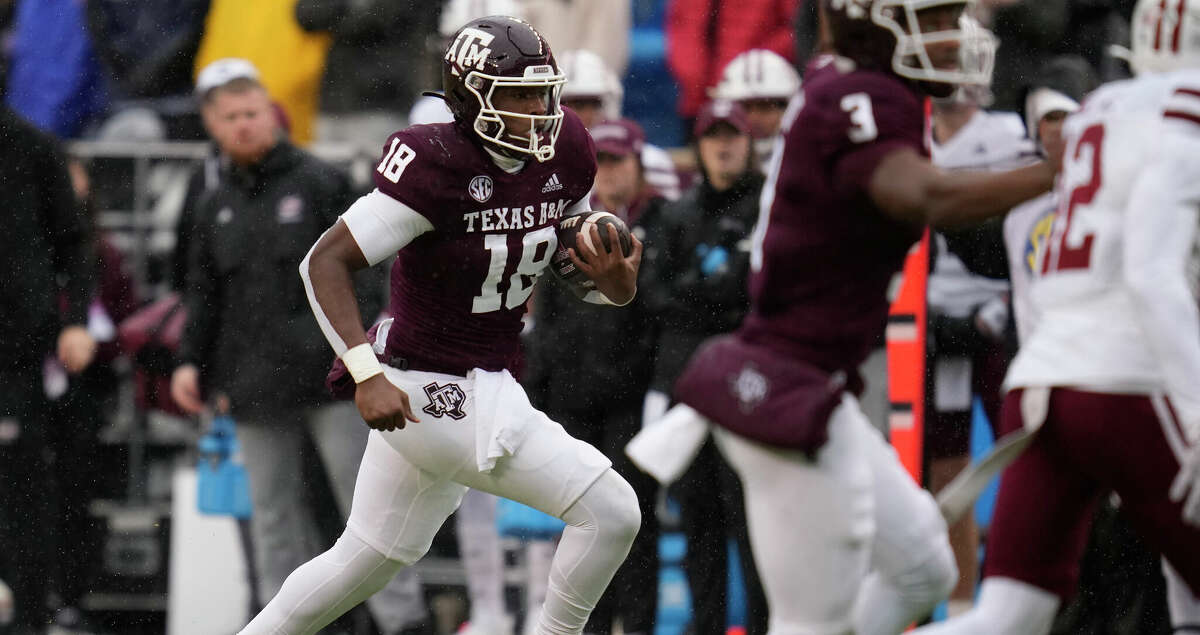 We've all been in leagues where owners give up on players (particularly freshmen) after one year simply because they don't explode onto the scene. That's been the case that I've seen with Green. I've been shocked that he's been available in around half of the supplemental drafts I've participated in this Spring and Summer. As a freshman, we had huge expectations for his freshman season. As the Aggies offense disappointed last season, it appears some may have a bad taste in their mouth and want to cut bait on Green. Don't get me wrong; I understand how someone can look at a game log and see ten games played, 22 receptions for 233 yards, and two touchdowns and be underwhelmed. As a freshman TE in the SEC, even being a part of the game plan in your first year on campus is a massive win.
Green's upside is a bonafide stud in college and a high-capital draft pick at the next level. He scored touchdowns against Alabama and LSU last season and put up four games with at least three receptions. As this offense transitions to a new scheme and assumes better production under Bobby Petrino, Green's value should skyrocket as the offense becomes more efficient. He was a four-star recruit last season and has earned praise for his versatility as a TE with above-average blocking skill and the athleticism to be an impact receiver. He is someone who should catch your eye in the second half of supplementals and demands rostering if still on waivers.
Kelsey Johnson – Baylor – So.
Another TE who has been praised for his run-blocking ability as well as his athletic ability, is Kelsey Johnson from Baylor. As they head into the new season, the Bears lost their reliable target in Ben Sims. Johnson showed a bit of flash down the stretch last season, suggesting he could be in line for an increased role in this offense in 2023. The current starter on the offense will likely be Drake Dabney, who broke his fibula last November (Johnson slid into the role behind Sims to close out the season). Though with the state of the Baylor WR-corps, there's the opportunity for more two-TE sets this Fall.
Johnson will compete for reps with Jake Roberts, who transferred in from North Texas this Spring. While both Roberts and Dabney are Juniors, Johnson has three more years of eligibility and has yet to burn his redshirt. His future as a weapon in Jeff Grimes' offense has a decent shelf-life. Johnson needs a few things to break right for him to pay off — particularly after the arrival of Roberts truly. This one could be a year or two away from paying off. However, his current cost is negligible, and he's available on waivers in almost every league. Even the deeper ones where he could easily be worth consideration.
Just like Green, Johnson earned decent involvement in a P5 offense last season as a true freshman TE, and that alone should be enough for us to take notice.
Khalil Dinkins – Penn State – rFr.
There's no denying that State College has become the home of TE-U over the past few seasons. From Mike Gesicki to Pat Freiermuth to (most recently and surprisingly) Brenton Strange, Penn State has developed ample NFL talent at the position in the last decade. Following those trends leads us to the current roster and forces us to make some projections on who is worth their current price. I think Theo Johnson and Tyler Warren both raise their stock this season and have productive years. That said, they both are eligible to enter the NFL draft after this season. The whole landscape of the TE room could change for the Nittany Lions.
With a shifting picture of what the TE position will look like next year for Penn State, Dinkins is thrust into relevance to be stashed. Andrew Rappleyea is the name that's being hyped up the most right now, as he's the most recent four-star recruit to enter the room. However, before there was Rappleyea, there was Jerry Cross, and before Jerry Cross, there was Khalil Dinkins. All of this to say, the room is packed with talent, and just because we like Rappleyea's game and fit doesn't mean he'll get priority over any of the guys already in the room.
Dinkins is the next in line at the position, and his usage in the Spring Game reflected as such. When Johnson and Warren were absent this Spring due to injuries, Dinkins took the opportunity to raise his stock and show the staff that he could rise to the occasion. At this point, Dinkins projects as the direct backup to Theo Johnson in Mike Yurcich's "Y-TE" role (the position usually flexed out and used in the slot). Drafting Dinkins in the final round of your drafts has the potential to be like drafting Mike Gesicki or Pat Freiermuth in that slot. He's worth the squeeze with even a tiny chance of that outcome.