Conference Championship weekend is just a few days away. Although this Mountain West matchup does not possess as much intrigue as some of the Power Five games, it poses a fascinating rematch between two teams with tremendous amounts of momentum. The Broncos have won three straight and outclassed Fresno State 40-20 back in October to keep the Milk Can trophy in Boise, Idaho. On the other side, head coach Jeff Tedford has his team playing inspired football, and the return of quarterback Jake Haener has reenergized the Bulldogs' offense as they enter Albertsons Stadium on a seven-game winning streak. This game will be the third time the two teams have faced off for the conference championship since 2017, with the Bulldogs edging out the 19-16 overtime win in their last matchup in 2018.
Here are three headlines pertaining to prospects in the Mountain West Conference Championship Game.
Jake Haener Is Back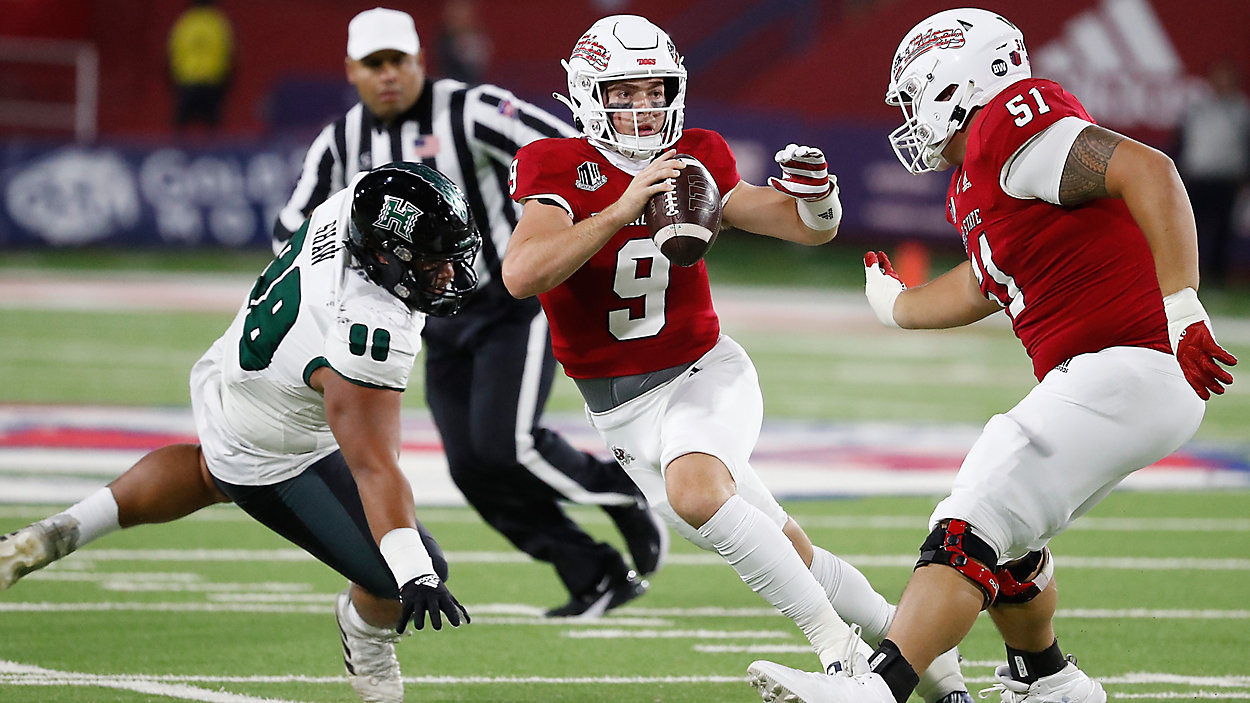 Hopefully, Felix Sharpe (@SharpeReview) sees this.
After passing for over 4,000 yards and 33 touchdowns last season in Fresno, Haener started 2022 spinning the ball right where he left off. In the first two games of the season, he completed over 72 percent of his passes and averaged almost 370 yards, finding the endzone three times with no turnovers. Unfortunately, the sixth-year senior suffered a high-ankle sprain against USC that forced him to miss four games, which proved to be more costly than one could have expected. Led by redshirt sophomore Logan Fife, the offense completely bottomed out, and the Bulldogs went 2-2 during that stretch, including a dreadful 19-14 to a one-win UConn. What does this mean? The only loss they suffered when Haener played the entire game was a 35-32 setback in week two to Oregon State. I'm not outright saying Fresno State beats the Broncos if the Danville, California native plays, as the Boise State run game was the true game-changer in that matchup. However, if he played and performed at the level we are currently seeing from him, I'm not NOT saying it.
Since returning from injury, the 6'1″ 200-pounder has been playing perhaps the best football of his career from an accuracy standpoint. Over the last five games, the Monte Vista High School product's completion percentage of 76.4 percent is the highest in the country among quarterbacks who dropped back to pass 150 times. And the only signal-callers with a lower turnover-worthy play percentage than his 1.8 percent are North Carolina's Drake Maye and Stanford's Tanner McKee. When you account for the six drops by his receivers, his completion percentage would jump to almost 83 percent!
Taylen Green Deserves Your Attention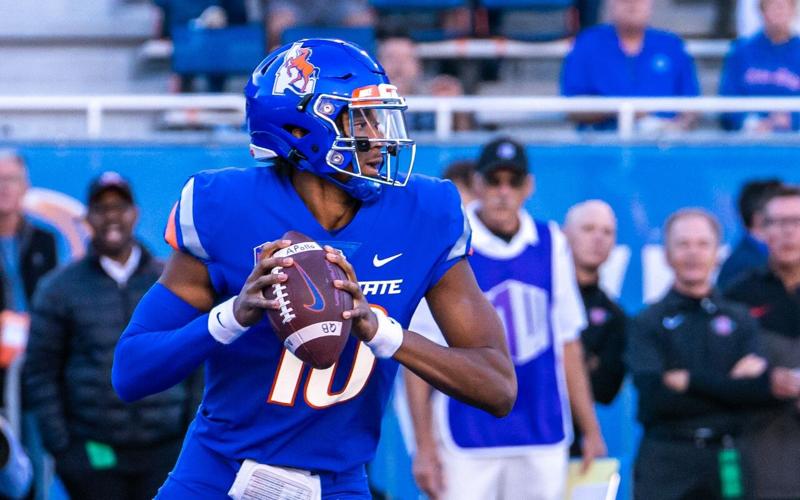 Over the past four seasons, when you thought of the signal-caller slinging it around The Blue, Hank Bachmeier came to mind. I know fans in Boise have some opinions, but I'll say this: as frustrating as he was to watch at times, it was evident how much the game meant to him, consistently putting his body on the line no matter what it meant. However, after the Broncos suffered a demoralizing 27-10 loss, offensive coordinator Tim Plough was fired, and Bachmeier entered the transfer portal soon after, leaving the Broncos without their veteran quarterback entering the meat of Mountain West play. Enter Taylen Green, a redshirt freshman who was a little… green behind the ears, throwing an interception in each of his first four appearances. Nonetheless, the 6'6″ 220-pounder has developed as a passer as the season has progressed and has the potential to be the next great Boise State quarterback.
The Lewisville, Texas product is 7-1 since taking over the reins of the Broncos' offense and has passed for over 200 yards in six straight games. I touched on Haener's incredible five-game stretch heading into this weekend, but the redshirt freshman on the other side of the field has also been playing at an extremely high level as of late. Do you know the only FBS quarterbacks with at least ten passing touchdowns and zero interceptions over the last five weeks? You have Taylen Green… and that's it. He also presents a threat on the ground, as his capability of exploding for chunk runs has put opposing defensive coordinators into nightmare situations. Among FBS quarterbacks with at least 50 carries, only one has a higher yard per attempt average than Green's 7.9; Central Michigan's Bert Emanuel Jr. He has found the endzone at least once in the last three games, amassing eight scores on the ground for the year. One of those, a 91-yard touchdown run last week against Utah State, marked the third-longest run by any FBS player this season and the fourth-longest in program history.
George Holani And Ashton Jeanty
The Broncos ran wild on the Bulldogs' defense back in week six, totaling 316 yards as a team, the first time in over 20 years that the Broncos recorded back-to-back 300-plus yard games. Holani, a Bellflower, California native, recorded his best game in three seasons against Fresno State, totaling 157 yards on the ground while averaging over nine yards per attempt and over six yards after first contact. Interestingly enough, the 5'11" 208-pounder's biggest game of 2021 also came against the Bulldogs, where he amassed 117 yards in a 40-14 victory in Fresno. Holani flashed as a freshman, earning Mountain West Freshman of the Year honors after rushing for over 1,000 yards and scoring ten touchdowns. While he has dealt with an array of injury setbacks over the last few seasons, the St. John Bosco High School product is a quality college running back when fully healthy, as we were reminded of this year. Here's a fun cherry-picked stat: The redshirt junior is on a seven-game stretch where he has either averaged over five yards per carry or scored multiple touchdowns.
It should be noted that Holani left the Utah State game in the third quarter with a shoulder injury, so this should be something to monitor. Fortunately for Broncos' fans, Jeanty, a true freshman originally from Jacksonville, Florida, has emerged as a legitimate playmaker and has Boise State fans excited about the future of their run game after Holani. The 5'8″ 205-pounder earned Mount West Honorable Mention honors after rushing for over 600 yards and six touchdowns in his first season in Idaho. Jeanty has forced 39 missed tackles on the season, more than household names like Penn State's Nicholas Singleton on almost 30 fewer carries. In addition to his performance on the ground, the Lone Star High School (TX) product has shown effectiveness in the receiving game, both out of the backfield and lined up as a traditional receiver. While 13 receptions on the season don't seem too great at first glance, Jeanty ceded a plurality of snaps to Holani and still managed to record the seventh-most among true freshman running backs. His 1.81 yards per route run is the highest among first-year backs who have been on the field for at least 100 snaps, too. The freshman's best game of the season? A 109-yard, two-touchdown performance against… Fresno State.