Welcome to the first part of NFL Big Board Stock Watch. The purpose of these articles are to highlight who the draft companies are mocking and where. Of course I will cite all sources and that good stuff. This is the pre-season edition and I will be updating it mid-season, end of season, post-senior bowl, and post NFL Combine. I will not include big boards that are less than 75 prospects.

I am also excluding individual team mocks, and fan recreated boards. As analysts we know it's important for these future NFL talents to get day 1 or day 2 draft capital. I will be averaging the big board position and throughout the season these articles will track the trends so that we can analyze what prospects are losing or gaining value. I will include my own commentary. Without further-ado let me highlight the current data-pool:
Sports Illustrated – 100 prospects 7/28/22
Draft trek – 100 prospects 8/27/22
PFF – 100 prospects 8/22/22
The Draft Network – 100 Prospects 8/22/22
Draft Countdown – 100 Prospects 8/19/22
Tankathon – 77 prospects 8/18/22
Some housekeeping before we get into the players. If the player is present in less than 50% of big boards they will be mentioned but not counted towards the combined big board. Taking it one step further, if a player is not present on all big boards then their position is counted as 101 for each board they are missing from when doing the averages. This is to give them a benefit of the doubt, and say 'Hey they were next up' while also not being misleading because they were ranked highly by three services but not at all by the other three. I will distinguish players that are missing from big boards with a '(#)' and the # represents how many boards the prospect is NOT present on. At the moment I know this is a small sample size but it's early and the data pool will grow.
Quarterbacks Average ADP:
CJ Stroud: 3

Bryce Young: 6

Will Levis: 34 (1)

Tyler Van Dyke: 36

Anthony Richardson: 39

Tanner McKee: 63 (1)

Devin Leary: 75

Jaren Hall: 91(1)
Other QBs That Were Present on at Least One Board
Hendon Hooker

Grayson McCall

Spencer Rattler

Phil Jurkovec
Take Aways
There's only a clear consensus of two top QBs in this years class and a handful of maybes. A few will surely rise to the occasion and I'm sure one will fall off. Interestingly, not a single big board had Cameron Ward on it. The draft community is focusing too much on tools, players like Will Levis and Anthony Richardson are project QBs.
Will Levis enters the year with a downgraded WR core and without Wan'Dale bailing him out should struggle. Richardson is extremely athletic but has yet to put it together as a passer. He is set as the starter this year but also doesn't have much of a receiving core to help him out. Tyler Van Dyke is the clear QB3 to me, there's plenty of good arguments against him, however he is a QB that elevates the offense around him. Last year he had a ton of WR options that no one was excited about, this year is the same. I expect TVD to replicate last years insane production with mediocre offensive pieces to help him.
My Draft Capital Projections
CJ Stroud: Early 1st

Bryce Young: Early 1st

Tyler Van Dyke: Mid-1st

Anthony Richardson: 1st

Will Levis: 3rd

Cameron Ward: 3rd

Devin Leary: 3rd
Running Back Average Big Board Position
Bijan Robinson: 10

Jahmyr Gibbs: 41

Zach Evans: 45

Sean Tucker: 55

Tank Bigsby: 60

Devon Achane: 67

Zach Charbonnet: 85 (1)
Other RBs That Were Present on at Least One Big Board
Deuce Vaughn

Blake Corum

DeWayne McBride

Kenny McIntosh

Isaiah Davis
Take Aways
No Kendall Milton??? The guy projected to receive the bulk of the carries for Georgia is not on a single big board. Madness. I agree with a lot of this except Devon Achane. Running backs sub 200 just don't get drafted, only four have been drafted the last 11 years, and none have followed up with relevance. I have Achane profiled for a committee role in the NFL and those guys don't typically get draft capital. A player that has my vote to get onto this list would be Kendre Miller from TCU, a very efficient runner for two years that split with Zach Evans, whom transfers, and now Kendre Miller can become the featured back.
My Draft Capital Projections
Bijan Robinson: Early First

Jahmyr Gibbs: Early 2nd

Zach Evans: Early 2nd

Sean Tucker: Mid 2nd

Tank Bigsby: Late 2nd

Kendall Milton: Late 2nd

Zach Charbonnet: 3rd

Kendre Miller: 3rd
Wide Receiver Average Big Board Position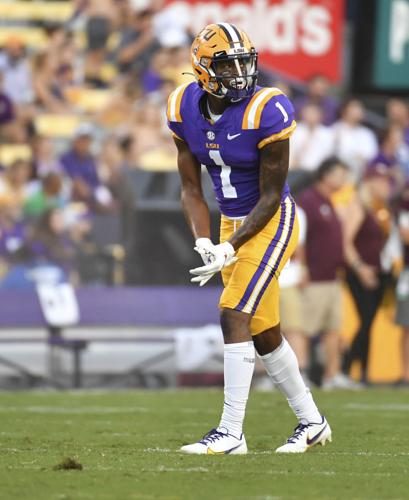 Kayshon Boutte: 8

Jaxon Smith-Njigba: 9

Jordan Addison: 20

Quentin Johnston: 20

Josh Downs: 33

Jermaine Burton: 47

Parker Washington: 64 (1)

Dontay Demus: 66 (1)

Cedric Tillman: 69 (2)

Marvin Mims: 71 (2)

Rakim Jarett: 80 (1)

Tyler Harrell: 82 (3)
Other WRs That Were Present on at Least One Big Board
Cornelius Johnson

Dontayvion Wicks

Xavier Hutchinson

Jayden Reed

Ainas Smith

Jalen McMillian

Konata Mumpfield

AT Perry

Rashee Rice

Elijah Higgins

Mitchell Tinsley
Take Aways
I just don't think some of these services are even doing any homework. The top six seem to be consensus, not is that exact order but consistent top six. I've been saying this all off season, but a 100% healthy Dontay Demus is getting second round DC, If Rakim can take the next step and be the WR1 in this offense than he's a second. Both of these guys can't succeed, that's just my stance. Jermaine Burton is a first rounder for me. There's not a reason for him to not be an absolute stud in this offense and Alabama WR1s get day one DC. Speaking of Bama, Tyler Harrel got a few lofty expectations. Harrell is just a speedy field stretcher, that's it, just a simple role player, not a versatile piece or a featured piece. Opinions of Marvin Mims are also greatly varied, I have the same opinion of him as I do Tyler Harell.
Three guys I expect to see on more big boards by mid-season is Dontayvion Wicks, Mitchell Tinsley, Konata Mumpfield. Wicks has a great release but for a player with his physical attributes needs to offer more in the YAC game. Tinsley is a favorite of mine, JUCO to WKU to Penn State. I think he's a decent route runner with a ultra-productive profile. I don't typically endorse 5th years but there's a few good ones coming out. Akron transfer Konata is an excellent route runner and i cant wait for him to be the featured piece in Pitt.
My Draft Capital Projections
Kayshon Boutte: Early 1st

Jaxon Smith-Njigba: Early 1st

Quentin Johnston: Mid-1st

Jermaine Burton: Mid-1st

Jordan Addison: Late-1st

Josh Downs: Late-1st/Early 2nd

Healthy Dontay Demus: Early 2nd
Konata Mumpfield: Mid 2nd

Parker Washington: Late 2nd

Cedric Tillman: Late 2nd

Dontayvion Wicks: Early 3rd
Mitchell Tinsley: 3rd
Donavon Greene: 3rd
Jayden Reed: 3rd
Tight End Average Big Board Position
Michael Mayer:12

Arik Gilbert: 50 (1)

Jahiem Bell: 62 (1)

Tucker Kraft: 74 (3)

Cameron Latu: 77 (2)

Sam LaPorta: 83 (1)
Other TEs That Were Present on at Least One Big Board
Jahleel Billingsley

Dalton Kincaid

Luke Musgrave

Erick All

Darnell Washington
Take Aways
Not much here, its tight ends. I don't believe Michael Mayer gets that DC, good not great prospect. Cameron Latu shouldn't be on this list come mid-season. The one interesting thing here is a FCS TE getting some expected draft capital, Tucker Kraft has legit size and athletics. Not sure yet how much I believe in him as a fantasy asset but he looks to fit in with the pros. Bell is undersized but will boast a productive resume. I expect Benjamin Yurosek to get more recognition by mid-season. An athletic TE from Stanford that's been productive and the featured piece last year. Darnell Washington is gigantic and from UGA, they've had TEs do less and get DC; his combine will earn him some cash.
My Draft Capital Projections
Michael Mayer: Late 1st

Arik Gilbert: Mid 2nd

Benjamin Yurosek: Early 3rd

Tucker Kraft: Mid 3rd

Sam LaPorta: Mid 3rd

Darnell Washington: Mid 3rd

Jahiem Bell: Late 3rd
That wraps up the Big Board watch, I cant wait until we have more data points from more services gearing up for the NFL draft. Also, can't wait to see how wrong I am. The purpose of this article is to give y'all some players to keep an eye on. Until next time!