Conference Championship Saturday is just a few days away, and looking at the slate; there may be no other game with more implications on the line than the rematch between USC and Utah. The only blemish on Lincoln Riley's fantastic first season in Southern California came in Rice-Eccles Stadium. The Utes' won 43-42 on a gutsy two-point conversion late in the fourth quarter. Now, USC is in a position where they control its own destiny. Win, and they are a lock for the College Football Playoff. Can Utah accomplish the arduous task of beating a team twice in the same season?
Here are four questions I have relating to prospects in the Pac 12 Conference Championship Game.
Is Caleb Williams The Best Quarterback Prospect in College Football?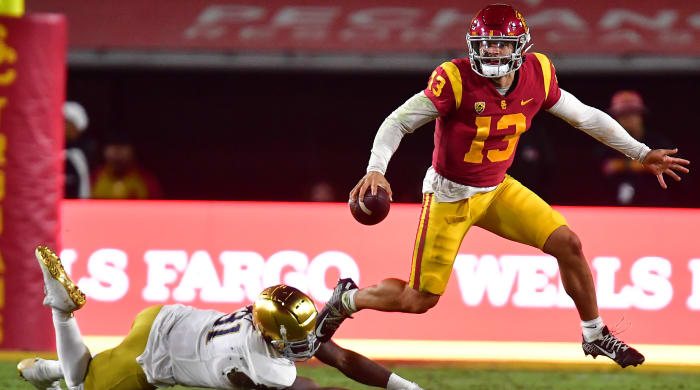 First, pairing a player with Williams' combination of pocket poise and arm talent with a play caller with Lincoln Riley's creativity would be illegal if it was up to me. Since I have no rulemaking authority in the world of college football, for the time being, I guess we have to live with the consequences of the current transfer portal era.
Heading into this season, the consensus answer to this question was that Alabama's Bryce Young and Ohio State's C.J. Stroud were the best quarterback prospects in the class. Arguments on both sides could be made for with very little pushback. Fast forward to today, and I think the short answer to this question is probably 'yes.' If you combined all of the best parts of Young and Stroud's games into one super quarterback, you have Williams. Young has the poise in the pocket to extend plays and thrives in scramble mode, but we worry about the size limitations. Stroud has the arm talent to make every throw on the field and the leadership qualities you look for in a franchise quarterback. But we have questions about what he can do when the play breaks down, and he is forced to act outside of structure. The 6'1″ 215-pounder checks all of the boxes without any of the drawbacks.
Do I see the super sophomore from Gonzaga College High School (D.C.) as a perfect prospect, the same way I viewed Trevor Lawrence coming out of Clemson? Not quite. But he's damn near close, and a Heisman trophy would force my hand to reevaluate. I caution those who hold this opinion to be weary of setting high expectations that a player is bound to disappoint. We did this with Stroud a year ago, and a quarterback like Penn State's Drew Allar could step in next year and be the "next big thing" for all we know. Let's enjoy the miraculous season we see from Williams while we can.
Can Austin Jones' Stock Continue To Rise?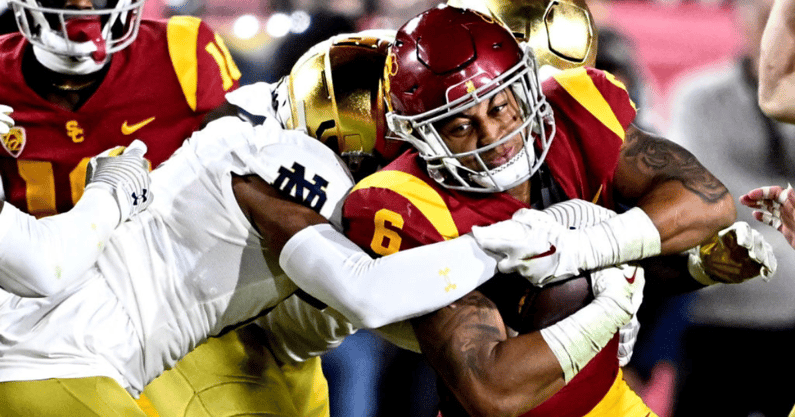 A few weeks back, the Trojans blew out a lowly Colorado team to the tune of 55-17, led by Caleb Williams' five total touchdowns. However, some believed the Trojans' playoff hopes left the Coliseum on the medical cart alongside running back Travis Dye, as the former Oregon back suffered a season-ending leg injury in the second quarter. The 5'10" 200-pounder had been instrumental in USC's high-powered offense, providing sparks on the ground, through the air, and in pass protection. How would they replace such a pivotal part of their offense and keep their playoff hopes alive?
Austin Jones transferred in from Stanford in the offseason alongside Dye, as the tandem of transfers was tasked to replace the production left on the table from Keaontay Ingram and Vavae Malepeai's departure. The Bishop O'Dowd High School product had a two-touchdown performance in a blowout win over Rice and followed that up with a 110-yard day against Fresno State two weeks later. However, over the next six weeks, the 5'10" 205-pound senior accumulated only 60 yards on 16 total carries, as Dye's stranglehold on the starting job grew tighter. Jones had flashed with the Cardinal as a potential devy asset, but that somewhat fizzled out as time passed. However, what we have seen over the last two weeks from him has not merely kept the Trojans in control of their own destiny but has revived his status as a potential NFL back.
In arguably the Trojans' two biggest games of the season, Jones has looked downright awesome, totaling 274 yards and two touchdowns while averaging almost six yards per carry. The senior had seven carries of at least ten yards against the Fighting Irish last week after recording three the week prior against UCLA. He also totaled seven forced missed tackles. Just to put these numbers into perspective, half of his ten-plus yard carries for the season, and over half of his forced missed tackles have occurred in the last two weeks. If the Antioch, California native can continue this hot streak of production, we may see a colossal rise in his draft stock.
Can The Trojans Contain Dalton Kincaid?
Those familiar with college football, particularly the Pac-12, understand that Utah's offense under Kyle Whittingham has revolved around getting the tight ends involved in the passing game. Many in the devy community have clamored about Brant Kuithe and his versatility as a prospect for years. Unfortunately, he went down with a season-ending ACL injury in week four against the Sun Devils, shifting the focus to the next man up, Dalton Kincaid. The 6'5″ 240-pounder had proven to be productive as a receiving option the year prior, amassing over 500 yards and eight touchdowns in 2021. But how would he respond with the attention of defenses focusing squarely on him?
After the loss to UCLA two weeks later, a game where Kincaid only saw six targets, Whittingham went on record to say that the Utes needed to find more ways to get him involved, stating that he "has not been as much of a focal point of the offense as he needs to be." The following week, the Faith Lutheran High School (NV) product saw a whopping 16 targets, reeling in 11 catches for 234 yards en route to a 43-42 victory against… the Trojans. Kincaid has seen 56 targets over the last five weeks, and I think there's an argument that he is the best pure pass-catching tight end in college football.
Kincaid's 66 receptions are second to Notre Dame's Michael Mayer among FBS tight ends, but the most impressive thing is he has done so on 14 fewer targets, only dropping one pass all season. USC cannot afford another repeat performance from Kincaid if they want to keep their playoff hopes alive. Last week, Mayer had a productive day against the Trojans, recording eight receptions for 98 yards and two touchdowns. I know one of the scores happened in garbage time, but USC's ability to contain production from the tight end position, particularly Kincaid, is a major storyline to watch.
Who Steps Up With Tavion Thomas Out?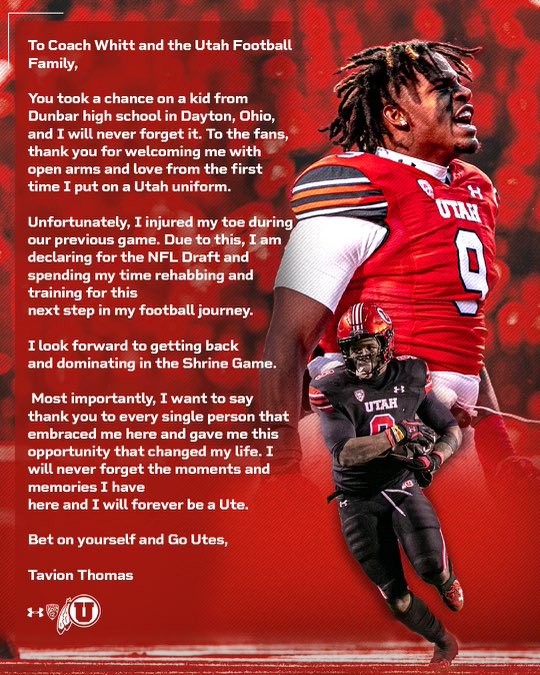 The Utes were dealt a blow to their offense when fifth-year running back Tavion Thomas declared for the NFL Draft and decided that the 20-17 loss to Oregon would be his last game in a Utah uniform. The 6'2″ 238-pounder cited a toe injury and determined it was in his best interest to begin rehab before taking part in the East-West Shrine Game. I don't have a problem with this whatsoever. Do I see an NFL feature back with the potential to be a fantasy-relevant player? Absolutely not. But who am I to judge? Get that bag, boy.
Thomas wasn't quite as productive as he was a year ago, but it's an almost unfeasible task to replicate an all-conference season where you run for over 1,100 yards and score 21 touchdowns. Still, he led the team in carries (142), rushing yards (687), and touchdowns (7), so the Utes will miss his production. I don't see one running back taking over completely, and the splits in last week's game indicate a three-way split is likely to occur. Micah Bernard is a solid running back, but I don't think he's a guy that can take over a game. I love what I've seen from Jaylon Glover, but as a true freshman, I'm not sure we can expect him to see much of an extended workload in the biggest game of the Utes' season.
The wild card here is Ja'Quinden Jackson, the former Longhorn who came to Salt Lake City in 2021 as a reserve quarterback before shifting to a hybrid running back role. The 6'2″ 227-pounder has averaged 6.5 yards per carry on the year and has found the endzone six times. The most productive game of his Utah career came last week against Colorado, totaling 117 yards and three touchdowns, one of which came on a 66-yard scamper early in the third quarter. Could we see Whittingham riding the hot hand?