We are taking an in-depth look at a variety of prominent running back rooms. Here we look at the Sooner backfield and what we can expect from a fantasy perspective.
---
The Challengers
Eric Gray- 4th year Junior; 5-10, 209 lbs
Marcus Major- 4th-year Sophomore; 6-0, 222 lbs
Jovantae Barnes- True Freshman; 6-0, 203 lbs
Gavin Sawchuk- True Freshman; 5-11, 185 lbs
---
Eric Gray
The former Tennessee Volunteer certainly did not meet expectations in 2021. After an impressive spring game performance, it appeared to be wheels up for the #3 all-purpose back of the 2019 class. He got the starting nod and led the team in touches through the first four games, but then Gray saw a significant decline in opportunity as he gave way to Kennedy Brooks for the remainder of the season. Gray had more difficulty than expected picking up the scheme and it clearly impacted his patience and vision to find room to maneuver. Brooks excelled in this area and never gave the job back after a couple of stellar performances early in conference play. This was also evident in their PFF rush grades, with Gray at 78.2 and Brooks at 90.9 on the season.
Gray is undersized but has put on some weight over the offseason. He continues to excel in the pass game and the staff has been quoted multiple times indicating they plan to play slide him out of the backfield at times to utilize his pass-catching abilities and get him into space.
---
Marcus Major
The former 4-star, top 20 RB out of Oklahoma City, has waited patiently for his opportunity. While each year he seemingly got rave reviews out of camp, he continued to find himself buried on the depth charts behind Trey Sermon, Rhamondre Stevenson, and Kennedy Brooks. He was suspended six games in 2021 for a positive drug test. However, he did see some action in the bowl game against Oregon, where he ran for 54 yards on ten carries. RB coach Demarco Murray has been saying he is "rooting for Marcus to become the guy." He is the closest thing this RB room has to a power back at 220 pounds and a very sturdy lower half with the physicality needed to run between the tackles. He's received minimal work in the passing game with only three career receptions but did play wide receiver in high school until his JR season.
---
Jovantae Barnes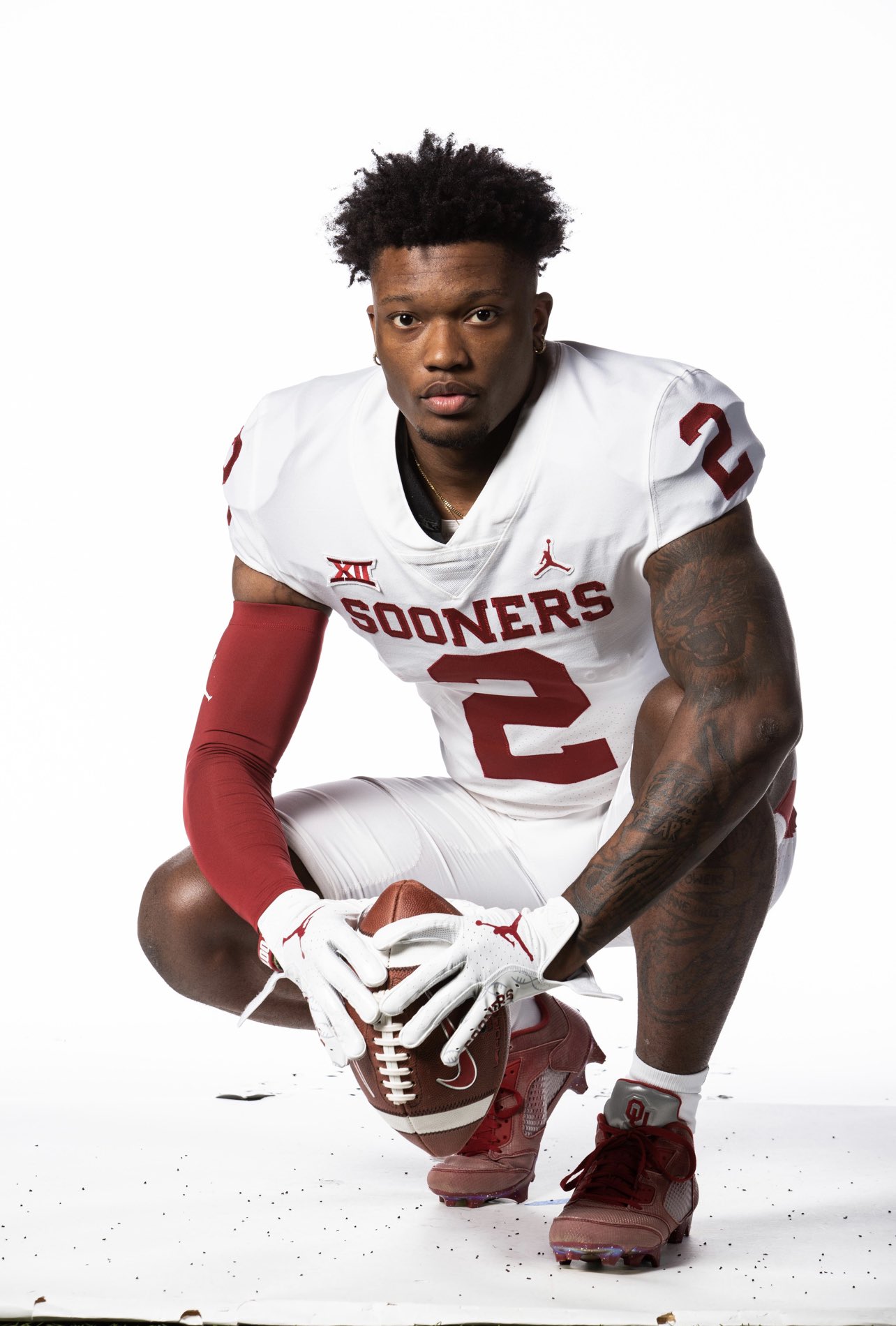 As the composite #10 RB out of Las Vegas, Barnes arrives in Norman as an early enrollee and will participate in spring camp. Despite not being the highest-rated Sooner RB in the class by the recruiting services, the word around campus is that Barnes was the prize recruit for the offensive staff. Oklahoma held off a late push by Alabama and USC to land him. While he doesn't appear to be a top 10 RB in this class by my personal rankings and those of us at Campus to Canton, Demarco Murray feels like he has landed a top 3 RB. Barnes has already added 13 pounds since arriving on campus and was described by teammate Gray as "strong, strong, strong." Those who have watched spring practice say his build is somewhere between Gray and Major, but closer to Major when imposing his will on defenders.
https://247sports.com/player/jovantae-barnes-46094222/
---
Gavin Sawchuk
The composite #7 RB in the 2022 class comes to Norman from Valor Christian, the same high school that produced Christian McCaffrey. Unlike Barnes, Sawchuk will not enroll and arrive at OU until the summer. Also dissimilar from Barnes is Sawchuk's slighter frame and running style. What he lacks in physicality with his 185-pound frame, he makes up for in speed with a 10.80 100 meter track performance. He showed he could handle a heavy workload by carrying it 287 times his SR year, but he could have benefited from an off-season strength program if he enrolled early. While many like to compare McCaffrey because of the speed and high school they shared, I just don't see it. I feel the tape I have seen on Sawchuk does not look like the tape of a top 10 RB.
https://247sports.com/player/gavin-sawchuk-46080732/
---
Expectations for 2022
Gray currently sits as the RB48 in CFF preseason mock drafts while the other contenders here have gone undrafted. Gray also generally comes off the board between the 12th and 15th round in best ball drafts, while Major can generally be had post round 30. The juice is simply not worth the squeeze on Eric Gray and here is why:
People I trust close to the program that confidently said Brooks would remain the clear RB1 even with the addition of Gray last year are leaning towards Major being the RB1 this year, but they don't carry the same level of confidence as last year. Assuming there are approximately 400 RB carries to go around this year with the breakneck pace Lebby wants to operate at, the early thought is that Major would likely see 150-175, Gray just behind at 125-150 carries, and Barnes potentially at 100 carries. The volume we saw at Ole Miss under Lebby in 2021 is likely a great indication of what is to come. Jerrion Ealy narrowly led the way with 133 carries, Snooper Conner close behind with 130, and Henry Parrish at 105. Ironically, the skillsets also seem to match with these RB rooms with Ealy = Gray, Conner = Major, and Parrish = Barnes.
Rushing & Receiving Table
Rushing
Receiving
Scrimmage
Rk
Player
G
Att
Yds
Avg
TD
Rec
Yds
Avg
TD
Plays
Yds
Avg
TD
1
Matt Corral
13
152
614
4.0
11
1
19
19.0
0
153
633
4.1
11
2
Jerrion Ealy
12
133
768
5.8
5
32
218
6.8
2
165
986
6.0
7
3
Snoop Conner
13
130
647
5.0
13
14
82
5.9
0
144
729
5.1
13
4
Henry Parrish Jr.
13
105
553
5.3
3
21
173
8.2
0
126
726
5.8
3
Don't ignore the rushing volume the Lebby QB often sees. Matt Corral had 19 more carries than any RB at Ole Miss last year. Gabriel isn't as gifted a runner as Corral, but 75+ carries are likely for him. Furthermore, no RB has ever reached even a modest 150 carries in a season in three years, with Lebby as OC between Ole Miss and UCF. This has all the makings of RBBC. It is what Lebby has preferred in the past; there is no exceptional talent in the room, we have a variety of skillsets and options, and Lebby likes to keep his RBs fresh due to the warp-speed pace.
Snoop Conner and Jerrion Ealy finished 77th and 79th in CFF RB points in 2021. Both averaged between 12 and 13 points/game. I think this is about what you can expect from the two likely leaders in the OU RB room for 2022. Because of his receiving chops and versatility allowing him to remain on the field often, I think Gray has the higher ceiling. Still, the odds he reaches the RB48 range he is currently costing in draft capital is unlikely. The better play is to wait towards the final rounds of your draft and target Major or Barnes, or monitor the situation early in the season and target one of them off waivers.
---
Dynasty Expectations
Don't be fooled by the recruiting rankings. Barnes is the Oklahoma RB to own for your dynasty rosters, not Sawchuk. While a great deal of murkiness exists with the Sooner RB room for 2022, it is abundantly clear that Barnes has the brightest future of the bunch. He has a major leg up on Sawchuk by enrolling early to develop and learn the system. The staff is very high on him, and he has garnered rave reviews out of spring camp. Adrian Peterson or Demarco Murray he is not, but he is physically ready to contribute from day one and is the closest thing to a complete back that the RB room has to offer. Sawchuk will need time to develop and will likely remain more of a change of pace option than a workhorse due to his frame limitations. Lastly, please understand that Lebby has no track record of a bell-cow, so there must be a level of "buyer-beware" with all of his RBs until proven otherwise.