The Sun Belt West is generally considered the weaker of the two divisions within the Sun Belt, but that doesn't mean it can't provide fantasy value. A handful of players can be productive in Campus2Canton leagues that are going virtually undrafted. Below, I'll provide a team-by-team breakdown with these categories:
Fantasy Relevant
Roster Fillers
Stashes
Avoid At Cost
All teams are listed in alphabetical order.
Arkansas State
Fantasy Relevant
Since Blake Anderson's time at Arkansas St., they have been adept at producing quality receiver play. Even under Butch Jones, the trend should continue. Two receivers are fantasy relevant since they generally have an upper-tier neutral game script passing rate (ranked 26th in 2021).
The primary option should be Te'Vailance Hunt. Hunt was the second leading receiver on the team last year behind Corey Rucker, who transferred to South Carolina. Hunt outpaced Jeff Foreman in receiving market share, 20.2% to 14.8%. Foreman was the favorite target of quarterback James Blackman in spring, but these two should see enough volume to be fantasy relevant, especially with the departure of Rucker.
Roster Fillers
If I'm including two receiving options in an offense, I probably need to include the quarterback. James Blackman split time with Layne Hatcher in 2021 but was productive when he started. Through his five full starts, Blackman averaged 254 yards per game, with his two games below 300 yards coming against a Washington secondary with NFL talent and a Central Arkansas game where he was pulled early. He can be productive again this season but provides more risk and potential downside than his receivers at their respective positions.
Stashes
None. The offense ranked 26th in neutral game script pass rate last season and can only support two quality receivers at a time.
Avoid At Cost
None. The beauty of being a player in the Sun Belt is that despite having upside, you fall in drafts due to name recognition (or the lack thereof).
Louisiana
Fantasy Relevant
While losing Billy Napier could be a step back, the new head coach is familiar with the program and scheme. Michael Desormeaux was the running backs coach and should run a similar system. The primary back to target, in that case, is Chris Smith. Both Montrell Johnson and Emani Bailey transferred out, leaving Smith as the most experienced rusher and likely to assume a heavier workload compared to past seasons. Smith was efficient last year, rushing for 855 yards on 5.6 yards per carry to go along with 14 receptions.
Roster Fillers
None.
Stashes
None.
Avoid At Cost
None.
South Alabama
Fantasy Relevant
Despite losing the combination of Jake Bentley and NFL-bound receiver Jalen Tolbert, Kane Wommack returns with Major Applewhite as offensive coordinator. This offense has been excellent at producing receivers, and Jalen Wayne is the next man up. An outside target, he's the player for the Jaguars most like Tolbert. In 2021, he posted a 20.5% receiving yardage market share, and Tolbert's departure opens 48.0% of the yardage from 2021.
I don't expect receiver Caullin Lacy to impact Wayne much. He's a slot receiver with an incredibly low 7.9 yards per reception. A sub-10% yardage share in 2021, Lacy is a complimentary piece in this offense and not a real threat to Wayne's production.
Roster Fillers
Besides Wayne, the only other fantasy option worth rostering is RB La'Damien Webb. Webb, the one-time Junior College/Florida State back, had been the talk of the town for the Jags. I wrote a profile on him earlier this offseason, mentioning how he looked electric in camp and was being used extensively as a receiver. He led the NJCAA in rushing yards per game at 133.9 with 14 touchdowns. If the passing offense takes a step back under Carter Bradley/Desmond Trotter, Webb could do serious damage behind an offensive line that added two impact transfers and returns three starters.
Stashes
None. The offense likes a step back this year regardless of who is under center at quarterback. It's the Jalen Wayne and La'Damien Webb show.
Avoid At Cost
None.
Southern Miss
Fantasy Relevant
Southern Miss was an abomination on offense last year, and it got to the point where running back Frank Gore Jr. was under center. Son of the NFL legend, Jr has been quite good at Southern Miss. Gore was the best player on the team with 956 all-purpose yards, including 20 receptions. He'll operate behind an offensive line that returns four starters and adds impact transfer, Bryce Ramsey, from Ole Miss. Gore is used in all phases of the game and should be a quality option in Sun Belt games this season, especially if the offense improves.
Leading the potential improvement is second-year quarterback Ty Keyes. Keyes started last season as a true freshman but was injured at the start of the season's fourth game. Keyes had 39 rushing attempts in his three games, including a combined 31 against Troy and Alabama. Keyes had his best start against the Crimson Tide, throwing for 131 yards and two touchdowns. We simply haven't seen enough to evaluate his passing ceiling, but as a second-year player, the rushing floor is intriguing.
Roster Fillers
None. As of now, only Gore Jr and Keyes are rosterable players.
Stashes
Despite having questions about the offense's passing upside, receiver Jason Brownlee has the potential to outperform expectations. In his third year, Brownlee posted a 28.2% receiving yard market share but exploded last year with a team-leading 36.8% receiving share. Brownlee is the most explosive weapon in the receiving game and is one of the best deep threats in the Sun Belt. This offense had 11 players attempt a pass last season, but if Ty Keyes can provide consistency, Brownlee might provide fantasy relevancy.
Avoid At Cost
Frank Gore Jr. is the only player being selected in Campus2Canton's ADP, and his 139th overall pick is a tad early for me. Gore is a quality Sun Belt running back, but his size at 185lbs holds him back from being a collegiate bell cow and all but eliminates his NFL potential.
Texas St. Bobcats
Fantasy Relevant
None. Despite Jake Spavital continuing his play-calling duties as head coach, the personnel has substantially changed, making projecting the Bobcats difficult.
Roster Fillers
Many Campus2Canton or College Fantasy players have Layne Hatcher rostered from his time at Arkansas State. Now at Texas State, he could take the next step we've been waiting to see for years. Splitting time with two quarterbacks for the Red Wolves, it's Hatcher's job for an offense that has quality options at receiver. He has been good when handed the keys in a full-time role. When attempting 25+ passes, he averages 301 yards per game.
Stashes
Those two options are returning leaders Marcell Barbee and Javen Banks. The offense ranked 42nd in neutral game script pass rate last season and passed for 159.2 yards per contest. That should change with Layne Hatcher at the helm. Both players operate in different roles, with Barbee being the YAC guy and Banks being more of a contested-catch receiver. Barbee out-targeted Banks despite missing two games, and while he's the slot option, he's my pick to be the WR1 for Hatcher. I would argue that either player is worth a stab at the end of drafts or flagging on the waiver wire.
I expect the entire offense to take a step forward this season. The pieces were there last year as the offensive line ranked 17th in line yards. They return four starters and add two quality transfers in Evan Lovell from Rhode Island and Richard West from Texas A&M commerce.
Avoid At Cost
None. Texas State does not have a player drafted in Campus2Canton ADP.
Troy Trojans
Fantasy Relevant
Troy is a team that can take a step forward offensively by hiring Jon Sumrall to guide the program. Ultimately, the offense will still flow through leading receiver Tez Johnson. An undersized WR, Johnson has 22 mph speed (elite) and strength above and beyond his size. Last season, Johnson secured a 25.7% receiving yardage share for the Trojans. He ranked 2nd in the Sun Belt with 67 receptions and, despite his speed, played closer to the line of scrimmage. That should change in 2022 with Joe Craddock taking over play-calling duties and the departure of their top two receivers. Johnson should have a more diverse deployment as a target hog.
Roster Fillers
If the offense does improve, running back, Kimani Vidal should be the primary beneficiary. Vidal returns as the leading rusher but with less competition. RB B.J. Smith exhausted eligibility, and there isn't another back on the roster with the same potential as Vidal. His 30.4% backfield dominator rating should be substantially higher in 2021, given the lack of competition. He's also a quality receiver, with 22 receptions last season despite splitting time in the third-down role with Smith.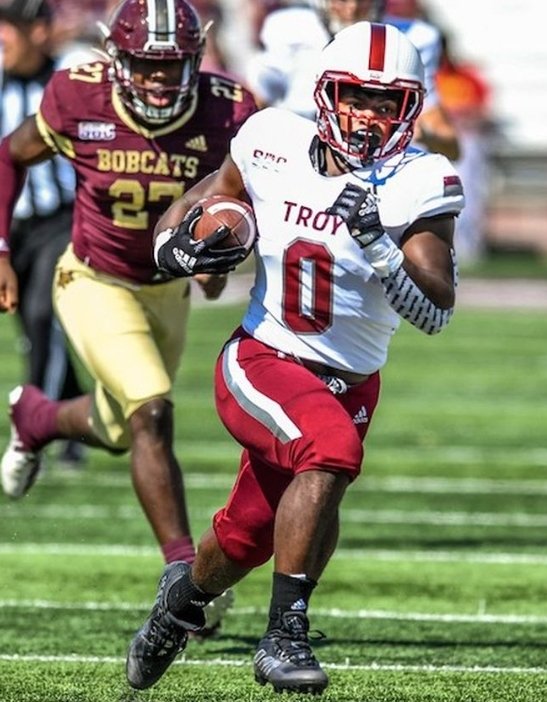 The offensive line also returns four starters and impact transfer Daniel King. The unit ranked 126th last year in line yards, and with more experience as a group should be better. I like Vidal as a rebound candidate.
Stashes
The most likely scenario for the Trojans is that longtime quarterback Gunnar Watson is under center to start the season. He's been a mixed bag in his career and now has competition. Former four-star Peter Costelli transferred to Troy from Utah this offseason. A high-pedigree player, Costelli can push Watson almost immediately if the latter struggles. He's an outstanding athlete, boasting a 10.80 time in the 100-meter, and can provide value on the ground. If he earns the job, he could see fantasy relevancy immediately.
Costelli is worth stashing or prioritizing off waivers if he does take this job. An unceremonious end to his short-lived Utah career shouldn't discount his ranking as QB27 in the 2021 class. One of the better recruits in the Sun Belt, Costelli could prove to be a hidden gem. The offense has potential, and in deep leagues, Costelli is likely rostered but in situations where he's available, keep an eye on this quarterback situation.
Avoid At Cost
None. Imagine thinking a Troy player is being taken in our ADP.
UL Monroe
Fantasy Relevant
None. As much as I hope the Warhawks do well this season, I don't think they have a player that reaches fantasy relevancy in 2022.
Roster Fillers
None. Again, you need to be in a deep league to rostering ULM players.
Stashes
A handful of players worth keeping an eye on to see what their role looks like early in the season. The first is Malik Jackson. An efficient gadget player in his first seven games, Jackson saw over 20 carries in each of his last three and 21.1 fantasy points per game propelled by games of 166 yards and 112 yards, along with seven catches in this span. Jackson is an undersized rusher, but if he sees more work than Andrew Henry, he could outperform expectations and be one of the Sun Belt's most explosive rushers.
QB Chandler Rogers returns as the starter and has more upside than one would think. Rogers was the primary QB for four games last year and 266 yards passing, two touchdowns, and 51.5 rushing yards. Rogers is a quality rusher and plays in a conference with weak defenses. Assuming he can be productive enough in the passing game, he has a rushing floor built-in that's intriguing. If Rogers struggles, second-string QB Jiya Wright is a tremendous athlete with big-time fantasy potential.
If Rogers starts the whole season and maintains his above-average passing numbers, it could be a boon for receiver Boogie Knight. Knight operated as the primary option for the Warhawks last season despite having only 588 yards on a 25.3% receiving yardage market share. The offense loses its second and third-leading receivers giving Knight the path to a breakout opportunity.
Avoid At Cost
I would be surprised if a single Warhawks player is being drafted in Campus2Canton drafts period, let alone our ADP. The offense doesn't wow at first, but there's potential here if things break right.