Pierre, South Dakota, the isolated capital city located almost directly in the middle of the state, plays home to roughly 14,000 people and a singular high school, T.F. Riggs, which so happens to possess a top-notch football team. Referred to as just Riggs by those in the know, the Governors, led by head coach Steve Steele, have won six consecutive 11AA state championships and have established themselves as one of the top programs in the Mount Rushmore State.
Alongside Steele for most of his head coaching career stood Lincoln Kienholz, a record-breaking quarterback who will travel over 1,100 miles east to continue his playing career at Ohio State University.
Kienholz is only the second football player from South Dakota to be recruited by the Buckeyes, joining former Roosevelt offensive lineman Grant Schmidt, who spent one season in Columbus before making stops at Cincinnati and South Dakota State.
Without knowing him, one might pigeonhole Kienholz as your traditional run-of-the-mill jock. A sharp-looking kid, a star athlete in three different sports, and heading to play football at one of the top college programs in the country? Hell, even his high school sits on East Broadway Avenue. Surely you would expect him to exude arrogance consistent with your stereotypical stud athlete.
Coach Steele, however, says Kienholz is quite the opposite.
"It's funny. If you take him off the field, he's an extremely laid-back kid. Very loose, easy-going kid. Until he knows people, he's pretty quiet and reserved."
The Start of Something Special
Kienholz spent his freshman season as the backup to Garrett Stout, a two-year starter for the Governors and the 2019 Gatorade South Dakota Football Player of the Year. However, due to Riggs' success that year, he saw plenty of second-half action in reserve when games got out of hand.
When Kienholz saw the field, the flashes of what could be were clear as day.
"Right away, we saw that he had a heck of a natural throwing motion and was really athletic. Ran like a gazelle."
Steele recalled a play from the second game, a 46-6 win over West Central, where Kienholz busted through the line and outran about six Trojan defenders for a 43-yard run.
"We knew he was fast against other freshmen, but seeing him do that against a varsity starting defense was definitely intriguing."
Kienholz became the full-time starter the following season and, like most first-time starting quarterbacks, went through some growing pains. Through his first five games, he threw 12 interceptions, including two games with four interceptions. In a 21-14 loss to Brookings, he completed just six passes for an underwhelming 84 yards. It wasn't until the following week, a home matchup with Mitchell, that everything started to click.
"That was the game that everything slowed down mentally for him. From there on, he was incredible."
The Governors won the game 48-20, and Kienholz ended the game with 194 yards and three touchdowns through the air, adding 113 yards on the ground. From that point on, Riggs rattled off four straight victories, including a 38-6 victory in a rematch against Brookings in the state championship game.
The Ascension To Stardom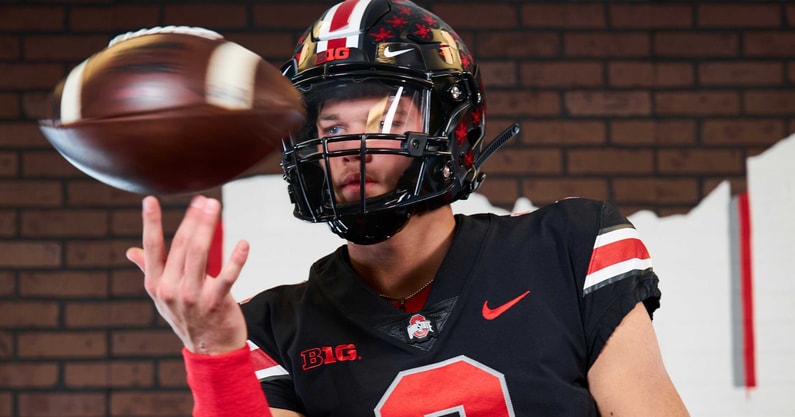 While Steele knew he had something pretty special in his sophomore signal-caller, he admittedly didn't fully recognize what type of prospect Kienholz would develop into over the next few seasons.
"I don't know if we knew he was Ohio State-special at the time. We knew we at least had a surefire high-level FCS quarterback on our hands. Around here, that's more than normal."
Pierre, pronounced 'Peer', is not exactly what you would consider a breeding ground for blue-chip athletes. Located roughly three hours from Sioux Falls and Rapid City, two of the more populous cities in the state, the town is quiet and far from a metropolis. The inhabitants, however, are undoubtedly prideful about their athletics. Even Riggs' closest away games are over two hours away, so the community is accustomed to traveling to support their student-athletes
When Kienholz's recruitment began to take off during his junior year, coaches from nine colleges lined the sidelines of Hollister Field at 7 a.m. to watch him throw before school.
They were not the only ones invested in the session.
"We probably had 20-30 community members with nothing to do with the program, other than being from Pierre, show up to watch the session. Not often does that type of stuff happen around here."
Not only was he gifted with exceptional natural athleticism, but Kienholz is also extremely sound between the ears and possesses a high football IQ, which allows Steele to grant him a ton of freedom to check plays at the line of scrimmage.
"He understands and diagnoses concepts very quickly. Very unique in that he's an extremely quick study for his age."
Kienholz's junior year was his best from a production standpoint, as the 6'3" 185-pounder threw for 3,359 yards and 37 touchdowns while rushing for over 1,100 yards and 12 touchdowns. The Governors finished 10-2 and brought home their fifth-straight state championship trophy. In a hard-fought 30-27 victory over Tea Area, Kienholz earned MVP honors for a second consecutive year, totaling 537 all-purpose yards and factoring in on all four of the Governors' touchdowns for the day.
Multi-Sport Star
After football season commences, his focus shifts to the hardwood, where he is almost equally impressive as a guard on Riggs' basketball team. He has received division one offers to play at the next level, and, as a junior, averaged nearly 20 points and over seven rebounds per game en route to earning 2A all-state honors. When spring rolls around, Kienholz pitches and plays shortstop for the baseball team and could easily play collegiate baseball if he wanted to.
Football? Check.
Basketball? Check.
Baseball? Check.
But there might be another sport he can add to his arsenal.
Steele also serves as the head coach of the Governors' hockey team and spends June bouncing between hockey practices and camps before football starts in July. After Kienholz's official visit to Wisconsin, he stopped by one of the hockey sessions to chat with his head coach. They talked about how the visit went and how the whole recruiting process was going thus far. At the end of the conversation, Kienholz pops a question.
"Hey, can I hop on the ice this session with you?"
Steele, understandably, was initially very hesitant. Not only does ice skating require a high level of technical skill and is not something you can pick up on a whim, but risking a silly offseason injury to your star quarterback at the height of his recruitment is not easily explainable.
But Lincoln, as usual, didn't back down from the challenge.
"Coach, I'll be fine. I just want to show you I can do it, and I wouldn't even be your worst player."
After putting on all of the required protective equipment, he hopped on the ice and started to skate.
"Holy crap, you weren't wrong!" Steele exclaimed.
"Yeah, I skated all the time when I was really little"
"How long ago was that?"
"Eh, I don't know. Maybe 8-10 years ago," Kienholz said with his trademark "Lincoln smirk."
While Steele acknowledged he was not a varsity-level starting player, he wasn't bad compared to his initial expectations.
Senior Year
Kienholz started his senior campaign with a masterful performance against Aberdeen Central. He completed nearly 85 percent of his passes and amassed 438 passing yards and six touchdowns, adding 55 yards and a score on the ground. This game set the tone for what would turn out to be a historic final season in Pierre.
In a 43-34 win over Brandon Valley in late September, Kienholz completed over 73 percent of his attempts and combined for 517 yards and six scores, accounting for all of the Governors' touchdowns. The following week, he broke Austin Sumners' state career passing yard record, which stood at 7,629 yards.
Kienholz ended the season with 3,422 passing yards and 46 passing touchdowns, rushing for over 1,400 yards and 24 touchdowns. Riggs went 11-0 and earned their sixth consecutive trip to the DakotaDome for the state championship game with a familiar foe.
Against Tea Area, their opponent from the finals a year ago, Kienholz scored five touchdowns and combined for 395 yards in the 35-20 victory.
No moment thus far in his football career has proven to be too bright for the star quarterback. The MaxPreps and Gatorade South Dakota High School Football Player of the Year embraces the limelight and plays his best ball when it matters the most.
"He's just a kid that shows up and wants the ball in his hands when it matters. That's just the way he's always been; he doesn't care about anything other than whatever it takes to get the job done."
Since the early 1980s, the top performer in the state championship game has been recognized with the Joe Robbie MVP award. Kienholz has received the honor the past three seasons.
At this point, there's an argument to be made for changing its name to the Lincoln Kienholz MVP award.
Learning the Intangibles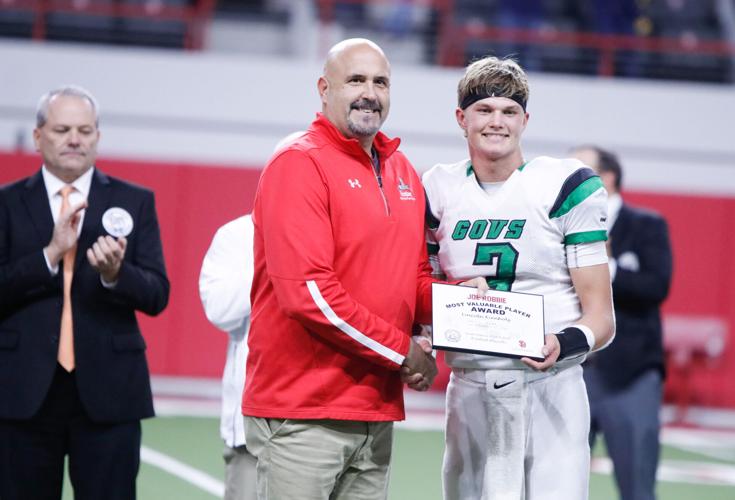 Part of the reason for his prominent progression over the past few seasons has been his creativity and willingness to try new things. During his senior year, Kienholz tapped into his baseball background, trying out various arm angles to open up different routes for the offense.
"A lot of that was completely on his own. He has that eagerness to experiment and find new ways to get the job done, maybe sometimes in ways that haven't been done in that way before."
When he's not dominating whatever sport is in season, Kienholz loves to be outdoors and enjoys fishing and hunting. In Steele's words, "he's the epitome of a small-town kid."
At times, it appears he doesn't even truly understand how big of a superstar he is.
A few weeks ago, he called his coach in need of some advice.
"Hey, I got invited to this AA Bowl thing in San Antonio. Do you know what this is? Is this something I should do," Kienholz asked innocently.
Steele, stunned at his star quarterback's naivety, knew exactly what he was referring to.
"The All-American Bowl? Lincoln, do you know what that is?"
"No."
Steele grew up watching the all-star game and understood the significance of the invite. Only the premier high school football players in the country are selected for the annual event held at the Alamodome.
"Yes, you should do it," Steele laughed.
"Oh cool. Thanks."
Per usual, Kienholz exceeded expectations with his performance, passing for 105 yards and the West team's only two touchdowns on the day.
Heading to Columbus
While one chapter of his story is over, the tale of Lincoln Kienholz is far from complete. The 6'3" 185-pounder will head to Columbus this summer in hopes to become the next great starting quarterback for the Buckeyes. Kienholz hopes to parlay a great college career into an opportunity at the next level.
"That's a big reason why he went (to Ohio State). He wants to be the best. If he can start there, he can make it to the NFL, and that's what he ultimately wants to do."
Lofty goals indeed.
But when you account for his talent, his mental makeup, and the way his journey has gone thus far, how can you ever doubt him?