The thing that doesn't fit is the thing that's the most interesting: the part that doesn't go according to what you expected.
– Richard Feynman, physicist
---
Intro
I began writing articles in January of this year focusing on CFF—highlighting players and team profiles that interested me. One article I always meant to publish initially but never got around to was a manifesto document about my CFF drafting philosophy. For those interested, I have published my rankings for this season on VolumePigs.
I approach CFF player acquisition slightly differently than the typical CFF manager. I thought I'd share some of my thoughts today. I should add the disclaimer that this write-up is with standard 10 or 12-man CFF leagues in mind. Leagues where the roster size is between 16-20 spots and typically employ 1QB or 2QB formats.
I should also note that the contents of these notes have been my CFF philosophies for the last several seasons and have led me to many victories. However, I don't advocate that anybody blindly follow someone else's approach. This article's purpose is not to convert readers to my ideology.
---
My Objectives in Redrafts
1. Have the Best RB Room in the League
This long section takes some unpacking to get the point across, so strap in. 
In every draft, I have one goal in mind: to have the best RB room in the league. Why? The RB position is, in my opinion, the single most important position to be dominant at in CFF. Think of this analysis with two variables in mind: scarcity and consistency.
Good QBs are consistently good, with little variation every week. If one is averaging 30 FPG, he usually scores around that mark week-in-week-out. However, this is not a high-priority position for me because the supply is not scarce. There are always so many elite CFF QBs every year. They are especially available on the wire in a standard 1/2-QB/12-team CFF league throughout the season. The difference between the elite guys and the above-average guys also isn't that pronounced. If you look back at recent years, players that commanded first-round picks that didn't totally bust, like CJ Stroud, Bryce Young, and Trevor Lawrence, did not provide that meaningful of an advantage over later-round guys like Michael Pratt, Chevan Cordeiro, and Jordan Travis, for example.
What's more, many of the elite QBs by season's end, according to FPG last season, were waiver wire plays (e.g., Todd Centeio, Michael Penix Jr, Drake Maye…).
On the flip side, elite WRs are scarce, but they are not consistently dominant every week the way elite RBs are. The reasoning for this is fairly straightforward. When you have the bellcow RB of a program, virtually all of the offensive drives for that team will somehow involve the RB. There is typically only one RB on the field—with WRs; there are almost always multiple on the field. It's easier to take a WR out of the game, but you must commit considerable resources to stop elite RBs. 
WRs are also more dependent on their QBs, whereas with RBs — while OL play is essential — the defense cannot stop them from getting the ball the way they can with WRs.
There can be multiple CFF assets at WR on the same team. That's very rare at RB. That basically makes RB a game of musical chairs. By that, I mean at some point in the season, all of the available bell cows will have been obtained by CFF managers. If you don't have some, your SOL; unless someone gets injured. However, you don't want to find yourself in midseason relying on trying to get elite, legitimate bellcow RBs off the wire or relying on injuries to your competitor's RB1 for your benefit with the RB2. I've written in my articles on several occasions about utilizing the wire at positions like TE, QB, and even WR. While I've picked up strong players at RB off the wire in recent years, it's nowhere close to the same quantity as QB, TE, and WR.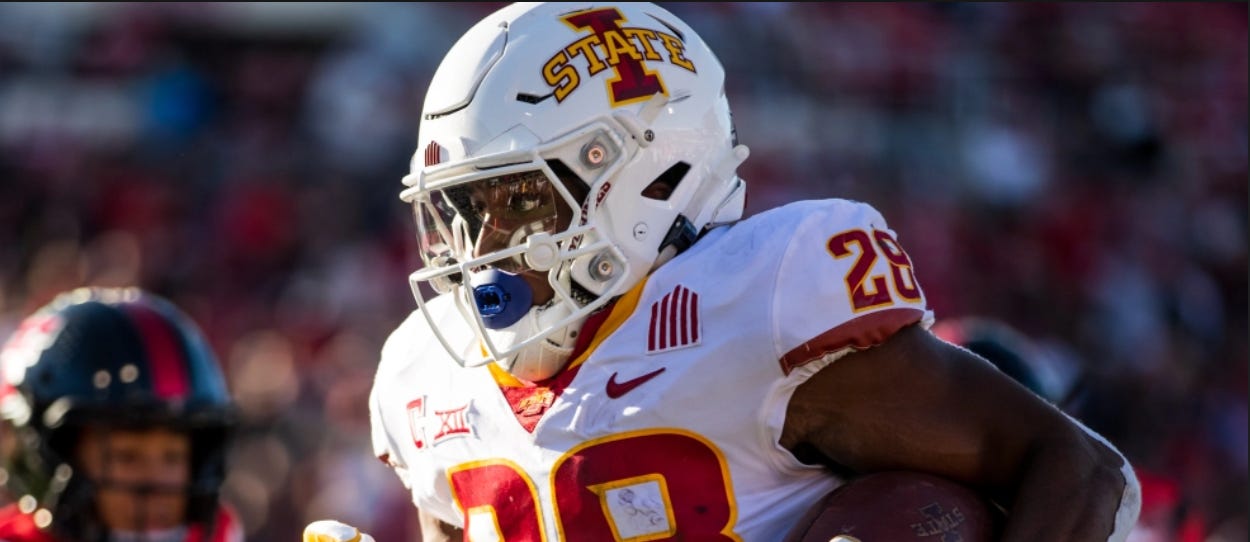 Acquiring elite RBs also involves a zero-sum phenomenon. When you have the lead back for Iowa State, Minnesota, Oklahoma State, etc., you essentially have a monopoly on the rushing success of these programs that your opponents cannot benefit from. There are no other RBs on the roster that will present value. Often, even the WRs will be limited because players like Breece Hall, Mo Ibrahim, and Chubba Hubbard consistently score almost all of the TDs. You have consistently dominant players, and your opponent doesn't (and they can't even get a piece of it like they could with QB/WR duos). Like property in the game of Monopoly, you plant your flag on an entire offense, and it becomes yours.
Consider that there are 133 programs in a P5/G5 eligible league, and only a percentage of these programs will have a bellcow RB. In 2022, for example, there were only 37 runners that saw over 200 carries. Only 11 saw 250 or more. In a 12-man league, you do the math—if you have four or five of the 11 RBs seeing over 250 carries, that provides a massive advantage your opponent cannot recover from. You have players at your disposal who are locked into 20+ touches a game. By extension, they are locked into 20+ FPG at both RB and FLEX positions. Your opponents are left scrambling, trying to keep up with players not consistently seeing the same volume at RB and FLEX positions. There might be the odd off week, but throughout a 12-game season, the volume always wins (I'm going to have to put that on a t-shirt or something). 
Regarding personnel, I'm interested in RBs that average 20+ touches and 20+ points per game; let's call these players 20-20 RBs. The second 20 in the 20-20 principle is more important than the first. That is, I'd rather take a player averaging 20+ touches per game but failing to do so in FPG off of the wire and cross my fingers that that player's production will eventually match his volume rather than vice versa. I am not interested in RBs who — through three to four weeks of the season — average over 20 FPG but are not getting the volume to match that. Those players will often fizzle out, reverting to the mean for their touch volume.
---
2. Do Not Spend Any Significant Draft Capital on QBs
I touched on this in the previous section. If there's one mistake I think new players make in fantasy football in general, they place too much emphasis on the QB position. In regular league set-ups, this is not a scarce position. The guys who have the big names and are generating Heisman buzz generally don't provide a steep advantage over the mid or late-round QBs you can acquire at a fraction of the cost. Simply put, there are just so many QBs who will average a strong FPG every season. Going out of your way to draft one in the first round who will give you (maybe) a slightly higher FPG is not beneficial, in my opinion.
Despite what I've said, I still want the best QB in CFF. I always want to have the best at every position possible. It's just not necessary to spend considerable draft capital to achieve this goal with respect to QBs, as far as I can tell, so I draft accordingly. Give me 2021 Bailey Zappe in the ninth round, 2021 Brennan Armstrong in the eighth round, or un-drafted Matt Corral in 2020… un-drafted Drake Maye in 2022… the list goes on. 
The argument for drafting QBs early is more compelling in a two-QB league. However, my stance remains that you can achieve the goal of having an elite QB room relatively easily without it. In the two-QB league I played in 2022, I picked up Michael Penix Jr. and Todd Centeio, who became my weekly starters. There were several others available on the wire that became starters for other players in that league.
---
3. I Prefer Not to Spend High Draft Picks on the 'Top WRs,' and Draft the Next Tier of Guys
The last segment probably wasn't that controversial for seasoned CFF players, but this one might be. I am pretty steadfast in the idea that I do not need to spend top draft capital to have the best WR room. The 2021 season was a great example, with guys like Justin Hall, Jerreth Sterns, Calvin Turner Jr., and Devon Thompkins available outside the top three rounds. None were considered among the elite group of WRs going into the season. Managers prioritized Kayshon Boutte, David Bell, Chris Olave, etc., in those drafts. If I remember correctly, the four others I mentioned above all finished in the top ten in terms of FPG, with — I believe — Sterns and Thompkins finishing in the top five.
An important ingredient of this strategy is one's ability to identify top WRs who emerge on the wire before others. I couldn't have acquired Ja'Marr Chase, Devon Thompkins, Rome Odunze, and Jalin Hyatt several weeks into the season after they had strung together several monster performances in a row, garnering considerable national hype in the process. I had to pull the trigger early and understand what I was looking for. It's not simply just sorting available players on Fantrax by FPG. This is a skill that is acquired through experience, in my opinion. That's not to say that I don't make mistakes. I make a blunder via the waiver wire too. I plan to provide waiver-wire updates in-season through my home platform VolumePigs.
---
4. Either Pay Up For the Best TEs or Wait Until Later
Tight ends are tricky in CFF. The guys at the top generally perform to the expected level, but there are usually only two or three of these types per cycle. Then there's usually an entire layer of 'meh' behind them. Guys that could be great or bust with the same likelihood. After that, it's a crapshoot. Hence, my philosophy is usually to identify the top guys you want and either pay for them or wait until the end of the draft to lock in the position. That'll feel daunting at first, but keep in mind the top guys usually only average 15 FPG anyways. You can find a guy off the wire that'll average 8-10 FPG, almost certainly in most standard re-draft leagues, so fear not if you miss out on the draft.
---
5. Never Spend Any Capital on DEF/K and Stream Them Week-to-Week
It surprises me that more people don't employ this approach. There is no use in locking in on one specific defense. Even the 2021 UGA Bulldogs won't perform to the same level as a mid-tier SEC school playing against some random FCS program in mid-November. Limiting your options by keeping one team's defense on the roster is unnecessary.
The same goes for kickers. They are not valuable enough to waste a draft slot when you can stream different ones each week based on matchups. I'll typically skip out on drafting each and then drop two players on game day to pick up a K and DST.
CFF roster management in the early days of the season is like a lottery, so you want to hold as many lottery tickets as possible for as long as possible. The tickets in this analogy are skill players (RB, WR, QB, TE). The value they hold if they 'pop' for you is high; conversely, having a strong defense or kicker will net you very little marginal benefit that others can't acquire on the wire every week.
---
Like this type of content? I've got good news for you; there's an ungodly amount of it over here: VolumePigs.
You can also find me occasionally tweeting about CFF and CFB over here.