A VP assessment of UTEP's RB situation
He can block, tackle, score the touchdown, snap the ball, and kick the extra point. Hell, the boy will fill up the Gatorade cooler, walk the dog, and paint your back porch. I'm telling ya, the boy can plain outplay football… And he can pass!
– L.V. Miles, Friday Night Lights (2004)
---
I sincerely hope that there isn't a reader here who has not yet seen the movie Friday Night Lights, which is a depiction of Odessa Permian, a West Texas football program with state championship aspirations in the 80s. If you happen to fall in that camp (my condolences), my recommendation is to stop reading right now and go strap in for one of Billy Bob Thornton's finest performances. We're in the business of winning. Damn right, Coach Gaines—CFF is a cutthroat game.
Unfortunately, in the last several decades, many of the towns that used to populate West Texas have decayed to a level beyond repair. The level of high school football has suffered also. Once a proud region, it has been largely left behind and forgotten about in the 21st century.
It's fitting that the featured player for today's article plays in the rural lands of West Texas. Like many a ghost town, UTEP's RB Deion Hankins is a forgotten-about commodity among the masses of college football fans. His 2020 season was one to remember, though. In seven games, Hankins accumulated 592 yards and nine TDs on 121 carries (16.1 FPG). Bizarrely, despite little-to-no pass game usage in his career, Hankins was granted WR eligibility on Fantrax last season—and this is very important for our purposes (more on this later).
---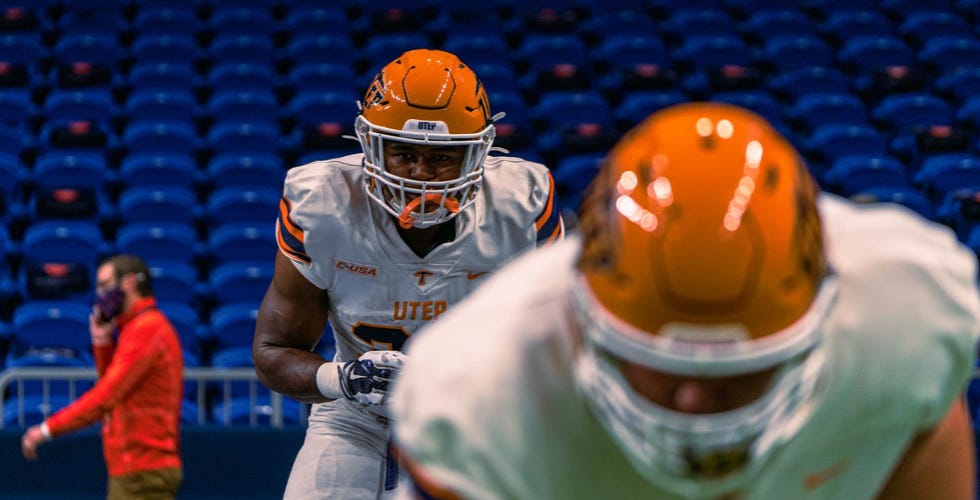 Coaching & System
Head coach Dana Dimel has been with the Miners since 2018. Prior to that, he spent nine seasons (2009-2017) with Kansas State as the Co-Offensive coordinator, also serving as the RB/TEs coach for six of those and RBs coach for two.
Unfortunately, there aren't very many volume pigs at RB during his regime at K-State. We have to go back to 2013 for the first 1,000-yard rusher; his RB1 rushed for 1048 yards and ten TDs on 198 carries. The next lead RB carried the pig 118 times.
In the 2012 season, the K-State RB1 — while not reaching the 1,000-yard mark — had a strong season, mostly due to TD production (15). The overall stats were 189 carries for 947 yards and 15 TDs. The usage wasn't so much split due to a committee in the backfield but rather because former KSU QB Colin Klein hogged all the glory—rushing for 920 yards and 23 (!) TDs.
His star volume pig came in the 2010 and 2009 campaigns. Daniel Thomas, a Florida native, rushed 298 times for 1,585 yards and 19 TDs in 2012. In his previous season, he rushed 247 times for 1,265 yards and 11 TDs. You know what I always say about players from Florida…
Dimel's time at UTEP has been much of the same from KSU. Marred by persistent committees, the Miners have failed to produce a 1K-yard rusher in the last five seasons. It's not for a lack of trying, though; the Miners had the fourth-most rushing attempts per game in C-USA last season.
Dimel's RB coach—Barrick Nealy, has been with him since the 2018 season in the same capacity, so the track record is the same.
---
RB Deion Hankins — 6'0″, 220 lbs.
Hankins is a local product coming out of El Paso, Texas, in the 2019 class. The rising fifth-year senior had his best season by far in 2020, averaging over 16 FPG during the shortened campaign. Of the seven games he played, Hankins averaged 17.28 carries a game.
He looked to continue that trend in 2021 (his coach even mentioned increased pass-game usage in the offseason). Unfortunately, he went down with a shoulder injury in a week zero matchups vs. New Mexico State—where he carried the rock 11 times for 50 yards and a TD in what was essentially one half of football. Fellow RB Ronald Awatt would grab the torch and run with it in Hankins' absence, making it impossible for Hankins to get the volume he was seeing in 2020 upon his return.
With Awatt moving on now (vacating 163 carries, 734 yards, and two TDs), the runway is wide-open for the West Texas Tank (I'm trademarking this nickname, by the way) to recapture his 2020 form.
While splitting carries with Awatt in 2022, Hankins rushed for 701 yards and three TDs on 140 carries (7.9 FPG). Nearly one in ten (9.28%) of his carries went for over ten yards (this is a good marker for rushing success), and he averaged a strong five YPC over the season, which was better than Awatt's average. What's more, the RB3—Reynaldo Flores, a versatile swing player, who was a solid CFF asset at the time due to WR eligibility, also moved on this offseason.
Speaking of WR eligibility, something else to note is that Hankins (as of this write-up) still has WR eligibility on Fantrax. This is huge because if you can find a player seeing even 15 touches per game that you can play in one of your WR slots, you can acquire a level of consistent volume that even the elite WRs don't offer. Now just imagine that he gets back to 17+ carries a game plus an uptick (as promised) in pass game usage in 2023. In case you're wondering, Hankins only had four receptions (seven targets) last season for 42 yards in 12 games.
---
Concerns
This staff doesn't have a history of heavy volume being funneled through one player in the backfield, nor a history of 1,000-yard rushers.
Former JuCo RB Mike Franklin transferred into UTEP this offseason. That's a notable move because Franklin is a JuCo All-American (so I assume he's pretty good at football). He led Contra Costa College with 614 yards on 128 rushes (4.8 avg.) and four touchdowns in ten games played in 2022.
To make matters worse, the Miners brought in another RB via the transfer portal in former New Mexico and Washington runner Aaron Dumas. Ouch.
---
Closing
Sometimes you begin writing up a player that you really liked, and by the end of it, you've convinced yourself that the value is not there. In this case, Dumas had not yet transferred when I wrote this article, but with him and Mike Franklin coming in, I have to think they are going to be splitting carries heavily again (sad face). The WR eligibility is intriguing, but without the steady workload, the appeal isn't the same with Hankins.
Just so this isn't a complete waste of your time, here's Coach Gaines' epic speech on being perfect in Friday Night Lights (if we can't find a CFF gem for you, at least we can find a movie?).
Like this type of content? I've got good news for you; there's an ungodly amount of it over here: VolumePigs.
You can also find me occasionally tweeting about CFF and CFB over here.
---