Week three of the college football season is in the books, and there have already been a fair amount of true freshmen playmakers proving to be legitimate contributors to their team's offense. Many were highly-touted prospects and regarded to have immediate roles from day one, while others have even shocked the staff at Campus2Canton with their ability to perform at a young age when the lights were brightest.
Without further ado, here are week three's Campus2Canton's Freshmen of the Week.
Quarterback: AJ Swann – Vanderbilt
The Cherokee High School (GA) product threw for over 250 yards and four touchdowns, earning the win in his first career start against Northern Illinois. While the Huskies were one of the worst passing defenses in the country, the 6'3" 225-pounder recorded an adjusted completion percentage of almost 78 percent. He also had an adjusted target depth of 12.1, more than four yards more than Mike Wright. Wright looked fun against Hawaii, but after seeing how much Swann elevated Vanderbilt's offense, it's fair to say he likely gives the team the best chance at winning, even as a true freshman. Do I expect him to head into Tuscaloosa and single-handedly take down the Crimson Tide this weekend? Absolutely not. But there's no doubt that he'll make some throws that make Clark Lea say "okay, we might have something here."
Running Back: Kaleb Johnson – Iowa
Johnson recorded six carries for 104 yards (17.3) and two highlight-reel touchdowns, including a 55-yard score in the fourth quarter of the Hawkeyes' 27-0 blanking of Nevada. The 6'0" 212-pounder forced five missed tackles and flashed speed and contact balance throughout the night. Johnson is considered a stash right now, currently slotted behind Gavin and Leshon Williams on the depth chart. He's also a tricky value because if he's on a non-Iowa offense, he likely receives more praise. For now, we will recognize his production and continue to monitor his usage throughout the next few weeks.
Running Back: Richard Reese – Baylor
The 5'9" 175-pounder recorded 19 carries for 156 yards and three touchdowns in a 42-7 win over Texas State. It's his second multi-touchdown performance in his first three games. His 156 yards on the ground was the most by a Baylor true freshman since Robert Griffin III in 2008. Reese entered a murky backfield in Waco, as Craig "Sqwirl" Williams and Qualan Jones are just good enough to prevent him from receiving high volume in year one, and Taye McWilliams is a former four-star prospect with potential. However, the freshman surprisingly leads the Bears' running back group in carries (35), yards (244), and touchdowns (5).
Wide Receiver: Luther Burden III – Missouri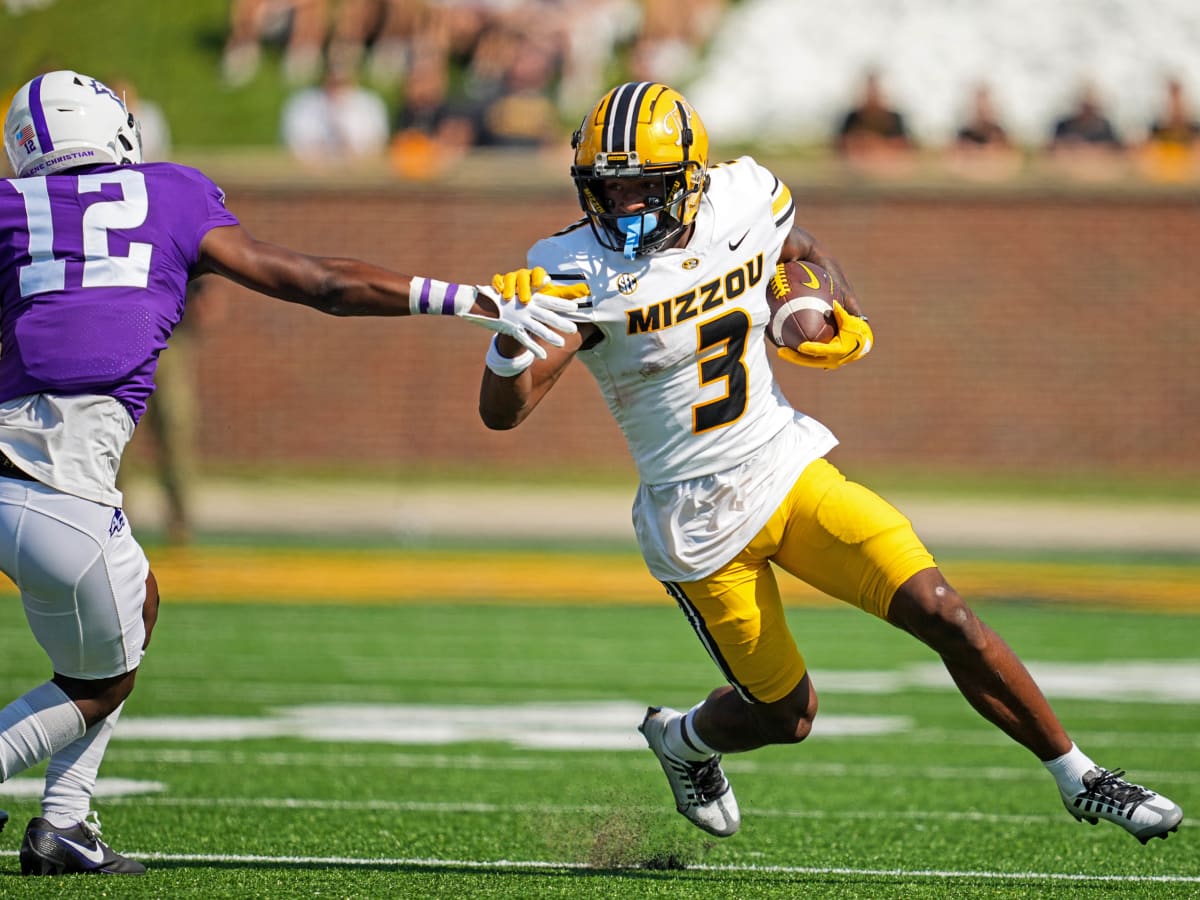 It was only a matter of time for Burden III to make his debut appearance on Campus2Canton's Freshman of the Week list. The all-world prospect caught seven passes for 63 yards in the Tigers' 34-17 victory over Abilene Christian. The 5'11" 208-pounder also flashed his ability in the return game, taking a punt 78 yards to the endzone on the first return of his career. Burden caught all seven of his targets, a great sign considering he recorded three drops in the first two games. His average target depth dropped significantly from an average of 14.5 yards in the first two weeks to just five yards, meaning Eli Drinkwitz is focusing on getting him the ball in space quickly and allowing him to do his thing. Great idea – they should keep doing that.
Wide Receiver: Xavier Townsend – UCF
I tweeted about Townsend earlier this week but think he is still going vastly unrecognized in the grand scheme of things. The 5'11" 185-pounder only ran nine routes in the Knights' 40-14 win over Florida Atlantic, but he was targeted six times, catching all of them for 53 yards. Javon Baker and Ryan O'Keefe are volume vacuums in UCF's offense, but there's an argument that Townsend has earned more playing time than Auburn transfer Kobe Hudson, who is currently slated to start this week in the slot against Georgia Tech after missing last week. Keep an eye out for the Berkeley Prep (FL) product.
Tight End: Tanner Koziol – Ball State
Some extra tight end love this week? Koziol earned it. The 6'7" 230-pounder received a whopping 11 targets, reeling in six passes for 65 yards and a touchdown in a win over Murray State. His usage was prominent, but his movement throughout the offense was encouraging, logging snaps from the slot and out wide as well as reps from typical in-line positioning. Koziol's two receiving scores on the year lead the Cardinals, and while he still has massive room for improvement, the Bloomingdale, Illinois native might have earned him some more looks from quarterback John Paddock with last week's performance.
Quick Hitters:
Quarterback

EJ Warner

earned his first start at Temple, falling 16-14 to Rutgers. I don't consider the 6'0" 190-pounder fantasy-relevant in any format, but seeing Kurt Warner's son out there slinging the ball around is pretty awesome.
Wisconsin's

Myles Burkett

got his first action of the season and completed 80 percent of his passes. Granted, it was only five throws, but he averaged almost 17 yards per attempt. The 6'0" 204-pounder should battle for the starting spot when/if the Graham Mertz experience ever ends.
West Virginia's

CJ Donaldson

ran for over 100 yards and scored three touchdowns. Ole Miss'

Quinshon Judkins

averaged over five yards per carry and found the endzone twice. And don't even get me started about what

Nicholas Singleton

did to Auburn. All three of these guys have been previously honored as Campus2Canton Freshmen of the Week and will continue to be weekly considerations. In an attempt to reduce week-to-week redundancy and highlight as many first-year performers as possible, I chose not to consider them this week.
Ohio State's

Dallan Hayden

looked good in extended action of the Buckeyes' 77-21 thrashing of Toledo. The 5'10" 185-pounder ran for 108 yards and one touchdown, forcing four missed tackles and averaging 4.82 yards after contact per attempt. He also ripped off a 45-yard carry to start the second half, setting up another Ohio State score. Considering he's touched the ball on almost 55 percent of his total snaps this season, it's clear that Ryan Day is eager to see what he has with Hayden. If you have any shares, you should be, too.
Ollie Gordon II

broke a 53-yard touchdown run in Oklahoma State's win over Arkansas-Pine Bluff. Did it make the score 62-7 in the fourth quarter? Perhaps. I don't see Dominic Richardson entering the draft after this season, so we may have to be patient on the 6'1" 211-pounder receiving consistent volume, but it was good to see the Euless Trinity (TX) product break a long one.
In other Sooner State news, Oklahoma's

Jovantae Barnes

averaged almost six yards per carry on his 13 touches against Nebraska, totaling 77 yards and recording two carries of at least 15 yards. The 6'0" 200-pounder has quietly out-touched Marcus Major and, at the least, is in contention for RB2 at Oklahoma behind Eric Gray. The Sooners have a pair of freshmen backs coming to Norman next season, both of whom are higher rated as prospects than Barnes was coming out of Desert Pines (NV). With Gray likely entering the draft after this season, Barnes should be a name on your radar.
Similar to running backs, I decided to exclude Kentucky's receiver duo of

Dane Key

and

Barion Brown

from consideration this week due to prior inclusion. Sue me. Trust me – you'll be sick of me talking about them by the end of the season.
The tight end pipeline in Athens has officially been extended.

Oscar Delp

recorded the first touchdown of his career, reeling in a 28-yard pass from Carson Beck to put the Bulldogs up 44-0 against South Carolina. The 6'5" 225-pounder might be the third or fourth-best tight end prospect on his own team, but damn it, he's the best TE4 in college football history.
You know I had to sneak in another NFL bloodline to close us out. SMU tight end

RJ Maryland

. Son of three-time Super Bowl champion and former number-one overall pick, Russell Maryland, the 6'4" 217-pounder took a post route 50-plus yards for a touchdown on the first play of the second quarter, pushing the Mustangs up two scores. He only received one other target (and dropped it), so volume will continue to be a concern.