Four weeks into the college football season, we have a fair amount of evidence to indicate whether a player's value in devy leagues has altered, for better or worse. This will be a bi-weekly series that hopes to give fantasy players a good idea of how the industry views various prospects compared to how they should be ranked. Some you will agree with – others you will vehemently oppose. Frankly, I don't give a damn.
Here is our second edition of the devy stock watch for the 2022 college football season.
Note: Rankings used throughout this article are based on Campus2Canton's most recent rankings. They can be found here.
Stock Up
Michael Penix Jr. – QB – Washington
You could argue Penix Jr. has transcended expectations more than just about every quarterback in college football, shattering the ceiling we previously erected based on his career at Indiana. Sometimes, it just takes a change of scenery to flourish. The 6'3″ 213-pounder has been sensational to start the season, completing almost 64 percent of his passes for an FBS-leading 1,388 yards and 12 touchdowns. Penix Jr. has been efficient with an adjusted completion percentage of nearly 73 percent and has not taken a sack despite 26 defensive pressures. Penix Jr. has churned out the most eye-catching plays on his deep ball attempts, and according to PFF, the Tampa, Florida native has recorded ten Big Time Throws, nine of which came on passes of 20 or more yards. While many of the draft-eligible quarterbacks predicted to position themselves in the second tier behind C.J. Stroud and Bryce Young have disappointed, it has been the 6'3″ 213-pounder at the focal point of the conversation. His current ranking of QB73 in devy is borderline criminal.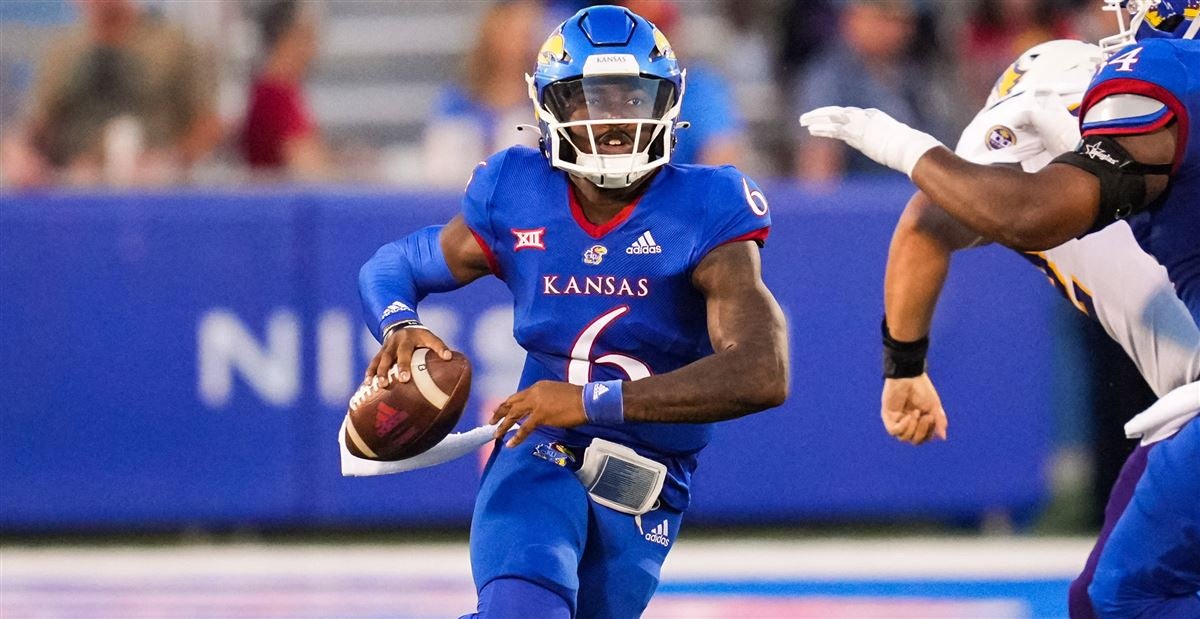 Jalon Daniels – QB – Kansas
Do you know how I mentioned that only a handful of quarterbacks have exceeded expectations more than Penix Jr.? Well, considering he is currently unranked among our 106 devy quarterbacks, Daniels is one of them. The 6'0″ 215-pounder has almost single-handedly invigorated the Jayhawks' program and has been instrumental in Kansas' first 4-0 start since 2009. The Lawndale High School (CA) product has completed 71 percent of his passes for 890 yards and 11 touchdowns. To put in perspective just how great Daniels has been thus far, consider this: He currently has a QBR of 98.0, ranked first among FBS quarterbacks. If the season ended today, it would be the highest rating since the conception of the statistic in 2004. The players immediately behind him that round out the top five? Mac Jones, C.J. Stroud, Kyler Murray, and Joe Burrow. Not bad company. The California native has been a threat on the ground, as he has at least two carries of ten or more yards in every game and averages four missed tackles through the first four games. Daniels has thrown at least three touchdowns and at least 80 rushing yards in his last three games.
Blake Corum – RB – Michigan
There were questions regarding Corum's projection to the NFL entering the season, as many believed his stature limited him as a draft prospect. The St. Frances Academy (MD) product has taken advantage of an early-season injury to running mate, Donovan Edwards, showing that he is more than capable of handling a full workload against Big Ten defenses; he can do so with tremendous efficiency. On the year, the 5'8″ 210-pounder has recorded 471 yards on the ground and an FBS-best nine touchdowns, averaging 7.5 yards per carry and recording eight carries of at least 20 yards, the most in the country. Corum has come on down the stretch, as over the last two weeks, he has forced 12 missed tackles and has registered six carries of at least 15 yards. He logged career highs in carries (30) and rushing yards (243) in last week's win over Maryland, running for the most yards by a Wolverine running back in over 25 years. While I don't think Corum is one of the top five backs in the 2023 class, he sits just outside in that next tier. If he keeps putting up performances like he did last week? The conversation starts to get interesting.
Israel Abanikanda – RB – Pittsburgh
Abanikanda is interesting. Throughout the offseason, I feel he was regarded in one of two ways, either considered the next great Pitt back, inflating his value way too high, or entirely ignored, turning him into an inevitable riser. The 5'11" 215-pounder had a poor performance in the Backyard Brawl to start the season but has been electric ever since. Over the last three weeks, he has run for at least 130 yards while averaging 6.6 yards per carry and two touchdowns per game. If that isn't impressive enough, Abanikanda has forced 20 missed tackles and recorded 12 carries of at least ten yards over the same span. Projecting his three-down usage is difficult since he has graded objectively horrible in pass protection throughout his career. However, he has yet to drop a pass this season and has made something out of nothing in the passing game, converting a negative average target depth into almost 15 yards per reception.
Rashee Rice – WR – SMU
Rice has caught some buzz from a national standpoint, but in light of his ranking of WR46 in our latest update, it appears he is still undervalued from a devy standpoint. The North Richland Hills, Texas product leads the FBS in receiving yards (563) and has already reeled in over 30 receptions. In every game this year, Rice has either recorded at least 130 yards or a touchdown, and his 3.75 yards per route ran is second-most among FBS receivers with at least 30 targets behind Ohio State's Emeka Egbuka. Rice has an average target depth of 12.6 yards and already has 20 receptions of at least ten yards. Currently ranked outside of the top 20 devy receivers eligible for the 2023 draft, I believe this is far too low.
Dominic Lovett – WR – Missouri
While Luther Burden III catches all of the headlines from Columbia, the 5'10" 185-pounder has quietly been the most consistent receiver for the Tigers. The second-year pass catcher has already exceeded his yardage and touchdown total from a year ago, catching 21 of his 29 targets for an SEC-leading 372 yards and two touchdowns. The East St. Louis High School (IL) product averages over eight yards after the catch, and his 3.61 yards per route ran is 6th among FBS receivers with at least 20 targets. With the recent cryptic tweets and social media revamp from Burden III, it's hard just to assume that he will stay with Missouri for the remainder of his career. However, even if he does, it appears that Lovett is a legitimate prospect and should be ranked accordingly in devy formats. You cannot tell me that Lovett is not one of the top 180 receivers in the country, as his lack of ranking indicates.
Stock Down
Tyler Van Dyke – QB – Miami
Van Dyke has faced a gauntlet of top-tier passing defenses in the likes of…wait. Bethune-Cookman, Southern Miss, and Middle Tennessee State? The lack of success in the passing game is alarming. According to PFF, the Glastonbury, Connecticut native has had more turnover-worthy plays (6) than big-time throws (4), and has averaged less than seven yards per completion. While his receivers haven't done him any favors (eight drops), his average depth of target of 8.4 has shown discomfort pushing the ball downfield, as five of his six turnover-worthy plays have come on passes of ten or more yards. Not only have the 6'4″ 224-pounder's passing numbers taken a dip, but in terms of a fantasy projection, Van Dyke is limited from a mobility standpoint, having less than 20 yards on the ground. I don't think we are in Jake Garcia territory just yet, but his days as a top ten quarterback in devy are all but over.
Phil Jurkovec – RB – Boston College
Jurkovec has been disappointing in 2022 thus far, averaging just over 210 yards through the air and turning the ball over six times in four games. The Pittsburgh, Pennsylvania native has had six turnover-worthy plays through four games after having seven all of last season. Like Van Dyke, the passing numbers have dropped off a cliff while not having any rushing upside to provide fantasy players with a solid floor. 20.3 percent of his pressures have resulted in a sack, and he has averaged less than three yards per scramble. I am still rooting for Jurkovec to flash because I want to see Zay Flowers have the quarterback competency he deserves.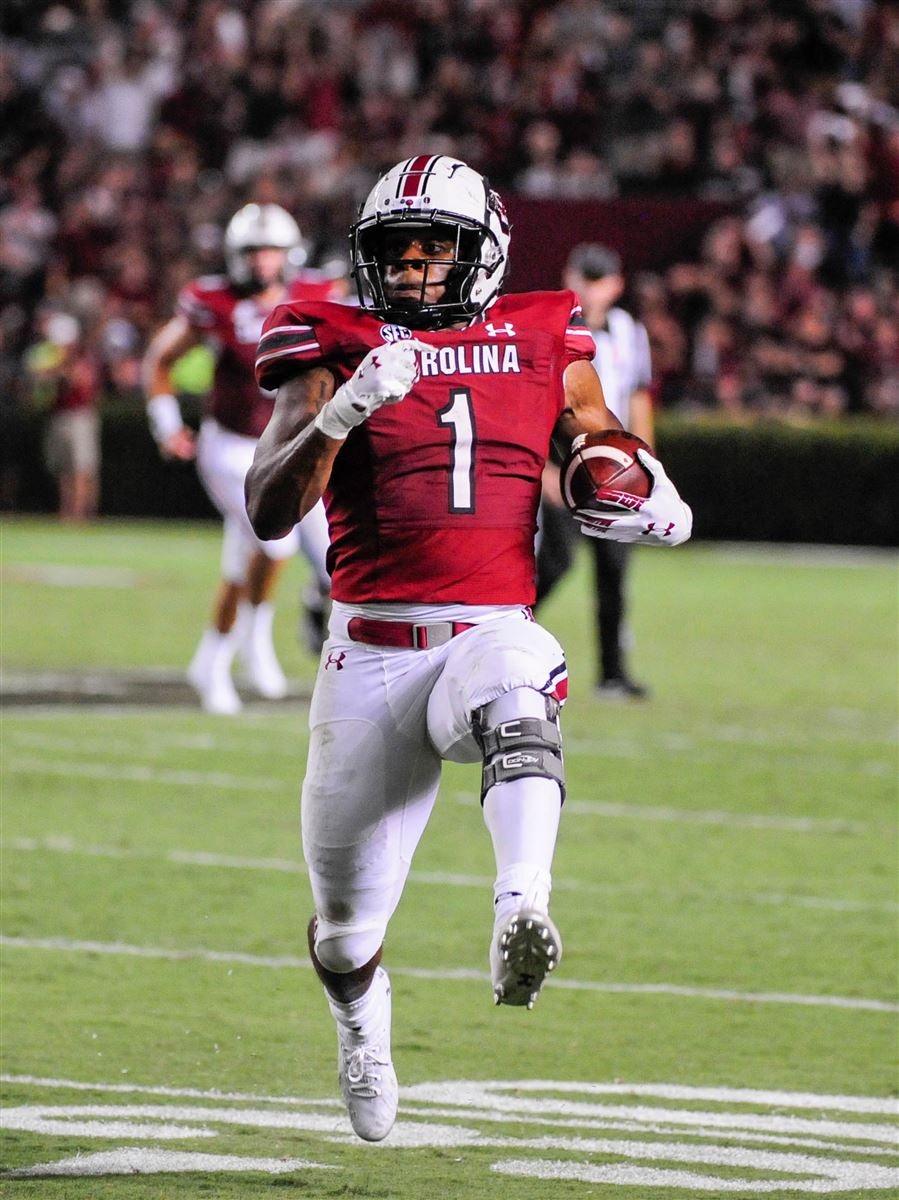 MarShawn Lloyd – RB – South Carolina
When you look at Lloyd's numbers on the season at first glance, it appears that he has been extremely productive in his third year iatColumbia. The 5'9″ 212-pounder has rushed for 244 yards and three touchdowns, averaging over 11 yards per carry. However, when you take a deeper look at the numbers, you realize that they are heavily inflated by his performance last week against Charlotte. The 49ers' run defense is… bad ,to put it nicely, having allowed Florida Atlantic's Larry McCammon III, Georgia State's Tucker Gregg, and William & Mary's Bronson Yoder to rush for over 100 yards. Outside ohat game, the Wilmington, Delaware product has recorded 27 carries for 75 yards on a putrid 28 yards per carry. As a Lloyd truther coming out of DeMatha Catholic High School (MD), it pains me to say this, but we might need to temper our expectations for Lloyd being a future fantasy-relevant back.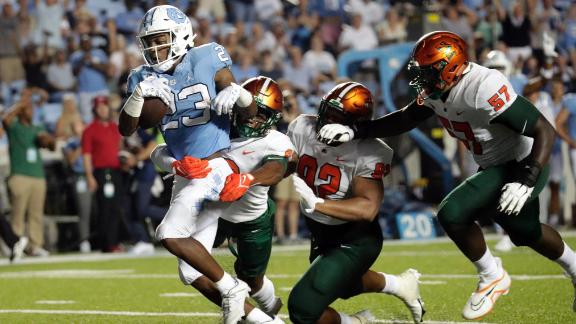 George Pettaway – RB – North Carolina
There is absolutely no argument that Pettaway's ranking of RB31 in devy makes any sense when his freshman teammate and lead back for the Tar Heels, Omarion Hampton, is all the way down at RB55. OThefreshman from Suffolk, Virginia ,has recorded 85 yards and two touchdowns, averaging five yards per carry. In the last two games, he has been out-snapped by Hampton 59-to-21 and was even out-snapped by Caleb Hood last week against Notre Dame. Over that stretch, he has carried the ball seven times for… zero yards. If you have him on your roster, and he is being valued as a fringe top-30 devy back, I would be a major seller.
Rakim Jarrett – WR – Maryland
Only a handful of receivers in the 2023 class have performed above their expectations entering the season, and Jarrett is not one of them. Truthfully, he hasn't been terrible; he just hasn't produced how most expected through four games. The 6'0″ 190-pounder has 15 receptions on the year for 208 yards and one touchdown, dropping three of his targets. The Palmer Park, Maryland product has not caught more than four passes in the last three games and has recorded less than 25 yards in two of them. Despite the unremarkable production, he still sits at WR18 for devy and comes in at WR10 in his class. He has been banged up, so I expect him to start flashing like the 2021 version of himself when he is fully healthy. Still, t few receivers in his class tave jumped him, and there are quite a few underclassmen I would probably target before him at this point.
Dontayvion Wicks – WR – Virginia
Speaking of receivers who have not lived up to the hype, what the hell happened to Dontayvion Wicks? The 6'2″ 208-pounder has only caught 36 percent of his targets, the least among FBS receivers with at least 30 targets, and has yet to find the endzone in 2022. Touted for his exceptional ball skills and tracking ability, the Plaquemine High School (LA) product has only reeled in one of his eight contested targets after catching over 50 percent of them last season. Wicks has also dropped five passes through four games, matching his total from a year ago and turning one of his greatest strengths into a considerable question mark. While much of his drop in production dip can be blamed on Brennan Armstrong's impressive regression, some of the drops he has had were downright concerning.