Week nine of the college football season is in the books. There have been a fair amount of true freshmen playmakers proving to be legitimate contributors to their team's offense. Many were highly-touted prospects and regarded to have immediate roles from day one. Others have even shocked the staff at Campus2Canton with their ability to perform at a young age when the lights were brightest.
Without further ado, here are Campus2Canton's Freshmen of the Week for week nine.
Quarterback: Conner Weigman – Texas A&M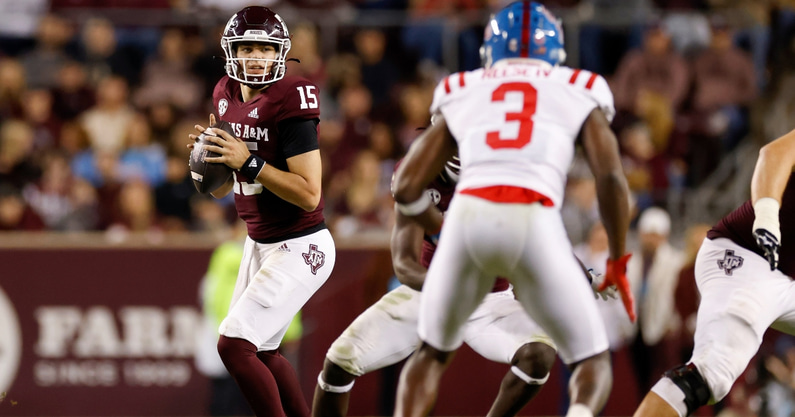 Despite the loss against Ole Miss, Weigman checked the boxes as a player with the high ceiling that comes with his five-star billing. The 6'2" 215-pounder completed over 63 percent of his attempts. He was responsible for four touchdowns in A&M's setback to Ole Miss. His 338 passing yards were the most by a true freshman in program history. Weigman became the first Aggie quarterback to throw for more than 300 yards since Kellen Mond in 2020. The Cypress, Texas product showed a tremendous level of poise and composure throughout the night, looking particularly confident in the RPO game. One member of the Campus2Canton discord posed the question of Weigman being the top-rated quarterback in the 2025 class after his performance. Hmm… it's a question worth discussing. We should have a better evidence-based argument after next week's matchup with the Gators at Kyle Field.
Running Back: Quinshon Judkins – Ole Miss
Another week, another dominant performance from Quinshon Judkins. This might have possibly been the most impressive to date, which is a scary thought seeing how successful he's been in his first season in Oxford. In the Rebels' victory over Texas A&M, the 5'11" 210-pounder handled a ridiculous level of volume. His 34 carries were the most by an Ole Miss running back since Deuce McAllister in 1999. Judkins recorded 205 yards, 142 of which came after first contact, and forced 13 missed tackles, the second-most by an FBS running back last week behind Michigan's Blake Corum. The playmaker from Pike Road, Alabama now owns the program freshmen record by single-season rushing yards (1,036) and rushing touchdowns (13). I said this a few weeks ago, and I will reiterate this now for those unaware of how much confidence I have in him: Quinshon Judkins is a better NFL draft prospect than Zach Evans.
Running Back: CJ Donaldson Jr. – West Virginia
The Mountaineers fell 41-31 to TCU on Homecoming, but it was awesome seeing Donaldson Jr. back out there making plays after missing several weeks. The Miami, Florida native started slowly against Texas Tech last week but recorded 19 carries for 104 yards and two touchdowns against the Horned Frogs. The 6'2" 240-pounder forced four missed tackles and had three carries of at least ten yards, including a 38-yarder. Recent stories indicate that Donaldson Jr. will miss the remainder of the season with a leg injury but not before recording his fourth 100-yard game in seven collegiate appearances. The Gulliver Prep product ends the season with over 500 yards and eight touchdowns, averaging almost six yards per touch on 96 total plays from scrimmage. Send out some feelers in your devy leagues. If your league values him anywhere near his current ranking of RB125 in devy, you might be able to get him for a steal.
Wide Receiver: Jordyn Tyson – Colorado
This is the first time Tyson has made the list, and in an attempt to be transparent, this was the first time I really even heard of the pass-catcher from Allen High School (TX). Against Arizona State, the 6'2" 185-pounder caught five of his 11 targets, totaling 116 yards and a 58-yard touchdown. If that wasn't enough, Tyson added over 130 yards in the return game, including an 80-plus yard punt return touchdown in the fourth quarter. His 246 all-purpose yards set the program record for Colorado true freshmen. Interim coach Mike Sanford went on record saying that he believes Tyson will be a "superstar in this conference for a while." Tyson has dropped a pass in each of the last three weeks. But this was also his second straight game with a reception of at least 55 yards. I sense a potential devy stash candidate but will remain cautiously optimistic about his long-term value in fantasy.
Wide Receiver: Evan Stewart – Texas A&M
I mentioned Stewart last week, and he might be bordering on "automatic consideration" at this point, but his performance against the Rebels was more of the same. The 5'11" 170-pounder caught six catches for 88 yards, including a one-handed touchdown in the first quarter. This was the Liberty High School (TX) product's third consecutive game with at least 11 targets and at least 85 yards. While things seem to be burning around Fisher and the program in College Station, Stewart's success as a first-year player maintains a level of optimism surrounding the Aggies' program, albeit minuscule in the grand scheme of things.
Other Notable Performances
This was one of the first weeks of the season where I had multiple quarterbacks deserving of Freshmen of the Week consideration. And if it wasn't for Weigman's spectacular performance, NC State's MJ Morris would have been a lock. Coming in to relieve Jack Chambers in the second quarter of Thursday's matchup with Virginia Tech, the 6'2" 192-pounder led the Wolfpack to an 18-point comeback victory, the biggest comeback for NC State in over a decade. The Carrollton, Georgia product completed 67 percent of his passes. It was almost 80 percent when you account for the two drops and three touchdowns. With an adjusted depth of target of 13.4 yards, it wasn't like the first-year player was dinking and dunking down the field. We should see more of him this year, and if Devin Leary decides to leave Raleigh after this season, things are looking up for the Wolfpack. 
Iowa's Kaleb Johnson's had a great game on Homecoming against Northwestern, as the 6'0" 212-pounder carried the ball 13 times, three of which went for at least 15 yards. The Hamilton, Ohio native ended the night with 93 yards, averaging over seven yards per touch, and forced six missed tackles. Iowa's usage with Johnson is a little frustrating. He appears to be the most talented back in the room whenever I sit down to watch the Hawkeyes. Performances like this should improve volume going forward, and a stellar day against the Boilermakers next week in West Lafayette would probably force the coaching staff's hand.
Well, I guess we can throw any questions regarding Baylor's Richard Reese's ability to handle a full workload in the trash. Despite being an undersized back, the 5'9" 175-pounder from Bellville, Texas has continued to remain efficient on unusually high volume. In the Bears' 45-17 win on the road against Texas Tech, Reese recorded his second-straight game with at least 30 carries, totaling 37, six of which went for at least ten yards, for 148 yards and three touchdowns. The Bellville High School (TX) product is second among true freshman running backs in yards (795), touchdowns (12), and carries of at least ten yards (24) behind Ole Miss' Quinshon Judkins. I think that's good company. We should talk about him in a more serious light.
With everything seeming to be crashing down around Jordan-Hare Stadium, I thought receiver Camden Brown played well against Arkansas for what it's worth. The 6'3" 190-pounder from Louisiana made some plays down the stretch to keep the Tigers within fighting distance, catching all four of his targets while adding a 49-yard completion and a nine-yard touchdown in the fourth quarter. He also caught some lofty praise from quarterback Robby Ashford, as the signal-caller called him "a baller" while adding "it's good to see that pay off for him … he's such a hard worker." This was Brown's first time being utilized all season, as he entered Saturday with four total targets. I'll hold off expectations until we see his production by year's end, but there may be something here.
Southern Miss' Tiaquelin Mims had a notable day in Thursday's win over Louisiana, reeling in three receptions for 69 yards and recording his first receiving touchdown of the season. The 5'9" 170-pounder has seemed to develop chemistry with true freshman quarterback Zach Wilcke over the past few weeks, as this is the third consecutive game the Bay Minette, Alabama product has seen at least five targets. It's hard to get overly excited about his profile at this point because the odds are stacked against him from a fantasy projection mindset, but Mims is a name you should know about when the Golden Eagles enter the Sun Belt next season.