The NFL draft is on the horizon, and we just finished up the NFL combine. We got to find out who was lying about their size, and who did or did not hit the gym. Let's dive in together while I briefly go over my pre-draft evaluation. I usually write up 10 runningbacks but this class is very deep so I'll go a bit further this year. We'll come back after the NFL draft for a readjustment, landing spot analysis, and some long and short-term expectations.
Analytics that matter
Pre-draft rank with analysis
My rookie rankings since I started evaluating
Tier 0
RB1 – Bijan Robinson
Age: 21.0
HT/WT: 5'11 / 215lbs
DOM: 36.43%
Backfield DOM: 51.74%
YPTP: 2.16
ReceptionMS: 7.66%
Early Declare
Projected DC: 1st-Early 2nd
Historical:
2022 RB1: Breece Hall
2021 RB1: Javonte Williams
2020 RB1: Jonathan Taylor
Pre-Draft Analysis
It gets thrown around more than it should, but Bijan Robinson is a generational talent. The elite running backs are aging in the league, and there is not enough young talent coming in, although this draft could change that. Bijan will be RB1 as soon as he steps foot in the league. He boasts that pro-sized can make guys miss and manipulate defenders at every level of the field. He's hard to bring down with top-tier contact balance and can be a power back at the goal line or in short-yardage gains. He's a great pass catcher even beyond the LOS and does well in the pass pro. Bijan does everything at a high level; the one fault is game-breaking speed, but he just ran a 4.46 40 at the combine, and that's still fast.
Tier 1
RB2 – Jahmyr Gibbs
Age: 20.9
HT/WT: 5'9 / 199lbs
DOM: 20.89%
Backfield DOM: 47.92%
YPTP: 1.53
ReceptionMS: 15.71%
Early Declare
Projected DC: Early 2nd
Historical:
2022 RB2: Kenneth Walker III
2021 RB2: Najee Harris
2020 RB2: JK Dobbins
Pre-Draft Analysis
Gibbs spent this past season as the focal point of the Alabama offense, with his best skillset coming from operating in space and pass-catching. Gibbs operates fine down the middle at a college level, but power back duties are not his forte. He's elusive in open space with a deadly juke ability and explosive bursts. His usage at the next level should mirror that of Austin Ekeler. He's a great runner, and a deadly pass-catching weapon out of the backfield or operating out of the slot. Gibbs is set to be a PPR threat and would do best in a system with limited touches. He does have a smaller frame, so NFL teams should not look to run him up the middle into a wall 15+ times a game.
Tier 2
RB3 – Kendre Miller
Age: 20.7
HT/WT: 5'11 / 215lbs
DOM: 24.29%
Backfield DOM: 40.68%
YPTP: 1.49
ReceptionMS: 5.48%
Early Declare
Projected DC: 2nd -Early 3rd
Historical:
2022 RB3: Rachaad White
2021 RB3: Travis Eitenne
2020 RB3: DeAndre Swift
Pre-Draft Analysis
The TCU product, Miller, was a preseason 'my guy' for me and has not disappointed. He's posted three consecutive efficient seasons and now has kept that same efficiency but, with a season, has the primary workhorse running back. Kendre is coming off an MCL injury that kept him out of the national championship, and won't perform at the combine. He has a prototypical workhorse size and runs with power. he has great vision and has no problem finding proper holes or cutback lanes. Miller is also light on his feet, showing off subtle movements at the second level. He's not the best pass catcher, mostly operating as a dump-off option, but certainly serviceable in that area. Miller is decent in pass-pro situations and doesn't struggle to hold a block. Although he has power back abilities, he does prefer to be an upright runner and avoid a tackle over breaking one.
RB4 – Tank Bigsby
Age: 21.5
HT/WT: 6'0 / 210lbs
DOM: 21.99%
Backfield DOM: 39.51%
YPTP: 1.44
ReceptionMS: 18.87%
Early Declare
Projected DC: 2nd-3rd
Historical:
2022 RB4: Dameon Pierce
2021 RB4: Trey Sermon
2020 RB4: Cam Akers
Pre-Draft Analysis
Bigsby has a great blend of balance, speed, agility, and size. He's been stuck behind a terrible offensive line in a terrible offensive system for his collegiate career. The box scores will show a player that struggled against tougher competition, but I believe the coaching just couldn't keep up. Bigsby is an underrated pass catcher but primarily catches dump-offs. He's deadly in space with the ability to make guys miss with his quickness and decent acceleration out of his cuts. Bigsby has demonstrated some ability to push piles but typically ops to be an upright runner, always looking for cutback lanes, but that offense rarely creates one. Coming from a terrible offense, Bigsby does have a tendency to bounce out wide. He's overly patient and waits to make a big play rather than take the handful of yards in front of him.
RB5 – Zach Evans
Age: 21.7
HT/WT: 5'11 / 202lbs
DOM: 15.93%
Backfield DOM: 40.66%
YPTP: 1.05
ReceptionMS: 5.02%
Early Declare
Projected DC: 2nd-3rd
Historical:
2022 RB5: James Cook
2021 RB5: Michael Carter
2020 RB5: Clyde Edwards-Helaire
Pre-Draft Analysis
We're two years removed from debating which running back is the best pure-runner between Bijan and Zach Evans. Evans still has that elite movement ability without needing to slow down. He does struggle with his vision behind the LOS at times. Evans is also a violent runner and a fast processor beyond the LOS. Whenever he feels caught, he will lower his pad level and choose to go through a defender rather than make the first guy miss. His running style is very similar to Marshawn Lloyd's. Evans has been focused on saving his body for the pros, not risking further injury when minor digs crop up, and wanting to operate in a split backfield at the collegiate level. The narrative now is that he was outproduced by freshman Quinshon Judkins despite his transfer to a program known to operate a committee. Evans is now foregoing the combine and instead participating in a Pro Day. He came in severely underweight compared to what was expected, this could possibly be because injury prevented him from working out. It's becoming hard to stay supportive of his raw talent when he continues to only show it in short flashes instead of a consistent performance. Considering raw talent, Evans should be up draft boards, his draft cap will weigh heavily into my analysis of him.
RB6 – Sean Tucker
Age: 21.3
HT/WT: 5'9 / 207lbs
DOM: 32.06%
Backfield DOM: 76.01%
YPTP: 1.62
ReceptionMS: 15.79%
Early Declare
Projected DC: 2nd-3rd
Historical:
2022 RB6: Tyler Allgeier
2021 RB6: Kenny Gainwell
2020 RB6: Antonio Gibson
Pre-Draft Analysis
Tucker is a tracker athlete with some serious acceleration and decent lateral agility. He's one of the best pass-catchers in the running back group, he's a great on-field athlete, and runs track for Syracuse. Tucker posts self-reflecting performances every week with the occasional #PL34SED. I'm every bit confident that he crushed the team interviews. The glaring flag in the profile is his lack of power as a runner. He has fringe NFL workhorse size, but he's not physical as a runner, and It's hard to teach aggression. Tucker has every physical trait you want in a top-tier workhorse back, but may be assigned as a pass-catching back with plus opportunities as a rusher.
RB7 – Zach Charbonnet
Age: 22.1
HT/WT: 6'0 / 214lbs
DOM: 23.01%
Backfield DOM: 39.08%
YPTP: 1.8
ReceptionMS: 12.71%
4th year
Projected DC: late 2nd-3rd
Historical:
2022 RB7: Brian Robinson
2021 RB7: Chuba Hubbard
2020 RB7: AJ Dillon
Pre-Draft Analysis
Charbonnet is one of the best grinders in this draft and offers some plus as a pass catcher. He was split out wide but wasn't running many routes past the LOS. Charbonnet is a great blend of size/speed with no worries about what his playing weight was or will be. A scheme versatile runner whether it's zone or gap. He's a great pile pusher, will always fight for extra yardage, and falls forward. He churns his feet and fights through contact, rarely being brought down from first contact. Charbonnet is great at creating bad angles for defenders as a runner in the open field, not elusive but a tackle breaker with some wiggle. He doesn't have the top-end breakaway speed and does take too long to gear down when changing direction. For a guy his size, Charbonnet does struggle with pass protection. It's something that must be addressed at the next level. I still have questions about why he didn't come out last year. He would've been the RB3 at worst. It's a question that we may never get the answer to.
Tier 3
RB8 – Devon Achane
Age: 21.3
HT/WT: 5'8.5 / 188lbs
DOM: 38.83%
Backfield DOM: 83.32%
YPTP: 1.71
ReceptionMS: 16.36%
Early Declare
Projected DC: 2nd -Early 3rd
Historical:
2022 RB8: Tyrion Davis-Price
2021 RB8: Rhamondre Stevenson
2020 RB8: Zack Moss
Pre-Draft Analysis
A top-tier speed steer, Achane is lightning in a bottle. His size will restrict his usage at the next level. While at Texas A&M, he found most of his success on the ground as an outside runner, only averaging 4.2 YPC down the middle. As a pass catcher, he doesn't run many routes past the line of scrimmage. Achane will be one of those players that will be a better NFL running back than a fantasy option. OCs will use his skill set to keep defenses honest with his home run ability as a runner. He will not be used for goalline duties or blocking plays. Achane may be a limited touch type of player at the next level but has a skillset that could stick around for multiple contracts
RB9 – Israel Abanikanda
Age: 20.4
HT/WT: 5'11 / 216lbs
DOM: 34.88%
Backfield DOM: 67.18%
YPTP: 1.72
ReceptionMS: 5.38%
Early Declare
Projected DC: Late 3rd-4th
Historical:
2022 RB9: Zamir White
2021 RB9: Elijah Mitchell
2020 RB9: Ke'Shawn Vaughn
Pre-Draft Analysis
One of the youngest running backs in the draft, Abanikanda, is coming off a monstrous year of production. He finds most of his success from zone schemes making his play style not friendly to gap-running offenses. He's a patient runner who lets his blocks develop with decent vision at the second level. Izzy is not the best at creating for himself, but certainly punishes a defense that gives him open lanes. Abanikanda will identify and hit the lane with some of the best acceleration in the class.  He is a very upright runner and doesn't make much effort to make defenders miss in the open. Abanikanda would much rather win with speed than fancy footwork or power. He was underutilized as a pass catcher this year, but he can run more routes than he was given in the 2022 season. Abanikanda's limitation in running primarily to zone schemes will hurt his draft stock, and he got dinged up before the combine. He has an outside shot at Day 2 draft cap, but his skill set is limited.
RB10 – Roschon Johnson
Age: 22
HT/WT: 6'0 / 219lbs
DOM: 12.13%
Backfield DOM: 18.26%
YPTP: 0.78
ReceptionMS: 5.65%
4th year
Projected DC: 4th-5th
Historical:
2022 RB10: Hassan Haskins
2021 RB10: Khalil Herbert
2020 RB10: Darrynton Evans
Pre-Draft Analysis
Johnson played most of his years behind Bijan. Johnson has a prototypical workhorse size and demonstrated everything a franchise would want in an NFL running back. His tape is littered with hurdles, pass-catching, and some sneak elusiveness for a guy his size. Johnson is also one of the better pass blockers in this class. He does lack burst and acceleration to capitalize on the space he creates but runs as a bruiser than can gain extra yardage after contact. The lack of a year as the lead back can be viewed as a plus for mileage but also a negative. As an on-field athlete, there's more to be desired, but Johnson does have a complete skill set. He's a player that I will move up rookie draft boards if he lands on a team with a clear opportunity to be the lead back as a rookie.
Tier 4
RB11 – Tyjae Spears
Age: 21.7
HT/WT: 5'10 / 201lbs
DOM: 31.35%
Backfield DOM: 85.32%
YPTP: 1.96%
ReceptionMS: 9.13%
4th year
Projected DC: 4th-5th
Historical:
2022 RB11: Isaiah Spiller
2021 RB11: Gerrid Doaks
2020 RB11: Joshua Kelley
Pre-Draft Analysis
Spears did a great job bouncing back from an ACL injury in 2020 and has been efficient as a runner since. Perceived as a big winner in this year's Senior Bowl, Spears did a great job maxing out his thin frame this off-season. He's got great lateral agility, burst, and acceleration. Spears doesn't run with power and tries to manipulate defenders with footwork rather than go through them. He's deadly in the open space with excellent second-level vision. Spears profiles best as a pass-catching back at the next level with a committee role.
RB12 – DeWayne McBride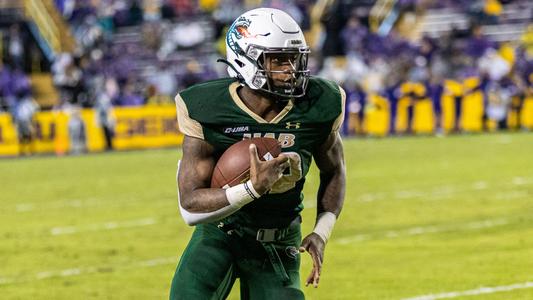 Age: 21.6
HT/WT: 5'10 / 209lbs
DOM: 28.93%
Backfield DOM: 44.52%
YPTP: 2.03
ReceptionMS: 1.03%
Early Declare
Projected DC: 4th-5th
Historical:
2022 RB12: Keaontay Ingram
2021 RB12: Larry Roundtree III
2020 RB12: Eno Benjamin
Pre-Draft Analysis
Don't ask McBride to catch passes, it won't go well. He may be the best pure runner out of the G5 in years. However, that's not saying much. Outside of the P5, there is a general lack of athleticism from workhorse-sized running backs. McBride has legit tackle-breaking ability proving it's hard to bring him down. He's great at lowering his pad level and churning out extra yardage as a power back. In the last three years, there has been a ball security issue, with a total of nine fumbles between the two years. He struggles with lateral agility and long speed. McBride can be a cheap early-down running back for a committee. Of course, the ball security issues will have to be dealt with in the off-season before he plays on Sundays.
RB13 – Eric Gray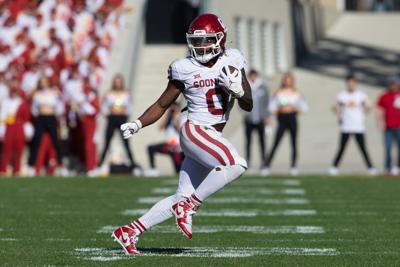 Age: 23.3
HT/WT: 5'9.5 / 207lbs
DOM: 23.48%
Backfield DOM: 45.37%
YPTP: 1.61
ReceptionMS: 13.15%
4th year
Projected DC: 5th-6th
Historical:
2022 RB13: Pierre Strong Jr.
2021 RB13: Kene Nwangwu
2020 RB13: La'Mical Perine
Pre-Draft Analysis
The oldest running back on this list, Gray, just finished up a great bounce-back season. He set the world on fire with his sophomore year performance at Tennessee, only to disappear like Aang the avatar during his transfer to Oklahoma. Gray struggles to create space behind the LOS but makes his money in open space. He has a great receiving skillset combined with elusiveness. He does have workhorse size but lacks power in his run style. Gray is more quick than fast, lacking that home run speed. He also lacks any ability in pass pro. Gray should get the opportunity to be a handcuff running back at the next level.
Lightning Round
Deuce Vaughn – Size limitation will most likely land him a special teams gig at a minimum, and maybe he gets a handful of carries a game. He's a fun, elusive college back, but he'll struggle to keep up with the size/athletes at the next level
Kenny McIntosh – A great pass-catching back who's average as a runner down the middle. He has plus size but lacks the dynamism of that of prospects like Gibbs, Achane, Tucker, and Spears
Chase Brown – Fifth-year RB that's a soft runner with quick feet that will do everything but lower his pads as a runner. He tends to dance too much and is terrible at pass-pro.
Chris Rodriguez – A great early down back that's an underrated pass catcher. He won't make a guy miss and lacks home-run speed, but he's also one of the best power backs in the draft. He has the chance to find an early down role during day 3 of the draft
Evan Hull – A great pass catcher but ran one route the majority of the time. Does not have great vision, doesn't run with power, is not elusive, and is terrible in pass-protection
Closing Thoughts
The NFL Combine is complete, and I typically don't invest much in the combine. It's more important not to flop the test rather than actually perform well. The athletic test does correlate to draft capital, but it means nothing once the draft is complete. Let the draft cap tell you what a team thinks about a prospect.
The running back class is deep and filled with guys that offer multi-dimensional skillsets.
NFL has plenty of aging running back, making this a great year to draft running backs in your dynasty leagues with decent values to be found in the second rounds
Typically 6-7 running backs are drafted between rounds 1-3, but the occasional super class will see 10-12. I'm curious to see if the theory stating that the running back position has been devalued will be proven right with this year's class
I feel confident in my tier 0-2 playing major roles in whatever offense they land in. Tier 3 are lottery tickets type players to me that may offer some high-end short-term value, but all have skillsets to make and stay on a roster.
Look for my post-draft rankings article after the NFL draft for a readjustment, landing spot analysis, and some long and short-term expectations.