Welcome back to the next installment of the Draft watchlist series; for my sanity, I will not be going nearly as deep as the WR article. I'm going to break down my top ten and provide some measurables. I know there are more accurate metrics for Running backs, but this article is not based on analytics, and I want to provide some statistical context.
Size/age – Size matters for RBs and often helps dictate their role in an offense. Beefier RBs are used for goal-line work and up the middle. Smaller RBs are used around edges more often, and passing pays. Age because we all know RBs generally have an earlier expiration date than other positions, except those that are just built differently; long live the King.
Experience – How many years out of HS, this is what dictates Draft eligibility, but historically the league does not target older RB prospects (fifth years) with Day 1 or 2 draft cap
DOM – Dominator – just showing how much of the offense each RB accounted for in 2022
YPC – No real correlation, I just wanted to show the efficiency
RecMS – Reception Market Share – RBs are asked to do more than just run; they need to be well-rounded or succumb to a committee role. Pass Catching ability will keep players on the field during 3rd down situations
Early Draft Projection – My current projection of where the prospect will be drafted. It's early, but by Week 5, we should understand how this draft class is shaping out
RB1 – Raheim Sanders – Arkansas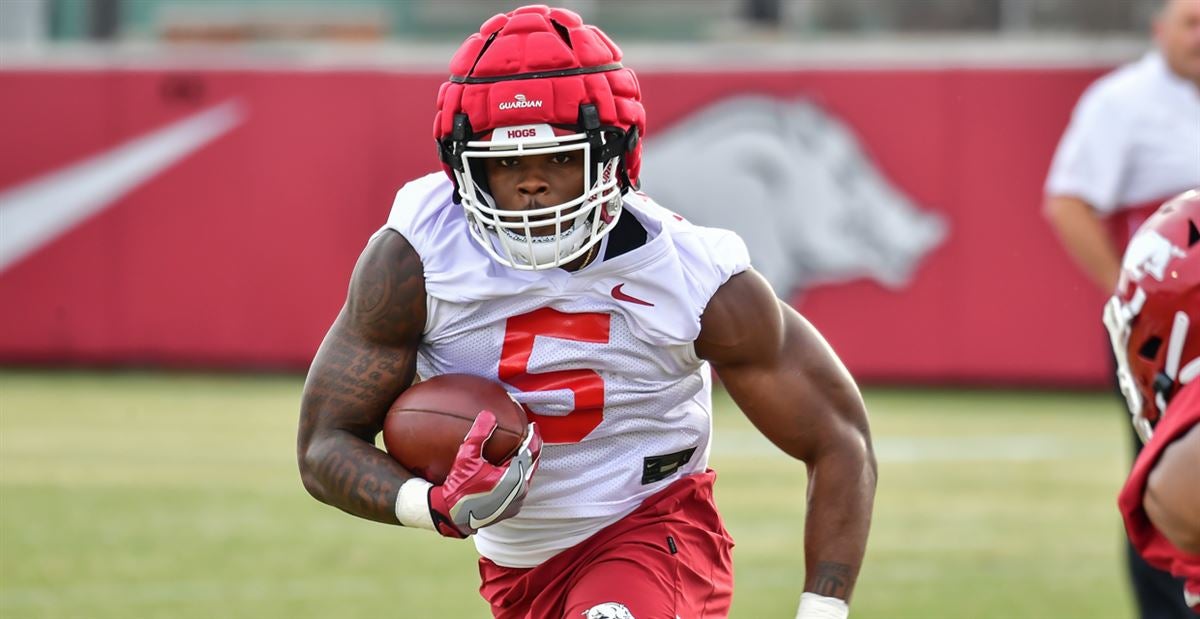 Measurables
6'2″ / 243 lbs. / 21.2yrs
Experience: 3rd year
DOM: 25.1%
YPC: 6.5
RecMS: 12.17%
Early Draft Projection: Top 50
Sanders put on seven pounds this offseason, and I'd be lying if I was not concerned. There comes a point where the muscle becomes more for strength than functionality purposes, and I don't want Sanders to lose any burst. His sophomore campaign was nothing short of amazing. He shows quick footwork for a runner his size and showed some great instincts. Sanders started to focus on more than just getting through the holes and took his tackle-breaking ability to another level. He has WR experience from high school and is a very good pass catcher out of the backfield. Sanders is a complete back with NFL athleticism.
RB2 – TreVeyon Henderson – Ohio State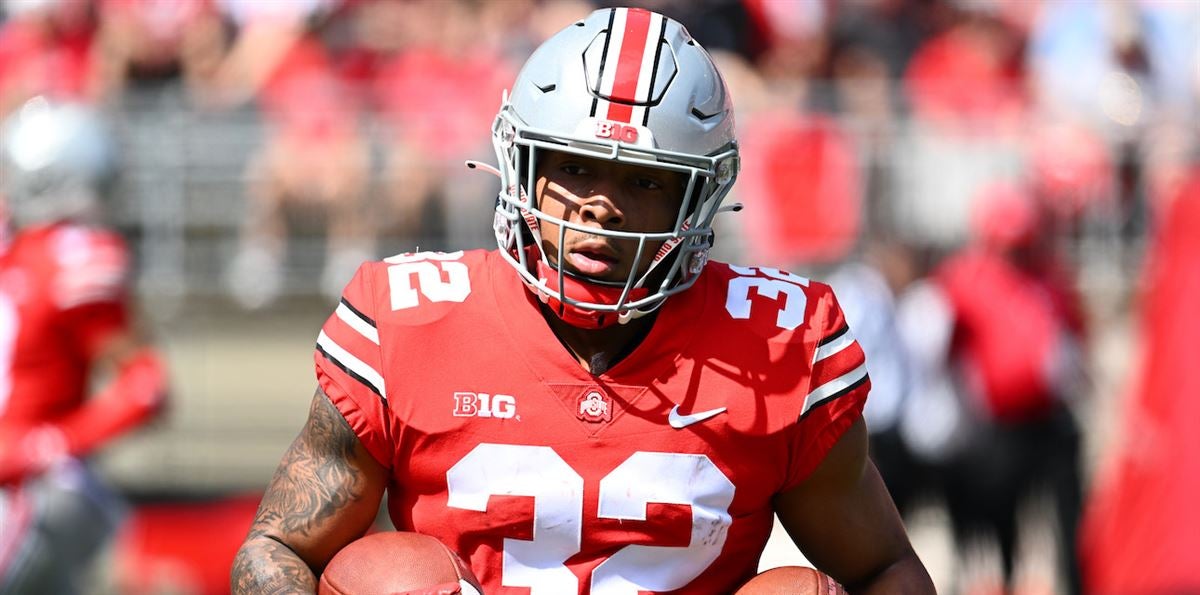 Measurables
5'10" / 214 lbs. / 20.9yrs
Experience: 3rd year
DOM: 11.48%
YPC: 5.3
RecMS: 1.46%
Early Draft Projection: Top 50
Injuries hampered Henderson during his sophomore year, and he was rushed back prematurely. Henderson has some of the best burst, top-end speed, and receiving ability in the class. The health is what keeps me from putting him at RB1. Henderson has now suffered injuries in both of his college seasons, so even with his frame, there could be long-term bell-cow concerns. Im giving Henderson a pass this past season for performing worse than his teammates from an efficiency standpoint because of the injury history. This season is not quite a make-or-break year, but it will greatly impact his value moving forward.
RB3 – Braelon Allen – Wisconsin
Measurables
6'2″ / 245 lbs. / 19.7yrs
Experience: 3rd year
DOM: 27.42%
YPC: 5.4
RecMS: 6.91%
Early Draft Projection: 2nd
Allen is one of the most elite, bruising running back we've seen in many years. Wisconsin's offense has been predictable for years, it's all ground and pound, and yet Allen has found tremendous success. He has excellent vision at all levels of the field and patience for the hole to develop. His footwork is surprisingly nimble for his size. Allen is a build-up speed runner, so my expectation is decent chunk yardage, and the only home run threat would have to be wide-open lanes.
He's not an elusive open-field runner or displays bursty ability. Allen is an extremely efficient downfield runner and the best in this class when it comes to running down the middle. His main weakness is pass-catching. He's very average, capable of dump-offs, but not someone you want running routes out there. Look for him to take steps forward in this department under Phil Longo, and Allen will be facing lighter boxes with the passing offense finally opening up.
RB4 – Trey Benson – FSU
Measurables
6'1″ / 223 lbs. / 21.0yrs
Experience: 4th year
DOM: 16.74%
YPC: 6.4
RecMS: 5.22%
Early Draft Projection: 2nd – Early 3rd
Benson enjoyed a late breakout in 2022. He originally played for Oregon, and he tore his ACL before landing in a three-headed committee at FSU. Benson took over the lead role in Week 9, and Ward left for KSU. This is now Benson's backfield. He is a tackle breaker and punishes arm tackles and other poor forms of tackling. He is a one-cut-and-go type of runner with excellent vision. Benson is an above-average athlete, but he's not going to wow with his athleticism and lacks that homerun speed. His pass-catching needs some work, and we just haven't seen him in pass protection. I don't doubt his ability to succeed in those categories, but I need to see more.
RB5 – Jase McClellan – Alabama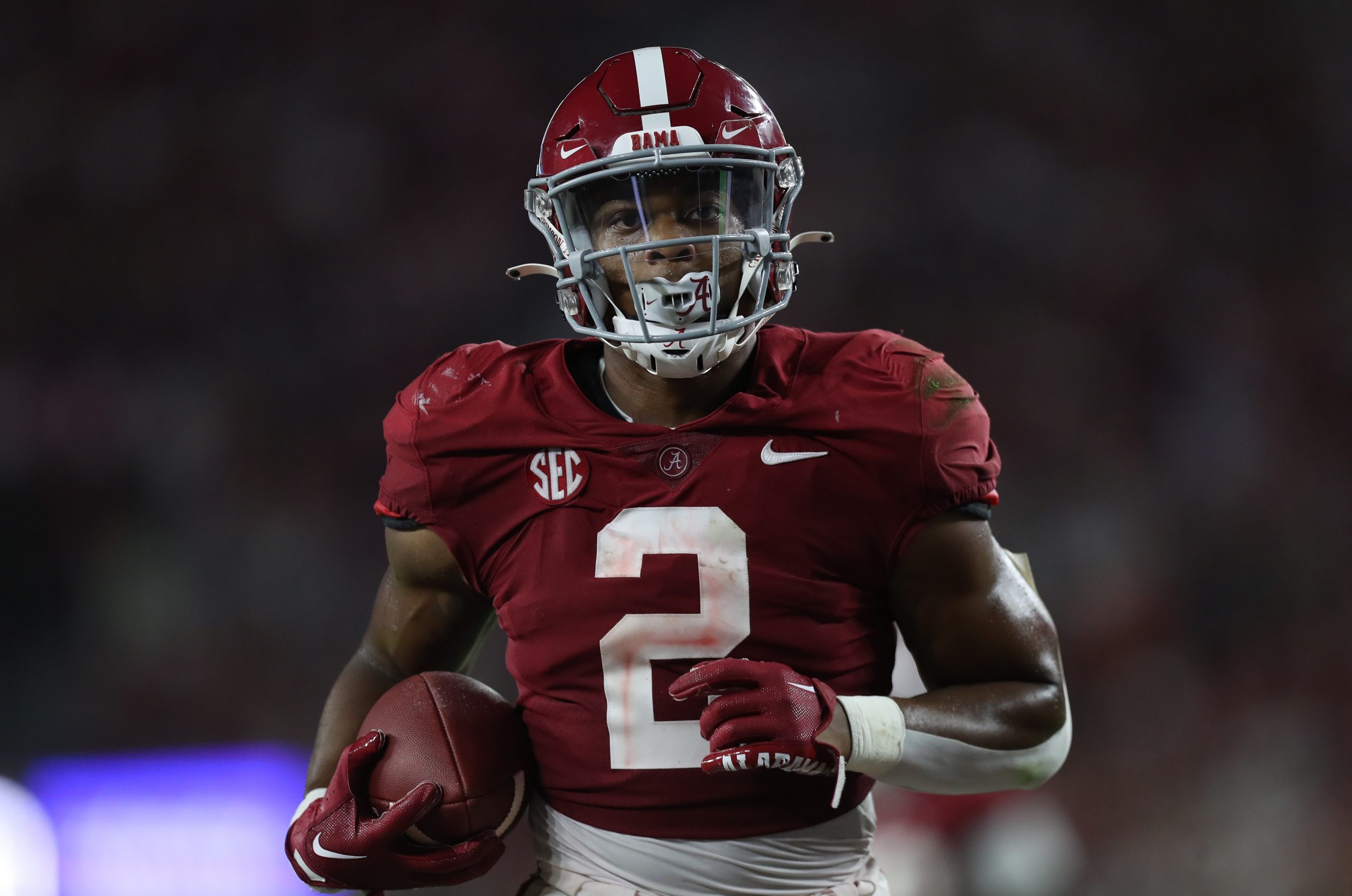 Measurables
5'11" / 212 lbs. / 21.2yrs
Experience: 4th year
DOM: 16.38%
YPC: 5.8
RecMS: 5%
Early Draft Project: 3rd
McClellan was an elite prospect out of high school, having the highest SPARQ score in the class. He's been unfortunate with injuries, and Alabama has always been a "wait your turn" type of program. This program lacks a clear-cut early-down running back, and McClellan flashed in brief moments last year that he could be the primary back. He has that prototypical size, and Alabama knows they're weak at QB. The program is gearing up to be a run-heavy offense, and McClellan will be the lead back.
McClellan has the tools to be successful. The stage is set for him to perform, we are going into year four, and this is the golden opportunity to develop that rushing production profile. He's already looked good as a pass catcher; that's the only aspect of his game that I am not worried about.
RB6 – Ja'Quinden Jackson – Utah
Measurables
6'2″ / 228 lbs. / 21.9yrs
Experience: 4th year
DOM: 17.42%
YPC: 6.8
RecMS: .3%
Early Draft Projection: 3rd
Jackson was the 73rd overall recruit and dual-threat QB3 in the 2020 class before converting to RB full-time last season. He has a prototypical workhorse size and displays excellent vision behind the line. Jackson was an efficient runner while being very stiff in the upper body, often running scared of turning the ball over. He's an elite athlete with great natural instincts; I would like to see him develop some of those nuisances, like stiff arms and making it harder for defenders to wrap him. It's mind-blowing how efficient he is as a runner, yet he limits himself on what he does with his upper body.
He only caught one ball last year, but he was running routes and caught four balls in the spring game. Jackson is set to be the lead back in this system, and I'm confident he brings it all together this year.
RB7 – Donovan Edwards – Michigan
Measurables
6'1″ / 210 lbs. / 20.5yrs
Experience: 3rd year
DOM: 15.38%
YPC: 7.1
RecMS: 7.56%
Early Draft Projection: Mid 3rd – 4th
Edwards is one of the best pass-catching backs in this class, and he offers some rushing upside. He has been stuck in the shadow of fellow Michigan running back Blake Corum, but now 100% healthy, is assumed to get more of the workload. Michigan has always dominated in the trenches, making it easy for their RBs to get to the second level. Edwards has shown rushing improvement during his year two campaign, but at the very least, he has a high level of pass-catching ability. Watch for Edwards to improve his power and contact balance while running down the middle
RB8 – Devin Neal – Kansas
Measurables
5'11" / 210 lbs. / 20.0yrs
Experience: 3rd year
DOM: 21.34%
YPC: 6.1
RecMS: 8.68%
Early Draft Projection: Late 3rd-5th
Neal is another unrefined athlete, but he's put a lot of work into improving his game from his freshmen season. He improved at getting his pad level lower, improving his contact balance. Neal is great in the open field. The problem is when the line doesn't create space for him. He needs to recognize when to push the pile and when to look for that cut-back lane. Neal gets tunnel vision at times. Kansas also insists on rotating the backfield, and I would like to see Neal get more of the majority, as he is the most talented runner in the room.
RB9 – Miyan Williams – Ohio State
Measurables
5'9″ / 226 lbs. / 21.9yrs
Experience: 4th year
DOM: 20.09%
YPC: 6.4
RecMS: 1.82%
Early Draft Projection: 4th- 5th
Williams has that meatball build and fits into that category of "Does everything well," but possesses no real elite traits. He's a perfect handcuff RB at the next level that you can trust if a start goes down to injury. As a runner, he takes everything that's given to him with little more. Williams has great vision, great pad level, and a bit of lateral agility to make guys miss, but he's just a very average athlete.
RB10 – Will Shipley – Clemson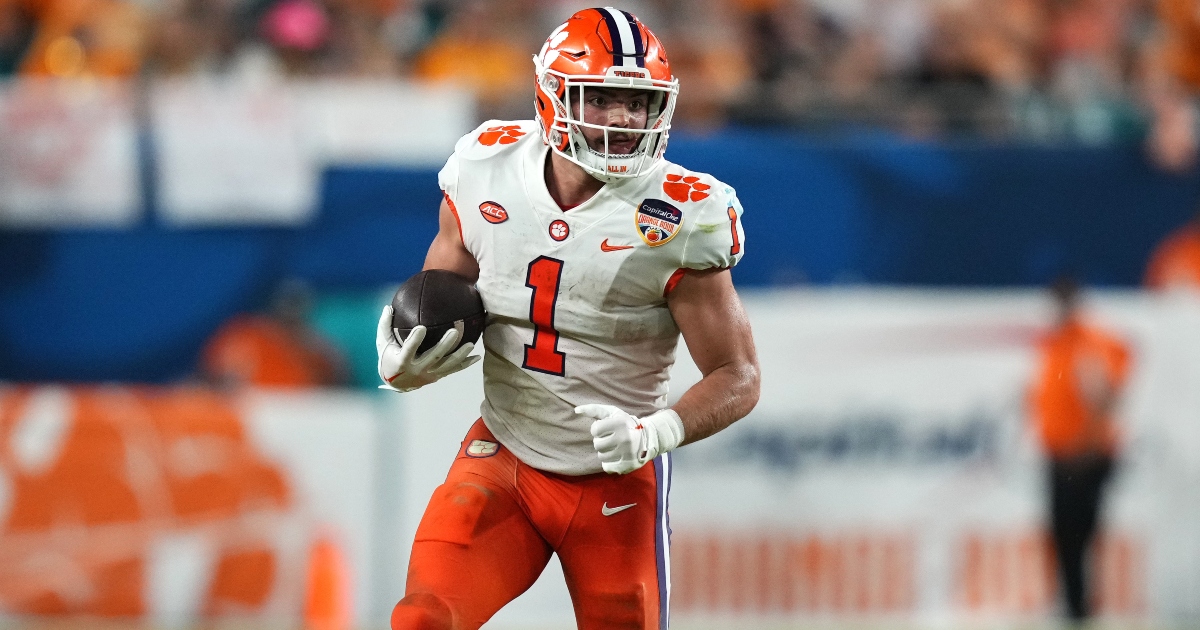 Measurables
5'11" / 210 lbs. / 20.9yrs
Experience: 3rd
DOM: 25.79%
YPC: 5.6
RecMS: 12.79%
Early Draft Projection: 4th-5th
Shipley's calling card is his pass-catching ability. He runs behind the Clemson line but is a soft runner. He is upright, his contact balance is none too impressive, and he lacks power when he needs to drive a pile for short yardage. Shipley is excellent in the passing game, has soft hands, and transitions to a runner very smoothly. He's best running in the open. He will find himself a role with an NFL committee.
Lightning Round
Over the last five years, we've witnessed an average of seven running backs drafted between Day 1 and Day 2. The lowest number was the 2021 class, with four prospects getting drafted, and the highest was 2020, with 11 prospects getting drafted. Generally speaking, it's six to seven each year, with rare exceptions. This class isn't special, but I am intrigued by a few prospects. I didn't want to neglect a few prospects and leave the readers asking, "What about player X." I will hit a lightning round here, with a few lines, probably from a pessimistic viewpoint.
Montrell Johnson, Florida – Split the backfield with Trevor Etienne last year, and it's hard to imagine his workload increasing. I view him as a complete back that is nothing special in the passing game. He's "good enough" at everything to fill in as a starter; I view him as a priority handcuff at the next level. Projection: 4th-5th
Jarquez Hunter, Auburn – A smaller framed running back that's flashed efficiency while splitting the backfield with third-rounder Tank Bigsby. It is now his backfield to run, and it's hard not to project the production, but I struggle seeing NFL traits outside of speed. He'll find a role in a committee, but I don't think he is long for the league or garners enough snaps to find a place in our fantasy lineups. Projection: 4th-6th
Blake Corum, Michigan – There is no way he's 5'8″; I'm confident he's closer to 5'6″. Corum rooms behind the best offensive line and often gets credit for the holes they create for him. It's rare to watch a player where Michigan doesn't have linemen consistently getting to the second level. In fact, I believe the entire Michigan O-line is already on the Senior Bowl watchlist. Corum is a fine runner, but he's undersized. I joke and call him P5 Jaret Patterson. Edwards is in line to a large workload and will eat into Corum's production. Projection: 5th-6th
Cameron Skattebo, Arizona State – Skattebo is an old-school gritty runner that never wants to run out of bounds and is rarely brought down on first contact. He's a ton of fun to watch but lacks NFL athleticism. I do believe in a massive breakout season, and he goes back to ball out one more year. Projection: 5th-6th
Ray Davis, Kentucky – What a comeback story. Davis was prolific as a true freshman at Temple. He fell off the radar due to injuries before emerging at Vandy, having numerous successful rushing games against tough defenses. Then he transfers over to UK, which churns out Day 3 power RBs. He should be in line as the next power back out of UK. Projection: 5th-6th
Marshawn Lloyd, USC – His career has been marred by injuries, and has yet to look as fluid/athletic as he did coming out of high school. Lloyd punished bottom-tier defenses when given the opportunity last year and now finds himself at USC against Pac-12 defenses. Currently the lead back, this will be his comeback campaign, but his movement skills are a shell of what they were. Projection: 5th-6th
Jonathon Brooks, Texas – Brooks should open as Texas's starting RB but shouldn't retain those duties by the end of the year; true freshman RB Cedric Baxter is that talented. I have no idea where Brooks goes, and he may not be a power back. He has flashed a good level of elusiveness. Projection: 5th-6th
Bucky Irving, Oregon – This undersized running back that only wins by going around the edge; he wins with speed. Irving is easily stuffed at the line and can't stick around for pass-catching duties or pass-blocking duties. Projection: 6th-7th
Kendall Milton, Georgia – Death, taxes, and Milton never staying healthy. He's primarily used in the red zone, and this power back has never been put it together. As I type this, I already missed an injury report with his name on it. I fear that he will never have a production profile and relies upon a good shrine bowl or senior bowl performance. Projection: 6th-7th
Rasheen Ali, Marshall – Ali is a wildly productive G5 running back. He is not an overly aggressive runner, nor is he a prolific pass catcher. Projection: 7th-UDFA
Tahj Brooks, Texas Tech – He's a bowling ball running back that has shown some good lateral agility but lacks acceleration or an NFL-level top speed. Projection: 7th-UDFA