The American Athletic Conference played without divisions in 2020 because of the loss of their 12th team UCONN. In the last six years, the conference champion has finished in the top 25 and only one team has had multiple championships. In the past few years, the conference has shown very well against Power 5 Teams, defeating Auburn and coming close in two other contests against SEC powers.
The second half of the AAC preview does not have as many high-flying offenses but there are some fantasy options that should not be overlooked.
For our conference previews, we will try to include all the relevant offensive players for the 2021 season, broken into the following groups:
Fantasy Relevant
Roster Fillers
Stashes
Player to avoid at ADP
All teams are listed in alphabetical order.
Temple
Fantasy Relevant
Jadan Blue -The last two years at Temple, Head Coach Rod Carey has run a balanced attack with close to a 50% run playcalling in both years. Temple does not have an established RB returning, so they will likely feature WR Jadan Blue. In 2019, Blue had over 1,000 yards on 95 receptions, and last year in a shortened season, he still finished as WR 55 with over 14 fantasy ppg.
Roster Filler
Without a returning RB of note, Blue is the only given fantasy-relevant player in 2021. There are a couple of transfers but are unproven and not worth filling your roster with.
Stashes
D'Wan Mathis – Mathis did not work out at Georgia but decided to transfer to Temple. In 2019, he was a 4-star QB prospect and Temple is losing a 3-year starter, Anthony Russo. Mathis could come in and start early if his transfer appeal is approved. Because of his pedigree, he could put up good numbers and be a solid third or fourth QB on the college side.
Player to Avoid at ADP
There are no players to avoid, the only Temple player on the ADP is Jadan Blue and he is the 153rd WR and should outperform his ADP.
Tulane
Fantasy Relevant
Michael Pratt -The last two years, Tulane has been in the top 20 in the NCAA in rushing percentage. While that is not great for QBs, Pratt used his legs well and scored eight rushing TDs. Pratt had a good freshman year with 28 total TDs and finished as QB25 in 2020. With an ADP of QB68, he is great value and you will at the very least get two more years of solid college fantasy production.
Roster Filler
Cameron Carroll – With such a high running rate, the RB for Tulane is a very valuable asset. Last year, Carroll had an increased workload with over 700 yards and 12 TDs. Carroll shared time with Stephon Huderson last year but should get more of the workload in 2021. Carroll is RB143 in ADP and can definitely help fill out a college roster.
Stashes
There are no players to stash, the only players for Tulane of note are Michael Pratt and Cameron Carroll.
Player to Avoid at ADP
There are no players to avoid, the only players for Tulane in ADP are Michael Pratt and Cameron Carroll.
Tulsa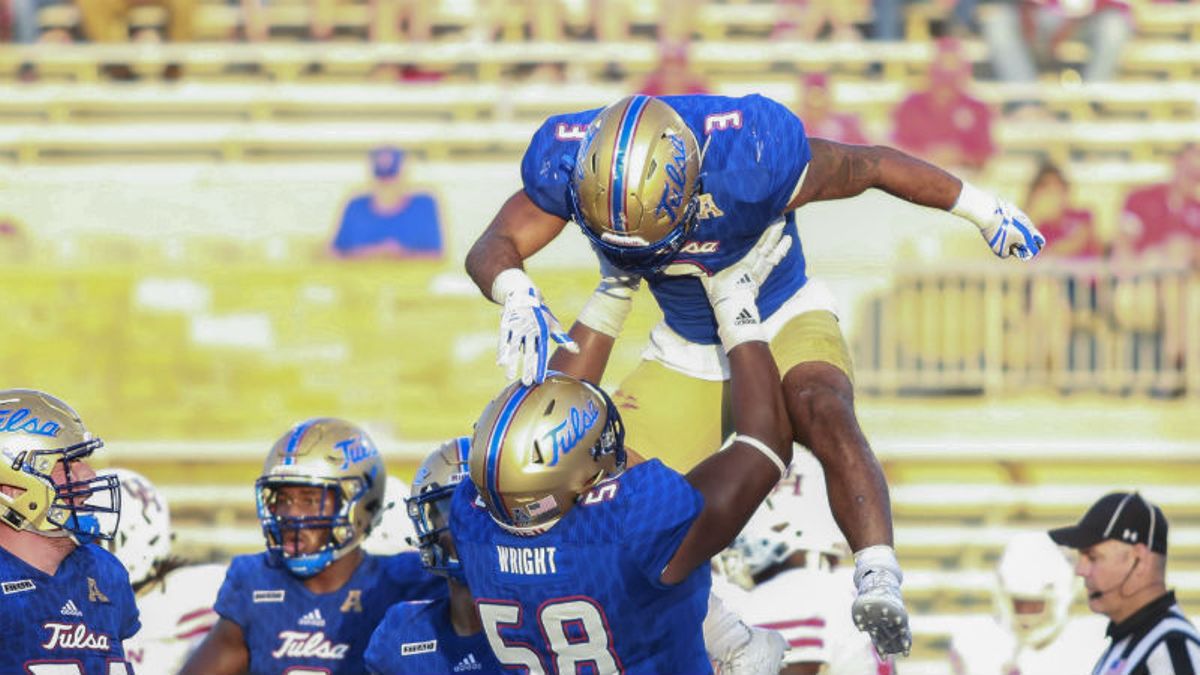 Fantasy Relevant
Shemari Brooks – Brooks tore his ACL in 2020 and missed the season, but in the two previous years, he was over 900 yards and combined for 13 TDs. If he can return to form he could be a steal as he is looking to break Tulsa's career rushing record.
Roster Filler
Keylon Stokes – QB play last year at Tulsa was up and down and that caused Stoke's numbers to fall. He only had 644 yards and three TDs in nine games in 2020 compared to the 1040 and six TDs in twelve games in 2019. If QB play can improve with fewer interceptions, he should be a solid player to fill in on bye weeks.
Stashes
Davis Brin – In Brin's lone start last year, he had 266 yards passing and three total TDs. He is looking to be the full-time starter now and if he can continue to look good over a whole season, he could be a solid starter for a couple more years in college.
Player to Avoid at ADP
There are no players to avoid, the only player on ADP is Keylon Stokes and he is ADP at 511.
UCF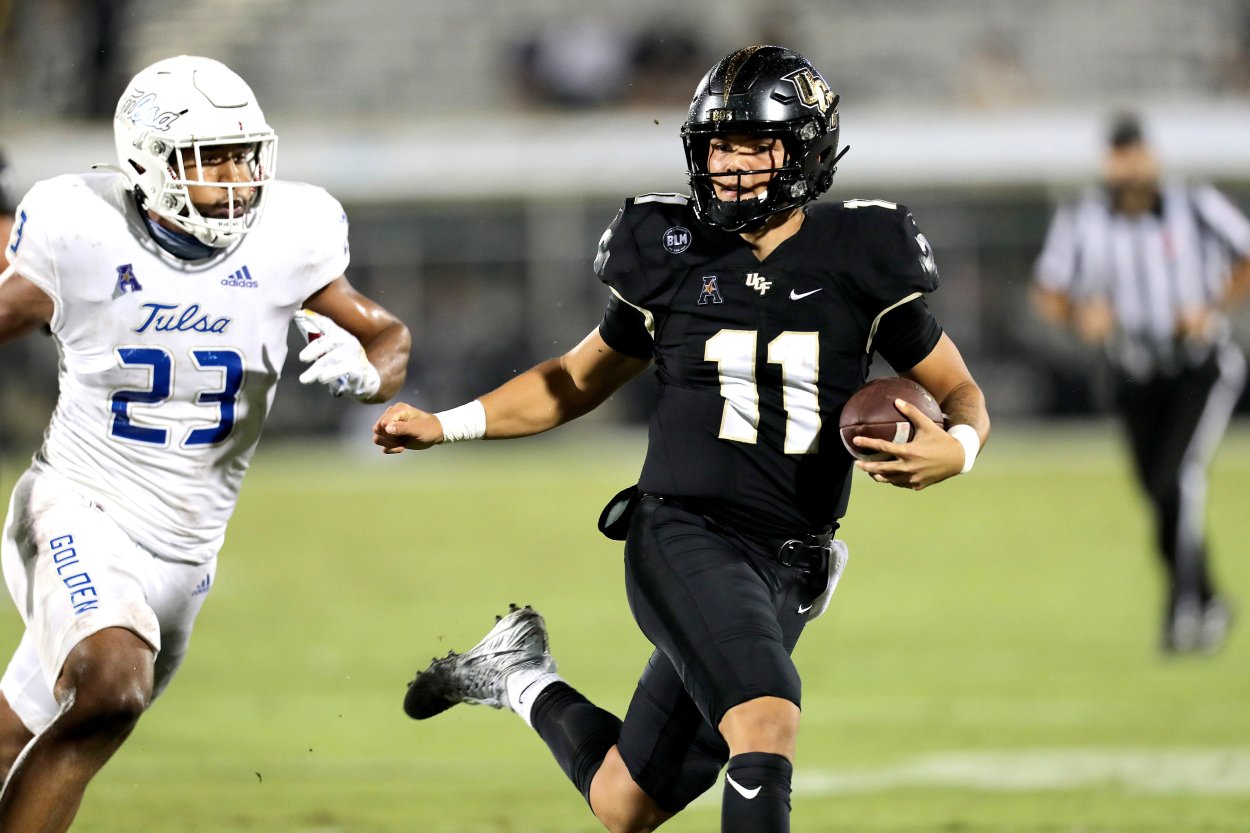 Fantasy Relevant
Dillon Gabriel – Gabriel has been very productive the last two years going over 7,000 passing yards and 67 Total TDs. While Malzahn's offenses have not been prolific in passing, with Bentavious Thompson not being on the roster there is no clear-cut RB. With no workhorse, UCF could continue to depend on Gabriel's arms and his legs.
Roster Filler
Jaylon Robinson -Robinson is the next man up with Marlon Williams leaving for the NFL. Robinson came close to 1,000 yards last year and added six TDs. Just like QB, Malzahn's offense has not been great for WRs and with the lack of volume, TD efficiency would be needed to be fantasy relevant. Until I see what Robinson does in the new offense, I would be hesitant but he could have two more years of production and is a fine bench option for your team.
Stashes
Jordan Johnson – Johnson was a top 40 recruit that committed to Notre Dame in 2020. He fell out of favor and ended up transferring to UCF. While there is worry about passing offense at UCF, Johnson is worth a stash for his potential and a possible NFL future.
Mark Antony-Richards – Richards is a transfer from Auburn who was a top 100 4-star player in 2019 but has suffered through injuries. He followed Malzahn to Auburn and with Thompson not being on the team, he could fill the lead back role.
USF
Fantasy Relevant
Until the USF offense improves there is no one fantasy-relevant for 2021.
Roster Filler
Cade Fortin -Fortin (pictured above) was a top 30 Pro QB prospect in 2018, and transferred to USF from North Carolina. He looks to be the leader to start and in the spring game looked good with 225 yards and a pair TDs.
Xavier Weaver -Weaver has had modest numbers in his 1st 2 years but was talked up by the coaching staff in spring and for good reason. He caught 3 passes for 97 yards and 2 TDs in the spring game.
Stashes
Timmy McClain – McClain is a 3-star recruit from Sanford FL but did receive power 5 offers from Boston College, Kentucky, Louisville, and West Virginia before choosing USF. He impressed in the spring game with 117 pass yards, 30 rush yards, and 2 total TDs. While the offense has struggled the last couple of years this freshman looks to be the future and is worth a late stash because of his athleticism.
Player to Avoid at ADP
There are no players that are listed in the ADP for USF.