The American Athletic Conference played without divisions in 2020 because of the loss of their 12th team, the University of Connecticut. In the last six years, the conference champion has finished in the top25 and only one team has had multiple championships. Over the past few years, the conference has shown very well against Power 5 Teams, defeating Auburn, and coming close in two other contests against SEC powers.
In 2021, Cincinnati will be the favorite to win the American and could make noise nationally as they return most of their team from the 2020 squad that took Georgia to the brink. The main challengers in 2021 will be Houston, SMU, Tulsa, and UCF, but all have question marks coming into the season.
For our conference previews, we will try to include all the relevant offensive players for the 2021 season, broken into the following groups:
Fantasy Relevant
Roster Fillers
Stashes
Player to avoid at ADP
All teams are listed in alphabetical order.
Cincinnati
Fantasy Relevant
Desmond Ridder -While Cincinnati only passes 45% of the time and ranked 74th in pass % in the NCAA in 2020, Ridder still produces good fantasy value with his running ability. Ridder finished as QB7 in PPG last year, passing for 2,296 yards, 19 TDs, and six INTs, while adding 592 yards and 12 rushing TDs. Ridder is currently going as QB17 and could help you win the college side for your team. He has solid potential to be drafted on the second day in the NFL Draft with another solid season.
Jerome Ford – As stated before, Cincinnati likes to run the ball, so having the RB on the offense has great fantasy value. Last year Ford shared time in the backfield with Gerrid Doaks but still finished with 534 yards and eight TDs. He should be the main back this year and is being drafted as RB 24. Like Ridder, he will put up good fantasy value and have value at the next level with a good season.
Roster Fillers
Charles McClelland – Cincinnati, the past few years, likes to share the running back load between two backs. It looks as if McClelland should be the second back and could provide some solid performances even with Ford, not missing time. Last year, Ford as the second back, averaged over 10 Fantasy PPG. Not a league winner, but could be used in your flex spot and as a bye week fill-in.
Stashes
Evan Prater – If Ridder had left for the NFL last year, Prater would be drafted much higher as the starting QB. Prater was a top 200 prospect in 2020 according to 247 and the #6 dual-threat QB. Because of one more year as the backup, you can get a steal because his current ADP is QB 43. While you will not get to play him this year, in 2022 you could be getting a bargain as a top 10 QB and a rising star that has promise for the NFL.
Player to Avoid at ADP
There are no players to avoid, all the Cincinnati players are either fair at ADP or should outperform their ADP.
East Carolina
Fantasy Relevant
Holton Ahlers – When Ahlers missed time in 2020, it was obvious that he is the best QB on the roster, so he should get the nod in his fourth year. With the shortened season his stats were not as impressive, but he did still finish as QB50 and provided a solid floor with six rushing TDs in both of his first two seasons. While he is not going to provide gaudy numbers, if you wait on QB he is a solid option to have as a 2nd/3rd QB on your team.
Roster Fillers
Tyler Snead– Snead did not light the world on fire in his junior year, but did lead the team in receptions and finished as WR49 with over 15 Fantasy PPG. Depending on how Johnson is bouncing back, Snead could be in for another solid season and until June he was not being drafted. I would much rather wait and take Snead than reaching on Johnson.
Stashes
Rahjai Harris – Harris had a solid freshman season last year in 8 games with 624 rushing yards and 4 TDs but did not add much in the passing game. East Carolina had a very balanced attack but slightly favored the run game at 53% of play calls. Harris had 3 games of over 100 yards last year, so if he can continue improving, he could be a steal and have solid production for 3 years on the college side.
Player to Avoid at ADP
CJ Johnson – After a strong freshman year with 900 yards and four TDs, Johnson was disappointing in his sophomore year. He finished 2020 as WR157 with less than 10 Fantasy PPG. Currently going as WR53, I would go after other options. The WR position is so deep, so I would risk missing out on a Johnson bounceback season.
Houston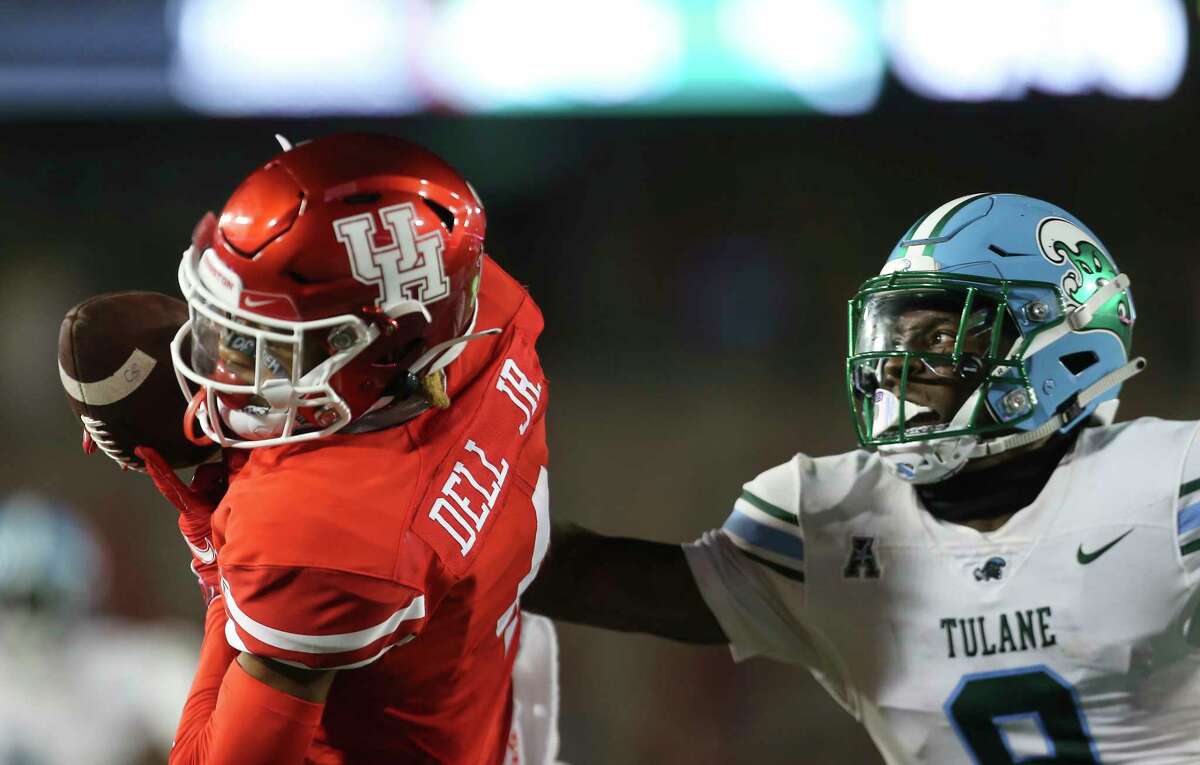 Fantasy Relevant
Nathaniel Dell – One thing that has been a constant is that you want the number one WR option in a Dana Holgorsen offense and that would be Dell. He had over 400 yards and three TDs last year. Those numbers were in only eight games and should increase greatly this season.
Roster Fillers
There are no roster-filler players as McCaskill and Dell are the only fantasy-relevant players.
Stashes
Alton McCaskill – McCaskill is a three-star RB out of Texas, the 28th-ranked RB in the 2021 class. While it remains unseen when he will get his chance, he had an impressive offer list with most of the SEC schools. Even with a pass-centric offense, there is still upside if he gets the starting nod.
Player to Avoid at ADP
There are no players to avoid as McCaskill and Dell are the only fantasy-relevant players.
Memphis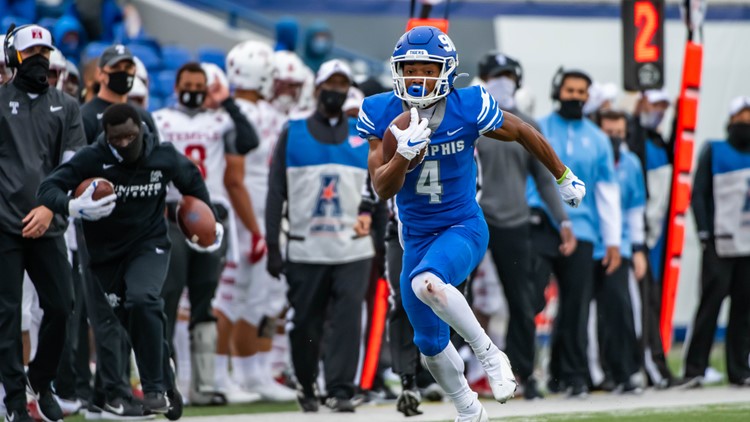 Fantasy Relevant
Calvin Austin III – With Kenneth Gainwell opting out, the offense became more pass-heavy, and Austin took advantage. He caught over 60 passes for over 1,000 yards and 11 TDs. He should see much of the same in 2021. He finished as WR19 but is going as WR49. Austin should continue to improve on his numbers, it was a shortened season, and provide some possible value at the next level.
Grant Gunnell – As a three-year starter, Brady White passed for over 10,000 yards and 90 TDs, so Grant Gunnell went to a school where he should be able to flourish. His ADP is somewhat high as QB32 but White finished as QB27 last year and you should get two years of fantasy production with Gunnell.
Roster Fillers
Sean Dykes– Dykes is back for one last season, and in 2020 he had his best year with 47 receptions, 581 yards, and seven TDs. His current ADP is 40 but he finished 2020 as the 12th TE. I know that TE is hard to figure out in college but he is a good filler to plug in this year if you are trying to win the college side of your C2C.
Stashes
Shamar Nash – Nash was a top 50 WR that committed to Arkansas in 2019, opted out in 2020, and transferred this year to Memphis. While he may not play much in 2021, he could see an uptick in playing time in 2022 with Austin leaving.
Player to Avoid at ADP
There are no players to avoid, all the Memphis players are either fair at ADP or should outperform their ADP.
Navy
Fantasy Relevant
Navy does not have a very explosive offense but does run the ball 48 times a game in 2020. The only problem is the main runners are not returning so it is hard to tell who to count on.
Roster Fillers
There is no Navy player to fill with the roster because of a lack of fantasy production.
Stashes
Xavier Airline – The QB at Navy can be fantasy relevant because of all the rushing potential. Airline seems to be in line to be the starter and in the last game of 2020, he ran for 109 TDs on 17 carries. He could have solid production for three years running the ball and could be rostered in deep leagues.
Player to Avoid at ADP
There are no players to avoid, as there are no Navy players that are currently in the ADP.
SMU
Fantasy Relevant
Ulysses Bentley IV – The last two years, the SMU offense has finished in the top 15 in PPG and last year, Bentley was a big part of that. Bentley had over 900 yards, 11 TDs, and chipped in 21 receptions. He is being drafted as RB58 and should outperform that as he finished as RB28 last year.
Roster FIllers
Rashee Rice– Rice finished 2020 with over 600 yards and five TDs and should get ample opportunity in a full year to beat his ADP of WR132. The SMU offense passes the ball over 38 times a game on average, and Rice is primed for a huge season.
Stashes
Preston Stone – Stone is a top 15 QB prospect in 2021 and will sit behind Tanner Mordecai this year, but should be able to lead this explosive offense after that. He could have great college production and also has a chance at an NFL future.
Player to Avoid at ADP
Grant Calcaterra – Calcaterra spent three years in Oklahoma but his highest total was under 400 yards. He is TE22 according to the ADP and is in his fourth season. I would rather look for someone else that would have more years of production at the college level, since the hit rate at TE to the NFL is not great.