College Fantasy Football is a different monster than other fantasy football games, and part of the challenge comes from the sheer number of players. Because of this, there is often value that can be found deep in player pools. Even in the bottom half of the CFF Consensus Rankings here at Campus2Canton, there are players that I believe necessitate a closer look and should be on the radar of CFF, C2C, and College Dynasty heading into the 2023 season. 
This series is designed to take a closer look at those options and provide a profile of why they're in the bottom half of rankings but also provide an argument for why they should be higher. Today's article will focus on TE. Make sure you check out the previous Back-Half Bangers articles, where we explored the Quarterback, Running Back, and Wide Receiver positions. 
There are currently 68 TEs ranked by the CFF Team here at Campus2Canton, so for the purpose of this article, I only looked for TEs ranked 34th and below.
Trent Pennix, North Carolina State – TE40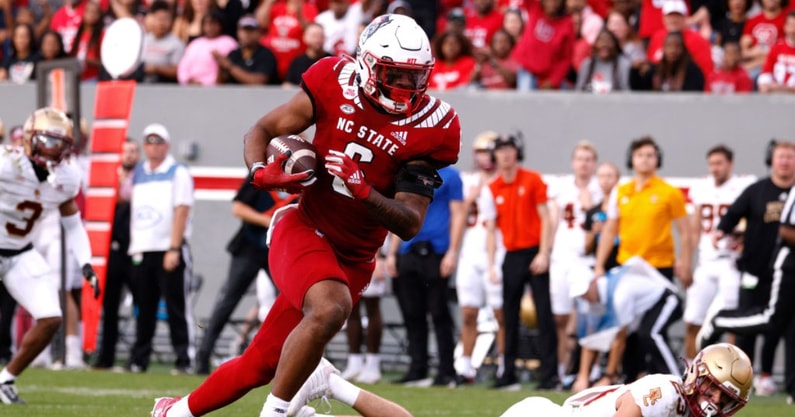 Why He Isn't Higher
Last year was a mess of a season for the Wolfpack. Pennix went down in week one, and it was the only game he played with Devin Leary. The injury bug plagued NC State for the majority of the season and derailed their conference championship aspirations along with any chance of a Pennix breakout. In Dave Doeren's offenses, tight ends haven't traditionally been the focal point of the offense. There have been decent fantasy performances from the position in the past (see Cary Angeline's 2019 and 2020 campaigns). Adding to the argument against Pennix is a layer of confusion surrounding his role, as he's played a flex H-Back role that makes him a hybrid TE/RB. The role adds versatility and value to him in a real-life football context but makes projecting his fantasy impact a bit more difficult. 
Why He Should Be
The 2023 iteration of the Wolfpack offense is expected to look a lot different than last year's. Brennan Armstrong transfers in to reunite with his former Offensive Coordinator, Robert Anae. In the last three years, Anae's starting TE has an average stat line of roughly 48/659/7. This includes ten games for Tony Poljan in 2020, 11 games for Jelani Woods in 2021, and 13 games for Oronde Gadsden in 2022. All three of these options have possessed a versatile play style and the ability to be moved out wide and in the slot. It's hard to think Anae wouldn't lean on Pennix in an offense that is devoid of experienced pass-catchers. If you still aren't sold on this Wolfpack offense, the addition of Armstrong as the starting QB should bring some confidence that Anae's system will be run with competence and skill, as seen by Armstrong's time running it previously at Virginia. Armstrong was the distributor for Woods' 2021 season that raised his stock to an NFL-caliber prospect. 
George Takacs, Boston College – TE41
Why He Isn't Higher
People tend to avoid unknown situations in fantasy football, and Boston College, heading into 2023, is a bit of an enigma. It's Jeff Hafley's fourth year as Head Coach, but the results thus far have been uninspired overall. Last season, Takacs was expected to have a breakout season, transferring in from Notre Dame and reuniting with Phil Jurkovec. Injuries to both towards the end of the season interfered with Takacs' ability to truly shine. Now that Jurkovec is officially a Pittsburgh Panther, many seem to think that the window of opportunity has closed for Takacs, and he will finish out his collegiate career in mediocrity. 
Why He Should Be
The Eagles' Offensive Coordinator is the team's former TE coach, and heading into his second year shaping the offense, Takacs offers both a veteran presence and familiarity with the scheme that is lacking after the departure of Zay Flowers. He's the leading receiving threat that the team returns from 2022 and projects as the clear number one red zone option with his 6'6", 243 lb. frame. They brought in Ryan O'Keefe to help replace some of Flowers' production. The two likely won't eat into the other's targets as they fulfill two very different roles. This offense also returns nine starters, including the entire offensive line. The overall efficiency should help Takacs, who should be highly impacted by red zone opportunity. 
Maliq Carr, Michigan State – TE45
Why He Isn't Higher
With the departure of Payton Thorne and Keon Coleman, the vibe in East Lansing is drab at best. There are legitimate concerns with the direction of not only this offense but the entire program as a whole. Under Mel Tucker, the Spartans have been extremely consistent with their Neutral Game Script Pass Rate (43.5% in both 2020 and 2021 and then 44.7% in 2022) but that still just hovers below the FBS average. The volume is definitely a concern, and without Thorne at the helm of the offense, it's likely to dip even further moving forward. Carr's involvement in the offense last year doesn't exactly inspire confidence either, as he only had 16 receptions. 
Why He Should Be
So why am I excited about a TE who has been previously under-utilized in a low-volume passing attack? Well, first of all, is Carr's athleticism. He's a former WR who moved to TE after his freshman season, and he possesses natural ability as a pass-catcher and route-runner. He showcased these skills in the Spring Game, where he was targeted on multiple occasions. Those showings can sometimes be misleading, but the offense is searching for playmakers after losing Keon Coleman to the Transfer Portal. Any involvement this Spring is worth noting. As Daniel Barker has graduated from the program, Carr is now the primary TE on the roster. Despite only catching 16 passes in 2022, he returns as the second-leading receiver in terms of targets (27, tied with Jalen Berger). There's a good deal of projecting to do, but the clear path for production is in place for Carr in 2023.
In case you missed it, the Bottom-Half Bangers at other positions can be found here: