College Fantasy Football is a different monster than other fantasy football games, and part of the challenge comes from the sheer number of players. Because of this, there is often value that can be found deep in player pools. Even in the bottom half of the CFF Consensus Rankings here at Campus2Canton, there are players that I believe necessitate a closer look and should be on the radar of CFF, C2C, and College Dynasty heading into the 2023 season.
This series is designed to take a closer look at those options and provide a profile of why they're in the bottom half of rankings but also provide an argument for why they should be higher. Today's article will focus on WR; however, make sure you check out the previous Back-Half Bangers articles, where we explored the Quarterback and Running Back positions. Be on the lookout later in the week, as we'll also repeat the process by checking on TEs.
There are currently 208 WRs ranked by the CFF Team here at Campus2Canton, so for the purpose of this article, I only looked for WRs ranked 104th and below.
Miles Marshall, Miami (OH) – WR117
Why He Isn't Higher
To put it simply, Marshall's time in Oxford has not lived up to the Big Ten pedigree he brought with him from Indiana. Last season, he lived in Mac Hippenhammer's shadow and was held in check with a stat line of 24/390/2. Also working against him is the fact that the Redhawks play in a slow and methodical offense. Last year's came in at one of the slowest in Chuck Martin's tenure as Head Coach, as they ranked 130th in pace of play (plays/minute). This Miami team is just not one that catches the excitement, even when compared to their fellow MAC competition. The idea of fantasy producers being involved in the offense often gets put on the back burner.
Why He Should Be
While Brett Gabbert isn't at the front of mind when thinking of ideal QBs for WRs to be paired with, the fact that Gabbert is returning from his injury last season is a big deal for Marshall's outlook. With Aveon Smith at the helm for nine of the Redhawks' 13 games, their Neutral Game Script Pass Rate took a nose-dive and was 12% lower than it was in 2021. Gabbert's return to the helm should see a resurgence of passing volume – remember that this offense had enough volume under Gabbert to produce Jack Sorenson's 76/1406/10 season in the same year Hippenhammer put up 48/786/5.
With Marshall taking over the traditional X WR role, there is little reason to think he won't have the chance to put up fantasy-relevant numbers in 2023. There will be the need for Marshall to rise to the occasion with this opportunity, but the situation is a screaming "buy" from my viewpoint.
Jha'Quan Jackson, Tulane – WR145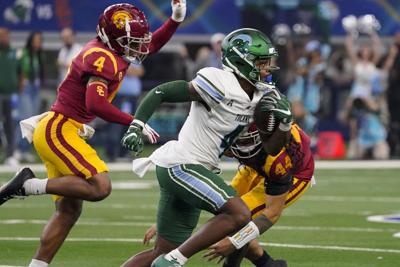 Why He Isn't Higher
Dating back to Willie Fritz's time at Georgia Southern, his offenses have built their identity on running the ball. When we think of Tulane, unfortunately, we don't think of high-flying offenses or breakout seasons by any of their WRs. In fact, last season, the target distribution in the passing game was impressively flat. The leading receiving option garnered only 5.4% more targets than the fourth receiving option in the offense. It was no coincidence that we intentionally avoided Tulane receivers last season – there was no alpha, and the volume just was hard to get excited about. In addition, Jackson was still only the third-highest in receiving production last season, with a stat line of 33/554/3. Jackson's collegiate career thus far has been hampered by injuries and a disappointing output. It's no surprise that his outlook doesn't inspire confidence at first glance.
Why He Should Be
While the Fritz offense has earned a reputation of being run-heavy, something very interesting happened when Michael Pratt became the starting QB in 2020 and continued ever since. In Fritz's first six seasons as a head coach (2014-2019), his offenses had a Neutral Game Script Pass Rate of 26.05%. Since 2020, that rate has jumped to 50.23%. Simply put, Pratt has earned the right to throw the ball, and it has forced evolution in how Fritz calls his games. Pratt is the Campus2Canton CFF Consensus QB15, and Jackson is the defacto WR1 in this offense.
Despite that flat distribution of targets that we saw in 2022, Jackson is head and shoulders above his peers in terms of experience, and as Pratt looks to break in his new targets, the familiarity and chemistry earned by Jackson in previous seasons should shine through. In addition to the departure of his target competition, this offense also loses its bellcow RB in Tyjae Spears. If Tulane isn't able to run as efficiently as they have in previous years, they will lean on Pratt's consistency and talent, which will raise Jackson's production as a result.
Odieu Hilaire, Bowling Green – WR140
Why He Isn't Higher
Bowling Green's offense last season was nothing to write home about. They ranked 108th in total offense and 97th in pace of play. With a 47% Neutral Game Script Pass Rate, this offense failed to elevate any of their receivers to great heights. Hilaire, though leading the team in receiving, captured 46.98% of his yardage in two games (against Central Michigan and Toledo). Breakout performances are great; however, production that is as volatile as Hilaire's was last year is hard to consider reliable.
Why He Should Be
While volatility is the best descriptor of Hilaire's season last year, consistency in his role and stability in this offense speak as the best medicine that he'll receive headed into 2023. Bowling Green vacates 49% of last season's receiving production and leaves Hilaire with the perfect opportunity to be front and center in leading the team in all categories this year.
In addition, the Falcons get an upgrade at QB in the form of Connor Bazelak, a former P5 starter at Missouri. His arrival should allow for Hilaire's production to improve and for offensive efficiency in general to get a much-needed boost. In addition to adding Bazelak, the offense returns eight starters from last year and should be a more cohesive unit all around. Increased stability in this offense should yield more points, and more points should allow for a much higher ceiling for Hilaire's season-long outlook than he saw in 2022.