Man, it felt absolutely incredible to be back in the full swing of things! College fantasy players from across the world were excited to finally put all the talking and drafting to rest and actually get a first look at some of their teams this year. There were plenty of incredible moments (Shedeur Sanders setting game records at Colorado) and plenty of disappointing moments (What is going on with Ohio State's offense?). When the dust settles, though, you guys want to know who you should be targeting on waivers that'll improve your teams for the rest of the season.
In this article, we'll be discussing players who should be widely available on your CFF/C2C teams. In order to accomplish this, we'll only look at guys who are rostered on only 30% of teams or less. This article is geared towards rest-of-season value as opposed to one-week pickups that have good matchups in Week 2. It's important to remember that you shouldn't always just target the top performers from the week before. Context matters even more in college fantasy than it does in NFL fantasy. A guy going off for 200+ yards and 3 touchdowns is great, but when it only comes on five touches versus an FCS opponent, you don't want to fall for that fool's gold.
Quarterbacks
Emory Jones – Cincinnati – Rostership: 24%
Of course, I warn about huge performances against FCS opponents, and the first guy I write about is a guy with a big performance against an FCS opponent. As I said, context matters in this case. One of the things fantasy players must learn when moving from NFL fantasy to college fantasy is that while talent still matters, the system matters WAY more.
Jones is a prime example of this. We have watched him struggle greatly at the likes of Florida and then, last year, Arizona State. If a quarterback in the NFL had a career like Jones had in college, every fantasy manager would've left for dead a while ago. However, Jones, it seems, has made a great decision in joining Scott Satterfield in Cincinnati. While the opponent wasn't anything to write home about, Jones put up an impressive performance, going 19/23 for 345 yards and five touchdowns through the air while adding nine carries for 26 yards and two touchdowns on the ground.
Scott Satterfield has shown he can work with athletic rushing QBs recently. Look no further than Malik Cunningham's career during both of their times' at Louisville. Given that history and the opponent from this last week, I obviously do not expect Jones to throw for 300+ and five TDs every week. However, it was super encouraging to see Jones get his number called early and often in the red zone. That's going to lead to some monster weeks, even once Big XII starts and shows they're willing to run Jones when they actually need to. It also helps that Jones seems to have himself a reliable favorite target in Xzavier Henderson, with whom he played with during his time at Florida (who is also worth a look at for waivers this week). If Jones can produce like Cunningham did, a top-10 QB performance for the entire season could be in the cards.
Byrum Brown – South Florida – Rostership: 26%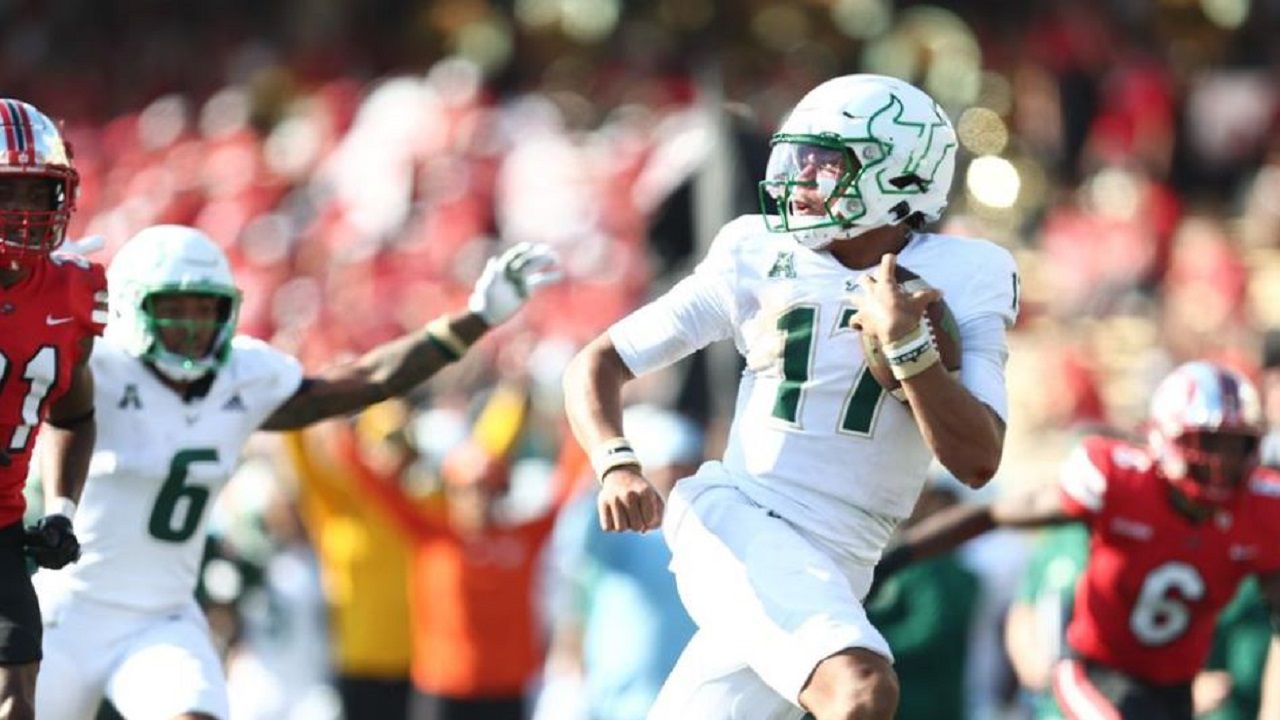 Thank GOD Alex Golesh ended up making the correct decision about who should start for South Florida this week. In a rough last year for the Bulls, Brown was a breath of fresh air and a source of future excitement when he took over the reins at QB at the end of his true freshman campaign. In this last week against Western Kentucky, Brown did what we've come to expect of him. He struggled in the passing game, only throwing 166 yards on 34 attempts, with a touchdown and two INTs to go along with it. However, he was once again able to make magic happen on the ground. Brown led the Bulls in rushing with 25 attempts garnering 160 yards on the ground and two touchdowns to go along with it. He's the perfect QB to have whenever his team is down, as he'll play hero ball until the cows come home.
It also helps that Brown is playing with Alex Golesh's veer-&-shoot scheme, whose coaching tree has provided many relevant CFF QBs over the years. Most recently, Golesh, under Josh Heupal, gave us the resurgence of Hendon Hooker at Tennessee. If the Bulls can have a couple of receivers step up, this offense could take off massively down the stretch, as the only matchup truly worth worrying about, at the moment, is when Alabama comes to town in Week 3. Otherwise, it's smooth AAC-defenses-sailing as far as the eye can see. As much excitement as I and others have for Brown, there is some caution needed to be had. I mentioned his pedestrian passing performance, and that needs to get cleaned up if he's the guy long-term. Sub-50% passing and multiple interception performances aren't going to keep Gerry Bohanan on the bench, unfortunately. Regardless, the upside of Brown in this system with his legs is way too much to just leave hanging on the waiver wires.
Honorable Mentions
Kaidon Salder, QB – Liberty
TJ Finley, QB – Texas State
Jack Plummer, QB – Louisville
Running Backs
Marcus Carroll – Georgia State – Rostership: 23%
We knew that the Georgia State Panthers' rushing attack would be one of their key strengths this year, between the young duo at running back in Marcus Carroll and KZ Adams, as well as dual-threat QB Darren Grainger. However, in the last couple of years, the Panthers have gone with a more split approach to their backfield, as they were loaded with good options, but this led to none of their QBs reaching 200 carries in a season. That looks to be changing this year. Despite having a solid #2 back in KZ Adams and a  (supposedly) easy opponent to face in Rhode Island, Shawn Elliot and staff felt the need to feed Carroll and feed him some more. Carroll would finish with 23 carries for 184 yards and three touchdowns. Meanwhile, Adams, who was expected to split some workload with him, only got ONE carry.
This was a separation from the rest of the backfield that we were not expecting during the offseason. If Carroll keeps this up, a workhorse back in one of the most productive rushing attacks in the country against a Sun Belt schedule is a must-own in college fantasy. Obviously, don't expect the efficiency or the touchdown numbers you saw in this last game every week, but the schedule sets up nicely for Georgia State over the next several weeks with UConn coming to town in Week 2 and a trip to Charlotte in Week 3.
Jalen Buckley – Western Michigan – Rostership: 0%
When it comes to the smaller schools in the FBS, it is sometimes impossible to get good information regarding player personnel out of them. This is especially true in the MAC, where Western Michigan has played it very close to the chest regarding who'll be starting for them. At running back, we got ourselves a huge surprise in Week 1. While many were targeting Virginia Tech transfer Keshawn King or returning producer Zahir Abdus-Salaam in the later rounds of their drafts, it is, of course, a guy without a 247Sports page who posts a stat line of 30 carries for 194 yards and a touchdown on the ground.
Many can point to the opponent being St. Francis, but 30 carries is nothing to sneeze at, no matter who the opponent is. The Broncos ran 96 (!) plays in this game, most of which were running the ball. So long as they are successful in doing that against other MAC teams, which are not a huge jump from FCS competition, you're looking at a guy who'll get a minimum of 20 touches every single game. Buckley also showed his explosives ability, ripping off a 68-yard touchdown, so he should solidify his spot at the top of the depth chart for the Broncos. The next two weeks at Syracuse and Iowa will probably be rough, but grab him now to unleash in MACtion.
Honorable Mentions
Nathan Carter, RB – Michigan State
Cody Schrader, RB – Missouri
Cameron Skattebo, RB – Arizona State
Wide Receivers
Pofele Ashlock – Hawaii – Rostership: 16%
I don't have the space here to fully break down the Hawaii Run-&-shoot offense. For that, you should check out VolumePigs' article on the subject matter. Long story short, the slot/inside wide receivers are the ones who absolutely eat in this offense, and Pofele Ashlock, despite hardly being discussed this offseason, looks to have locked down the starting slot position and has made his presence known through the first two weeks of the season. Ashlock posted 7 catches for 127 yards and a touchdown against Vanderbilt and followed that up with eight catches for 114 yards and two touchdowns against Stanford. While neither Vanderbilt nor Stanford are world beaters on defense according to Power 5 standards, they'll be better than most of the Mountain West defenses that Hawaii will face week in and week out. Ashlock should easily be able to continue his productive run as the season goes on, with the one exception being Oregon in Week 4.
Ashlock may be the most important pickup of the weekend if he hasn't already been scooped up in your league after week 0. While the touchdowns will ebb and flow, as of right now, Ashlock, through two games, is on pace to be not only a top 12 WR for CFF but potentially THE #1 overall wide receiver for college fantasy. If you still have the ability to grab him, you simply have to, and if you're in a league with FAAB, using a significant amount of your budget is worth it at this point.
Lincoln Victor – Washington State – Rostership: 2%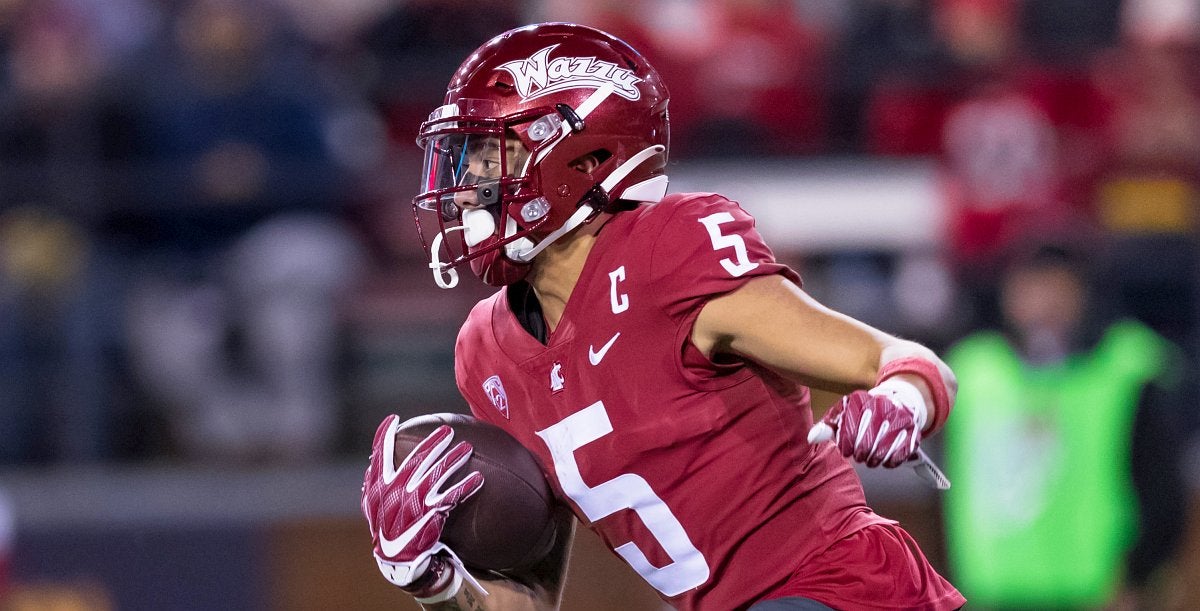 There were questions on whether Ben Arbuckle's passing attack from Western Kentucky would translate at Washington State with Cameron Ward under center. After all, last year, Ward was supposed to tear up the PAC-12 with Eric Morris as his offensive coordinator, but that clearly didn't end up happening. Well, we saw this past weekend, albeit against Colorado State, that the passing game does look much improved. Ward put up over 450+ passing yards, and his receivers benefitted greatly from it. In Arbuckle's system, the slot receiver has seen the lion's share of the love, and we saw it once again in action yesterday. However, it wasn't pre-season favorite transfer DT Sheffield who saw the love. It was program veteran Lincoln Victor.
While Victor didn't find the end zone, he led the Cougars with 14 targets on the day, hauling in 11 of them for 168 yards. A guy with the potential to earn 14 targets on any given week, especially in an offensive system that is expected to be this productive, cannot stay hanging out on the waiver wire. Period. I think there's still a chance that DT Sheffield could start to creep up in terms of his target share, making Victor's ceiling lower. However, that's simply a risk I'm more than willing to take because I can tell you that if Victor holds onto this role, I don't want to be the guy who has to face him on a weekly basis with him on other people's teams.
Honorable Mentions
Xzavier Henderson, WR – Cincinnati
Erik Brooks, WR – Fresno State
Robert Lewis, WR – Georgia State
Jamaal Bell, WR – Nevada
Deion Burks, WR – Purdue
Tight Ends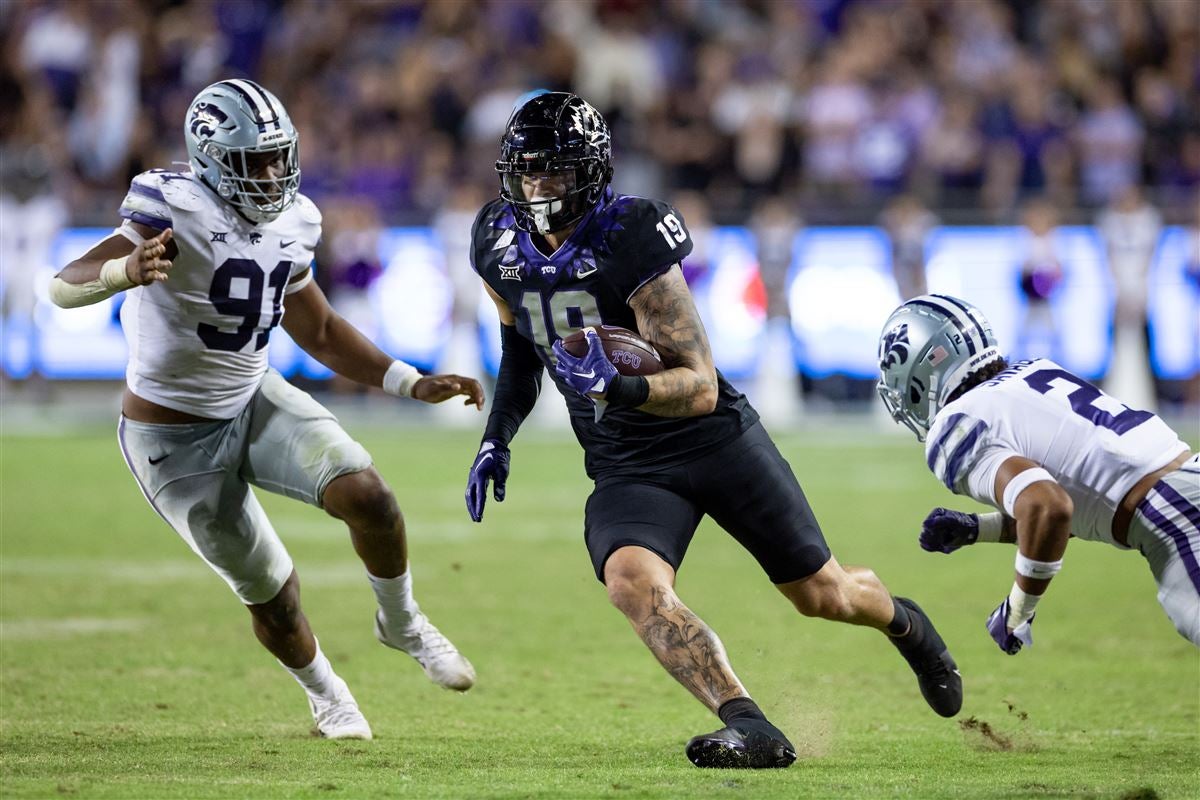 Jared Wiley – TCU – Rostership: 4%
There were lots of good performances from tight ends across the country yesterday. However, history shows us that most of them may never have that good of a performance the rest of the year. So who amongst these top performers will actually end up holding the rest of season's value? I'm going to plant my flag on TCU's Jared Wiley, and not just because he has an awesome first name.
People seem to forget just how much TCU lost from last year. Wiley is one of three returning starters on offense and is the only one who isn't a lineman. TCU is having to break in players all over the field, but Wiley is a constant that has remained. In the shootout with Colorado, we saw just how much that familiarity mattered. Wiley was second on the team in targets (8) and caught six of them for 69 yards and a touchdown. Any time you can find a TE who can get into the top two target options on a team AND gets as many as eight targets, that's a recipe for longer-term success. It also helps that new offensive coordinator Kendall Briles has been more than willing to use the TE when he has one he feels he can rely on. If Wiley's performance yesterday is any indication, he'll be that reliable option for the Horned Frogs moving forward. He should also get plenty of touchdown opportunities because if TCU's defensive performance yesterday is anything to go by, they'll be in plenty of shootouts this year.
Honorable Mention
Dallin Holker, TE – Colorado State
For More Waivers:
There are obviously way more names to consider for picking up in CFF this week than the two per position that I've fully broken down above. For more in-depth looks at even more waiver wire options for this week, make sure to check out Monday's episode of Chasing the Natty: A CFF Podcast, available on YouTube and all your favorite podcast locations!