Let it be known that whenever national media types start muttering about what a lackluster weekend of college football was, you should know that crazy things are coming, and they did!
We had 61-yard field goals to win, we had multiple top-ten teams on the ropes and even saw Tennessee fall on the road at Florida. And, of course, who could forget the midnight madness that was the Colorado vs. Colorado St. game? Another week has passed, and while the dust is settling, it is time to sit back, recover, and evaluate who you should be targeting on the waiver wire for your teams this week!
In this article, we'll be discussing players who should be widely available on your CFF/C2C teams. In order to accomplish this, we'll only look at guys who are rostered on only 30% of teams or less. This article is geared towards rest-of-season value as opposed to one-week pickups that have good matchups in Week 4.
As always, it's important to remember that you shouldn't always just target the top performers from the week before. Context matters even more in college fantasy than it does in NFL fantasy. A guy going off for 200+ yards and three touchdowns is great, but when it only comes on five touches versus an FCS opponent, you don't want to fall for that trap. We do our best here to sift through the traps and provide you guys who will boost your teams down the stretch for your playoff runs!
Quarterbacks
Timmy McClain – UCF – Rostership: 3%
The first guy we're discussing today is more of a short-term play that could turn into a long-term play if the information about when John Rhys Plumlee will return is incorrect. Just like in all fantasy sports, injuries suck, but you have to be ready to jump on the players who will benefit from another's absence. That is the case with Timmy McClain, who is stepping into the starting quarterback role for UCF while Plumlee is dealing with a leg injury that'll keep him out for a few weeks. The good news is that we shouldn't expect much of a change in the offense, given that McClain has a similar overall skillset to Plumlee. His rushing isn't as dynamic as Plumlee, but that's not a fair comparison for anyone. It'll still be plenty to give a nice floor for CFF each week.
The only action we've seen McClain in during his time at UCF this season has come against two out-matched opponents in Kent State and Villanova. This does make it hard to judge how this team, and McClain, will perform overall against the coming Big XII competition. My philosophy on this is simple. I've seen enough out of McClain to tell me the offense is performing most the same with him under center, so if you were going to trust Plumlee against the upcoming defenses of Kansas St., Baylor, and Kansas, then I think you should be able to trust McClain as well.
If you had Plumlee, McClain is a must-grab off of waivers to try to regain that upside each week. If you're someone who wanted Plumlee but missed out on them during the draft, this is your second chance. If you're someone who was never a fan of Plumlee and his high-of-highs and low of lows performance, you'll probably want to skip this one as well.
Brayden Fowler-Nicolossi – Colorado State – Rostership: 1%
Before last week began, I put out a tweet that noted that Colorado State, in a small sample size, admittedly, seemed to hum on offense much better once Brayden Fowler-Nicolossi took over against Washington State. I noted that I was excited to see what he could accomplish in the upcoming weeks. I did not expect the performance he gave against Colorado this past weekend. He put up 367 yards and three touchdowns on 47 attempts against the Buffs. Shedeur Sanders may have been the more clutch QB on Saturday (Sunday?), but Nicolosi was the better QB through most of that game.
As I mentioned, Nicolosi may be the key we've been needing to unlock the Jay Norvell offense. The offense saw improvements across the board, including an increase in yards per attempt (4.8 under Millen to 8.7 under Nicolosi), as well as their overall aggressiveness downfield, which was reflected in the increased average depth of target (ADOT) (4.0 yards under Millen to 7.2 yards under Nicolosi).
While Colorado's defense is certainly nothing to write home about, this shows that we should expect more out of this offense moving forward, so long as Nicolosi is the guy under center. He provides a nice floor play, much like Brayden Schager of Hawaii, and his lack of dual-threat ability (at least, what we've seen so far) will keep him from having a good ceiling. However, if you're someone who is struggling to find QB value after a few of your top options have busted, Nicolosi is the perfect guy to help salvage those situations.
Honorable Mentions
Haynes King – Georgia Tech
Thomas Castellanos, QB – Boston College
TJ Finley, QB – Texas State
Running Backs
Emani Bailey – TCU – Rostership: 24%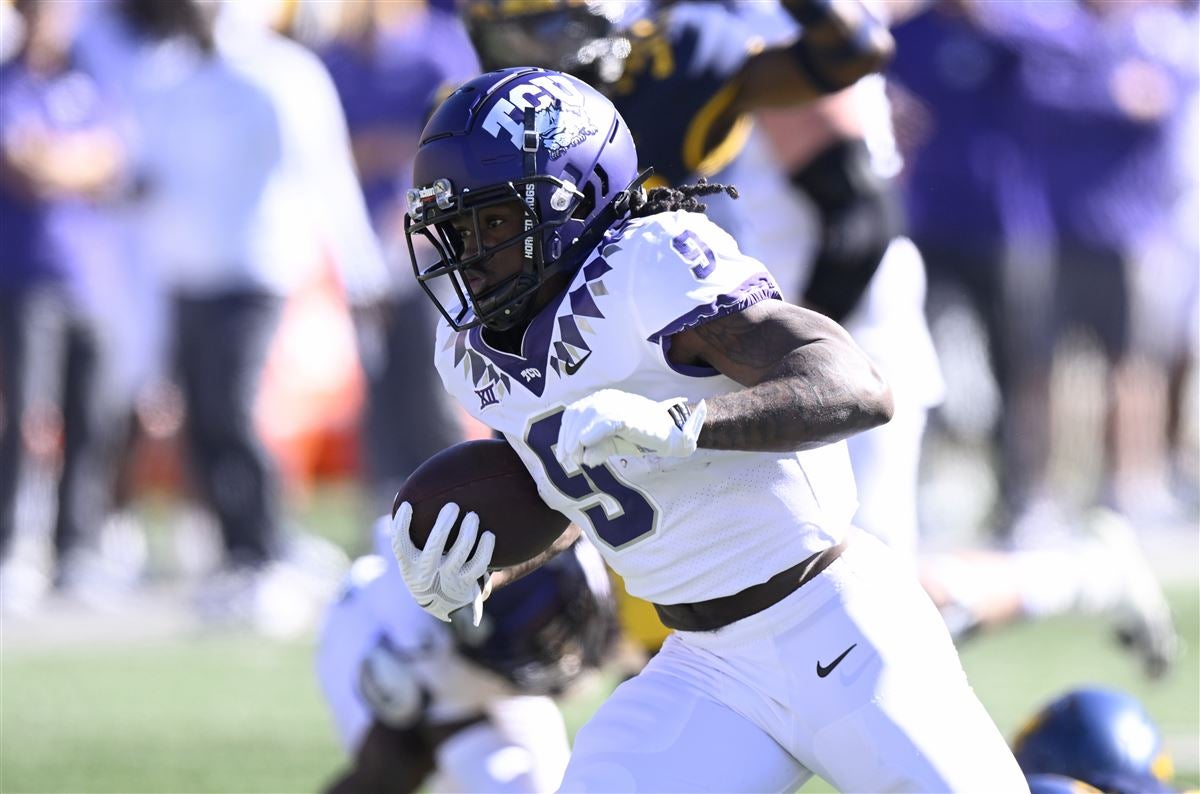 It's a couple of weeks into the season, and I think it's time to safely say that the Horned Frogs have found their featured back for the season. No, it is not the former 5-star Alabama transfer, but the Louisiana transfer, Emani Bailey. Bailey, so far this season, has out-carried Sanders on a 2-1 ratio and is destroying Sanders on a per-carry basis, averaging 6.4 yards per carry compared to Sanders' 3.8 yards per carry. I believe we are about to see Sanders continue to fade and Bailey continue to rise, eventually approaching the role that Kendre Miller had for this offense last year.
For those of you who do not remember, Miller finished as the RB18 in fantasy last year as the featured back for this offense. Bailey may become even more important than Miller was due to TCU not being able to rely on Chandler Morris in the same way they could Max Duggan. The only major concern with Bailey is that he's only had one touchdown so far on the season. He's been primarily a between-the-20s running back, with Sanders taking over in the red zone. As I stated, I believe this will become less prevalent as the season continues. Bailey will continue to prove himself to be the most reliable back for TCU and earn those red zone carries if he didn't already house it from 30 yards out.
LJ Martin – BYU – Rostership: 9%
Is there anything more exciting than a true freshman breakout? Especially ones who do so this early on in the season? That's exactly what LJ Martin has done at BYU. Many expected Aidan Robbins to be the guy coming into this season. Between Robbins being banged up and just not performing well, it has left the door open for this future star. Martin has already out-carried Robbins by a large margin (45 carries to 10 carries) and is well outperforming him on a down-per-down basis (4.3 yards per carry vs. 1.6 yards per carry). The offense is still finding its rhythm through three games, but whenever they need a spark, Martin has been there to provide it.
Whenever the game is close, the coaching staff has turned to Martin. In their low-scoring win over Sam Houston State, Martin was given 16 carries in his first game for the Cougars. Two weeks later, in a win on the road in SEC country, Martin was once again counted on. This time, he toted the rock for 77 yards and a touchdown on 23 carries. The fact that this staff turns to him in high-stakes situations tells you everything you need to know about his role going forward. He will be the next great BYU workhorse since Tyler Allgeier, who, by the way, finished as the RB7 in CFF 2021. Martin may not reach that height in year one, but this staff seems ready to give him that chance.
Honorable Mentions
Gavin Garcia, RB – Kent St
Kyle Monangai, RB – Rutgers
Kay'Ron Adams, RB – UMass
Daijun Edwards, RB – Georgia
Wide Receivers
Robert Lewis – Georgia State – Rostership: 13%
This one shocked me when I saw he was under 30% rostered still. I was even more shocked that he hasn't even broken 15% even after his great Week 1 performance. The logic is quite simple here. Darren Grainger and this coaching staff love themselves a WR1. Last year, it was Jamari Thrash who finished as the WR22 in CFF. Before that, Sam Pinckney was a reliable #1 guy for the Panthers. Now, it looks to be Lewis' turn, as he is currently the WR8 on the year for CFF. He just had a monster performance this past week, putting up six receptions, 220 yards, and two touchdowns on seven targets.
Lewis is finding himself in a position to have a very productive CFF season. Not only does he lead his team in targets, but they are high-value targets. His ADOT is the highest on the team among starting WRs at 13 yards down the field. I mentioned before that Thrash finished as the WR22 in CFF 2022, and that was only after he broke out in the latter half of the season. Lewis has established his position early on this year, meaning that if he continues what he's been doing, you're looking at a guy with top 15 WR upside just hanging out on the waiver wire, ready for the taking.
Caullin Lacy – South Alabama – Rostership: 23%
As mentioned before, this is the point in the season where injuries start to impact who you target on the waiver wire. To some degree, that brings us to Mr. Caullin Lacy, out of South Alabama. Many believed that Devin Voisin, with his outside receiver position, earning of the #5 jersey for the Jaguars, and his end-of-season performance would lead to him earning the coveted WR1 spot for South Alabama, a position that has produced the likes of Jalen Tolbert, WR6 in 2021. Through two games, that proposition was already in doubt, and now an ACL injury has sealed his fate for the season. This leaves fellow his partner in crime in the receiving game, Lacy, to pick things up from there.
Many had been waiting for Lacy to make that next big step with the Jaguars after a strong sophomore year. However, until this point, he hasn't been able to fully grasp that opportunity. It was especially disappointing last season when no South Alabama WR could break away from the pack, including Lacy. Now, he seems to be on his way to finally taking his chance. Even before Voisin went down, Lacy was leading the team in targets and should now command even more of them.
What's really enticing for Lacy is that even though his ADOT is not enticing (less than six yards down the field on average), his ability to create after the catch is something to behold. To this point in the season, Lacy is averaging 13.4 yards after the catch. A short throw for big gains is a quarterback's best friend, and Lacy provides the perfect easy target for QB Carter Bradley to feed over and over again. Given the upside of the receivers in the offense in the past, it's hard to pass up a guy like Lacy.
Honorable Mentions:
CJ Daniels, WR – Liberty
Jack Hestera, WR – Charlotte
Jordan Watkins, WR – Ole Miss
Tight Ends
Dallin Holker – Colorado State – Rostership: 29%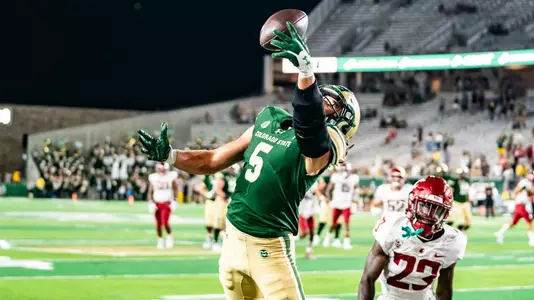 I am not kidding you when I say this is THE most important pickup you can make this weekend. Look around you. The TE class for CFF this year has been decimated by injuries and underperformers. There's hardly anyone out there that can anchor your team down week to week. That is anyone except Dallin Holker, out of Colorado State.
You only have to recall a few years back to remember what Jay Norvell was able to do with the likes of Cole Turner during their time at Nevada. Turner was an anchor at TE for multiple seasons of CFF, and Holker looks to be his newest weapon. Holker was reportedly upset about his lack of pass-catching at BYU, and Norvell was upset when none of the TEs provided by Colorado State last season suited his needs. This was a match made in heaven.
We've seen for ourselves the last few weeks that Holker doesn't seem to be a fluke. Through two games, he has hauled in two touchdowns and has seen plenty of targets. He is an active part of the passing game and, surprisingly, has the highest ADOT on the team at 9.3 yards down the field. He is a full-on weapon and is everything you want to see in a weekly TE option. The passing volume will only continue to be large for the Rams, and Holker is one of four guys in which those targets are going. In a year in which we've lost Gadsden, Lachey, and Kuithe to injury, Holker provides one of the last chances to lock down the TE position for teams moving forward.
Honorable Mentions
Tanner Koziol, TE – Ball State
Thomas Fidone, TE – Nebraska
For More Waivers
There are obviously way more names to consider for picking up in CFF this week than the one-two per position that I've fully broken down above. For more in-depth looks at even more waiver wire options for this week, make sure to check out Monday's episode of Chasing the Natty: A CFF Podcast, available on YouTube and all your favorite podcast locations!