Week 6 of College Football had plenty of big performances and some disappointing performances as well. We will look at what happened last week and some players to watch out for in Week 7.
Week 6 Review
Xavier Worthy, WR Texas
Worthy de-committed from Michigan and enrolled in Texas before the season. It looks like that was a great choice so far. Worthy had strong back-to-back games against Rice and Texas Tech for a total of 171 yards and four TDs. I thought this was his breakout, but it was nothing compared to him being unstoppable in a losing effort against Oklahoma. Worthy showed he could do a little bit of everything on the way to 261 yards, two TDs, and now has catapulted himself up near the top of the 2024 WR board.
Caleb Williams QB, Oklahoma
Spencer Rattler has struggled through the season, but Williams has only played sparingly and mostly in running situations. With Oklahoma needing a spark against Texas, Williams was put in to replace Rattler and showed why he was such a highly ranked recruit. Williams led Oklahoma to a big comeback win and had 212 yards passing, two TDs, along with a 66-yard rushing TD. He is far from a polished product, but his ability to throw on the run shows why he should be a high pick in Devy drafts in the coming years.
Jameson Williams WR, Alabama
Williams was a top 100 recruit in 2019 that committed to Ohio State but in two years only had 266 receiving yards and three TDs. He has transferred to Alabama, and his production has increased dramatically. Williams had his best game against Texas A&M with 146 yards and a pair of TDs. That brings his 2021 stats to 510 yards and five TDs through six games. His big-play ability has been shown in multiple games, and his NFL Draft stock is trending up.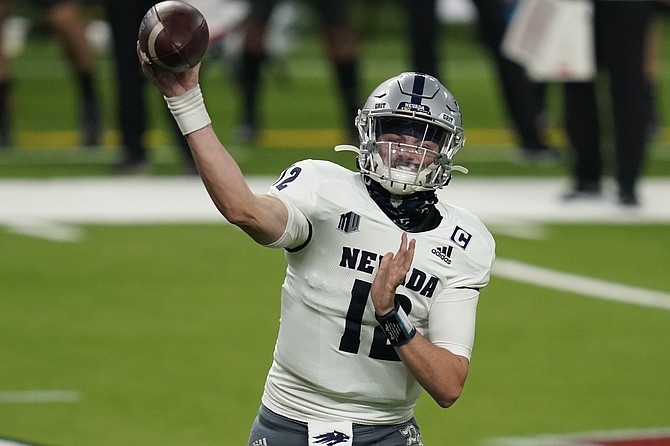 Week 7 Preview
Carson Strong, QB Nevada
The top of the 2022 QB class has struggled, and now there is an opportunity for other QBs to jump up to the top of the class. Strong is one of those QBs as he has 14 TDs to only three INTs so far this season. He does not have the running ability that the NFL has been looking for lately, but he has a strong arm and is very accurate. In the past game against New Mexico State, Strong had over 300 yards and six TDs. Strong should have big numbers again this week versus Hawaii, and if he continues to put up big numbers could vault himself into the conversation of one of the top QBS.
Wandale Robinson, WR Kentucky
Robinson is another transfer that has helped his stock by making a move. He already has passed his high in yards and TDs that he had in both seasons at Nebraska. Every game this year, Robinson has over 60 yards receiving and is being utilized all over the field. This will be his biggest test this week against a great Georgia defense. If he can put up another big game, it will be another step in raising his draft stock for the upcoming NFL Draft.
Desmond Ridder, QB Cincinnati
Ridder is another QB that has a chance to move up in the 2022 NFL Draft. He is more mobile than Strong but has not shown the progression this season many would have hoped. Ridder struggled against Indiana but had a much better outing against Notre Dame with 297 yards and two TDs. Against an overmatched Temple team, Ridder also had a strong performance. He can continue that momentum in a big showdown in the American with UCF coming to town.
Follow the Campus 2 Canton YouTube channel – the Tailgate show is every Saturday morning and the Coast2Coast show every Saturday night. The Tailgate gets you ready for the day's games and last-minute DFS coverage. The Coast2Coast show recaps the day's game and all the studs and duds.