Week 8 of College Football had plenty of big performances and some disappointing performances as well. We will look at what happened last week and some players to watch out for in Week 9.
Week 8 Review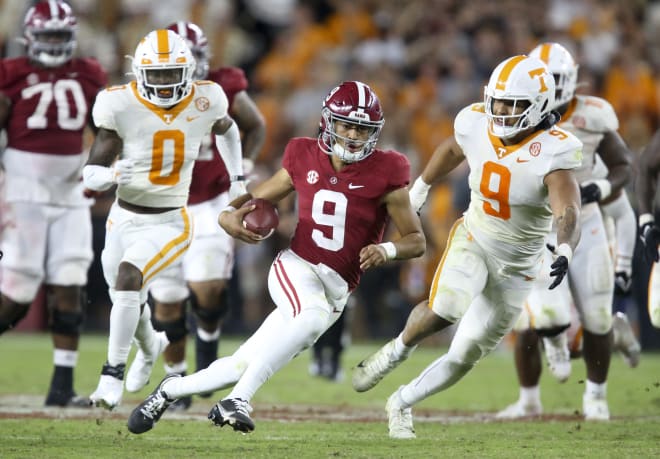 Bryce Young, QB Alabama
Young put together another stellar effort against Tennessee, but this performance was different in that he showed off some of his running ability with 42 yards and a pair of TDs. This is four out of five games with a completion percentage over 70% and over 300 pass yards. Young is the clear front runner right now for QB1 of the 2023 class with 26 TDs and only three INTs of the season.
Sam Hartman, QB Wake Forest
Hartman has the Demon Deacons undefeated and ranked #23 in the nation. He had his best game of the season with 458 yards and five passing TDs against Army. While he started the season slowly, he has picked up the last three games, all over 300 yards passing. Hartman has 19 TDs to only three INTs and shows his good decision-making in the RPO game in the offense. While he is listed as an RS Sophomore, it is his fourth year in college. I am unsure how he translates at the next level, but his production cannot be ignored.
Jaxon Smith-Njigba, WR Ohio State
Ohio State struggled to pass the ball early on with C.J. Stroud, which led to a slow start for Smith-Njigba. Two of his first three games were under 35 yards receiving, but three were over 90 yards receiving in the last four games. With Garrett Wilson and Chris Olave leaving after this year, he will continue his chemistry with Stroud going into next year.
Week 9 Preview
Kenneth Walker III, RB Michigan State
Walker has almost hit the 1,000 yards in only seven games, already eclipsing every season total he has had in his career. He is averaging over six yards a carry and has three games of over 170 rushing yards. Against Indiana, Walker was held in check, and after the bye week, he gets Michigan, and the 22nd ranked rushing defense in the NCAA. Many question Walker and Michigan State because of the opponents they have faced so far. A big game against Michigan could help continue his outstanding 2021 campaign and launch him up further in NFL Draft boards for 2022.
Jake Haener, QB Fresno State
Haener was the talk of the town after his big comeback win against UCLA when they were a top 15 team. He suffered from injuries from that game and, since then, has not looked like the same player. A five INT game vs. Hawaii and a win with only 96 yards passing set up a big game against Nevada. Haener led the team to a victory with 256 yards and two TDs. While back on track, it did not match what he was doing early in the season. Haener gets a tough San Diego State team this week that has the 23rd ranked passing defense, and a big game could help him raise his draft stock yet again.
Anthony Richardson, QB Florida
It looks like Dan Mullen will continue the platooning of Emory Jones and Anthony Richardson this week against the #1 Georgia Bulldogs. Many, including our own Felix Sharpe, see the potential of Richardson, and even with Jones starting, he will get plenty of time. Richardson provided a big spark two weeks ago in helping the Gators come back against LSU. It was his most work passing the ball this season, but he did have two costly interceptions where he tried to do too much. This is a big rivalry game and has shown anything can happen. Richardson could do a lot officially taking over the job by performing well against this dominant Bulldog defense.
Follow the Campus 2 Canton YouTube channel – the Tailgate show is every Saturday morning and the Coast2Coast show every Saturday night. The Tailgate gets you ready for the day's games and last-minute DFS coverage. The Coast2Coast show recaps the day's game and all the studs and duds.