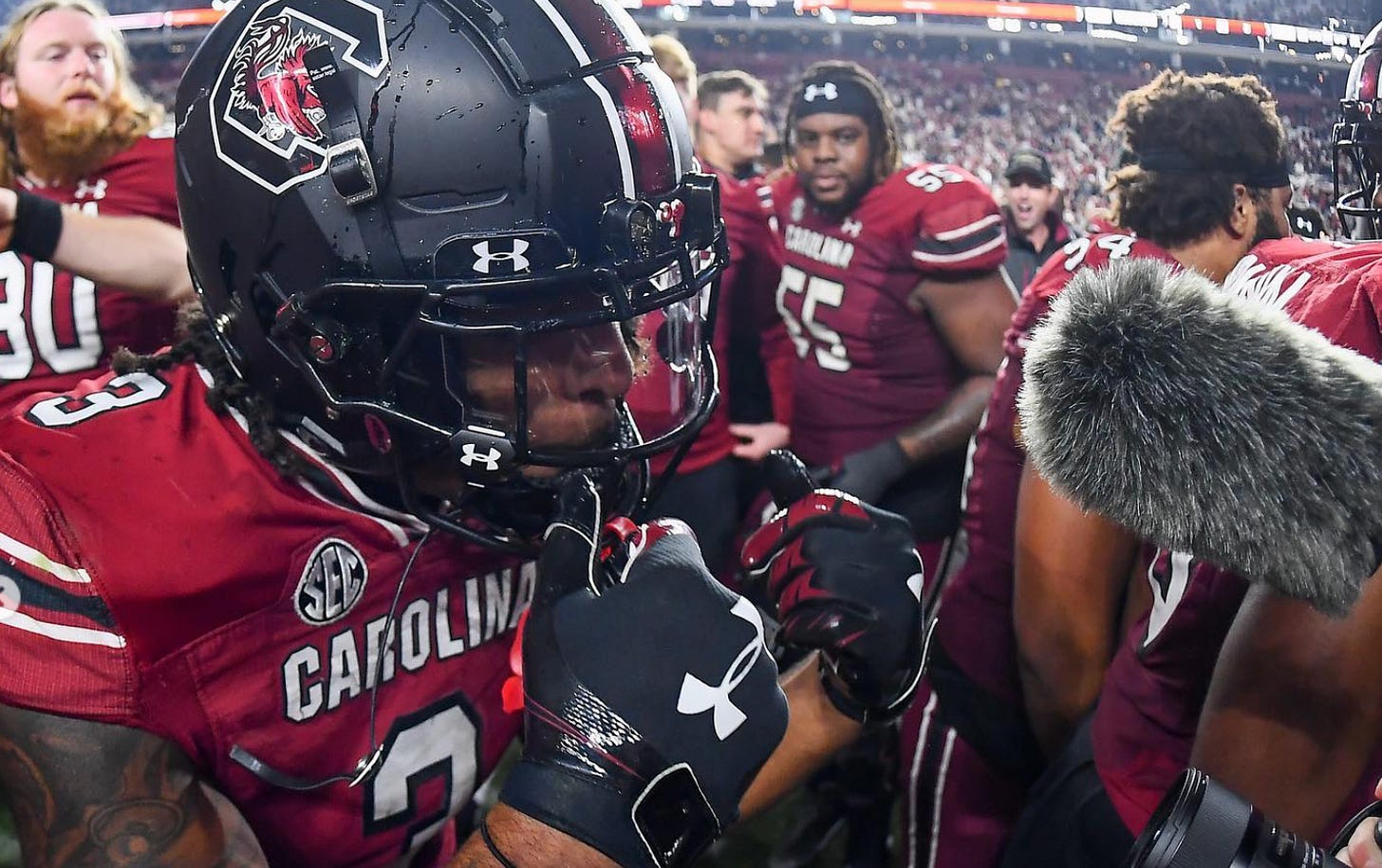 They wanna ride with the Juice Mayn, mister bang-bang
– Juicy J, musician
---
What an incredible year of college football it was in 2022. As per usual, the final stretch of the year was particularly exhilarating. One question I found myself asking which I did not anticipate to at this time last year was: is South Carolina actually going to be good again? The trajectory of the program certainly suggests so—in part due to the recent influx of transfer talent Shane Beamer and co. have brought in. That includes a former FCS stud at WR—Antwane Wells Jr., formerly of James Madison University (2020-2021). Wells, otherwise known as 'Juice', brought the heat in 2022 despite some shoddy QB play, and is likely to continue that into 2023.
You may hear the term 'Beamer ball' thrown around some, particularly after a comfortable win over in-state rival—Clemson, but does anybody actually know what it is? I for one, do not, but I'd be glad to educated on the matter.
Nonetheless, today we will undergo an examination of the South Carolina coaching staff and their tendencies as it relates to CFF.
---
Coaching & System
The OC of USCe (that's right Gamecock fans, I'm not giving you that USC title), is a man named Dowell Loggains. He joined USCe this offseason and will serve as both the OC and QBs coach.
Prior to 2023, Loggains spent two seasons at Arkansas State (Ark St.) as the TEs coach (2021-22), after spending over a decade in the NFL. He was the OC and QBs coach of the New York Jets (NYJ) from 2019-2020, OC of the Miami Dolphins (2018), OC and QBs coach of the Chicago Bears (2015-2017), QBs coach of the Cleveland Browns (2014), and served in various capacities with the Tennessee Titans from 2006 to 2013, including OC, pass game coordinator and QBs coach.
So our guy has been all over the place. While he didn't have a 1,000-yard WR with the Jets, in his first season his offense did funnel 100+ targets to its WR1—Jamison Crowder.
He also coached former Gamecock stud Alshon Jeffrey, with the Bears in 2015. Jeffrey led the Bears with 54 receptions (93 targets) for 807 yards and 4 scores in 9 games (10.33 targets/game).
The head coach—the aforementioned Shane Beamer, doesn't really have a track record as a play caller outside of USCe. His Gamecocks have yet to produce a 1,000-yard WR in his time. He did spend some time at Oklahoma (2018-2020) during a time where there were several CFF studs at WR come through. I don't know how much credit I can assume to him, though.
So overall, there isn't really anything to write home about from a C&S perspective. As such, this is not really my type, so to speak, but Wells is a stud and sometimes studs rise above the system. So let's proceed to the player, shall we?
---
WR Antwane Wells Jr. — 6'1″, 210 lbs.
Mr. Wells Jr. had a strong season with the Gamecocks last year—catching 68 passes on 92 targets for 928 yards and six TDs (15.54 FPG in 1PPR). 
His season before that, with the Dukes, was a monster campaign. Wells caught 83 passes for 1,250 yards and 15 TDs alongside fellow volume pig WR Kris Thornton. His freshman season with the Dukes was solid, he caught 33 passes for 603 yards and six TDs.
Wells shouldn't be competing for targets too much in 2023, as the 'Cocks have few other elite options at WR. I expected he'll be the main target man, and more importantly—QB Spencer Rattler, should be an improved commodity this season too. That means more efficiency (hopefully), which in turn means more points for Wells.
It's a crucial year for both Rattler and Wells to secure strong draft capital (or even get drafted at all in Rattler's case), so you know these two will be dialed in. Millions are on the line, literally. This could be a life changing season for both of them. 
However, big dreams aside, Rattler has not been consistent at any point in his career, so this is is something to keep in mind with Wells. For those purely interested in Wells from a CFF standpoint, don't get too caught up in the hype from the NFL crowd around this kid. He's probably a better actual player than CFF player, in my opinion, but he's still a good CFF option.
---
Concerns
So I think the obvious one is the patterns of the staff. This isn't a system known for producing fat volume pigs at WR. However, as with virtually all coaches, if the player is good enough (e.g., Alshon Jeffrey in 2015), they'll pump 'em with touches. Indeed, had Jeffrey not gotten injured that year, he was on pace to have a monstrous statistical output. Can this Gamecock do something similar? I guess we'll just have to wait and see.
The QB is another glaring concern. That probably reads funny given that they have a five-star wonder-kid at the helm. But Rattler has yet to show us he can be an elite player consistently over the course of a season. That means Wells' output could be highly volatile on a game-by-game basis, but still finish with a strong FPG average, which is not really what we want in regular CFF leagues. This was the case in 2022, despite averaging 15.5 FPG, he only scored more than 15 points in a game five times out of 13 contests. That is not good in a league where you have to choose who to start each week. In a more forgiving format like bestball, a player like this holds more value. He did have a strong stretch to close out the season, though, with 14, 11, and nine targets. He scored over 34 FPs in two of his last three contests (he scored eight in the other). He only scored TDs in four games out of 13. 
Confession: I've never even heard the original version of the song that the opening quote of this article belongs to. But this remix goes harder than the beatdown USCe put on Tennessee last year.
Like this type of content? I've got good news for you; there's an ungodly amount of it over here: VolumePigs.
You can also find me occasionally tweeting about CFF and CFB over here.