If you've played Fantasy Football for any amount of time, you've heard the advice to zig when others zag – it's an adage as old as time. In C2Cs, recently, there has been a trend of top CFF producers rising in ADP and being taken earlier and earlier. This can easily be tied back to zigging when others zag. Many C2C players view their leagues as deeper Devy leagues – inflating the value of Devy prospects and minimizing that of CFF stars. The realization that the college side of leagues offers opportunity and a potentially easier shot at a championship has helped shift some value for those zigging towards those college fantasy options earlier in drafts.
On the flip side of this, it creates a need for what I like to call Cathedral Stashes: later-round players that have higher upside (be it pro potential or the ability to be a lucrative CFF asset that can be flipped) if their situation breaks in the right direction. If you're loading up on CFF guys earlier, it's imperative that the players you take later in drafts and on waivers have some potential to boom. Today we'll dig into QBs that fit this bill and where we can take big swings at a discounted price.
Caden Veltkamp – Western Kentucky – rFr.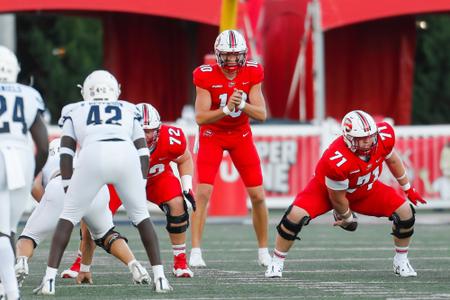 In CFF and C2C, we preach scheme as a huge part of the formula for projecting success. There is no scheme that is more infamous than that of Western Kentucky. The high-flying passing attack that was brought to Bowling Green from Houston Baptist continues to bear fruit – even now that Zac Kittley and Ben Arbuckle have moved on to Power Five jobs. This is the scheme that made Bailey Zappe a fourth-round draft pick in the NFL draft. It's one that is building the draft stock of D3 transfer Austin Reed and made him an elite CFF producer in the conversation with the likes of Caleb Williams and Bo Nix for QB1 overall.
Point blank, claiming the successor to this offense would be an absolute steal at the price we're paying for Veltkamp. There's no guarantee that Veltkamp will be the starting QB next year. He currently projects as the backup heading into 2023 and is the son of the Hilltoppers' Strength and Conditioning Coach, Jason Veltkamp. 
Western Kentucky will undoubtedly be a hot destination for speculative QB transfers next Spring. If Veltkamp is able to fend them off, he'll have the reins to one of the most high-powered offenses in the nation. This off-season, the team did add Weber State transfer Bronson Barron so that Veltkamp will see some internal competition this year. But with Barron only having two years of eligibility, one would assume Velkamp's potential for longevity would give him the tie-breaker if there is no clear separation. 
Christian Veilleux – Pittsburgh – So.
How can we talk about high-powered offenses without a mention of Pat Narduzzi? Okay, I'm kidding, but Christian Veilleux's transfer to Pittsburgh should allow him the potential to start for a Power Five offense for two seasons and play his way into decent NFL draft discussions. Despite limited snaps at Penn State, he has put up a 65.7% career completion percentage thus far, with most of his play coming against Rutgers in 2021 when Sean Clifford left the game late in the first quarter due to injury. Veilleux led the Nittany Lions offense to a 28-0 win in his relief effort. He went 15 of 24 for 235 yards and three touchdowns through the air and gained an additional 36 yards on the ground. 
I believe that Veilleux is a good quarterback. Should Phil Jurkovec stumble or face injury at any point this year as the starter for the Panthers, he would be the one to step up and get a chance to prove his worth. Despite the questions around the scheme and Pittsburgh's willingness to throw the football, if Veilleux can prove successful at a Power Five program, the opportunity to prove it at the next level should be presented in one way or another. Veilleux is clearing most Supplemental Drafts so far this season and is a player I would keep watchlisted heading into 2023. 
Pierce Clarkson – Louisville – Fr.
Before Scott Satterfield leaving for Cincinnati, the hype surrounding Pierce Clarkson was growing to noticeable levels. Jeff Brohm now returns to Louisville to take over as Head Coach not only puts a damper on the Clarkson hype parade but complicates the situation quite a bit by adding a few extra obstacles in Clarkson's path to success. That said, Clarkson is a four-star QB from St. John Bosco who possesses dual-threat talent and a very high ceiling if things break right for him.
The naysayers will point to the fact that Jeff Brohm's system has always slanted more heavily toward pocket passers and traditional pro-style QBs. However, I believe Clarkson's background makes him an ideal candidate to buck that trend. Clarkson's father is Steve Clarkson, a well-established QB coach who has worked with QBs such as Ben Roethlisberger, Matt Leinart, and Matt Barkley, to name a few. Unsurprisingly, Pierce's mechanics are well refined as a passer, and he understands the game and how to create within the structure of an offense very well. Suppose he's able to come in and learn Brohm's offense, playing within a scheme that has elevated even mediocre QBs in the past. In that case, Clarkson's legs offer the possibility to unlock a new level of production truly. To put it bluntly, Clarkson is dropping in drafts due to some unfounded speculation, and in today's transfer portal era, even the idea of him being passed over for a better "fit" is not a death sentence. Trust the talent with this one.
Justin Lamson – Stanford – So.
Stanford cut ties with David Shaw at the end of last season and hired Troy Taylor, who spent the last four years (three seasons due to COVID-19) at Sacramento State, as their new Head Coach. His offenses were very balanced in his time there – passing for an average of 280.99 yards per game and rushing for 194.83. The production was there as well, scoring 36.31 points per game during that same span. The Cardinal added Justin Lamson from the Transfer Portal, and there's reason to expect he could be a difference-maker at the position.
Lamson had a strong camp last season prior to suffering a season-ending injury. This Spring, it appeared he was pulling away with the backup job in Syracuse while starter Garrett Shrader was recuperating from surgery on his arm. Looking at the positives, if Lamson can capture the starting job in Palo Alto, he has at least three years of eligibility remaining. He could receive an additional one, should his medical redshirt get approved. He's competing with a crowded room as Ari Patu, Ashton Daniels, and true freshman Myles Jackson all should have a chance to prove their worth, but the expected growth that should come from this offense is one that inspires confidence in a player with Lamson's skillset.
Later this week, we'll move through the rest of the positions, looking for Cathedral Stashes at RB, WR, and TE.