As a Michigan fan, the last 20 years have not been kind. They have lost 17 of 19 games against Ohio State, only won four out of the last 14 bowl games, and have not won a Big Ten Title since 2003. Since the loss to Appachalian State in 2007, the Wolverines have been a punching bag and are no longer discussed in the College Football Elite. Let's look at where the program is, what I think of the Jim Harbaugh situation, and if any current players on the team are worth rostering for C2C or Devy leagues.
Michigan – Were They Ever Elite?
Michigan obviously has hit hard times recently, but the number of wins has not changed that much when looking back at their history. From 1971-2007, you can see Michigan and Ohio State are very close. I took out the three years Rich Rodriguez was at Michigan (a 3-year disaster and skews averages) for the recent years. Michigan is only down half a win over this time period, but Ohio State has 2.5 more wins. Michigan has only three seasons of under two losses since 1980, so the range of 2-4 losses is who they really have been. The main difference is that Ohio State is on another level of success, which makes what the Wolverines are looking even worse. Michigan has always been a good team with one special year in 1997, which made expectations higher than they have ever met.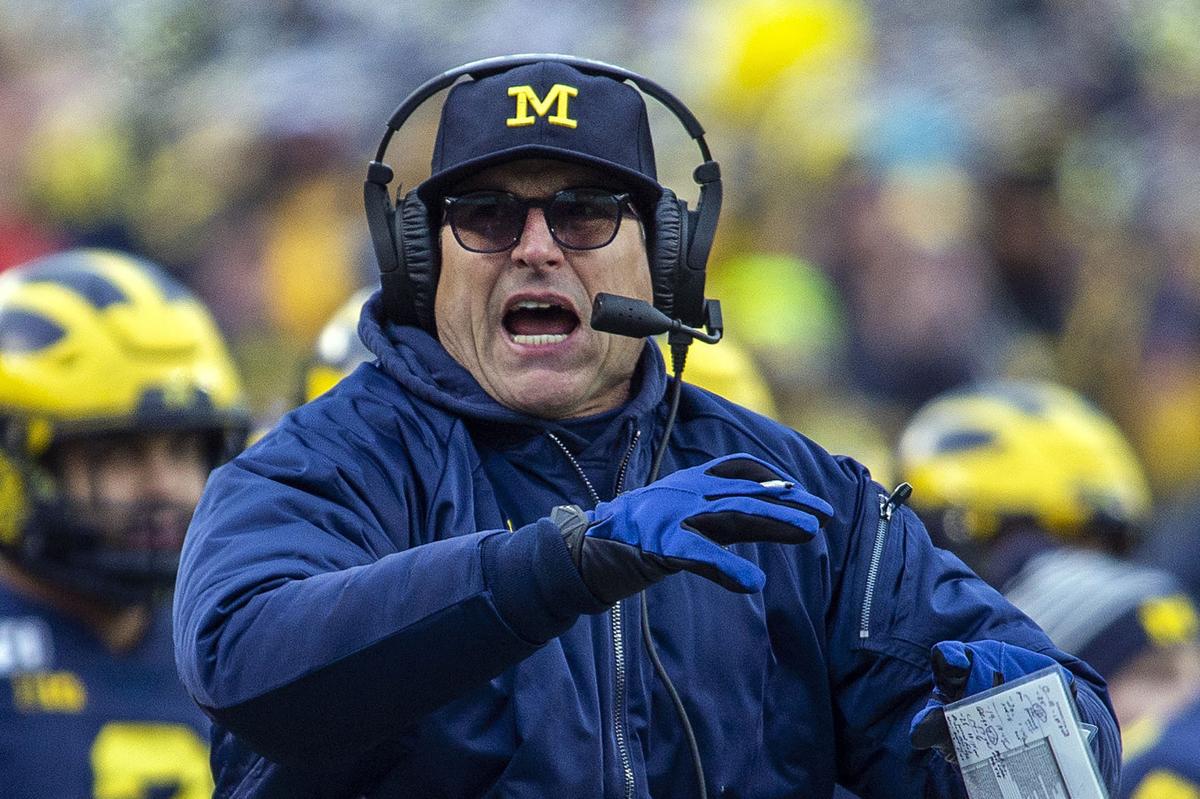 The Harbaugh Era
After the disappointment of Rodriguez and Brady Hoke, it looked like the savior was coming home. The ultimate Michigan Man, Harbaugh, decided to come back to his alma mater, and early on, it looked like he was going to bring Michigan all the way back. Harbaugh was not afraid to poke the mighty SEC with satellite camps in the South to help recruiting. His first year was a strong start, and then in the second year, Michigan came an inch away from taking down Ohio State and a chance at the playoff. In 2018, Harbaugh again had the Wolverines in a good position to win the Big Ten going into the last game, but it was not even close this time.
I think that after the 2018 debacle, the Michigan program and fan base have not recovered. During the 2020 COVID year, everything fell apart for Michigan in a short season. I think that season has blinded some people in what Harbaugh has done at Michigan. By no means has he met expectations, but also he has not done as poorly as people think. In his first five years, his win totals have been ten, ten, eight, ten, and nine, and as you can see below, he is right with some other coaches at big-time programs. Obviously, Fisher has a title, Mullen had fewer resources, and Franklin has won one Big Ten title, but Harbaugh has not been as much of a disaster as the media drives.
Will Harbaugh Turn it Around?
Many were surprised Harbaugh survived 2020, but I was not. He has a reworked deal that is more incentive-based. While losing to Ohio State every year is depressing, the bigger problem is losing to teams like Michigan State that he should beat. Harbaugh has retooled his coaching staff with younger, more fierce recruiters like Mike Hart and Ron Bellamy. This is a move in the right direction to make the team move into the modern era, but it will all come down to developing a QB. Many thought Harbaugh was the QB whisperer from his time at Stanford and the 49ers, but that has not happened in Ann Arbor.
I personally do not see Michigan competing with Ohio State in the near future. So many would say this is Harbaugh's last year, but I don't think so unless he has a five or six loss season. The University of Michigan has a sense of entitlement and arrogance, and they believe they are better than other schools and don't look in the mirror and see something is wrong. The University cares more about the academic reputation than winning at all costs like many elite programs now. Another issue is if the Golden Boy couldn't succeed at Michigan, then who do they bring in next? Many associated with the program think there has to be a Michigan connection, and until they get over that, Harbaugh might be the only and best option.
Devy & C2C Players
Now that we have the doom and gloom out of the way, let's look at some offensive players on Michigan. While they have not been an offensive juggernaut, I still think there is value to be had under Harbaugh.
Quarterbacks
I believe Cade Mcnamara will start in 2021, and he can be an above-average QB. He is smart and can get the ball to the open player and let the athletes make plays. If freshman JJ McCarthy does not play this year, he will take the starting job in 2022. He has more talent and upside, so for NFL talent, he is the better bet. If that happens, I see Mcnamara transferring and starting at another school. McCarthy is the best QB Harbaugh has brought in, but I would not reach too high in C2C drafts for him. He could be a nice stash in the future.
Running Backs
Many had high hopes for Blake Corum in 2020, but the whole offense was a mess, and the RB rotation was confusing. With talented FR Donovan Edwards coming in, I don't see Corum as a lead back, but he will still be involved as they move to a spread offense. I think Corum has more potential in the NFL, so you may have to hold him for the long haul. Edwards is the RB you really want at Michigan, but many have concerns about the offense under Harbaugh. One thing Harbaugh has done well has production from RBs. These are not elite numbers by any means, but also, these RBs were nowhere close to as talented as Edwards, except Charbonnet, as the jury is still out. Edwards could help Michigan finally show the explosion and move its offense from the dark ages.
Wide Receivers
Michigan has some talent at WR, but I am not sure who will come out as the leader, and you probably will not be able to depend on the week to week. But they could still provide value as fliers near the end of a C2C draft or low-cost waivers in your league.
Ronnie Bell: He is a veteran player that is not flashy but is tough and runs good routes. He is more athletic than given credit for.
Cornelius Johnson: Saw more time in 2020 and showed flashes. He has good size and could be another underachieving Michigan WR that sees success in the NFL.
AJ Henning: Henning showed some speed and elusiveness in 2020 and should be more involved in 2021. I think he's moving up the depth chart was one of the reasons Giles Jackson decided to transfer. If they could ever get this spread offense fully installed, he could be exciting to watch.
Roman Wilson: Like Henning, he is talented and athletic and could really thrive if the spread offense at Michigan gets a QB that can distribute the ball to receivers in space.
Where Does Michigan Go From Here?
I think Michigan is firmly a second-tier program, but that will not keep me from being excited about the season. I do think they will bounce back to possibly a 10 win season and probably talk myself into them having a chance against Ohio State. Then they will lay an egg again, and I will go through this same vicious cycle I have endured the last 20 years. Yay, College Football Season!