While it is far too early to make any concrete conclusions regarding prospects, we have a fair amount of evidence to indicate whether a player's value in devy leagues has changed, for better or worse. This will be a bi-weekly series that hopes to give fantasy players a good idea of how the industry views various prospects compared to how they should be ranked at this point. Some you will agree with – others you will vehemently oppose. Frankly, I don't give a damn.
Here is our first edition of the devy stock watch for the 2022 college football season.
Stock Up
Drake Maye – QB – North Carolina
The preseason competition in Chapel Hill between Drake Maye and Jacolby Criswell was heated and came down to the wire. Criswell could start today at several P5 schools; this shows how talented Maye is as a prospect. Through three games, the 6'5″ 220-pounder has averaged over 300 yards through the air and four total touchdowns per game. Maye has excelled when the play breaks down, averaging 53 yards per game and forcing at least three missed tackles in two of his three contests. The most impressive thing about the Myers Park (NC) product is he's not dinking and dunking down the field. He has an adjusted depth of target of 9.8, meaning he's throwing for the sticks practically every time. Considering this is all with a banged-up Josh Downs, those are encouraging statistics. Maye is currently ranked as our 12th-best quarterback for devy. Considering the early struggles of some passers ahead of him, he should be moved up at least a handful of spots.
J.J. McCarthy – QB – Michigan
The Cade McNamara experience was fun while it lasted. Harbaugh is finally serious about playing the QB that elevates the Wolverines' chances at making a playoff run. Despite only throwing a handful of passes so far in 2022, the 6'3″ 196-pounder has a completion percentage of 93.8. His only incompletion came on a dropped pass by Ronnie Bell, meaning the La Grange Park, Illinois product has a perfect adjusted completion percentage. Two of his 12 throws a week ago against Hawaii were considered big-time throws by PFF, and three of his designed runs went for at least 15 yards.
Raheim Sanders – RB – Arkansas
"Rocket" Sanders has, for lack of a better term, rocketed up devy rankings. He has gone from splitting time with Trelon Smith in year one to becoming one of the top running backs eligible for the 2024 draft. The 6'2″ 227-pounder has 266 yards and two touchdowns through two games. He's averaging over six yards per carry and obtaining 59 percent of his rushing yards after first contact. Sanders has forced at least six missed tackles and recorded at least three receptions in both contests. He currently sits as our RB14 for devy purposes and the fifth-ranked running back in his class, but that still feels too low. At the very least, he should be ranked above Michigan's Donovan Edwards, who sits as RB12. If he can maintain this type of efficiency throughout the season, Sanders will force himself into the conversation of being the second-best back in the class behind TreVeyon Henderson.
Chase Brown – RB – Illinois
I've already written about Chase Brown once this year, but it would be ill-mannered of me not to mention him as one of the biggest risers in terms of devy running backs. The 5'11" 205-pounder from Ontario has carried the ball 76 times, amassing 489 yards at a clip of 6.4 yards per carry. Brown has forced 24 missed tackles and has recorded at least six carries of ten or more yards in all three games thus far. Plus, he has caught all five of his targets through the air and has graded out as at least a decent blocker for most of his college career. At this point, I do not doubt that Brown will get drafted this April. If this type of production continues, it'll be sooner rather than later.
Evan Hull – RB – Northwestern
If I told you there was a 5'11" 210-pound B1G running back that has averaged over six yards per touch on 364 career touches and has a 30-catch season under his belt, you would expect him to be at least talked about on the national level. Yet, Hull often goes unconsidered when the conversation turns to draft-eligible running backs, regardless of his inconspicuous production. Through two games, the Maple Grove High School (MN) product has averaged over 90 yards per game and found the endzone twice. He already has seven carries of at least ten yards and has forced six missed tackles in both matchups. He already has 19 receptions on the year and has graded out as an average blocker throughout his career with the Wildcats. Hull is outside our top-100 for running backs in devy and sits at RB77 in C2C format, but I expect that to ascend quickly.
Jalen McMillan – WR – Washington
A few years back, I was writing for a former website and was tasked to write a devy profile article on McMillan coming out of San Joaquin Memorial High School. I saw an advanced route-runner and a dynamic slot weapon at the next level compared to his classmates. I even compared his future usage to another former Husky, Dante Pettis. Despite having almost 40 receptions in 2021, it appears people are only now becoming aware of his talent. The 6'1″ 186-pounder has accumulated 214 receiving yards and three touchdowns with an average depth of target (aDOT) of 15.8, one of the highest among receivers operating primarily out of the slot. He has recorded at least one catch of more than 40 yards in both games and has consistently created separation in the intermediate range. McMillan could end the season as a top 20 devy receiver, and I wouldn't be surprised.
Xavier Restrepo – WR – Miami
Speaking of dynamic slot receivers, Restrepo has improved every year with the Hurricanes and appears to be the go-to guy for Tyler Van Dyke. The 5'10" 195-pounder from Coconut Creek, Florida, has seen 12 targets come his way, almost twice as many as the next two Miami receivers combined. Restrepo's 4.91 yards per route run sits in the top five of FBS receivers with a minimum of ten targets, in the conversation with Marvin Mims and Jordan Addison. He has recorded a PFF grade of 88.2 out of the slot, ranking second in the FBS among receivers with at least ten receptions.
Kris Thornton – WR – James Madison
A former VMI receiver being considered a devy asset? Shoutout to the Keydets. Thornton has been uber-productive since stepping foot on a college campus, albeit against lower-level competition. James Madison's jump from FCS to the Sun Belt has arguably enhanced the Osbourn High School (VA) product's stock more than any other Duke on the roster, as people are finally beginning to appreciate his game on a national level. The 5'8″ 180-pounder has at least 100 yards and a pair of scores in both contests, totaling 247 yards and five touchdowns on the year. Thornton had at least four drops in his last two seasons with the Dukes, so seeing zero drops through two games is a step in the right direction. The volume shouldn't be in question; Thornton has more targets than the next three closest receivers on the team combined. He sits outside of our top 180 receivers in C2C leagues and is unranked among 188 receivers in our devy rankings. That'll change soon.
Dalton Kincaid – TE – Utah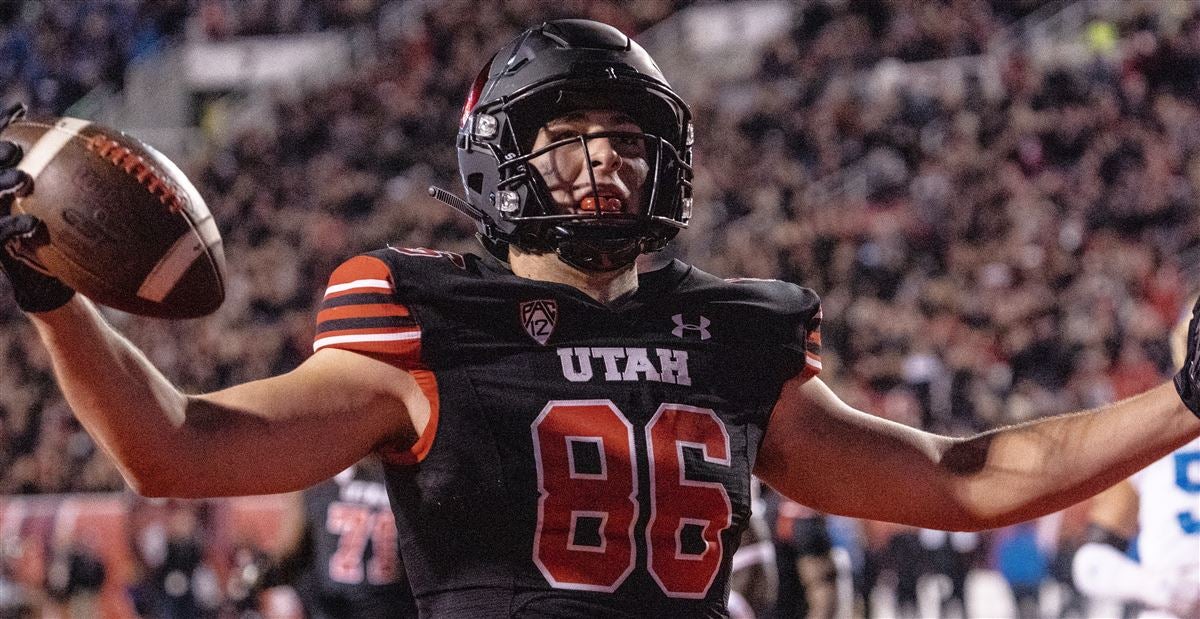 Utah has two tight ends worth monitoring for your devy leagues, and while Brant Kuithe has been the more well-known commodity over the past few seasons, Kincaid deserves his flowers. After recording over 500 receiving yards and eight touchdowns a season ago, the 6'4″ 240-pounder has picked up where he left off. He leads the Utes in receiving yards (136) while finding the endzone on two occasions. Kincaid has graded out as the seventh-best pass blocking grade among tight ends and has run more routes than Kuithe. The Nevada native is currently ranked as our 24th tight end for devy purposes, 12 spots below Kuithe. This gap should be much closer, and in terms of forecasting which player has an easier transition to a traditional tight-end role with fantasy upside at the next level, give me Kincaid.
Stock Down
Tyler Buchner – QB – Notre Dame
Buchner has been a raw prospect for quite some time, as he missed two entire seasons of high school football due to injury and Covid. But let's disregard the AC sprain injury for a second and assume he was still fully healthy. We got a taste of what the 6'1″ 215-pounder could offer last year. An athletic quarterback with mobility to create but needed a ton of development. Maybe he just needs more time. Buchner averaged less than 190 yards per game and had as many turnover-worthy plays as big-time throws (two). This is not the production you want to see, especially from a quarterback that lived in the top ten of most devy rankings through the summer. I could see his value taking a complete nosedive as more people become aware of just how talented Dante Moore is.
DJ Uiagalelei – QB – Clemson
I've seen enough. Uiagalelei's breakout performances against Boston College and Notre Dame feel like a decade ago, and continued promises of a resurgence ever since have been broken time and time again. Yes, he has taken care of the ball, for the most part, this season. Outside of that, I don't see the appeal from a devy point of view if, at best, the 6'4″ 235-pounder becomes a developmental day three draftee. Uiagalelei reminds me of the old jukebox in the corner of your local dive bar. Yes, it can get the job done if you're trying to cut corners, but there are errors you have no idea how to fix and far better options on the market. When will Swinney upgrade the bar? My guess would be soon.
Sam Huard – QB – Washington
Oh, how the mighty have fallen. Once considered a saving grace for the Huskies, Huard has turned into an afterthought after succumbing to the battle for the starting role to back-to-back quarterback transfers. If the staff believed in the 6'2″ 193-pounder's ability to lead the offense, they would at least give them a chance to start. Oh, wait. They did last season, and the Kennedy Catholic High School product threw four interceptions in the Apple Cup. Currently third behind Michael Penix Jr. and Dylan Morris, Huard recorded three dropbacks against Portland State last week. I'm not even sure if Huard is worth rostering at this point. I can MAYBE see the justification for holding on to him in C2C leagues in hopes of a transfer down a G5 school. You might be able to squeeze a few years of production out of him on the college side. In devy formats? I see no purpose in holding on to
LJ Johnson Jr. – RB – Texas A&M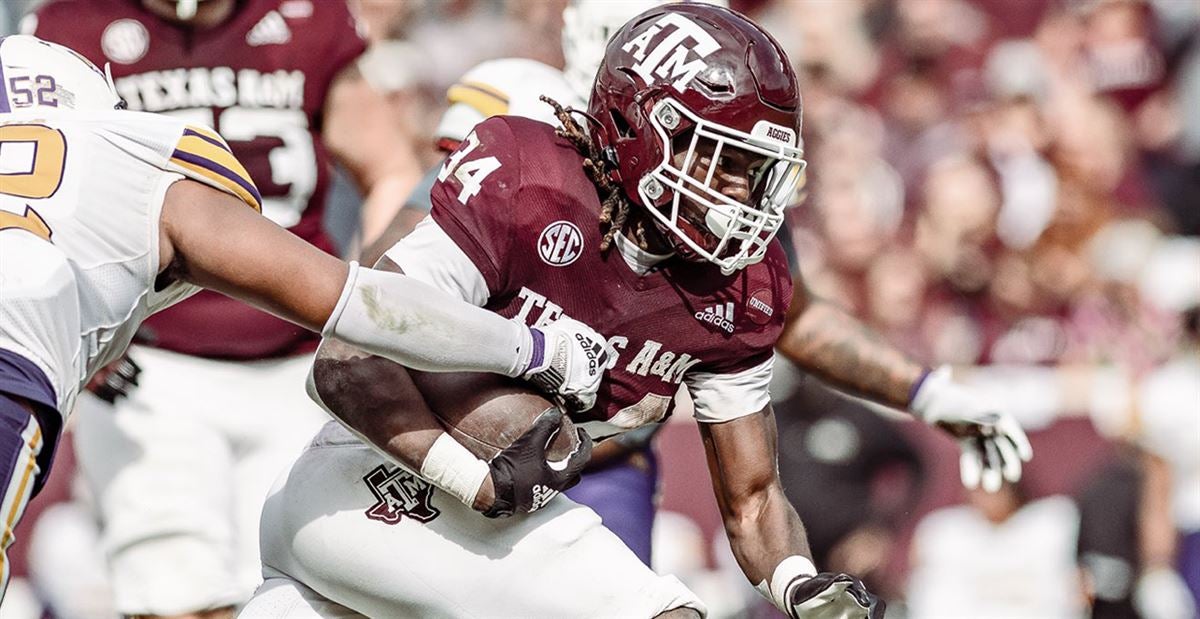 After averaging 3.6 yards per carry as a true freshman, the 5'10" 215-pounder has recorded three snaps so far in 2022. He carried the ball each time and totaled a whopping ten yards. It may seem like I'm shredding him, but I never understood the rationale for Johnson Jr. being consistently ranked as a top 25 asset (currently RB27 in our devy rankings). Yes, I liked the 5'10" 215-pounder's high school tape too. But If we're basing it off potential, why is true freshman Le'Veon Moss, who was also a top-five back in his class, roughly 20 spots lower? Hell, Amari Daniels has been more efficient on similar volume throughout his career in College Station, and we're not even mentioning him as a guy worth monitoring. I just don't get it.
Trevion Cooley – RB – Louisville
Cooley achieved some notoriety going into his freshman season as a three-star sleeper and built on it, averaging six yards per touch and finding the endzone twice. However, the foundation has begun to crumble, as the 5'10" 211-pounder has yet to make an appearance for the Cardinals. The Knightdale, North Carolina, native seems to be sitting fourth on the depth chart, behind Tiyon Evans, Jalen Mitchell, and Jawhar Jordan. From what I've gathered, there doesn't seem to be any notable injury hindering participation either. Currently ranked just inside our top 40 for running backs in devy, I wouldn't be touching that at cost. I smell a transfer and a hefty drop in rankings.
Parker Washington – WR – Penn State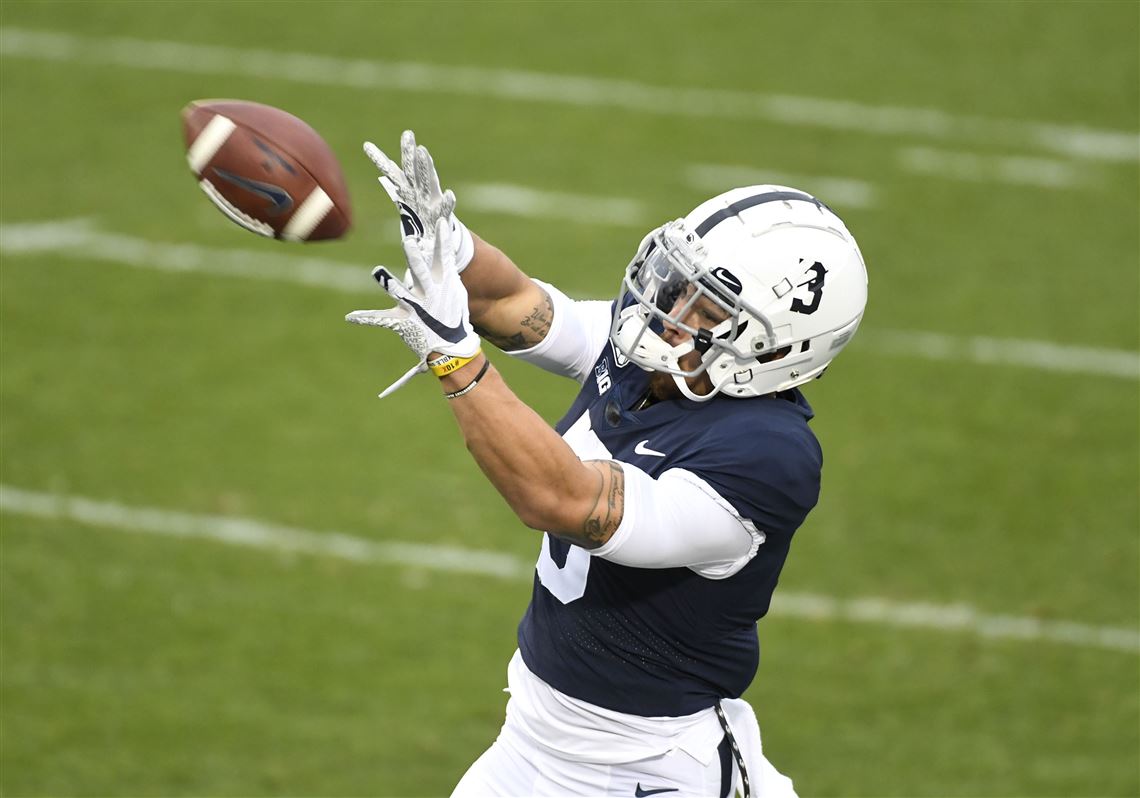 With the departure of Jahan Dotson, expectations were high for Washington entering the season. Unfortunately, forecasting him as a lock to take over as the Nittany Lions' top receiving option seems foolish looking back. The 5'10" 215-pounder is fourth on the team in targets with eight and has only accounted for six receptions for 90 yards through two games, which is fine. Washington seems to be a WR2/WR3 option at the next level at best, which, again, is okay. However, when you currently have the price tag of a top 15 receiver in devy formats, you better produce like a future fantasy-relevant receiver.
Ja'Corey Brooks – WR – Alabama
Despite running the third most routes on the team, Brooks has only managed to receive six targets, capitalizing on three of them. The 6'2″ 196-pounder's three receptions are tied with Cameron Latu, who has only played in one game, for sixth on the team. Having only one more catch than backup tight end Miles Kitselman, who has only run six routes, is a tough look. I believe in the talent, but there's no way you can currently justify him as a top 20 wide receiver in devy.
Gary Bryant Jr. – WR – USC
As a huge fan of Bryant Jr.s' game coming out of Centennial High School (CA), it really pains me to write this. Unfortunately, the ship might have sailed on him. The 5'11" 180-pounder had pretty solid production in 2021, but the transfer portal additions, particularly Mario Williams coming in from Oklahoma, have zapped Bryant Jr.'s potential for significant production this year. It sucks, but he's the odd man out in the Trojans' receiver room. The junior has only received two targets, and while he caught both of them, that type of production isn't particularly eye-popping for a draft-eligible receiver. A good chunk of his upside, at least for me, came from projecting him as an elite-level returner, yet he hasn't even been particularly productive on special teams. Currently ranked as our WR40 for devy, I see that falling off a cliff as the season progresses.
Jaheim Bell – TE – South Carolina
Despite plenty of offseason hype, including various industry mock drafts having him as a potential first-round selection, Bell hasn't shown much through two games. The 6'3″ 232-pounder has received more carries (eleven) than targets (five) and hasn't been too effective with either. According to PFF, Bell has a run blocking grade of 34.6, which ranks literally dead last for tight ends with grades available. I'm not even sure if he's the best tight end on the team. Austin Stogner has been more effective in receiving production and in the run-blocking game. I get the upside with his elite athleticism, but I can name a handful of guys more deserving of being a top ten tight end in devy.