We're four games into the season now, and it's time to see the front runners in the upcoming draft class. I believe this class to be similar to last year, and we're going to see four to five guys going in the first two days of the draft. However, it is a much deeper class with a lot more exciting prospects. I'm going to show stats from this year's gameplay alone and consider their prior years of play. The following are my top guys in this class and in order of who I think has the best chances of early draft capital.
RB1 Breece Hall – Iowa State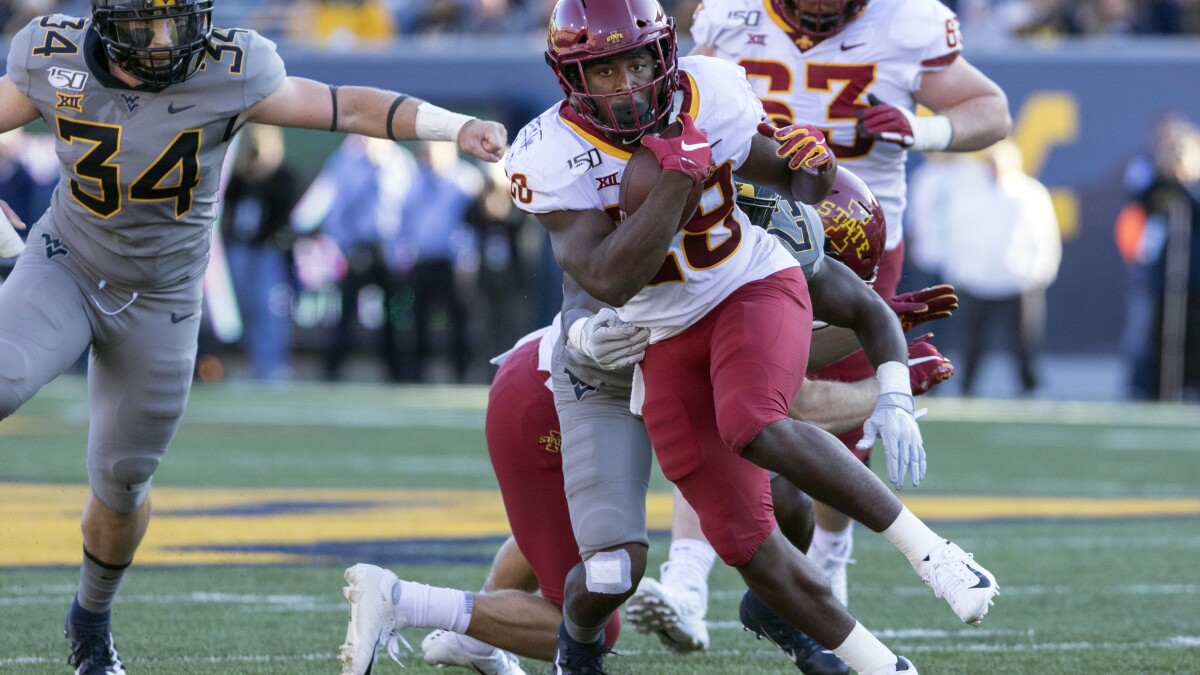 4 Star Recruit
6'1″ / 215Lbs / 20.3yrs
2021 DOM Rating: 45.4%
YPC: 4.9
Target Share: 12.1%
The former Heisman finalist is at the top of my list, and he is continuing his streak of 16 games in a row with a touchdown. He features a tremendous one-stab jab and a lethal dead leg technique that reminds me of prime Le'Veon Bell. It's subtle but he consistently gets defenders to shift weight and bite. He has deceptive speed because he's patient. He waits for his blockers to set up and has excellent vision. Then he picks his lane and kicks into another gear. Hall has a fantastic contact balance. He's constantly moving his feet with great pad level, rarely do we see the first tackler bring him down.
Oh, and during his sophomore Heisman run, he was only 19. I think he runs with more power than his size suggests. He can catch and block too. He's able to snag the ball with one hand with good ball tracking. Hall has great judgment knowing when to beat players with speed, when to cut, and when to look for contact and power through players. I don't have any questions about his game and he should be a first-round RB in this 2022 draft.
RB2 Isaiah Spiller – Texas A&M
4 Star Recruit
6'1″ / 225Lbs / 20.1yrs
2021 DOM: 29.2%
YPC: 8.2
Target Share: 7.7%
Spiller is a big young boy that can move. He's demonstrated the ability to run through people and he can make people miss. Spiller has shown the ability to be elusive for a player his size. He's patient in waiting for his line to open a hole. When the hole does not open, he will initiate contact and push to gain what yards he can. His lateral movement is great for his size but I think he lacks long speed. He has an unofficial 4.50 40 time. I've witnessed a few long runs where DBs will catch up to make the stop.
Spiller can catch and has great contact balance. Spiller has great pad level, does not look for contact, but also is not afraid of it. His judgment in knowing when to change direction and when to use power is uncanny. He knows where to position himself for pass blocking. I love his vision of identifying a hole, and once that hole opens, his vision allows him to extend plays. It's tough to tackle the big guy's jump cut. He's a great all-around back whose speed may cap his upside at the moment but it's hard to find flaws in his game. Spiller should be another round-one RB.
RB3 Tyler Allgeier – BYU
Walk-On
5'11" / 220Lbs
2021 DOM: 25.3%
4.3 YPC
Target Share: 4.5%
Allgeier's production profile was far more impressive the year before this. However, BYU has had a lot of turnover on the roster from last year. The team lost four starting offensive linemen and their QB to the draft. Allgeier has all the mechanics and skills need to be successful at the next level.
At 220 pounds, Allgeier showcases superb burst when hitting the line. He needs to practice more patience and vision in recognizing holes that are closing. He has smooth lateral elusiveness, making guys miss and adjusting his rushing angles with ease. Allgeier is fast, claiming he clocked himself running a 4.39 40-yard time during the off-season. He can quickly execute cuts and adjust angles when running through defenders. He's proven to be a shifty runner and is reasonably slippery through weak tackles. He has great vision in recognizing open lanes to run and open lanes to sit in for receiving. Allgeier doesn't have an extensive receiving production profile, but he's shown he can step up in that role. His production may take a step down this year but I believe he will dominate the combine and catch everyone's eye.
RB4 Rachaad White – ASU
3 Star Recruit (JUCO)
6'2″ / 210Lbs
2021 DOM: 32.4%
YPC: 4.8
Target Share: 21.4%
The 2020 JUCO transfer has claimed the starting role for ASU while he builds off of his explosive 2020 season. White lead the league last year in YPC with 10.0 on only 42 carries. He's put on 15 pounds over the summer to add strength to his tall build.
Size is a concern here, not to many prospects come through at this height. Players like Derrick Henry and Najee Harris are physically strong and I think White has to improve on his level of physical play. He has a great second gear, and some burst. With surprisingly great contact balance for how upright of a runner he is and to his credit, it's hard to have good pad level when you're 6'2". He needs to improve on his pass pro, which can be coached at the next level. White demonstrates lateral agility with his cuts and speed to beat linebackers out wide. I don't see too much of that in this draft class – the ability to produce in between the tackles, outside runs, and as a pass-catcher. White may need to refine his skills, but he's proven production at all levels of the field.
RB5 Zach Charbonnet – UCLA
4 Star Recruit
6'1″ / 220Lbs / 20.7yrs
2021 DOM: 31.1%
YPC: 7.8
Target Share: 11%
The former Michigan transfer is making a big splash for UCLA. Charbonnet looked great as a freshman, followed by a disappointing injured sophomore campaign. After that season, he took his talents to LA to join Chip Kelly and the Bruins.
Charbonnet is built like a power back and runs with great pad level. He uses the off-hand well to protect himself and the ball. He has great decision making skills. Charbonnet follows his blockers, knowing when to cut between defenders. It's impressive when he makes his cuts without losing much speed and taking very little time to get into gear. He keeps his legs churning, and is just an overall violent runner that's hard to bring down. Charbonnet's junior year campaign is revitalizing his collegiate career and giving him a strong chance to take the RB3 spot in this class.
RB6 Kenneth Walker III – Michigan State
3 Star Recruit
5'10" / 206Lbs / 20.9yrs
2021 DOM: 33.4%
YPC: 7.3
Target Share: 2.7%
Walker is lighting college football on fire this size. However, size matters in the NFL, and he's just too small to get significant draft capital. Walker also needs to have more of a presence in the receiving game. At the moment he profiles as a scat back. He will get drafted but he will be put into a committee. Walker lacks the power to drive a pile, but he's been burning teams by going to the outside. He currently leads the league in forced missed tackles with 40. I love watching his jukes and fakes in the open field. He features quick feet and doesn't lose momentum while making defenders miss. Walker wastes no time getting to top acceleration. His overall speed and elusiveness in the open field is elite.
RB7 Chris Rodriguez – Kentucky
3 Star Recruit
5'11" / 224Lbs
2021 DOM: 28.6%
YPC: 6.0
Target Share: 6.5%
Rodriguez falls into the category of big men that can move. He's patient waiting for the hole and then he demonstrates some of the best burst in the class. It's impressive how fast he turns it on before getting through the hole. He needs to secure the ball, with three fumbles on the year so far, only one lost though. He has tremendous straight line speed. However, his lateral agility and elusiveness is lacking. He's better in the passing game than the stats show and makes good adjustments to balls thrown behind him. Rodriguez is elusive in the tackle box and very hard to bring down with his combination of size, speed and power. Overall, he is a very efficient runner that exhibits patience with some fast straight line speed. Rodriguez could find a position as an early down back in a committee.
RB8 Zonovan Knight – NC State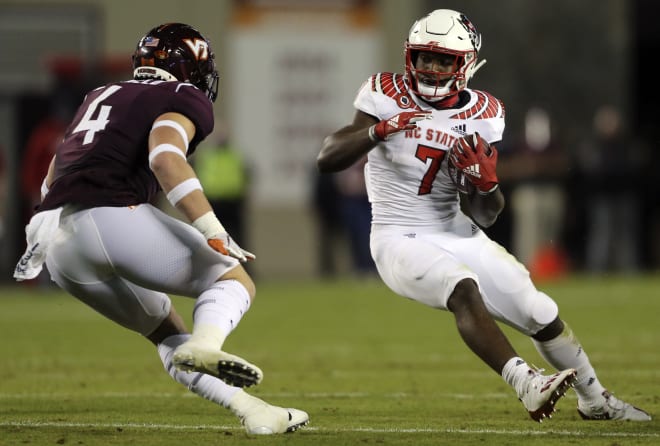 4 Star Recruit
5'11" / 210 Lbs / 20.4
2021 DOM: 17.2%
YPC: 6.5
Target Share: 6.2%
Knight exhibits patience behind the line where he waits for the lane to open rather than plow through the line like a power back. He has great vision and can spot opportunities to extend runs past the second level. This attribute pairs well with his impressive acceleration and lateral agility. Last year, he was top five in forced missed tackles and rarely went down on the first contact. This season, he is coming off of shoulder surgery and it does not appear to slow him down one bit. Knight has shown promise in the receiving game but has not been used extensively in that regard. Hes a willing blocker but needs technique improvement and maybe some added muscle.
RB9 Kyren Williams – Notre Dame
4 Star Recruit
5'9″ / 195Lbs / 21.1yrs
2021 DOM: 27.9%
YPC: 3.8
Target Share: 8.6%
A slow start to the year does not bode well for draft capital, but Williams may be the best pass catching running back coming out this year. Williams was running behind one of the nation's top offensive lines last year and is now behind an entirely new unit.
Williams is too small to gain a workhorse role on Sundays. He's a consistent runner, great at following his blocks and identifying the hole. Williams has great pass-catching ability and speed with some insane lateral quickness. His pass protection for his size is great and his willingness will increase his draft stock. He's not a power back and he does not work through contact well. Williams works best in open space where he has the ability to force tacklers to miss rather than break tackles. When defenders catch him behind the line, he does not have the traits to fight for extra yards to get back to the line.
RB10 CJ Verdell – Oregon
4 Star Recruit
5'8″ / 211Lbs / 22.1yrs
2021 DOM: 27.7%
YPC: 5.6
Target Share: 8%
Verdell has great straightline speed and explosiveness. His vision has improved over the years. especially in the backfield. His pass pro has improved too. He lacks power and is often brought down by the first tackler. He has enough speed to get around the edge and explode upfield along the sideline.
Verdell does a great job following and working off his blockers. Verdell is a capable receiver from the backfield and earns yards after catch with his burst. This is where I believe his value lies. He's too small to be successful in the NFL as a workhorse, but I believe he can be a pass catching back in an committee. Verdell has had some injury concerns in his collegiate career. Im not overly excited about this prospect. I don't see any elite traits and his abilities have reached their peak. He is a great collegiate RB but I do not see the upside in the NFL.