Part 1 is HERE, Part 2 is HERE, and Part 3 is HERE
It's the summer, and the NCAA season is around the corner. Last year I outlined my top 15 heading into the NCAA season and declaring for the 2022 draft. Nine of the fifteen went on to be drafted between days 1-2. This year we adjusted our process a little bit with the expectation of more accurate results. I know I may have alluded to predicting draft cap, but my goal is to predict fantasy success at the next level, and draft cap is the most important piece of the equation. You know what, I'm drinking Kentucky bourbon, so I'm going to give an extra five in a lightning round with no analytics, just a blurb. Before we get started, let me recap the past articles and the process:
Step 1: I start off with analytics; I let them dictate tiers
Step 2: Cut a Hole in a box
Step 3: We put our film analysis in the box and let them dictate ranks within a tier. Film grades include three categories that contain 4-5 subcategories. It is crucial that prospects hit two of the three categories, and those categories are: Receiver play, Technician, and Athleticism. Only obtaining one of the three categories will drop a player outside my top 15.
Step 4: Draft trends that account for my personal bias. Draft trends are not analytics-based. They account for the current flow of how prospects turn out and tend to be small sample size. Trends will adjust those that are ranked close.
I will give my prior preseason ranks along with current ranks so we can get historical accountability of my prior preseason ranks.
WR1 – Kayshon Boutte, LSU
(2021 preseason WR1 – Treylon Burks)
Size: 6'0/190 lbs.
Pedigree: 5-Star / WR2
WDOM: 33.5%
RYPTPA: 2.18
RecMS: 28.64%
AYPTA: 2.51
Early Declare
*Analytics extrapolated due to injury during the sixth game
Boutte is an elite prospect with a high-level pedigree and an analytical hit in every age-adjusted category. He took over his freshmen year when all other options at LSU were off the field. He's going to test decently well as an athlete and runs a full route tree. He's excellent at manipulating defenders at every level of the field. Boutte also offers value in the YAC game. Boutte is a well-rounded and versatile receiver in the upcoming draft with athletics to have a very high ceiling. The only concern is his injury, the nature of the injury is a mystery, but it is either a Lisfranc, Achilles, or ACL. The 2022 season will be telling on how well he recovered.
WR2 – Jaxon Smith-Njigba, OSU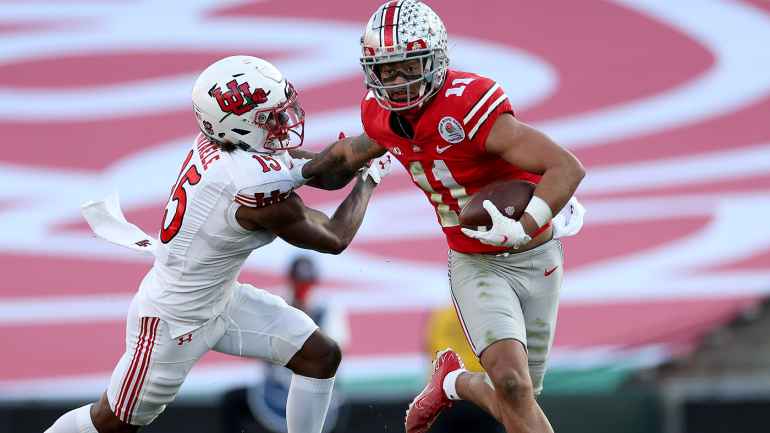 (2021 preseason WR2 – Garrett Wilson)
Size: 6'0/200 lbs.
Pedigree: 4-Star / WR5
wDom: 29.86%
RYPTPA: 3.25
RecMS: 32.43%
AYPTA: 3.5
Early Declare
Similar to Kayshon, JSN is a savvy route runner with some of the best hands in college football. He demonstrated the ability to create separation in all phases of the route. His quickness makes him a threat in the short and intermediate games. He's shown minimal issues in his game, with the only questions coming from an athleticism viewpoint. His athleticism is not a question of his play translating but a question about what his ceiling can actually be. JSN is technically sound and great at overall receiver play, and there is some recency bias in the community with how he played in the bowl game without Wilson and Olave playing. JSN broke records, but he did it playing against a battered defense that was forced to resort to putting a very athletic running back to cover him on defense. Usually, you hear those stories regarding high school football, not college games against ranked teams. JSN did outproduce two other first-round draft cap WRs as a sophomore, and if JSN wanted to opt out today, he would still be a first-round prospect; he's proven enough. JSN is comfortably ranked in my top two, and if Boutte does not show a clean bounce-back year, then JSN will jump him for the WR1 position. As for his ceiling, I believe he immediately becomes one of the greatest possession receivers in the NFL from year 1.
WR3 – Quentin Johnston, TCU
(2021 preseason WR3 – John Metchie III)
Size: 6'4/201lbs
Pedigree: 4-Star/WR14
wDom: 23.57%
RYPTPA: 1.97
RecMS: 21.56%
AYPTP: 1.58
Early Declare
This year's size/speed freak. Production hasn't been great because of missed games here and there, but he's set up very well for his junior season. Quentin Johnson will test extremely well, and if he produces how we project, he will be the premier Alpha in the class with an extremely high ceiling. Johnston's massive catch radius allows him to excel at catching the ball in any situation. He has an enormous catch radius paired with strong hands. Besides his excellent contested catch ability, he's explosive off the line and displays good burst in the short area of the field. Johnston is a YAC monster with his athletic ability, and his size makes him hard to bring down. Johnston needs that breakout season with a clean bill of health.
WR4 – Jermaine Burton, ALA
(2021 preseason WR4 – Chris Olave)
Size: 6'0/200lbs
Pedigree: 4-Star/WR15
wDom: 13.09%
RYPTPA: 1.22
RecMS: 13.16%
AYPTP: 1.04
Early Declare
Burton has this point feels like a player who is a disappointing post-hype sleeper, but he has everything laid out in front of him to succeed. The new Alabama transfer is a stocky, physical player who fights for extra yards. He's versatile with the skill set to line up all over the field and can make plays at every level of the field. Burton is a smooth and sudden route runner, averaging almost 20 yards per catch while in a low passing volume system that favors TEs. Burton is a top-tier athlete with his verified 4.43 40-yard dash, 3.95 second shuttle time, and 39-inch vertical. Athleticism is there, and now he joins an offense with 80% of its receiving offense is now vacant. Burton is set up for a breakout season, he needs to stay healthy, and Bama WR1s get the first-round draft cap.
WR5 – Jordan Addison, USC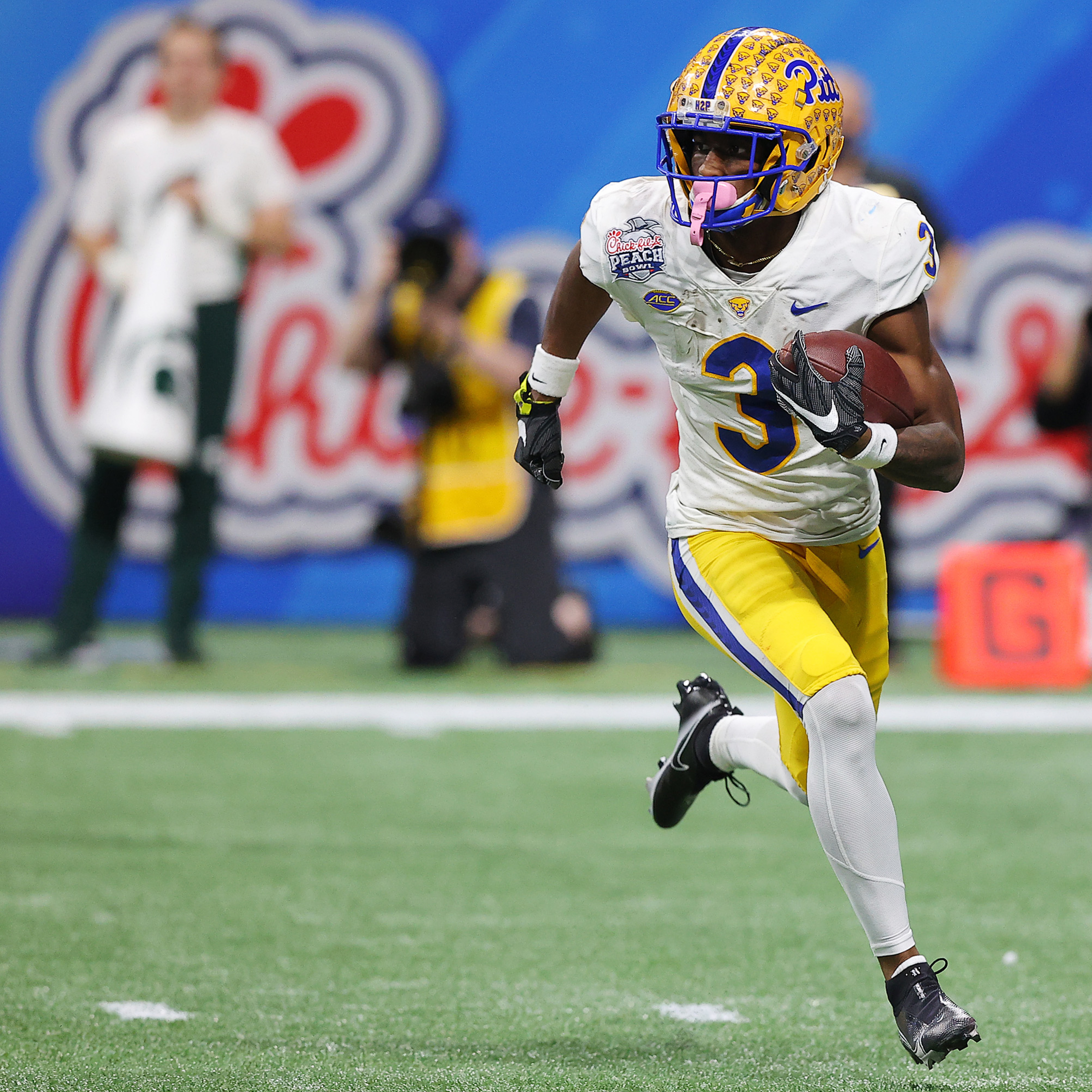 (2021 preseason WR5 – George Pickens)
Size: 6'0/175lbs
Pedigree: 4-Star/ATH10 (~WR44)
wDom: 34.71%
RYPTPA: 2.93
RecMS: 33.73%
AYPTP: 3.03
Early Declare
Jordan Addison's smaller lanky frame is a concern to me. His game revolves around his agility and elusiveness. He saw an increase in usage for his 2021 Biletnikoff season, lining up more out wide and seeing a massive rise in ADOT. He's a very explosive player with a lot to like, but twisting his way out of arm tackles is much easier in the ACC than in the NFL. I am worried about his transition to physical play in the NFL, but that will mostly affect his YAC ability. Addison has no problem getting open. He now transfers to USC with new head coach Lincoln Riley where he will play under another NFL-caliber QB. Addison should be considered another first-round pick with a high level of stats. He has a lot of tools to succeed, but his physical strength is not one of them.
WR6 – Josh Downs, UNC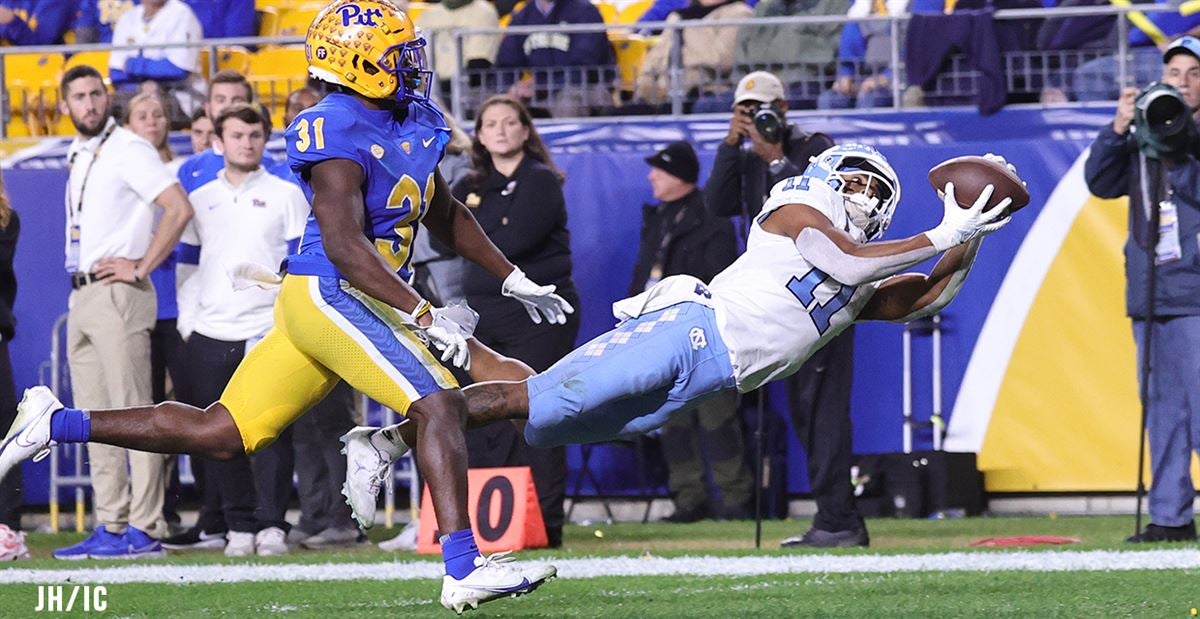 (2021 preseason WR6 – Jahan Dotson)
Size: 5'10/171lbs
Pedigree: 4-Star/WR17
wDom: 38.28%
RYPTPA: 3.49
RecMS: 40.16%
AYPTP: 2.98
Early Declare
Josh Down averaged over seven receptions and over 100 receiving yards per game. His 3.49 RYPTPA and almost 40% WDM in 2021 were at the top of the 2023 class. Downs is extremely elusive in the open field and excels in YAC situations. His explosive and twitchy athleticism resulted in the most yards after the catch in the ACC. His verified 4.47 40-yard dash and 41.9-inch vert also helped him excel down the field, displaying excellent ball-tracking skills and making circus-type catches. Like Jordan Addison, physical play is not a part of his tools, but he excels at everything else. He's an explosive and dynamic weapon that fits in any scheme.
WR7 – Parker Washington, PSU
(2021 preseason WR7 – Justyn Ross)
Size: 5'10 / 212lbs
Pedigree: 4-Star / WR45
wDom: 21.99%
RYPTPA: 1.69
RecMS: 23.49%
AYPTP: 1.79
Early Declare
Parker Washington is a stocky prospect who has some of the greatest hands. He shows solid and plucky hands in a variety of situations and circumstances. Parker is not a sudden or twitchy athlete, and he's a sound technician with a physical play style to be a reliable option and consistent chain mover. He is a top tier in ball tracking and hands, with some YAC ability thanks to contact balance. He showed out in his final game with Jahan Dotson, but WKU transfer Mitchell Tinsley is a player with a fantastic versatile skill set that I believe could push Parker for the WR1 position. If Parker can't beat Mitchell Tinsley, I will seriously question his NFL upside. This is a big year for Parker to make some money or potentially lose it.
WR8 – Konata Mumpfield, Pitt
(2021 preseason WR8 – David Bell)
Size: 6'1 / 180lbs
Pedigree: 3-Star / ATH207 (~WR356)
wDom: 30.64%
RYPTPA: 2.13
RecMS: 28.77%
AYPTP: 1.92
Early Declare
From G5 to P5, I have been very bullish on Konata Mumpfield since his emergence. Mumpfield does a great job controlling his speed and getting in and out of breaks. He utilizes head fakes to sell his routes entirely. Mumpfield has the size to operate from the slot or out wide. He is technically sound and a savvy route runner. He is not an explosive athlete, which limits his open-field ability. There's a reason Mumpfield immediately saw offers from all the top programs such as LSU and USC. Jordan Addison's transfer left a ton of opportunity for Mumpfield. Konata opted out of his first year of eligibility, so his last season was his second. Therefore, he's draft-eligible in 2023. He needs to have a massive season, or I won't expect him to come out this year. Slovis is now his QB, and while I don't believe in Slovis' coming back, I think Mumpfield is the only option in that passing offense.
WR9 – Isaiah Neyor, Texas
(2021 preseason WR9 – Khalil Shakir)
Size: 6'3 / 210lbs
Pedigree: 2-Star / WR385
wDom: 49.21%
RYPTPA: 2.96
RecMS: 41.51%
AYPTP: 2.12
Late Declare – 4th year
Neyor is another G5 to P5 transfer from Wyoming to the University of Texas. Neyor's ball skills are excellent, and he shows good concentration and ball-tracking skills; he never fails in high pointing the ball and attacking with his hands. He routinely catches the ball away from his body and makes good adjustments. His size and frame help him box out, and he has the athleticism to leap over defenders. Neyor is not a burner but has sufficient speed to burn defenders downfield. He lacks release packages at the line but makes up for it with his physical play. Neyor does not have the quickness that will earn him separation, and that is typically not a receiver I want to hang my hat on. I look forward to seeing the improvement by transferring to Texas and hopefully developing his technician side more.
WR10 – Cedric Tillman, Tenn
(2021 preseason WR10 – Romeo Doubs)
Size: 6'3 / 215lbs
Pedigree: 3-Star / WR246
wDom: 33.15%
RYPTPA: 2.88
RecMS: 32.35%
AYPTP: 2.27
Late Declare – 5th year
Tillman has that alpha size and above-average athletic ability. He consistently wins deep against formidable SEC defenses. He has excellent body control and is very physical at the catch point. Using that 6'3" frame, he can box out smaller DBs and work the sideline. As an athlete, I have questions about what his ceiling can be or if he can be a team's new WR1. Tillman's popularity is growing in the Devy community, and I love the size. Still, he needs to be a top-tier athlete if he's going to be lacking in the technician category. He profiles as a jump-ball specialist with decent build-up speed and a good understanding of leveraging angles. I will need to see improvement as a technician this year with route diversity and route deception, or he may drop in rankings. Tillman's skillset right now is just that of a role player in the NFL.
WR11 – Dontayvion Wicks, UVA
(2021 preseason WR11 – Reggie Roberson)
Size: 6'1" / 206lbs
Pedigree: 3-Star / WR88
wDom: 26.26%
RYPTPA: 2.17
RecMS: 25.56%
AYPTP: 2.69
Late Declare – 4th year
Dontayvion Wicks is fluid in and out of his breaks, I wouldn't consider him an elite-level route runner, but he took a big step last season. He's physical and can win at the line with his strength or his release packages. He has deceptive speed and chooses tactfully to run past defenders that close the gap prematurely. When making adjustments, Wicks attacks the ball with his hands and has excellent body control. Wicks is a willing blocker. He needs to improve his after-the-catch ability; he has not shown elusiveness in the open field. Drops have been an issue with his game, but he has shown some improvement. The lack of YAC ability or being a twitchy athlete makes me question his ceiling, but at this point, I'm confident he can be an NFL team's reliable WR2 at the next level.
WR12 – Jacob Cowing, Arizona
(2021 preseason WR12 – Drake London)
Size: 5'11 / 170lbs
Pedigree: 2-Star / WR441
wDom: 40.41%
RYPTPA: 3.7
RecMS: 41.31%
AYPTP: 3.29
Late Declare – 4th year
Cowing transferred from UTEP to Arizona's reformed offense. It's an upgrade across the board but not a big step in competition, so hopefully, he already has some NFL eyes on him at this stage. He is a twitchy explosive athlete who is great at making adjustments. He's had plenty of practice. Cowing is a playmaker when he has the ball in his hands, averaging seven yards after the catch this past season. He's explosive off the line and quick out of his breaks. Size concerns will limit his ability to handle the physical play at the next level, but that is not a part of this game. Cowing is likely destined to be a slot receiver with some explosive ability.
WR13 – Jayden Reed, MSU
(2021 preseason WR13 – Jalen Tolbert)
Size: 6'0 / 185lbs
Pedigree: 3-Star / WR261
wDom: 32.3%
RYPTPA: 2.56
RecMS: 31.11%
AYPTP: 2.37
Late Declare – 5th year
Jayden Reed is decently explosive, not a top-tier athlete but one small step down. He's a playmaker how MSU wants to get the ball in his hands. He has a versatile usage from the return game, to the slot, to playing out wide this past season. He's involved in plays behind the line, and his receiver depth is honestly all over the field. Jayden Reed is a master of none but extremely productive across every facet of the game with an exciting history. Reed transferred to MSU but had to sit for his second year and has led the receiving core since the 2020 season. He's not a gadget player, but he wears a few hats.
WR14 – Marvin Mims, OU
(2021 pre-season WR14 – Jaquarii Roberson)
Size: 5'11 / 180lbs
Pedigree: 4-Star / WR29
wDom: 19.59%
RYPTPA: 1.75
RecMS: 20.58%
AYPTP: 1.67
Early Declare
Mims is an exciting prospect. Early breakout combined with a bit of a sophomore slump and not taking the next step in development. There were a few games of some insane flashy plays with glimpses of elite potential, followed by a disappearing act. Mims now finds himself in a new system but still the clear WR1 in a program that generates talents. He is a fluid mover and quick on the field. He is a limited YAC threat with average long speed, which does not bode well for his size. He's used primarily as a field stretcher and wins the jump ball more than expected. He boasts a versatile skill set by lining primarily outside his freshmen year and switching to the slot his sophomore year. Despite this change, Mims saw an increase in ADOT. Stretch Slot receivers are not typically fantasy-relevant players, with the only success story coming to mind being Marquise Brown. Mims has excellent body control, ball tracking ability, and some sticky hands. Mims's lack of athleticism leads me to believe he will be allocated to the slot at the next level but as a multi-year starter with a safe floor. In 2021 he was in a new system, and I'm looking for him to be more consistently dominant, not just flash a few games during the year but be a weekly go-to option. I'm worried about his ceiling in the NFL and may not be able to separate enough to be considered a weekly fantasy option but a safe floor/flex fill-in type of option.
WR15 – Rakim Jarrett, Maryland
(2022 preseason WR15 – Ty Fryfogle)
Size: 6'0 / 190lbs
Pedigree: 5-Star / WR4
wDom: 20.45%
RYPTPA: 1.7
RecMS: 20.93%
AYPTP: 1.79
Early Declare
I know a few of you seeing this are spitting your coffee out onto your laptop. Let me explain. Rakim Jarrett has every tool to succeed. Receiver play, athletics, technician ability. He has flashed all three on numerous occasions. I can not get over that he did not put it together once Dontay Demus went down last year. Demus, who generated plenty of buzz himself, went down in the Iowa game giving Jarrett weeks to take over as the next clear WR1 in a high-octane passing offense. He didn't, and he failed to take that next step. Maryland is currently trending to being without Demus and allowing Jarrett another opportunity to be the WR1. If Rakim takes that step forward, breaks out, and shows more consistent week-to-week play, he will shoot up my rankings to somewhere between WR6-8. I'm out if he gets lost in the shuffle for another year. Let me re-iterate; he has all the abilities, traits, and skill set to succeed. I need him to show it on Saturdays.
Lightning Round
WR16 – Zay Flowers
Flowers' best attribute is his speed and quick-twitch ability in tight spaces. He's small and not a tackle breaker but is hard to get ahold of with his open-field elusiveness. His change of direction ability is honestly elite. He has separation ability and traits that can't be taught, and his play style can translate. He offers nothing in the physical game and will struggle in contested catch scenarios at the next level. Flowers catches with his body too often and has a few concentration drops because he's too quick to turn up field before fully securing the ball. I currently have an early fourth-round grade on him and believe he will be used as a +role player at the next level, which severely limits his ceiling. He stayed for his fourth year, and I don't see his current skillset improving this year, but he will put up better raw numbers with a healthy season from his QB.
WR17 – Mitchell Tinsley
Tinsley has a great story of transferring from JUCO to WKU to Penn State. Tinsley is a build-up speed athlete who does well in the short game. He is a larger technician with a healthy variety of releases off the line. Tinsley has shown the ability to beat corners and press coverage. While his route tree has been limited but executed with finesse and leads me to believe he's capable of more. He now transfers to one of the most prestigious programs and has been leaving glowing reports. I'm typically not into betting on fifth years, but I may be a believer if Tinsley can overtake Parker Washington and be the 1A in the offense.
WR18 – Donavon Greene
I can't quit Donavon Greene, and If I'm going to whiff on anyone on this list, it's going to be Donavon. Set for a big break in 2021, he suffered from an offseason injury that forced him to miss the season. He has excellent size, and athleticism for days. The last time we saw his route running, it was rough, but we saw him make up for it with superior athleticism. His receiver play isn't the best either, with probably the worst hands in this article. We have no idea how he's improved since the shortened covid season, but he's coming into a top 5 passing volume offense with only AT Perry as competition. I believe Greene can take over and be a 1A in the passing offense. It's extremely unlikely with Perry being a top college producer last year, but I can't quit on the potential just yet. We will find out by Week 4 what is Greene's role in the offense.
WR19 – AT Perry
Perry took over once Greene went down to injury and took over as the WR1 for Wake Forest's top passing offense. He has a lanky frame but some nice height and room to grow out. He doesn't have a lot of wasted movement and is fluid in his routes. Perry does not have quick twitch ability but operates off subtle moves. He's a decent athlete who can be used as an outside large field stretcher. Perry does not often play against high-end defenses, but even against Clemson, he performed well. I would like to see him add more strength to his frame and more versatile usage from just running go routes.
WR20 – Tayvion Robinson
Is Tayvion a better receiver than Wan'Dale? No. No one in that passing offense is taking away receiving work from Tayvion. He should be the featured piece with decent receiver ability. Reliable hands, some open field elusiveness combined with decent athleticism. Tayvion should be putting up high-level numbers while being attached to an SEC offense. He should be a generally safe bet to get draft capital, but I don't think he's a top talent in any category and will find himself as a rotational piece in an NFL offense with no real fantasy upside.
Conclusion
Thanks for reading all these breakdowns and my brief explanations for each player. Pedigree is listed here because that's a factor in the draft cap, and once the NFL draft arrives, it becomes irrelevant. Think of it as a placeholder or a neat tidbit, but it doesn't mean much.
If you think I'm overlooking someone, you can ask me anything from reaching out on the discord or Twitter. There's always going to be a random player or two that slide up and come out of nowhere into the top 10, and a few of these guys may opt to wait another year. I don't have any G5s on my radar this year. They all transferred to a P5 conference. I am pumped about the upcoming season, and this should be a phenomenal class. The updated rankings article will come post-season.