Part 1 is HERE, Part 2 is HERE
As someone who does not have glasses and tests with 20/10 vision, I'm hear to tell you what I look for in players on tape. Watching film is a cliff, its hard to find where to start and even after you find your starting point its numerous adjustments until you finally feel comfortable. For me, I started out by watching other individuals do film breakdowns, internet personalities such as Matt Waldman, Film Nerds, and RayGQue.
I also looked at what style of wide receivers have failed (not been a top 24 hit) in the past. Jump ball receivers are rarely relevant that have a prominent role in every offense but they really aren't chain movers. These players tend to be physically dominant and/or athletically gifted at the college level. Unfortunately for them, every starting corner in the NFL is also physically gifted and athletic. Its hard to be a bully when you upgrade to the top. I'm not saying I'm out on the physically gifted but I need them to have a more versatile skill set. Anyway, I'm going to fast forward through my learning curve and get to where I am now, Categories of Film:
Receiver Play
Technician
Athleticism
There's sub categories for each and we will get into that but the one take away here is that I NEED a prospect to hit two of these three categories. I cant have some combine warrior who is not a good technician or has questionable receiver play.
Receiver Play
This category consists I'm looking for fundamentals along with the potential for growth. I do this by looking into these four categories:
1. Hands
I'm looking for prospects to attack the ball with their hands. In other words, players that wont let the ball get to their bodies. We don't want a prospect to have the football would bounce off their chest, shoulder pads, and ricochet out giving defensive backs the opportunity to force an incompletion or have an interception. A prospects hands need to be up and ready but not giving away that they are the target. We don't want ball snatchers but also don't want guys that telegraph a ball is coming
2. Catch Point
Prospect should be coming to the ball, and keeping the defender away from the ball as much as possible. If possible attack the ball at the highest point. How do they use their frame.
3. Body Control
We're looking for a players ability to stop and start during their route. Receivers, body control comes athletic traits with practicing specific techniques and footwork patterns until they become second nature.
4. Versatility
I prefer prospects that are able to move about the formation compared to being stuck in a single role. The more tools a WR has to be successful, the more roles he can fill on an NFL offense making him an every down player for an Offensive Coordinator. IN this category I'm looking for a player that can play slot, the X, special teams, and gadget plays that can take it out of the back field. If they're stuck to a single role in college, my fear is that will continue in the NFL.
5. YAC
I grade players on their transition to a runner after the catch. Are they shifty in the open field and able to create space? Or can they using angles and their speed well? It's important to me that they finish a play strong, when they get caught that they are able to lower their pad level and fight for the extra couple of yards. I don't mind a player running out of bounds after a first down, but I don't want that to be their prerogative after every catch. I also don't want a prospect that will just catch a ball and fall down.
Technician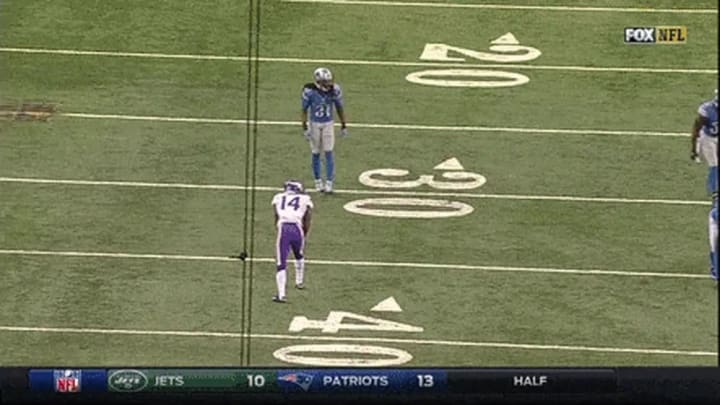 I'm looking for savvy route runners here, prospects that can separate. Which prospects go beyond the basics, and have a full understand of the nuisance to become elite in their craft. we analyze the following category:
1. Footwork
We're looking for quickness in small space here, this will help deal with press coverage and tight route concepts at the NFL level. We don't want wasted movement or extra steps. This will take too much time allowing for defenders to close any space created or for the defense to get to the QB.
2. Play Strength
How the WR wins; competitive toughness is the measure of a players physical and mental desire to leave it all out on the field play after play. This is also known as 'that dawg mentality.' To me this is where I consider who the WR prospects are playing against too. Players pop in this category in they are dominating against top corners expected to garner draft capital.
3. Route Diversity
I'd like prospects that show they can succeed outside of running in a straight line very fast. We want them to be able to route a multitude of routes at a high level letting OCs the freedom of including them in multiple plays.
4. Route deception
My favorite category, how well can these prospects sell a route. Can they manipulate a defender into flipping his hips? Can the prospect perform a double move in a route, or do they lose too much momentum when they start executing maneuvers that hinder them from capitalizing on generated space?
Athleticism
Athletes measured at the combine does not equal bright futures but athlete on the field are dangerous from a raw standpoint. If these players become developed as Technician with sound receiver play than we have a special prospect.
1. Burst
Real simple, the players ability to travel a short distance quickly. Bursty wide receivers tend to excel in the technician category. "Speed is a luxury, quickness is a necessity" – Cooper Kupp.
2. Long Speed
That home run speed. Having speed causes WRs to be on a safety's watchlist. No, I'm not talking about the combine 40 time where they train for months and wear a track suit. I'm talking about pads, with a football in their hands and measuring MPH.
3. Lateral Agility
This is when they have the ball in their hands. We're looking for how well they move from side to side. This should help them in forcing defenders to miss tackles and force defenders to attempt arm tackles
How I Balance Film and Analytics
Real simple, its a 60/40 split with film being the 60 side. My current scale makes it impossible for a player to score a ten in analytics (part 2), but its possible to score a perfect score on the film side. This is where I rank my players to offset deficiencies in my current process. Trends (part 1) with help this process and also where I start tinkering with weighing different options but overall I'm very excited about the adjustments I've made and excited to see.
This is also why call my process a grading scale rather than a "Model" the way many refer to their. I have yet to attempt to weigh or score the trends outlined in part 1. I'm just not at the point where I live or die by my grades, however I feel very close.
Conclusion
I have to emphasize why it's so important to hit two of the three categories. Think of DK Metcalf as a prospect. There was plenty of nay-sayers talking about his terrible three cone and he's just a straight line guy all that. In this film analysis, DK would score well in Athleticism and Receiver Play.  When entering the NFL prospects need to be more refined products. I fine with project players ……in college. Going to need a little bit more transitioning to the NFL.
Generally, I stay away from overly athletic WRs overdrafted because of a combine performance like Denzel Mims, Jalen Reagor, Kadarius Toney, and this years Christian Watson, Tyquan Thorton, and others. The 2/3 helps eliminate the combine warriors that get draft cap but fail to do anything at the NFL.
Honestly, just mentally add that to trends/personal bias category of Part 1 in this series. Some sub-film categories may be weighted differently at different points of my process. This is my film evaluation more or less and stay tuned for the final part in the series, the 2022 Pre-season rankings. Get ahead of your 2023 rookie draft!