In my opinion, Campus2Canton ADP is efficient. However, there are generally players that slip through the cracks. This makes sense, given that it's a relatively new format. Given the lack of information about players and the format, any piece of content can shift ADP, which is simply an effect of the newness and impending growth. Recently, the shifts have been less drastic, but ultimately, with the fast-paced college football news, it will always be that way and appropriately so.
With the acknowledgment of this fast-paced trend, not only does Campus2Canton.com weight their ADP in the tool towards the current month but also some towards previous months to account for this. Despite the weighting, there are still players who have trended too high over the last several months that it's worth re-evaluating our stance on. Let's take a look.
Jalen McMillan, WR, Washington
ADP: 69th Overall (WR25)
Although I'm hoping Colin (@C2CDecker) doesn't read this, I need to voice skepticism around Washington WR Jalen McMillan at his current ADP. A highly touted recruit as 247 Composite's WR11, McMillan has the pedigree to justify this spot. The real issue is production. To be realistic, Washington has been a dumpster fire with Jimmy Lake at the helm since 2020, the whole time McMillan has been there. With a 0.14 Yards Per Team Pass Attempt in 2020 and 1.15 YPTPA in 2021, McMillan has done the bare minimum given his opportunity. Both are underwhelming numbers when projecting NFL production. He has also been close to or outproduced by Rome Odunze through two seasons. Another metric that should provoke a cautious reaction is his 17.9% weighted dominator rating in his best year after a 1.4% in 2020. Both dominator and YPTPA indicate NFL potential better than any other metrics.
The conversation needed around McMillan is whether, through two seasons, we've seen enough to indicate NFL upside. Based on the data, the answer is a resounding no. In fact, a calculation we've been developing at Campus2Canton, Unrealized Fantasy Points, gives Odunze a huge edge. Odunze left 9.0 fantasy points on the table per game, while McMillan has left only 5.7. A lot of this points to each's role in the offense and fantasy upside. This calculation considers unrealized air yards, subtracting yards after the catch and realized air yards but ignoring likely touchdowns.
Despite disliking McMillan, I would be an ignoramus if I didn't at least mention the upside with Kalen DeBoer taking over as head coach. DeBoer, coming from Fresno State, had one of the country's heaviest neutral game script pass rates the last two seasons, at 56.1%, ranking 10th nationally in 2021. I expect this to transfer to Washington under either quarterback Michael Penix or Sam Huard, affecting McMillan and Odunze. This should be a welcome change from Jimmy Lake's 43.3% neutral game script pass rate. Even with the DeBoer factor, McMillan hasn't proved enough to justify his Round 6 ADP in terms of NFL upside in C2C leagues. Even in College Fantasy, the crew at Campus2Canton has him ranked WR46 for the 2022 season.
Tavion Thomas, RB, Utah
ADP: 72nd Overall (RB29)
This is one of the confusing ADPs of the offseason. Tavion Thomas was an incredibly productive player in 2021, with 1,108 rushing yards and 21 touchdowns. Heading into 2021, Thomas was an interesting story. Enrolled initially at Cincinnati in 2018, Thomas went the Junior College route to Independence Community College, ultimately enrolling at Utah for the 2021 season. This means he's class of 2018, heading into the 2022 season, meaning he's a fifth-year player heading into this season.
Let's address the NFL upside first. There is none. Thomas is a player who has been historically inefficient compared to his teammates. Over the course of his career, Thomas is sub -200 Rushing Yards Over Expected. Additionally, Thomas posted a -0.77 Yard Per Carry Over Team. Given the research we've done, it's crucial for a player to be over 0.6 YPCOT to represent any success at the next level. Realistically, you look for better production on the NFL side, especially for a player entering their fourth year. The other concern around Thomas is his lack of receiving upside. Through 25 career games, Thomas has four receptions. At the next level, that simply won't play.
Given that Thomas is an unlikely NFL player, he's simply being drafted for his CFF upside. At an overall ADP of 72 and RB29, it's still a very tough story to sell. Our consensus RB8 in CFF, Thomas still presents more risk than his ranking lets on.
The biggest concern with Thomas is his substantial overperformance in touchdowns. Based on expected touchdowns (yardage per TD over the entire FBS landscape), Thomas led running backs, scoring 10.9 more touchdowns than expected. There is a real and legitimate case that Thomas fails to exceed expectations in the same way this season, resulting in substantial underperformance. Given his ADP, the risk of this happening is not baked in. Pushing my chips in on Thomas at the end of Round 6 is one of the riskiest yet least upside plays you can make in this range. Avoid at all costs.
Mohamed Ibrahim, RB, Minnesota
ADP: 92nd Overall (RB37)
I love the C2C format, audience, and contributors. It's the most unique, immersive, and challenging format in the fantasy space. Mohamed Ibrahim going 92nd overall challenges this notion. Okay…maybe that's harsh…But it needs to be said. This is the worst ADP in Campus2Canton drafts right now. I will call y'all out here, so consider this a Public Service Announcement.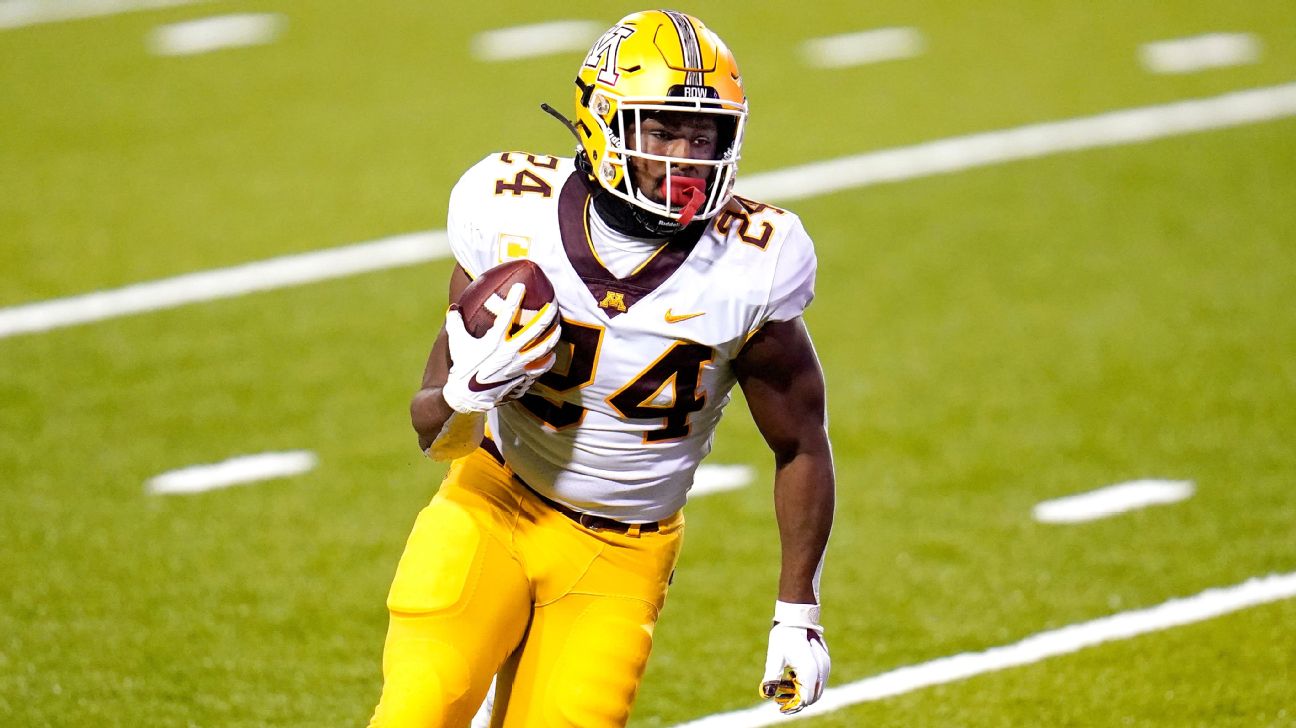 Where to start? I think the Achilles injury is probably a good place. I'm traditionally skeptical of people pronouncing Achilles injuries as a death sentence for RBs since we simply haven't seen enough to confirm this. However, that shouldn't minimize its role in a players' explosiveness the following season. Ibrahim, a player who has traditionally never been explosive in the context of the Minnesota offense, is someone who could be worse off than average with this injury. It's concerning and not factored into his current price point. Ibrahim will be a fifth-year player in 2022, coming off an Achilles injury. Going top 100 in C2C drafts is not only a misallocation of resources, but I would go so far as to call it egregious.
The injury clouds any projection for Ibrahim this season. Minnesota head coach PJ Fleck said Ibrahim won't be involved in padded practice until the fall. This questions the recovery timeline, making it questionable whether we'll see Ibrahim be fully healthy by Week 1. To be an optimist, let's say he is. Even if that's the case, I would expect Minnesota to play it safe and/or distribute touches among the other backs on the roster, including Mar'Keise Irving and Treyson Potts. To underscore this point, the CFF team has Ibrahim as their RB31. I know this is dramatic, but I believe Ibrahim is the single worst pick at ADP in March 2022. I simply don't get it.