Week four of the college football season is in the books. There have already been a fair amount of true freshmen playmakers proving to be legitimate contributors to their team's offense. Many were highly-touted prospects and regarded to have immediate roles from day one. Others have even shocked the staff at Campus2Canton with their ability to perform at a young age when the lights were brightest.
Without further ado, here are Campus2Canton's Freshmen of the Week for week four.
Quarterback: Zach Wilcke – Southern Miss
Starting up with a Sun Belt quarterback? I've seen stranger things. Wilcke threw for 194 yards and two touchdowns in the Golden Eagles' 27-24 victory over Tulane. Considering the two drops by his receivers, the 6'3″ 205-pounder had an adjusted completion percentage of 82.6. Evident by an average depth of target (aDOT) of 6.9 yards, Wilcke feasted in the short game. He got the ball out to his playmakers early, allowing them to make plays in the open field. However, the Hernando, Mississippi native did have some nice throws pushing the ball down the field. He dropped one perfectly into double coverage to Jason Brownlee early in the fourth quarter. Head coach Will Hall announced that Wilcke has "solidified" the starting job for the Golden Eagles, passing Ty Keyes on the depth chart.
Running Back: Jaydn Ott – Cal
I've mentioned in prior Freshmen of the Week articles I try my best not to duplicate players from week to week. I really do. I try to consider as many players across the college football landscape as possible. Despite already mentioning Ott's name a few times this year, I wouldn't feel right not including him this week. The 6'0″ 205-pounder played a pivotal role in the Golden Bears' 49-31 win over Arizona on Homecoming night. It was the first win for the Golden Bears against the Wildcats since 2009. Ott ran for 264 yards on the ground and three touchdowns, forcing 12 missed tackles and recording the most rushing yards for a Cal running back since Jahvid Best in 2008. The Norco High School (CA) product had four runs of at least 15 yards and two 70-plus yard touchdown runs, including a 73-yarder on the second play from scrimmage. Ott has skyrocketed up fantasy rankings of all formats. He has a legitimate chance of being a top-three back in his class by year's end.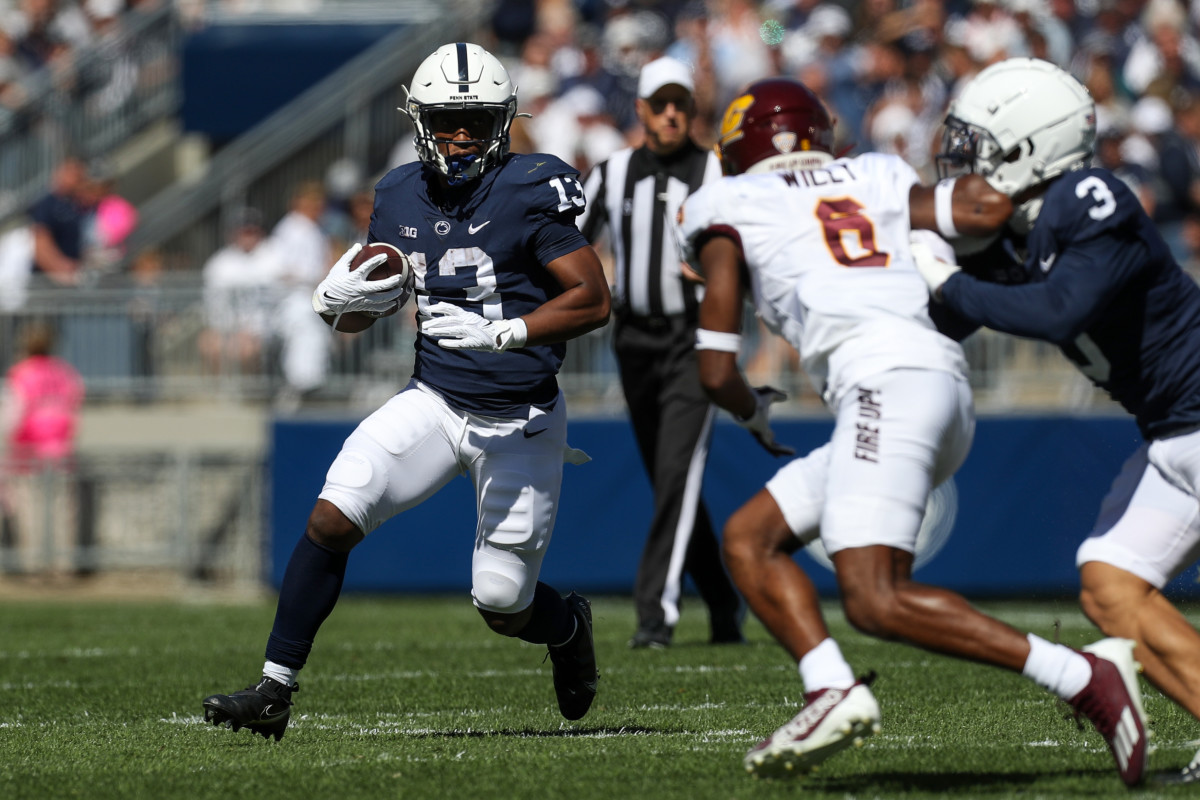 Running Back: Kaytron Allen – Penn State
Allen must have been paying attention to all of the talking heads at Campus2Canton praising his running mate, Nicholas Singleton, over the last few weeks (really, months) and had to remind us that he was an impressive prospect in his own right. The IMG Academy product carried the ball 13 times for 111 yards and one touchdown last week. He racked up over 3.5 yards after contact per carry and forced seven missed tackles en route to the Nittany Lions' 33-14 victory over Central Michigan. Want a crazy tidbit of information? The 5'11" 201-pounder has averaged over six yards per carry and has yet to lose a yard on any of his 36 carries. I tweeted a few days ago that this isn't a Noah Cain/Devyn Ford or Keyvone Lee/Caziah Holmes situation for the Nittany Lions. You don't need to talk yourself into both these young backs being future NFL draft picks. They are.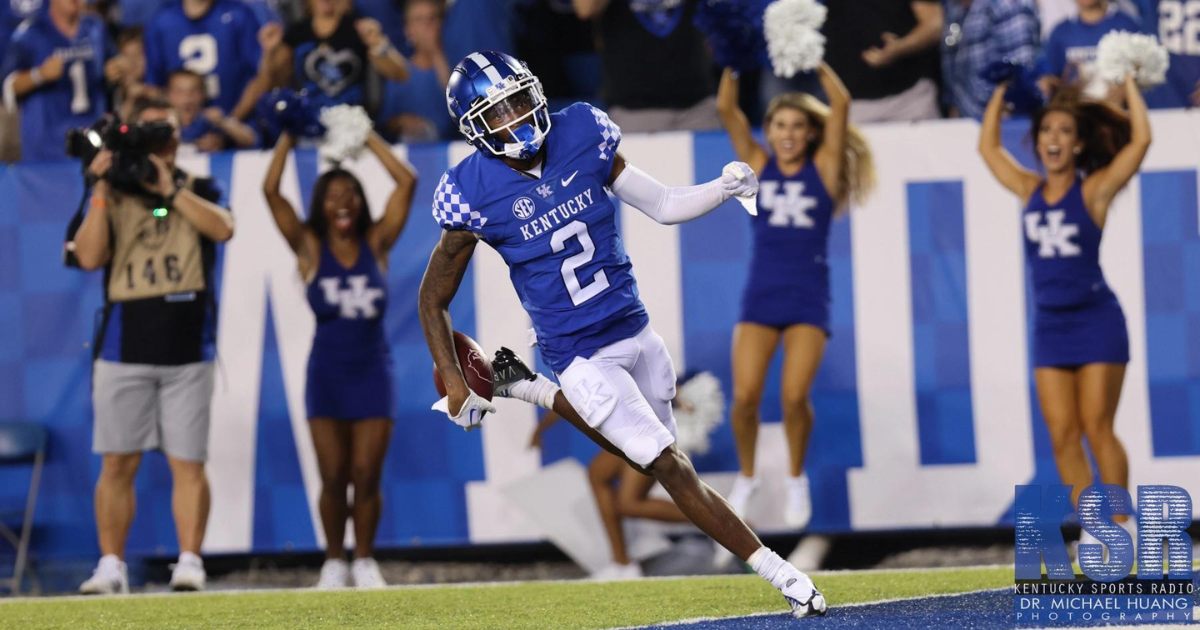 Wide Receiver: Barion Brown – Kentucky
At this point, you may think I'm lying about trying my best not to include past inclusions. Brown was another player that I wouldn't feel ethically right not recognizing. In Kentucky's win over Northern Illinois, the 6'1″ 166-pounder caught four of his five targets for 102 yards and two touchdowns, averaging over 25 yards per reception. This was the first 100-yard game of Brown's career. It was the most receiving yards in a game by a Kentucky freshman pass-catcher since Garrett Johnson in 2014. In fantasy formats, it's just a matter of preference when comparing Brown to his freshman teammate, Dane Key, as both have shown they can produce at a high level. Key might have a higher floor as a prospect. Brown is your guy if you are looking for explosive game-changing plays.
Wide Receiver: Tetairoa McMillan – Arizona
McMillan does not look like a freshman at first glance. In the Wildcats' loss to Cal, the 6'5″ 205-pounder caught four of his seven targets for 77 yards. He had a 24-yard touchdown where he skyrocketed over a defensive back on a corner route to put Arizona up 20-14 in the second quarter. He is third on the team in targets (28), but despite not dropping a pass all year, only 39 percent of his targets have resulted in a completion. McMillan has an aDOT of 19.3 yards, which is second among Power 5 receivers with at least 20 targets behind Texas' Xavier Worthy. If quarterback Jayden de Laura can start hitting the Servite High School (CA) product on these deep shots, or at least giving him a chance, we should see a significant jump in production for the former four-star prospect.
Tight End: Harold Fannin Jr. – Bowling Green
In his first career start for the Falcons, Fannin Jr. was targeted seven times, catching five passes for 49 yards and a five-yard touchdown in the fourth quarter against Mississippi State. It remains to be seen whether or not the 6'4″ 230-pounder will be a meaningful part of Bowling Green's offense going forward, as the Canton, Ohio product only had one target going into week four. At the very least, Fannin Jr. is a name to monitor when midweek MACtion rolls around in a few weeks.
Quick Hitters
Auburn quarterback Holden Geriner made his Tigers debut against Missouri, playing a few series when Robby Ashford was being evaluated with an arm injury. Too small of a sample size to really take anything from it; the 6'3″ 206-pounder only played nine snaps, handing the ball off four times and getting sacked on two of his five dropbacks. He did, however, complete two of his three pass attempts, but his sole incompletion was an ugly throw behind the line of scrimmage for a five-yard loss. We'll see with Geriner.
Ironically, Colorado decided to make their matchup with UCLA a 'Gold Rush' game, and the blue and gold ran all over Folsom Field en route to a 45-17 victory. Still, you know I love my bloodlines. Quarterback Owen McCown became the first first-year quarterback to start for the Buffaloes since Sefo Liufau in 2013 (talk about a trip down memory lane). Son of NFL veteran quarterback Josh McCown, the 6'2″ 175-pounder completed over 61 percent of his passes and scored a touchdown through the air and on the ground. Yes, he had an interception, a fumble, and six other turnover-worthy plays, but… bloodlines.
Is Quinshon Judkins the best running back prospect in Oxford? As far-fetched as it seems, I believe it's a question worth pondering. The 5'11" 210-pounder carried the ball 28 times in the Rebels' win over Tulsa, totaling 140 yards and two touchdowns. Since Judkins proved effective in the debut, the freshman has out-snapped Zach Evans 114-to-68 and has almost three times as many forced missed tackles over the last three weeks. Granted, Evans was banged up last weekend, and blowout victories favor getting the youth involved. Still, from a purely statistical standpoint, Judkins has been much more valuable to Ole Miss' 4-0 start. Just think about it.
Another day, another 100-yard game for West Virginia running back CJ Donaldson. That makes three in the first four games of his career. Continue to move him up your ranks.
It was nice to see Jamarion Miller break a few nice runs in Alabama's 55-3 dismantling of Vanderbilt. The 5'10" 201-pounder saw the field for 15 snaps, carrying the ball nine times for 63 yards and two touchdowns, one of which was a 40-yarder late in the fourth quarter, where the freshman forced three missed tackles. It's a small sample size, but Miller has averaged almost nine yards per carry over the last two weeks and has broken off four runs of at least ten yards. Be patient with your shares.
I mentioned NC State running back Michael Allen as a potential stash candidate in my ACC Atlantic preview article after his name popped up a handful of times in camp reports. With Jordan Houston out and Demie Sumo-Karngbaye leaving last week's game against UConn with an injury, we got our first look at the 5'9″ 203-pounder. Three of Allen's ten carries went for at least ten yards, ending the game with 66 yards and three forced missed tackles. Houston and Sumo-Karngbaye are expected to be back next week, so he's likely relegated back to the bench. I'm still stashing him if I can.
Texas A&M wide receiver Evan Stewart scored his first touchdown in an Aggies' uniform in a 23-21 win over Arkansas in the Southwest Classic. After missing last week's game against Miami for a violation of team rules, the 5'11" 170-pounder reeled in three of his seven targets, totaling 36 yards and the aforementioned ten-yard score. Stewart has seen at least seven targets in all three games he has appeared in this year, and it will be interesting to see how Ainias Smith's injury affects the freshman's volume going forward. Will we see Stewart move around the formation more and become a complete target vacuum, or will Yulkeith Brown take over the slot duties and get more involved? We will see next week in Starkville.
To keep the College Station theme going, tight end Donovan Green had the best performance of his short career last week, recording three receptions for 50 yards in the victory. Going into the season, many pundits believed the Aggies' tight end to own in fantasy was Jake Johnson, the top-rated tight end recruit and brother of quarterback Max Johnson. Yet, the 6'4″ 235-pounder has been the one seeing the bulk of the snaps, making the most of his targets. Just something to monitor, as he could also be a surprising beneficiary of the Smith injury.
Matthew Golden scored a 19-yard touchdown on a tunnel screen in the first quarter of Houston's 34-27 victory over Rice. The 6'0″ 190-pounder ended the night with four receptions and 49 yards, 34 of which came after the catch. Golden has been one of Clayton Tune's primary options in the passing game, as he is second in targets (19) and touchdowns (2) behind Nathaniel Dell. The Klein Cain (TX) product is already widely considered a top-ten devy receiver in his class but moves closer to top-5 territory with each passing week.
Tulane tight end Alex Bauman landed on the stat sheet for the first time in his young career, catching all four of his targets for 57 yards. The 6'4″ 225-pounder is the brother of Notre Dame tight end Kevin Bauman.