I know a lot of readers like to skim right through the article, so please read this line before you skip to the rest of the article. This is not a strong WR class.
During this preview, I will analyze metrics as well as production profiles and film. I will go into the top 15 and do a lightning round with a bit of a fun twist at the end. I will be throwing in some background info:
Size – As listed on a school website
Age – Digging for DOBs, I will clearly mark some that are assumptions
Years removed from HS – This is how NFL Draft eligibility works; you need to be three years removed from Highschool to early declare for the NFL draft
Weighted Dominator Ratings – I know there are a few advanced metrics that could be used, but I just wanted to show the readers how much of an offense each player accounted for and not overload the reader with a bunch of numbers.
Competition

Internal – I think it's important to show those prospects that are hyperproductive while competing against other top NFL prospects. I do not consider players that have as less than an early day three grade as internal competition.
External – we all know Power 5 conferences (soon to be Power 4) have better defenses than the G5. Succeeding against SEC corners matters far more than succeeding against MAC corners.

Projections – this is my current assumed NFL draft grade, we have a whole season ahead of us, and things can change.
WR1 – Marvin Harrison Jr. – Ohio State
Measurables
6'4″ / 205 lbs. / 21.0 yrs
wDOM: 32.72%
3rd year
Competition

Internal: Emeka Egbuka
External: Big Ten

Early Draft Projection: Early 1st
Marvin Harrion Jr. (MHJ) is the perfect combination of physicality, athleticism, ball skills, and refinement. He's excellent in every phase of the route. He possesses a great release, and he can beat press coverage. Harrison gets to top speed quickly. He runs a full route and can sell a car to an Autobot. He's physical at the catch point and shows consistency to win the 50/50 ball with physicality. Harrison shows strong hands and knows how to box out defenders.
The area of improvement in his game is his YAC ability. He's not exactly a catch-and-fall-down type of player, but for a player his size and someone that dominates at the catch point. Harrison should be able to break tackles more often than he does. He is listed at 6'4″, although through photos of him next to Quentin Johnston (verified 6'2.7) and MHJ is shorter, I believe he's closer to 6'2″.
The only concern for the upcoming season is the turnover at QB and the mystery of Kyle McCord, and if he's able to push the ball downfield as well as CJ Stroud did the year before. MHJ is the type of player that can sit out the year and still be a top-10 pick in this year's NFL draft.
WR2 – Emeka Egbuka – Ohio State
Measurables
6'1″ / 206 lbs. / 20.8yrs
wDOM: 28.51%
3rd year
Competition

Internal: Marvin Harrison Jr.
External: Big Ten

Early Draft Projection: 1st Round
Egbuka has a ton of similarities in his game with his teammate MHJ. They're similar-level route runners, great at the line, and both very good manipulators in their routes. The one difference is that Egbuka works primarily from the slot (67.8% of snaps) and has an exceptional YAC skillset.
Egbuka's main weakness is his athleticism. It's not on the same scale as MHJ, though. He might not be a top-percentile athlete, but he is one of the most refined in this draft class. He's a natural mover behind the line and during his routes and a gritty runner after the catch posting 7.1 yards after contact. Egbuka operated more in the shallow depths / intermediate area of the field and was rarely asked to be a downfield target. He profiles primarily as a slot possession-style WR.
WR3 – Malik Nabers – LSU

Measurables
6'0″ / 200 lbs. / 20 years
wDOM: 24.19%
3rd year
Competition

Internal: None
External: SEC

Early Draft Projection: Mid-1st – Top 50
Nabers stepped out of Kayshon Boutte's shadow last season with a huge breakout performance. Nabers has an excellent build to go along with a high school verified 4.4 40 yd and 38″ vert. He's a phenomenal route runner with great footwork. He has versatility in showing success being lined up inside and outside.
Nabers is a bit of a mystery when it comes to dealing with press coverage, and he just didn't see it too often. Nabers is also a mystery in how well he can operate as a downfield because of quarterback limitations but looked great with Garrett Nussmeier, a QB not afraid to challenge deep, who came in late in the season. LSU currently operates a short area, first read or run type of system with their dual-threat QB Jaylen Daniels.
Nabers is a great YAC threat and playmaker with the ball. Although the jury is still out on some aspects of his game, I don't doubt those flashes we've seen can become a constant.
WR4 – Xavier Worthy – Texas
Measurables
6'1″ / 172 lbs. / 20.2yrs
wDOM: 27.56%
3rd year
Competition

Internal: AD Mitchell
External: Big12

Early Draft Projection: 2nd
Worthy is a speedy deep threat with some sneaky route-running abilities. He's got elite NFL athletism with great footwork. Worthy has a very thin frame and won't excel at the physical component of being a wide receiver. He profiles has a very elite stretcher with a similar profile to Will Fuller V.
Worthy has two seasons showing an issue with drops, and even during the off-season, I'm hearing reports of issues with drops. He needs to clean up those hands. Worthy is a constant threat deep than garners safeties to always account for where he is on the field. He may not possess a versatile skillset to be used all over the field, but he is very elite in the role that he plays.
WR5 – Devontez "Tez" Walker – UNC
Measurables
6'2.5″/ 200 lbs. / 22.2 yrs
wDOM: 41.48%
5th year
Competition

Internal: None
External: ACC

Early Draft Projection: 2nd – Early 3rd
Walker has a scenic route to stardom. In 2018, he was committed to East Carolina but decommitted after a coaching change. Over the summer of 2018, he tore his ACL, so he sat out of college in 2019 while rehabbing his knee and worked at Bojangles in Charlotte.
In 2020, he enrolled in NC Central, but the season was canceled due to Covid. In 2021, he transferred to Kent State and played sparingly until the end of the season in his first true season. In 2022, he blew up at Kent State. He had respectable receiving lines against P5 competition, including Georgia, the school that specializes in recruiting these ultra athletes.
Tez has a lot of refinement needed in his game; he's currently an alpha-sized athlete that, when schemed in space, is very deadly. He is now paired with Heismen hopeful and likely top-five NFL pick QB Drake Maye. Without much internal competition for touches, Tez's insane level of production should continue. I'm not in the business of promoting older prospects but Tez profiles as a similar prospect as Christian Watson, current WR1 for the Green Bay Packers, but with better hands.
WR6 – Malik Benson – Alabama
Measurables
6'1″/ 185 lbs. / 20.8yrs
wDOM: 38.23%
3rd year
Competition

Internal: Isaiah Bond
External: SEC

Early Draft Projection: Mid-2nd – 3rd
Benson joins a very ambiguous WR room at Alabama, and it's an offense that's going through a bit of an identity crisis, with many signs pointing to becoming a run-heavy offense.
Benson is a JUCO transfer that has dominated since his true freshmen season. This is a massive jump in competition, with adjustment to game speed being a concern, and also the inexperience of the QBs throwing the ball. This is by far a projection, and if this offense goes run-heavy, Benson may not develop the production profile necessary to garner NFL attention.
Benson, as a player, is a top-tier athlete with top-tier short-area quickness. He's a home run threat if he's found in space and has the flexibility to develop into a route runner. Benson has the tools to develop into a phenomenal route runner at the next level, but Alabama needs to find its identity.
WR7 – Troy Franklin – Oregon
Measurables
6'3″ / 178 lbs. / 20.7yrs
wDOM: 25.25%
3rd year
Competition

Internal: None
External: PAC-12

Early Draft Projection: Late 2nd – 3rd
Franklin has always been a tough eval. He had a tremendous breakout last season. He was consistent at the catch point and winning 50/50 ball, even though he has a very slender frame. Franklin has some of the best ball skills in this class. He's a straight-line route runner that excels at using deceptive speed to draw in defenders before winning with a burst to get separation late in the route. I currently view his skill set as almost one-dimensional.
Although he wins 50/50 balls against Pac-12 competition, I don't see him being able to do that at the next level. His production profile has massive holes, with seven games with less than 52 receiving yards. In fact, about 50% of his production came from 3 games. Franklin was very boom or bust, and when watching his performances, I found that defenses did not have a hard time shutting him down through press coverage or a bit of safety help over top. Franklin's playstyle is not one we've seen in the NFL, haven't seen it succeed or fail, and he's just a very unique player.
In 2023, I am looking for more in-breaking routes. He has the height/frame of an alpha X-receiver, but his play style does not match. I don't believe he can put on the muscle and change his mindset, so I hope this off-season, he has focused on technical route running improvement. I am not out on Franklin being productive at the next level, but I fear the ceiling is to be a team's WR2 rather than its featured receiving option.
WR8 – Rome Odunze – Washington
Measurables
6'3″ / 215 lbs. / 21.2 yrs
wDOM: 23.43%
4th year
Competition

Internal: Jalen McMillan
External: PAC-12

Early Draft Projection: Late 2nd – 3rd
Reports from the spring have Odunze putting on weight for the upcoming season, but I wanted to note that her played at 205 during his junior year campaign. Odunze played primarily as the X in this offense.
For his size, he has excellent footwork and is a good measured athlete when it comes to testing. He has excellent ball skills and does a very good job selling go-routes. He does have a lack of burst in the short area and is a build-up speed runner.
Odunze has inconsistent ball skills; he does attack the ball but is prone to waiting for it to come to him. He is also slow to transition to a runner after the catch, often stopping his feet and bracing for contact from the first defender. Odunze gets away with it from poor tackling techniques in the Pac-12. But once that ball is in his hands, he needs to keep his feet moving. Rome won't win a 1v1 with technical ability and can beat press coverage, but I wouldn't describe him as a physical bully. I'm watching for this added weight to help Odunze win in the traditional alpha x-receiver playstyle.
Odunze's current skillset feels like a player with alpha size, trying to develop into a savvy route runner. He's a bit stiff in the hips to take that route, I would much rather he develops his physical frame and show more toughness. His production profile has some holes. While he was an elite producer early in the 2022 season, his teammate, Jalen McMillan, became the more productive WR during the second half of the season. Odunze doesn't profile to be the lead WR in an NFL offense, but I'm confident we see him play on Sundays in some capacity.
WR9 – Jalen McMillan – Washington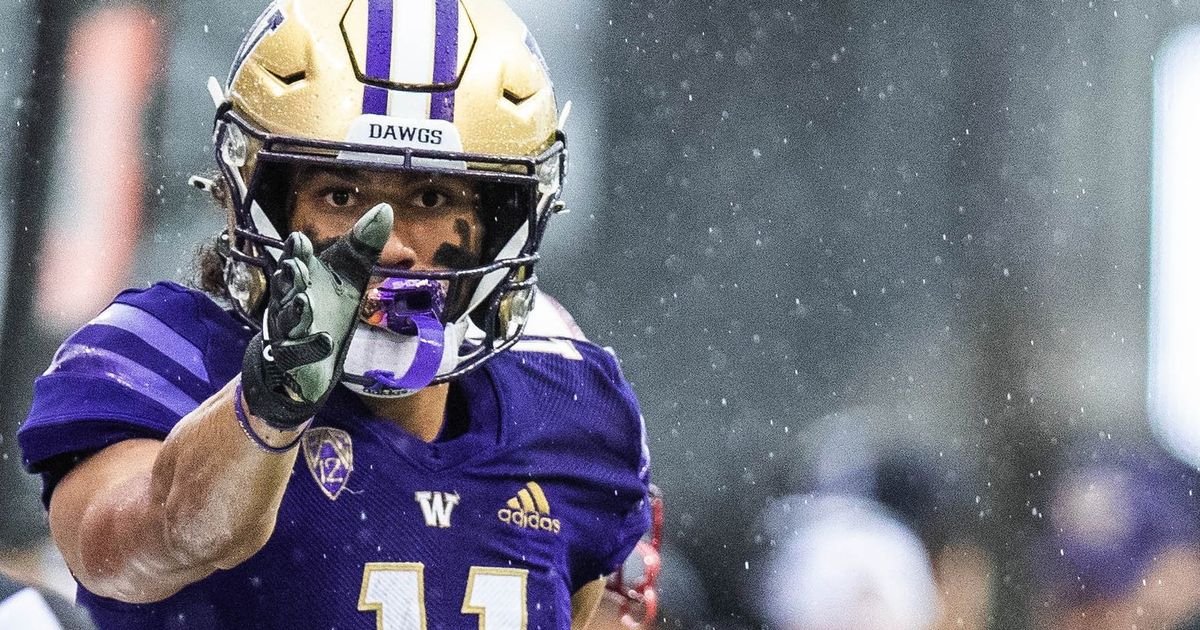 Measurables
6'1″ /192 lbs. / 21.7yrs
wDOM: 23.9%
4th year
Competition

Internal: Rome Odunze
External: Pac-12

Early Draft Projection: 3rd
McMillan has fallen into Odunze's shadow this offseason but out-produced him over the second half of the season. McMillan has a great build to become a route runner and showcases good start/stop ability. He excels against zone coverage and knows how to find a soft spot.
His biggest weakness is his ability to adjust to poorly thrown balls. He's got good vision as a runner but lacks the physicality to fight through contact. McMillan does primarily play out of the slot, but he can play outside. He is a well-rounded player, and there's nothing flashy about his game.
WR10 – Colbie Young – Miami
Measurables
6'5″ / 215 lbs. / 21.1yrs
wDOM: 16%
4th year
Competition

Internal: None
External: ACC

Early Draft Projection: 3rd
Young was a JUCO transfer to Miami and didn't see significant playing time until Week 5 against UNC. During his three games with Tyler Van Dyke, before TVD went down to injury against Duke, Young saw ~29.9% wDOM. This is only a small sample size, but Miami returns with a healthy roster and a new OC that runs more Air Raid.
Fellow wideout Xavier Restrepo also returns from injury and will compete with Young for targets as the WR1. I'm always curious about what could've been if TVD was healthy for the rest of the 2022 season and the possibility that Young could've been a household name. There are a few guys already talked about in this class as having that alpha size but not that alpha skillset.
Young is rated in this class as being the best prototypical X next to Tez Walker. He has the size (listed at 6'5″, but I'm positive he's 6'4″) and bully mentality, along with excellent ball skills. Young has been cutting bad weight, adding muscle this offseason, and pictures show the progress. He still needs to build the production profile, and the stage is set for him to continue his breakout.
WR11 – Keagan Johnson – Kansas State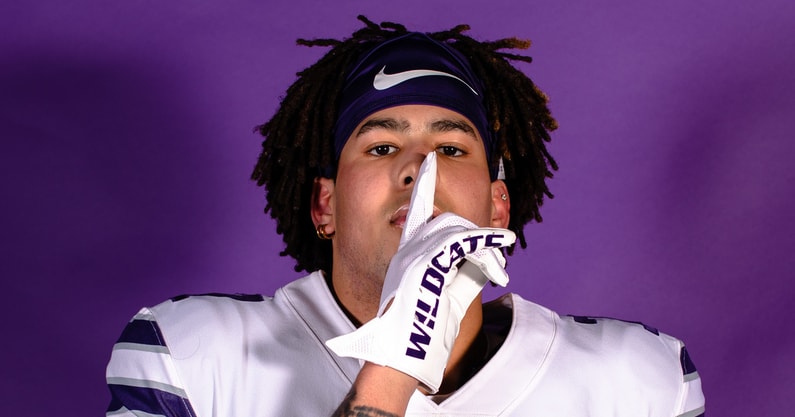 Measurables
6'0″ / 193 lbs. / 21yrs
wDOM: (injured)
3rd year
Competition

Internal: None
External: Big-12

Early Draft Projection: 3rd
Johnson, formerly of Iowa, now transfers to Kansas State and its emerging offense. He broke out as a true freshman in what was the worst P5 offense. His sophomore season got derailed due to an injury but lands on his feet in a WR room that lacks talent.
Johnson's usage is primarily short yardage, but again, this was Iowa with Spencer Petras throwing. Johnson is a very smooth athlete and has some of the best instincts as a runner after the catch. There's not a lot of route running or manipulation on his true freshmen tape. Without much talent at Kansas State, I expect the passing offense to flow through him. Johnson is a favorite of mine to break out this season, and camp reports have been nothing less than glowing.
WR12 – Jeremiah Hunter – Cal
Measurables
6'2″ / 205 lbs. / 21.4yrs
wDOM: 28.35%
4th year
Competition:

Internal: None
External: Pac-12

Early Draft Projection: 3rd
Hunter is playing his last Pac-12 season with Cal whether he decides to declare or not. He led this WR room in 10 of 12 games last season. He's a fluid athlete with perfect NFL size. Hunter primarily works outside but can play both.
His footwork needs to be cleaned up a bit for better separation, but from his tape, he clearly understands the concept. It just needs crisper execution. Cal's offense appears to be moving to a more run-heavy approach by bringing in multiple running backs through the portal and obtaining a dual-threat QB. I expect production to drop with these changes, and Hunter will need to rely on a strong Senior Bowl performance to live up to this lofty expectation. I believe the tools are there to become a consistent producer in the NFL.
WR13 – Malachi Corley – WKU
Measurables
5'11" / 210 lbs. / 22.X yrs
wDOM: 26.12%
4th year
Competition:

Internal: None
External: CUSA

Early Draft Projected: Late 3rd – 4th
Corley has certainly been a C2C darling and ultra-productive in the college space with WKU's fast pace passing offense. He is currently my highest-rated gadget skillset type of player. He is a bruising running back after the catch and punishes G5 defensive backs that challenge him physically. Corley operates primarily in the short-yardage areas.
As a route runner, he's nothing special and certainly has room to grow. Corley will be a player at the next level that can be schemed open and lets him create his own yardage after the catch. I believe he will be a better NFL player than a fantasy asset and a creative play-caller when maximizing Corley's skill set.
WR14 – Jamari Thrash – Louisville
Measurables
6'1″ / 185 lbs. /22.75
wDOM: 44.31%
5th year
Competition

Internal: Kevin Coleman
External: ACC

Early Draft Projection: 3rd-4th
Thrash transferred to Louisville from Georgia State, coming off a massive breakout season. It was a late fourth-year breakout, but he's always been efficient when given opportunities. Thrash has posted a 2.00+ y/rr in the last three years dating back to his 2nd year of playing.
The college world is well versed in knowing that Jeff Brohm (Louisville HC) WR1s go absolutely nuclear in the production category. Thrash is a playmaker with the ball and does well against zone coverage. His 1v1 skills are raw but has the tools to succeed. My expectation at the next level is not high, but I find his production profile very projectable, and he's no slouch as an athlete, either.
Lightning Round
I typically go 15 deep, but I just can't. I really don't think this is a good WR class, and I've made about 35 pros/con charts mentally for tons of players. This class is filled with middling talent, players that I do believe get drafted but not many options that fantasy managers would be excited to put in their lineups. Let's do a lightning projection round with a pessimistic twist, and ill give a line or two about why I don't see a high ceiling.
J. Michael Sturdivant, Cal – He was a year 1 zero but is a tremendous athlete for his size. After a decent sophomore year campaign, I do project him as a late day 2 pick, but UCLA is going through a transition period. I think he will stay until the 2025 class knowing that he could have a much better production profile the next year. Projection: 3rd-4th
Elijhah Badger, Arizona State – He is a big physical, short-area YAC threat. He's a great runner after the catch, but his routes are not great. Badger has got the potential to find an NFL roster and be used in set packages. Projection: 4th-5th
Keon Coleman, Florida State – He transferred to a program that already has a guy with the same skill set, so a production profile is questionable. Coleman is a straight-line runner that excels at the catch point and has an old-school bully mentality. Coleman is nothing special as an athlete outside of his vertical ability. The skillset is still used in the NFL, but it's not exactly a featured role. Projection: 4th-5th
Elijah Spencer, Minnesota – He dominated the G5 level as a true sophomore but transfers to a historically run-heavy offense. The team has a very raw, toolsy QB, which Spencer projects as the WR1 for. But I'm not sure if there's enough volume to get NFL attention. I ultimately believe he goes back for a fourth year. The skillset is intriguing, but I doubt Minnesota's ability to showcase him. Projection: 4th-5th
Kaden Prather, Maryland – He's similar to Sturdivant, except he transfers to Maryland. Where OC Josh Gattis resides, who has been on a spree of killing offense, and the spring game was very uninspiring. Maryland has a program that hasn't quite figured it out yet, and I fear that Prather's devy value will become a casualty of the program's inability to develop him. Prather has X size and athleticism while beating the Y1Z. Projection: 4th-5th
Dominic Lovett, Georgia – He's a slot WR that transfers to UGA after a breakout at Mizzou. Georgia is not a place that develops WRs but a place that finds ultra athletes. Ironically, the college world agrees that this could be a more pass-heavy year for UGA. Lovett is a slot-only WR, and his style of play is a dime a dozen in the NCAA. I struggle to find NFL traits to hang my hat on. Projection: 4th-5th
Antwane Wells, South Carolina – He's older and took a more scenic route, but he's been hyper-productive along the way. Wells will get a Senior Bowl invite, and he does a lot well, but nothing elite. Projection: 4th-5th
Ladd McConkey, Georgia – He's a gadgety WR for UGA with some sneaky athleticism. Gadgety players are always fun, but the only two with fantasy success at the next level in recent memory are Deebo and Curtis Samuel. If Ladd's last name were Samuel, I'd make an exception (joking). Projection: 5th-6th
Will Sheppard, Vanderbilt – He's another big man that's a jump ball specialist. Projection: 5th-6th
Beaux Collins, Clemson – Injuries have held back Collins from giving us a full view of his skillset. He now has a top-tier OC, but also young talent that appears to have overtaken him while he's recovered from injury. Collins is still a mystery, but without a production profile, he is undraftedable. Unless he leads this WR room, which is a very long shot, I doubt he comes out this year. Projection: 5th-7th
Dorian Singer, USC – He is a skinny jump-ball specialist with unremarkable athleticism. Singer has a great college skillset, but the way he succeeds in the Pac-12 will not translate to the NFL. Projection: 5th-7th
Jalil Farooq – He's a short-area YAC specialist. Farooq is a very unrefined technician, and I don't believe he's going to find that development at this point in this collegiate career. Projection: 5th-7th
Ricky White, UNLV – He had a true freshmen breakout before stepping away from football momentarily and ending up at UNLV. White had a hot start to a comeback season before UNLV just UNLVed themselves. It's a new season, and they bring in a new OC; UNLV continues to improve. White is poised for a big season. Projection: 5th-7th
Malachi Fields, Virginia – He had a decent true freshmen season, set to breakout in 2022 but broke his leg. Fields came back for less than 20 snaps and looked fantastic. The UVA football program is in shambles with a mass exodus. Fields stayed but is a long shot to get attention without some pleasant surprises with the pieces around him. I don't think it's possible to have a production profile in this environment, and he goes back for one more year. I will probably be rooting for a transfer by next off-season. Projection: 6th-7th
Jacob Cowing, Arizona – Why did he not declare last year? He went from G5 to P5 and still produced. Cowing is a slot-only type, but last year I thought he exceeded expectations and received a late Day 2 grade for me. I'm reading the tea leaves, and I know I'm missing something. I'm never thrilled about 5th-year G5 prospects. Projection: 6th-7th
Brendan Rice, USC – If he plays 2023 like he did in that bowl game against Tulane, he's a Day 2 pick. If Rice plays like he did the rest of the 2023 season, he's a late Day 3 pick and only drafted because he's Jerry Rice's son. There is no in-between. Projection: 6th – 7th
Orande Gadsden, Syracuse – He's not athletic enough to be a Mike Evans type of WR or a Mike Geisicki type of TE. He's soft and cant become that traditional bully X type of player. Gadsden's skill set is more suited for collegiate play and, ultimately, a product of fantastic play calling by Robert Anae, who just left for NC State. Projection: 6th-7th
Johnny Wilson, Florida State – He did not beat the Year 1 Zero theory. In 2022, he had big games against Louisville, Georgia Tech, and a bowl game-depleted Oklahoma. He's huge, but body catches. He's certainly no separator and lacks the ability to turn. Wilson is a fine straight-line athlete, but he should've converted to TE as a freshman. Volume Pigs came to the comp of Collin Johnson, and I think that's spot on. Also, FSU brought in a transfer, Keon Coleman, that plays the exact same role but better. I'm confident they cannibalize each other's production. Projection: 6th-7th
Zakhari Franklin, Ole Miss – He was a late G5 to P5 transfer to Ole Miss. While I don't feel confident in his transition, the WR room is empty. A Shrine Bowl invite or Senior Bowl invite is not out of the question. Projection: 6th-7th
Cam Camper, Indiana – This JUCO transfer to Indiana led the FBS in targets before he went down to an ACL. He's not a special mover or a technician, but the volume will garner attention and possibly a Shrine Bowl invite. Projection: 6th-7th
Jahmal Banks, Georgia Tech – He's going to take over that productive AT Perry role. They have a ton of similarities, but I'm not personally confident he's even better than AT Perry, who went in the sixth. Projection: 6th-7th
Jermaine Burton – He's all athlete, with no finesse. He is very raw and entering his fourth year. Burton is going to show up to the combine, perform well, and get drafted solely for his performance there. Projection: 6th-UDFA
Ja'Corey Brooks, Alabama – He will be drafted purely because he went to Alabama. He's not a special athlete; he's very slow in his ability to turn and struggles with drops. I ultimately believe the younger talent on the roster overtakes him. Projection: 6th-UDFA
Dante Cephus, Penn State – Hes' a slot only, with no NFL traits, and maybe a Shrine Bowl invite. Projection: 6th-UDFA
Alex Adams, Akron – He's a P5 to G5 transfer and has been just out-athleting G5 defenses. His production profile will draw eyes, but his individual skillset leaves a lot to be desired. Projection: 6th-UDFA
Tyrin Smith, UTEP – He's an electric G5 slot receiver. Projection: 6th-UDFA